Aquarius Caribbean
Building the family home
Business View Caribbean interviews Danielle van Lieshout, Managing Director Aquarius Caribbean, for our focus on Economic Development and Construction in Curaçao.
Aquarius Caribbean is all about making the dream home a reality. With 35 years of experience in Europe and six years in beautiful Curaçao, Aquarius excels in construction, development, and project management. Working to European standards adapted to local amenities, quality and trust are top priorities in this unique collaboration between builder and client.
Danielle van Lieshout, Managing Director of Aquarius Caribbean, is a fourth-generation principal in the family construction business. She spends long days at the helm, alongside her father, mother, and husband, charting the course for continued success of one of Curaçao's best regarded home building entities. Business View Caribbean recently asked van Lieshout to share the fascinating Aquarius Caribbean story. The following is an edited transcript of that conversation.
BVC: Danielle, how did Aquarius Caribbean begin?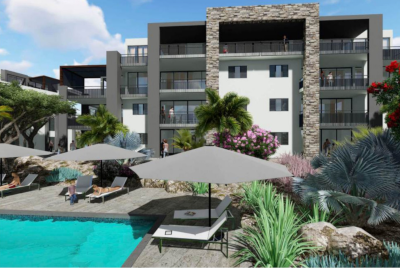 van Lieshout: "My father took over the original construction business in the Netherlands from his grandfather, and we moved to Curaçao as a family 11 years ago. Wanting to leave the hectic lifestyle of the Netherlands, my parents first tried Spain, Portugal, Italy, but always the language was a barrier. We had some friends in Curaçao who asked us to visit. That was 13 years ago. Back then, the island was very quiet; we also went to Bonaire, that was even more quiet. But my father saw the potential of undeveloped land in Curaçao, and they speak Dutch here. That was a key point over the other countries. And, of course, the great weather and laid-back vibe was a relief for us compared to the Netherlands.
"My father wanted to quit work when he was 50, so we moved to Curaçao at that time and he quit for one year, after which my mother asked him to please do something because he was driving her mad. At first, he just bought and sold land. About six years ago, I started Aquarius with my father. Up until then, I had my own restaurant and was not in construction at all. But then we started building our own home, and captured the interest of our neighbors, who asked my father to build their home because no one else on the island was delivering the quality and workmanship we were doing.
"That's how it started. We built their house, one led to another, and within five years we expanded from four employees to almost 50. We grew very fast because the exchange rate for the Euro was very high, so people from Holland were interested to come to Curaçao and almost triple their money."
BVC: Was it challenging to adapt to the slower work pace in Curaçao?
van Lieshout: "In the beginning it was very difficult because we, as Dutch people, wanted to rush everything and show how it's done better. In Curaçao, we were confronted by a very slow system with workers who would hammer the nails in, and work one hour to take one nail out. We told them, if you use a screw, you're done in five minutes, but they said, 'We're used to working with nails.' It took a long time to change that attitude. I was in my 20s at the time, so I could easily adapt, but my father, in his 50s, had run a company for 35 years in Europe with more than 150 employees and was used to a tight schedule and everyone knowing their responsibilities. Here, he had to work with four or five people and it gave him more headaches than 150 people in Holland. So, he had to adjust, big time.
"Today, quality is the number one focus for our company. Everything has to be straight, neat, cleaned up – he will never change that. But people coming late, that type of thing, he is more used to now. Also, our employees got more educated. They were used to a system where they did their work and had to wait until somebody, maybe, showed up with the money. With us, they get their money every two weeks, and we gained their trust. We have a good set of people who know what we want from them, and they are still learning, every day."
BVC: How do you differentiate yourselves from the competition?
van Lieshout: "Our clients are mostly from Europe and have a quality standard for construction that we know how to deliver. My father told us, 'Everyone can put the blocks on top of each other, but you have to deliver quality; you have to say what you do and do what you say.' That's how we make a difference in the construction business in Curaçao. We have a home office on the east side of the island and a second office on the west side. At this point, we only build on Curaçao. We do have some owned projects on Bonaire, but we are not building there right now.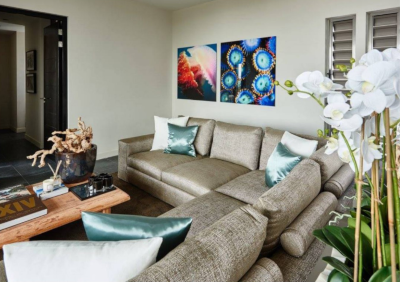 "We work closely with several architects and get most of our work through them. They draw the design for a client and then look for a construction company to build the home. It can also be the other way around. Sometimes, people here on vacation see us building a house and ask how they can have one built. So, we connect them with an architect to start the design process. We have over 40 employees, consisting of masons, carpenters, a plumber, painters, and 15 to 20 sub-contractors, including tilers, swimming pool installers, and electricians. Residential is our core business, with a small amount of commercial. We just started a big project of 33 apartments; they are residential units, but the project is commercial in sales."
BVC: Who are your typical clients?
van Lieshout: "We have three types of clients. Most are Europeans who want to retire here or invest in a second home. Second, are wealthy locals who want their home built to a very high standard. And we also have Americans and some local clients who buy existing property and want to flip it for a timeshare or for renting it out. All our clients are looking for quality and trust, because the majority of them don't live in Curaçao, so they have to trust us with their wallet.
"I can honestly say that I still have contact with all the clients I've done projects for. I have multiple repeat customers that I do a second project with, or when they need repairs or want something extra on the house, they always call us. We are in constant communication with customers – by email, by phone, we send pictures to keep them up to date on the progress of the build. Small things; at Christmas, we send a little gift. We do everything to keep our customers close to the project because most of them are back in Europe and have to wait until they come to Curaçao to see what is actually there. I also assist with their move, and if they want to send their furniture over first. It's not only, 'I build your home and you have to pay me for it.' I try to build a long-lasting relationship with them."
BVC: Is it difficult to source building materials on the island?
van Lieshout: "We have a really good relationship with one of the biggest hardware suppliers in Curaçao – Kooyman – they have all the working materials; wood, screws, tools, and small machines. We couldn't work without Kooyman and their excellent level of service. Ten years ago, there was a problem with containers taking six weeks or longer to bring materials to Curaçao, but now suppliers have adapted their purchasing to meet the increased investment on the island. Today, everything is available here but things like toilets, faucets, kitchen appliances, tiles are more expensive. People usually buy them in Europe and send them over. However, we are seeing that market changing too, and prices starting to come down on supplies in Curaçao.
"Smart home technology has been developing here for a year or two. Before that, it was just a standard alarm system we put in. Now, people are looking for 'green' materials and more technology in the home, because they want to see what's happening with the house when they rent it out and go back to Europe for several months."
BVC: What are your future plans for Aquarius Caribbean?
van Lieshout: "Keeping quality at an A+ level will always be a top priority. Our goal is not to be the biggest construction company on the island – we want to be the best. We want to develop more of our own projects. There is a lot of property available on the west side of Curaçao. It's quieter and the lots are bigger than on the east side. Also, there are more opportunities for timeshares; especially for people into nature, who want to go diving and hiking. We always think about what's next but, at this time, we want to fine tune what we have and educate our employees more. They are now taking pride in what they're doing and that, to me, is a bigger step than your revenue going from $2 million to $7 million.
"We are a family company – I work with my husband, my father, and my mother, and we stick together through thick and thin. When clients come to our office, I tell them they are actually sitting at our dining table with our family. They get a comfortable feeling knowing we do our best because everybody is depending on this company. That is the most important thing, that we really bond."
Check out this handpicked feature on The Curacao Hospitality and Tourism Association.
AT A GLANCE
WHO: Aquarius Caribbean
WHAT: Residential Construction company
WHERE: Willemstad, Curaçao
WEBSITE: www.aquarius-caribbean.com

Kooyman BV – www.kooymanbv.com
Find it all at our Megastores on Aruba, Bonaire, Curacao and St. Maarten. Whether you're looking for wood, hardware, cement, tools, lighting, modern kitchens, doors, bathrooms, garden utensils, or window and door frames: the Kooyman Megastores bring it all conveniently within your reach under one roof.