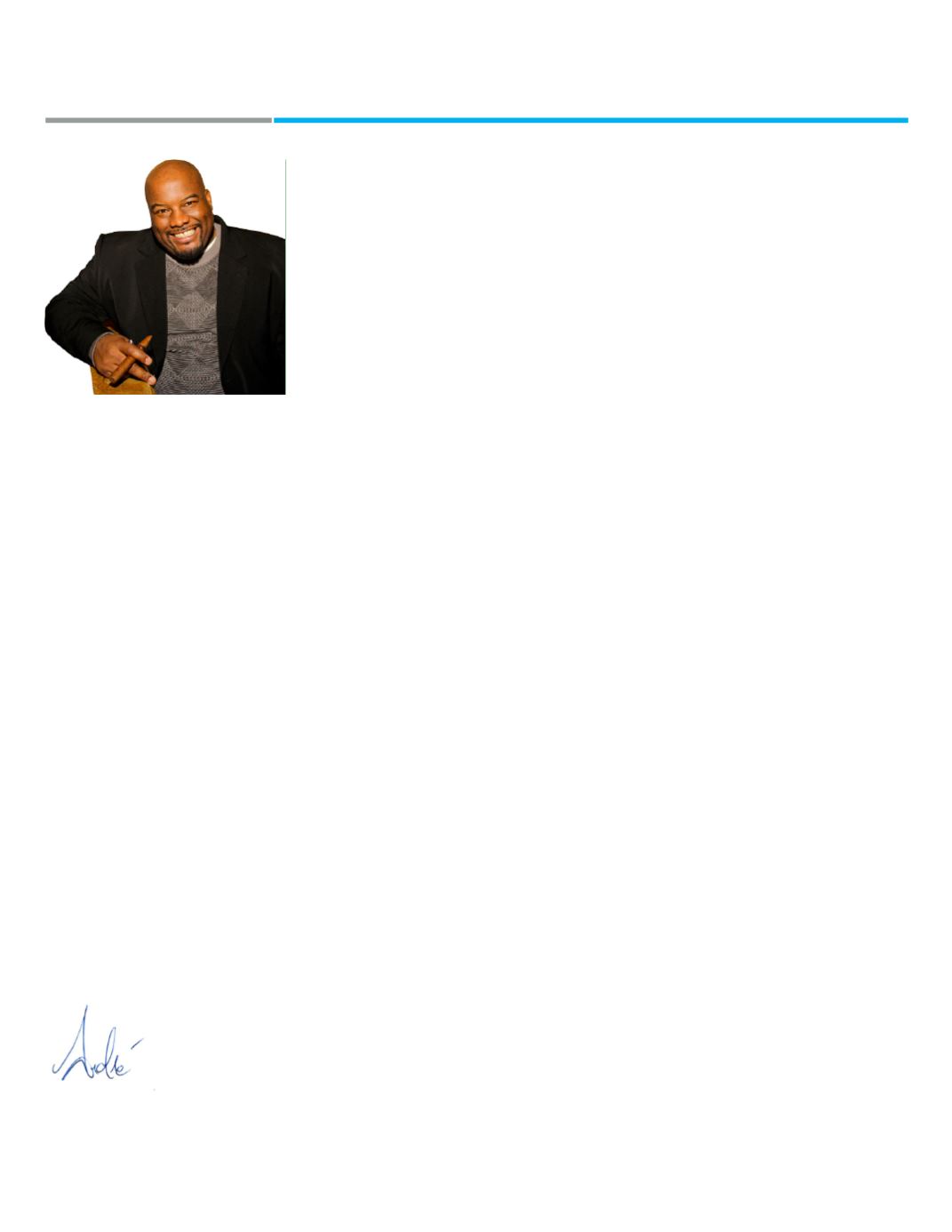 Business View Caribbean - January 2016 7
Executives, countrymen, ministers, and all of the constituents of the aforementioned,
lend me your ears…or eyes, or both! In other words, welcome to another edition of Busi-
ness View Caribbean. How's the view? I want to start by thanking you for the many posi-
tive missives that you've been sending us. I must admit that it may very well be going to
our heads. (Well, I'm just being honest!)
I have personally witnessed the vetting process we use to decide which companies are
to be featured within our pages, increase leaps and bounds from where we were just a
year ago. A year ago, you had to be a thriving business, with a strong staff count, and a
bright future. This year, you must have all that plus a reputation of well doing amongst
the staff and you must be a business that is active in the community, with a strong effort
in sustainability and renewable energy efforts.
In other words: good isn't always good enough. I've learned over the course of the past five years in dealing with the various
heads of many different companies, that being "good" may pay the bills, but that's about all it does. (Sometimes the word
"good" is synonymous with "mediocre.") Exceptional companies become exceptional companies by trying to be exceptional.
Thus, I have never seen a mediocre company morph into an exceptional company. This means that exceptional companies
begin their entire mission with the core values that identify themselves as a company seeking exceptional results from excep-
tional efforts. Or, they have brought in new management to create a new value system which includes adopting the concept
of exceptional in all areas of what that company does.
So, back now to the point: being good isn't always good enough. In fact, after reading this very exceptionally written editorial
(I told you that we've been letting your approval of us go to our heads, didn't I?), I would challenge you to make "good" the
bottom standard by which you judge the many areas in your company that need judging to assess a proper grading. When you
look at the quality of your product, and your response is "good," I suggest taking it back to the lab for a rerun. When looking at
the performance of departments, and department heads, if the evaluation comes back as "good," perhaps it's time to shake
that division up a bit. When it's time to evaluate if a certain company is fit to be endorsed and published by the most valued
and respected business magazine in the world (no, not Forbes Magazine, I'm talking about us…Business View Caribbean – stay
focused please), and that company gets a collective vote of "good" by all that are making the publishing decisions, then I sug-
gest you look deeper for those companies that are out there being exceptional and find out why. So, from this day forward,
make it your motto: "good" is no longer good enough.
Until next time: Plan, build, and continue to prosper!