JPK Development
Building a better Virgin Islands
Business View Caribbean Magazine interviews Jay Knoepfel, Managing Director of JPK Development, for our focus on Best Practices in the Construction Industry
For almost 20 years, JPK Development has been accentuating the U.S. Virgin Islands landscape with luxury residential dwellings and outstanding commercial builds. Established in 2002, as a licensed and fully insured general contracting business in the USVI, JPK applies its extensive knowledge of new construction to the design/build of high-end custom homes and commercial projects, as well as renovations of offices, condos, and existing homes.
The JPK team's passion for producing superior quality buildings to clients – on schedule and on budget – has never wavered. Owner and Managing Director of JPK Development, Jay Knoepfel, has more than 30 years of experience in the construction industry and is personally involved in every project, regardless of scope or scale. His company's success is a direct result of a ceaseless commitment to integrity and attention to detail. Knoepfel recalls, "I spent most of my adult life doing construction for small contractors in St. Thomas; carpentry and various fields, all the tasks that involve trades. Then, I started JPK Development doing, primarily, high-end spec homes with a few partners, buying homes and redoing them or buying lots and building homes to sell. People would sell the home they bought from us, and profit on that, and it was all very great."
To counter the 2009 slump in the housing market, JPK diversified from building on spec to building luxury homes for private owners on request – later branching out into commercial work. And all was going swimmingly until early 2020 and the onset of COVID-19… As Knoepfel relates, "We've found that in this pandemic time, the business environment changed quite a bit. And so we've been doing a lot of smaller jobs. We typically don't like to do those jobs because we have a lot of supervision and overhead; we usually don't even get calls for jobs like that but with people in their homes more now and doing home projects, suddenly the island has all these needs for small projects for homeowners, and for commercial locations, as well. It seems people had time on their hands and thought it was a good time to get their little to-do list done."
JPK had several big jobs in progress pre-COVID and those have mostly stalled for the time being. Among them, the Frenchman's Reef Marriott – the biggest project on the island at the time, with many hundreds of millions of dollars needed to repair it from storm damage after Hurricane Irma. "That reconstruction was in full swing with its reopening scheduled for 2020," says Knoepfel, "but because of the pandemic they decided to shut the operation down and sent all the contractors home. We had a chunk of that job and a third, maybe even half, of our employees would have been working on it. They will eventually continue with us on what we've contracted to do but we're just waiting for them to restart the project."
Another project JPK has worked on in the past, and is waiting to continue with, is at the Grand Hotel in downtown Charlotte Amalie. According to Knoepfel, "A Paris-based rum company, Hamilton & Lafayette, that makes their rum in Martinique is renting this large building and is going to open a rum museum for tourists. It's a beautiful historic building right in the heart of town between the cruise ships and the shopping. The architects are from Paris and they have big plans. It's quite a big project, so it could be exciting."
Like many places in the world, business on the island is starting to come back. Bars and restaurants are reopening and hotel reservations are being made again. But it's a very fluid situation. Everything was shut down for a few months, then some were cautiously reopened, only to be closed again. At this point, commercial entities are optimistically open again. The airlines are flying but no cruise ships – that in itself is a devastating impact on tourism.
Knoepfel acknowledges, "Businesses like restaurants have had to adapt to only doing takeout. They've really had it hard. Construction was labeled as an essential service, so we were able to stay open the whole time but wife owns jewelry stores, and they had to close. Thankfully, she has been doing very well with online sales. As for our business, we had changed our focus to larger commercial jobs and now we're into smaller residential work – having many jobs with smaller dollar values ongoing at the same time. When it comes down to it, we're making little money at all just to help the community. Neighbors helping neighbors. It's nice to engage with people in that way. And we have so many big projects just waiting to take off – people have been hesitant about starting jobs during hurricane season, which ends in early December, so I think we're going to get slammed with work around Christmas."
JPK is built on a culture of caring, and Knoepfel has made every effort to keep his team employed during the economic slowdown – to the point where he has a lot of people working around his own house at times, just to keep them busy. He admits, "In construction, when you don't have work for people, you have to lay them off. A construction company can ramp up to 150 people on a job and when that job's over, you might end up with only three or four employees. But we're a little different than other companies. By taking these smaller jobs we're able to keep our 35 regular employees working all the time. We've also started to build some spec houses on the island again, because there are some great locations and the real estate market is actually doing well. A lot of people see it as an opportunity; that maybe the prices are down (which they aren't), so it might be a good time to invest now."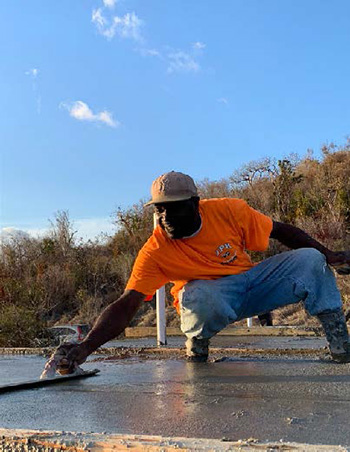 JPK owns three lots out near the Ritz Carlton, where they're building small luxury homes for off-island tourists looking for a second or third home. These new builds not only provide jobs to JPK workers, but it also creates a sense that there is something going on. "A little stimulus in the air," says Knoepfel. He adds, "My own house was severely damaged in the hurricane and it will never be finished – unless we ever decide to sell it. Right now, it is our home and a work in progress. Very often if one of my people isn't working, I'll send them over to my house to do something. I have relocated our office there, so basically our kitchen is our office now. We have a separate kitchen that my wife and I and our family have learned to deal with. We're a family kind of company and the business is always all around us."
The local supply chain has been operating at full tilt, with building stores keeping a good stock of high quality products on hand. While larger commercial projects, such as hotels, order their materials off-island and bring them in, for smaller projects it's much easier for builders to go to the local building center and lumber yards. And that home-grown economic support is a win-win for everyone.
Knoepfel is full of praise for people in the Virgin Islands and their ability to adapt in the face of hurricanes and tropical storms that cause havoc. He shares, "Islanders just get used to it, and COVID is a different kind of pivot. People are getting creative with projects they've wanted to do for a long time at their home, like adding a porch, etc., and now they're saying, "let's just do it." One of our clients is a restauranteur and he just wants to improve his house. They had a pool and built a large room on the back of their house overlooking it. But none of our clients are building rental properties or rooms to rent at this time."
Speaking to how JPK is making the best of an imperfect situation, Knoepfel adds, "Because of COVID, the financial market shifted and we shifted as well. We didn't just shut our doors, we shifted to keep our employees and ourselves working. That's an important thing. We're here to stay. This is home."
AT A GLANCE
JPK Development
What: A builder and general contractor
Where: St. Thomas, U.S. Virgin Islands
Email: www.jpkvi.com