Papagayo Beach Resort
A hip oasis in the heart of the Caribbean
Business View Caribbean interviews representatives of the Papagayo Beach Resort for our focus on Resilience in Tourism & Hospitality in Curacao
The draw of the island of Curacao cannot be denied, providing a tropical gem that has attracted visitors for years. With beautiful white sandy beaches, relaxing sea breezes, and iconic architecture lining the streets of its capital city, Willemstad, it is no wonder that tourists continue to flock to the area to experience a little slice of paradise. Originally settled by the Dutch, the European ancestry can be felt throughout Curacao and provides a regal backdrop for the modern, luxurious amenities that vacationers enjoy.
Top among the amenities lies the highly desirable, four-and-a-half-star rated Papagayo Beach Resort located in the Jan Thiel area of Curacao. Lucky visitors to the resort can take advantage of the impressive array of perks and facilities that seek to cater to even the most discerning guests. Designed to project both a trendy and modern feel, while incorporating the sophistication of the European-designed finishes, Papagayo has pulled out all the stops to outperform its competitors.
Hans Slier, CEO and Owner/Developer of the Papagayo Group, shares, "We started in 1979, when we had the opportunity to get a plot of land near the Jan Thiel Baai and that was from the local pension fund. They wanted us to have a touristic development, so we decided to develop their 75 villas in a tropical style. Later on, we added five very luxurious four-bedroom villas each with their own private swimming pool. The whole project is targeted at the four-star plus market. We have mainly guests from Europe but our North American guest numbers are growing. We aim for the middle and higher income clients, a lot of them being entrepreneurs."
Although the resort opened its doors over 20 years ago, Slier was quick to point out that there was something that needed to be added to give it an enhanced sense of vibrancy and a hub of activities for guests to take in. "There were not a lot of amenities here and not too much to do, so we decided at Papagayo to develop a plaza with all kinds of shops and beach clubs and restaurants and a casino," says Slier. "This was developed around 12 years ago and as of that moment we have in this area, within walking distance, eight or nine restaurants, four beach clubs, a number of shops, and a state-of-the-art fitness center that is free to join for people who book with Papagayo."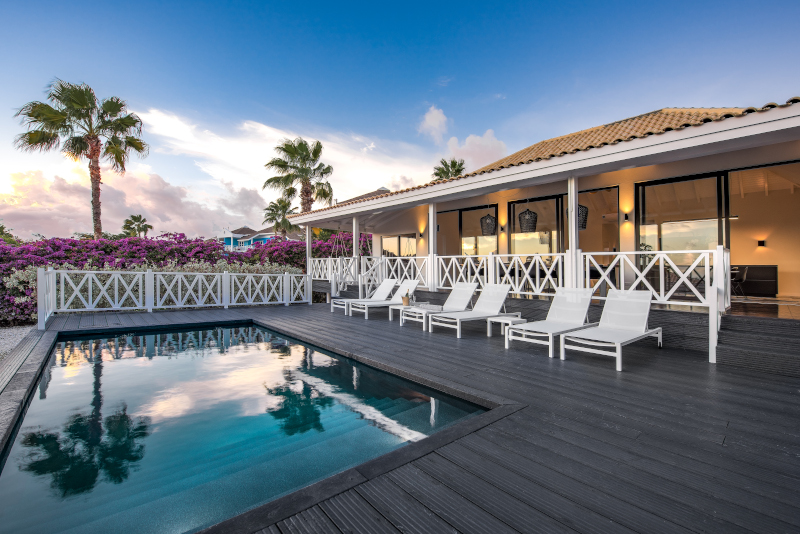 Keeping a modern edge has always been on top of the design agenda for Papagayo Beach Resort, allowing for a crisp, hip feel for guests to experience. The villas were carefully designed by the experienced Dutch architectural team to provide for a seamless flow from the inside to the outdoors of the resort. Slier notes, "We also have a very nice spa which offers a lot of treatments, and the Beach Club has now existed for 11 years. There are also a few swimming pools including a very big saltwater pool that is the biggest of its kind in Curacao at 70 meters in length and 20 meters in width."
Striving to keep pace with the desires of its valued guests, Papagayo Resort has made an effort to keep up with renovations and upgrades every seven to eight years. These changes include not only the exterior of the hotel and villas and facilities of the Beach Club but also the interiors are given special attention. "We use very well-known architects and very high-end designer products and we give a lot of attention to the look and feel of the hotel and resort and also the Beach Club," Slier details.
"2015 was the most recent renovation of the resort and then the 2019 renovation of the lobby of the hotel," Harm Musschenga, General Manager of the Papagayo Beach Club reports. "The upcoming renovation of the Papagayo Beach Club is going to be the biggest renovation because we are going to completely overhaul everything from flooring to ceiling – the interior and the whole exterior are going to change and this is going to be the target for this year."
Using designer products primarily from Italy to help elevate Papagayo above its neighboring resorts and hotels, the renovation will include deeper, European-inspired colors ranging from pastels to different rich tan shades. "The renovation is going to be a huge change and the aim is to maintain our place as the hippest and most happening Beach Club in Curacao and this is always the target. To do this you have to continue with the vision and make sure that it is always up-to-date," Musschenga says.
Despite a prolonged pandemic that could have harmed the prospects of resorts including Papagayo, guest numbers continue to climb to levels that outperform 2019 capacity levels. Slier attributes the resort's preparedness, loyalty to its staff, as well as resilience of the Curacao tourist sector as key buffers that allowed Papagayo to stay above the pandemic tide.
Although Musschenga expected that the beach resort numbers would take two to three years to bounce back to pre-pandemic levels, by June of 2021 tourist numbers picked up in Curacao producing higher turn-over numbers for resorts including Papagayo. Slier acknowledges, "This was nice to experience because a lot of people thought it would take a lot longer and this is not what happened. It was within one or two months."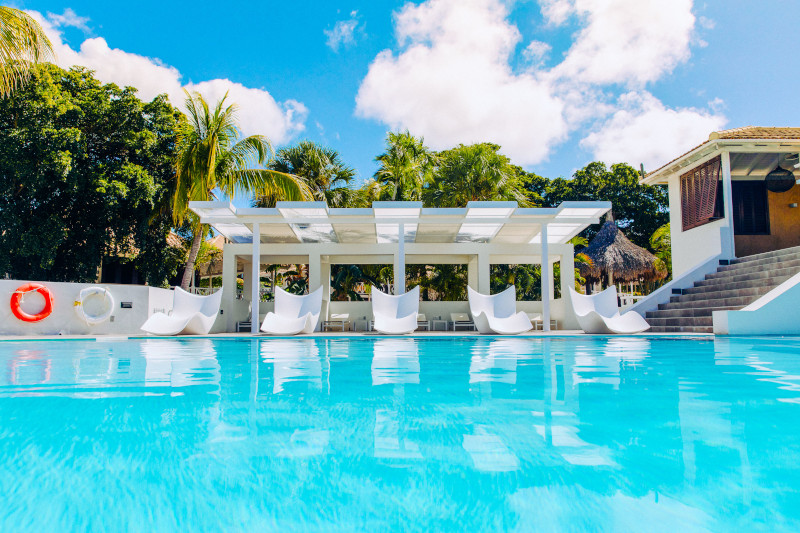 He adds, "We are a very financially sound company. We had to close completely for three and a half months because there were no planes coming into Curacao; we were completely without guests during this time. We made the decision however that we would not have employees laid off, only have the bidding system. So from the 300 total staff that we had, at the end of the pandemic we still had 230 left."
While only 20 percent of the Papagayo staff were lost during COVID, the challenge for the executive team has been to hire back skilled staff, as hiring has become more difficult post-pandemic. Slier admits, "We had to get back all the people who left and we are not the only ones hiring, so up until now this has represented a huge challenge."
Along with ongoing renovation projects in the pipeline, the staff at Papagayo continue to place emphasis on the importance of cleanliness in all the hotel, villa, and resort amenities. This remains especially important for the flight crew affiliated with the resort that continuously brings in guests.
"We have the crew of KLM in-house and that means that they have fairly severe rules for cleanliness and food handling," Slier explains. "If a pilot of one of the key persons on a flight gets ill in our hotel, then the flight can't leave and that brings a lot of costs for the company. For that reason, KLM check us on a regular basis and cleanliness is held to a very high standard here."
Looking ahead, both Slier and Musschenga agree that the key focus for Papagayo Beach Resort over the next few years will be on the renovation side. The renovation of the Beach Club will take three months and will be done before December 1st, 2022. "We will be up and running before the high season in December starts," Slier says, adding, "What we want to achieve now is to make a unity of everything – for everything to have the same style and experience. For me, the main focus is to implement the renovation and to also train staff and work on menu cards, which for the next three years will provide enough on my plate," Slier says.
"We want a total product upgrade. It is also about the service and the experience. We want you to experience a five-star product at Papagayo Beach Resort; very upscale, very good service, good food, nice environment, and really, really up to par. We will always strive to be the most trendy hotspot of the Caribbean that focuses on service, design and cleanliness," Musschenga concludes.