The British Virgin Islands Airports Authority
Your Gateway to Paradise
Business View Caribbean interviews Kurt Menal, Managing Director of the British Virgin Islands Airports Authority, for our focus on Resiliency in the BVI
The British Virgin Islands are a delightful collection of 60 unspoiled islands that showcase the best of the Caribbean in one welcoming destination. Passengers travelling by air are in good hands thanks to the British Virgin Islands Airports Authority (BVIAA), the entity that owns and operates all airports within the British Virgin Islands. Overseeing connectivity to hundreds of domestic and international destinations with frequent daily flights to the most popular major cities in the Caribbean, the BVIAA and its 200 employees are also committed to providing safe, secure, and efficient gateways from the islands to the world.
BVIAA Managing Director, Kurt Menal, offered Business View Caribbean some fascinating insights into the BVI Airports Authority, current challenges, and the future of the aviation sector in the BVI.
BVC: Can you share some background on the BVIAA and how it has evolved?
Menal: "BVIAA (The Company) emanated out of the Government's Civil Aviation Department, as a means to separate the regulatory aspects from the operational aspects of the Airport which was a conflict of interest that could have posed significant accountability challenges. There was and continues to be a need for efficient and coordinated airlift into the Territory through all three airports: Terrance B. Lettsome International Airport (TBLIA), Beef Island, Tortola; Auguste George Airport, Anegada; Taddy Bay Airport, Virgin Gorda; as well as Gun Creek Water Aerodrome and Roadtown Helipad.
"The BVIAA has definitely been driven by a master vision that evolves with the forecasted and prevailing conditions. The organization has evolved from being public service centered to one that focuses on improvements in operational safety and efficiency, underpinned by the need to be more commercially viable. The aim is to be fully self-sustaining thereby reducing the reliance on government subvention."
BVC: Who are your typical clients and what services are most often requested?
Menal: "Our clients are typically discerning, high net worth individuals and corporations that utilize private jets for business and leisure travel. In this regard, Terrance B. Lettsome is home to world class Fixed Base Operators (FBO) providing all required services and facilitation to ensure a memorable and seamless experience for these customers. On the other hand a segment of our clients are citizens and residents of the BVI, as well as tourists and individuals visiting friends and relatives.
"It is of note that some of these high net worth individuals call the BVI home and that can be attributed in part to the ease of doing business, the quality of aviation services, and the general warmth of the people. The FBOs provide integrated solutions to airlines from around the world, including passenger handling operations, ramp services, cabin cleaning and ground handling. They ensure the on-time departure of all running flights with precision, accuracy, safety, and efficiency to minimize delays.
"Our FBOs deliver services at the highest possible quality and apply this to every aspect of the business from cabin cleaning to baggage, ramp handling, passengers, cargo handling, and training. Our FBOs also give basic airport public access to partners and clients. Without this basic framework, general aviation would have fewer flying opportunities and more hurdles to our vital and shared mission of increasing access to and the quality of high end services. Moreover, our FBO partners compete vigorously with each other on service, price, and quality of facilities."
BVC: Which activities serve as the primary revenue drivers for the BVIAA operation?
Menal: "Our income can be divided into two components: aeronautical and non-aeronautical.
Aeronautical revenue comprises the majority of the airport income and includes airline terminal space rentals, airline landing fees, and usage fees for the terminal, gates, services, and passenger counters.
Airlines are our tenants, paying rent for counter and gate space, storage facilities, hangars, offices, and maintenance facilities. They additionally pay for landing and parking fees, and to hold a lease on the ticket counter and gate space to occupy an exclusive area. This model has evolved to a common-use concept in most airports and will be adopted in due course at the Terrance B. Lettsome International Airport.
"As an Airports Authority we are increasingly focusing on non-aeronautical revenue to deal with the unpredictability of the airline business cycle, especially in the wake of the negative impact of the COVID-19 pandemic. The revenue generated from non-aeronautical revenue may very well determine the financial viability of airports in the BVI. Sources of non-aeronautical revenue include Rental Spaces: primarily to airlines – office space, counter space, VIP Lounges; Ordinary personnel – concessions – various stores, Jewelry, Apparel, Souvenirs etc., Restaurants, Eateries; FBOs (Fixed Based Operations) – Fuel Services, Hangarages; Beef Island TAXI Association; Various Fees – Landing, Departure Tax, FOP (Foreign Operators Permit), ADF (Airport Development Fee), FBOs, and Parking Lot."
BVC: What sort of competition exists in your region?
Menal: "The Territory's airports share a common catchment area with other international airports in the USVI and the Leeward Islands, some of whom enjoy direct flights to mainland destinations. Ever cognizant of this, the BVI has sought to place greater emphasis on Air Service Development with a focus not only on attracting airlift from the U.S. mainland but also increasing the capacity for flights out of the neighboring Caribbean islands through collaboration with the BVI Tourist Board and more aggressive and targeted marketing.
"There is also a move towards tapping into non-traditional markets such as the French Antilles. The expectation is that robust air service development will drive increases in aeronautical and non-aeronautical revenue and see the manifestation of a master plan that incrementally develops the airport (TBLIA) to facilitate larger aircraft and direct flights to the mainland and possibly beyond. Moreover, the TBLIA is a hub for private jets owned by ultra-high net worth individuals, some of whom call the BVI home. In this regard, a great deal of the traffic that uses our airports are private or corporate in nature.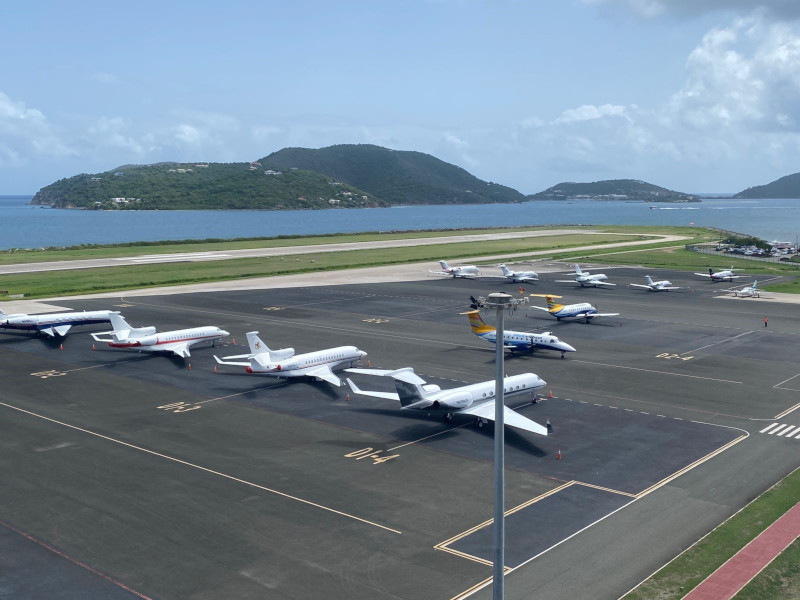 "World class services are provided by our partners and the BVIAA to ensure the continued integrity of the experience. That can mean core values, a lean toward innovation… anything else that makes you feel like you're the business of choice in your field."
BVC:  Are there long-term partnerships or business relationships that have contributed to your success?
Menal: "Yes, there are several. Eastern Caribbean Civil Aviation Authority (ECCAA), as the Organization of Eastern Caribbean States (OECS)' institution responsible for regulating aviation safety and security, provides technical and specialized civil aviation services to the BVI Airports Authority. Trinidad and Tobago Civil Aviation Authority (TTCAA) Civil Aviation Training Center (CATC) provides training for our Air Traffic Controllers. Aeronav Inc. based in Canada is an IT systems provider which specializes in the development of integrated air traffic control systems, ground base radio navigation aids, airfield lighting systems etc. Recently it is concerned with the installation of the Voice Communication Control System (VCCS) of the Air Traffic control Tower.
"Sutron Corporation, a world leader in real time water and weather remote monitoring and control, provides technical support for the Automatic Weather Stations (AWS) situated on all three airports in the Virgin Islands – 2 on Terrance B. Lettsome International, 1 on Auguste George Airport, Anegada and 1 on Taddy Bay Airport, Virgin Gorda. Airports Council International (ACI) represents the collective interests of airports around the world to promote excellence in the aviation industry. They do this by working with governments, regional ACI members, experts, and international organizations like ICAO to develop policies, programs, and best practices that advance airport standards globally."
BVC: Looking five years ahead, what goals will be at the top of the agenda for the BVIAA to achieve in that time?
Menal: "It is imperative that the BVIAA be positioned to compete aggressively in a space shared by some established players with arguably larger facilities. Apart from our government's commitment to the expansion of the TBLIA in particular, it is critical that we are guided by a realistic master plan.
Steps are afoot for the development and implementation of Strategic Plan that would guide the direction that the organization goes within the next 5 years and beyond. Anyone paying attention will learn that there is a greater focus on people development and capacity building as this will ensure successful implementation of every aspect of the master plan.
"Furthermore, we will continue the strategic partnership with the BVITB and other key partners and stakeholders to aggressively promote destination BVI to ensure that the demand is always there as we recognize that the need for air travel is derived and we can only be successful in our airport development if people want to come to the BVI, if businesses want to continue to expand into the BVI.
As such, tapping into the non-traditional markets like the French Antilles, while at the same time improving on well-established linkages with Puerto Rico, Antigua and Barbuda, St. Maarten, etc., will be critical."
AT A GLANCE
The British Virgin Islands Airports Authority
What: Owner and operator of all airports in the British Virgin Islands
Where: Road Town Tortola, BVI
Website: www.bviaa.com
We Are BVI Restaurant and Sports Bar
The catchy name says it all. We Are BVI represents the best of the British Virgin Islands when it comes to fun times and delicious cuisine.
Located at Terrance B. Lettsome International Airport in Tortola, We Are BVI Restaurant and Sports Bar is a popular Intercontinental Restaurant specializing in local dishes from the BVI and around the world. Everyone who has visited agrees, We Are BVI is the place to go for the tastiest food and entertaining sports broadcasts.
Kurt Menal, Managing Director of the BVI Airports Authority, shares that We Are BVI is "the main restaurant at the Terrance B. Lettsome International Airport terminal" and "a significant partner." As business at the airport continues to increase by bringing a variety of airlines and destinations to Tortola and the BVI in general, We Are BVI is in a perfect position at the main terminal to thrive and grow along with the airport.
Enjoy Happy Hour every Friday from 5 to 8 pm, with $2 beer, sassy cocktails, creative shots, even creamy cold milkshakes. When hunger calls, We Are BVI's menu offers everything from pizza to wings, juicy burgers, fries, to combo dinners in all your favorite flavors – and some surprises that may become your new faves!
PMI – www.pmipensions.com
Companies are increasingly looking for ways to improve the effective and efficient management of their pension plans. Establishing a delicate balance between contributions and benefits must involve a pragmatic approach that encompasses a sound governance structure and an effective management and administration platform.
Pension Management Interactive, Inc. (PMI) was established in 2009 to redefine the way pension plans and other social protection systems are structured and managed. PMI supports an interactive approach that appreciates and evaluates the synergies between the Plan Sponsor and its employees, before proceeding to propose suggested policies and guidelines. PMI's conviction is that the process of formulating, evaluating, managing, and administering pension plans must entail a collaborative approach between the Fiduciaries and the respective Service Providers.
Most employed persons live a long time in retirement, many without generating income post-employment. Without proper retirement planning, employees can be faced with a significant cut in their income at retirement, requiring dramatic changes to their lifestyle. At PMI, they aim to assist in structuring  pension plans' corporate governance structure, and service Clients that already have a system in place for their employees and those that would like to establish such a system.