Windward Roads Infrastructure, Saba & St. Eustatius
Experience & reliability
Located in the north eastern Caribbean, 178 miles East of Puerto Rico and 35 miles south of St. Maarten, the island of St. Eustatius is just five miles long and two miles wide. But size isn't everything. This idyllic slice of paradise, affectionately called Statia, has a population of 3,500 residents who reside, for the most part, in and around the capital of Oranjestad. Statia has always prized its nature and marine life among its most valuable assets, and the St. Eustatius National Parks Foundation, known locally as Stenapa, manages a variety of ecotourism initiatives in that regard. Stenapa is a dedicated environmental organization developed to protect the marine and land environment, as well as endangered species.
The Caribbean island of Saba, otherwise known as the "Unspoiled Queen," is the smallest public body of the Netherlands. It is a natural gem, consisting largely of the dormant volcano Mount Scenery (877 m), the highest point of the Netherlands. The island has a land area of five square miles and is home to 2,000 people living in the capital city, called The Bottom, and other towns such as St. John's, Windwardside, and Zion's Hill.
Together, these two tiny islands of Statia and Saba are increasingly sought-after destinations for discerning travellers. And a St. Maarten-based company, Windward Roads Infrastructure, is doing a fine job of creating and maintaining the infrastructure to make possible this incomparable tourism experience. Jochem Vanderbij is the company's Project Manager for Saba and St. Eustatius; in essence, his responsibility is coordinating the work done on those islands by Saba Roads & Construction and Statia Roads & Construction a division of Windward Roads Infrastructure and Construction (also a division of Janssen de Jong Caribbean).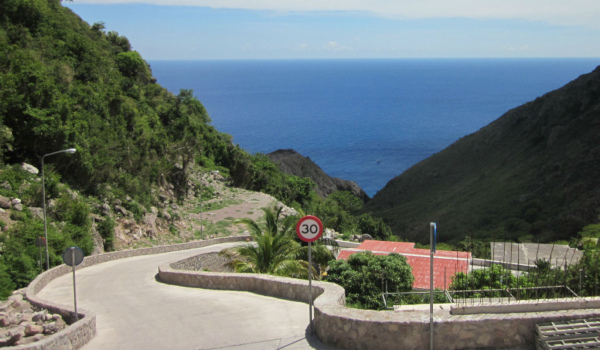 According to Vanderbij, "Currently, we are on a big job for a new Golden Rock resort complex in Statia. It's an area of 100 hectares and we are doing the infrastructure work for the project. We have our own concrete plant on that site to use for building roads. The client also drilled a well in the neighborhood of the sea and we are going to pump water from that well. It is salt water and that is going through an osmosis plant to make it fresh drinkwater. So the whole resort can be self-supporting from water. We had to take care that no soil from the area where we're working goes into the sea because that is not good for the coral reefs. We built some walls to push up the water, so the speed of the water is going down. We have 25 to 30 laborers working for us there every day – building the concrete roads, the  lines to the houses, the sewage lines and septic tanks –also the sewage water will be treated and used as irrigation. It is a major project."
Weather can be a challenge for the company. While the hurricanes steered clear of Saba and St. Eustatius during the 2019 season, there was a significant amount of rainfall and that can play havoc with infrastructure developments. Vanderbij admits, "We haven't done a lot of work the last years on Statius, so we have to find again our way with the existing subcontractors. Saba and Statia became special municipalities of the Netherlands in 2010, and new legislation is in place. Two days of the week I'm onsite at Statia, two days at Saba, and one in St. Maarten, so I travel a lot with Winair."
Finding skilled laborers can also pose a problem. As Vanderbij attests, "You can't fly in a lot of people from St. Maarten because they need a Dutch passport and after that they can work only for three months on Statia. So, we have to look for people on the island. Of course, that is also one of the goals of our company – to give the people something back. We give them work and they give the island a nice resort. That's a win-win situation. In the area of training, I was in contact with the government and they put us in touch with some people who needed an opportunity to work. We gave those people a chance to get work experience at our jobsite on Statia. The government appreciated that, also. And the workers got some valuable experience that they can use to find another job when this project is ready."
Whether or not there will be more work for Statia Roads & Construction when the resort is complete depends on budget and how much money the local government will expend for infrastructure on the island. But there is definitely work enough to be done, particularly with the concrete roads. From a tourism perspective, the resort complex is destined to give a big economic boost to the island. When the construction work is finished, there will be a number of opportunities for people to work in the bars, the restaurants, landscape maintenance, etc., and the facility will be a significant employer.
In Saba, SABA Roads & Construction does a lot of work for the government – mostly small jobs in the $10,000 to $300,000 range. One great example is the complete renovation of Sacred Heart Primary School. "We renewed the playground by removing 600 sq. meters of concrete," says Vanderbij. "And we replaced it with new concrete because there was a lot of water accumulated. When it rained, it had nowhere to drain, so we fixed that. And we replaced 62 windows, made new bathrooms, and new storage rooms. It was a big job for us and we had to do it in the summer holiday this year. So, in six weeks we did a lot of work. And now, we have two other jobs underway at that school because they were really satisfied with the work we did. Those jobs we have to accomplish on Fridays and Saturdays and over the holidays."
In a nod to environmental sustainability, the used concrete is taken to "Hell's Gate" – a landfill dump in a ravine area that is controlled by the government. Every excess piece of concrete or rock wall or soil from construction projects on the island is used to fill up that area. SABA Roads & Construction also has a large hydroponics greenhouse project on the go. Vanderbij reports, "Saba wants to have some greenhouses for growing vegetables and we do the earthwork for that. We have to clean up a whole area and make it flat, and pour foundations, and then they bought some greenhouses from Holland that will be installed. The goal is to get into selling produce on the island, so that's a good thing."
Saba R&C and Statia R&C are the biggest among the four or five other contractors who are its competitors on the islands. For major projects, these divisions of Windward Roads are the go-to companies that are usually affordable in price, while still doing excellent quality work. They have all the equipment or skilled personal required, either on-hand, or in nearby St. Maarten, or in the other divisions in Curacao, Aruba, or Bonaire. On Statia and Saba, they run their own concrete plants and bring in cement by boat from St. Maarten. The water, sand and gravel are already available on the islands, so making concrete is a fairly easy process.
In summing up the future of economic growth and infrastructure on the islands, Vanderbij notes, "In Statia, there is a place to grow for tourism and we are pleased to be involved in the projects that we're working on now that will improve that sector. But Saba, I still find is a very, very nice island – one of a kind in the whole Caribbean. It is very neat and clean. It has a lot of nice dive spots and Mount Scenery is like a jungle when you walk through there. For the ecotourists, that is very good. But on Saba you don't have any beach because it is a volcanic island, so it is not for the big push of tourists." Good infrastructure is essential for a thriving economy and Saba R&C, Statia R&C, or Windward Roads continue to play an important role in the development and implementation of integrated projects on the Windward Islands. Our slogan is Building Happiness.
AT A GLANCE
Who: Windward Roads Infrasrtucture
What: Infrastructure construction company; part of Janssen de Jong Caribbean
Where: Saba & St Eustatius
Website: www.windwardroads.com
Maynard's Construction N.V. – maynard_6@hotmail.com
Maynards Construction N.V. was founded in November 2006 by managing director Eardley Maynard. We specialise in providing the very best quality work from foundation to finish; building dream homes for families, doing hurricane proofing and repairs, as well as complete road projects and repairs. We also provide quality carpentry work to meet our customers' every need! 
ARC Construction NV – 7215223434
ARC Construction NV was founded by Alvin R. Courtar. A business man born on Sint Eustatius.  
The construction company has over 35 years of experience and is leading in excavation works and large construction equipment handling. Over those years, ARC Construction NV has collaborated with many international cooperation. The firm has an excellent reputation in logistics throughout the Windward Islands. ARC has developed expertise in demolition, earth moving, concrete construction works, heavy transport, container movement and equipment rental. Our fleet includes but is not limited to loaders, excavators, compactor, tractor truck, dump truck, cranes, etc.