Westrac Limited
Progressing together
Business View Caribbean interviews Julian Thiessen, Marketing Director of Westrac Limited, as part of our focus on best business practices in Belize.
Westrac Limited is an automotive, agricultural, and industrial supply company with headquarters in Spanish Lookout, Belize. It began life as the Western Tractor Supply, established in 1969 as a dealer in replacement tractor parts and farm equipment. In 1985, Peter Thiessen, Westrac's current CEO, along with several other investors, was given the opportunity to buy shares in the company. The new stakeholders soon began expanding its portfolio to include auto parts, travelling to the city of Corozal for goods they would buy wholesale and then resell, locally, at retail.
In 1998, the company became a John Deere dealer, and began branching out, at first, by continuing to buy merchandise in-country and, eventually, by importing product from the USA, Germany, Brazil, and Mexico. In 2002, the company changed its name to Westrac Ltd. in order to reflect its more diverse inventory. In 2003, it acquired Pro Parts in Belmopan and, in 2005, it established a branch in Belize City, the country's largest municipality, incorporating the Belize Industrial Agencies. In 2010, in order to maximize support for its John Deere tractors, it incorporated Autotrac, which is now the John Deere Service Department. In 2012, Westrac opened a new location in Belize City, and finally, in 2014, it opened another branch in Orange Walk, in order to better reach all of the country's northern area farmers.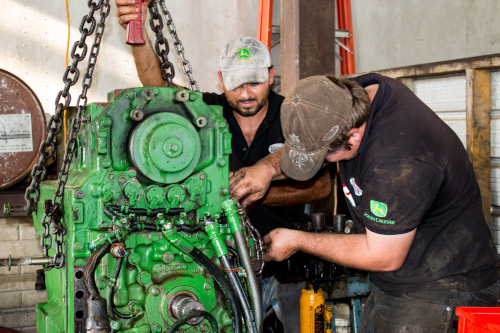 Today, the Westrac Ltd. portfolio includes four automobile and tractor parts retail stores, one Midway gas station with a store and restaurant, a John Deere Service shop, and three automotive service shops.  With approximately 250 employees, it's one of Belize's biggest employers. And, according to Julian Thiessen, Peter's son and Westrac's Marketing Director, change and progress is a constant at this ever-evolving company. This past year, he reports that upgrades and expansions to service centers have been a priority. "They felt that was the big need," he notes. "So, in Belize City, they're opening a multi-door car service center on the same property our branch is on."
"Also, the main branch, here, recently switched to solar panel power," Julian continues, "which we think is a really smart step forward for multiple reasons; the obvious one being that we don't have to pay so much for power, but also for the 'green' effect on the environment. They also finished improving the yard, here, so, the main branch got quite a bit of attention. At our smallest branch, in Belmopan, they extended the warehouse, upgraded the service shop, and put in a new show room. So, now it's bigger and much nicer."
"The largest thing we did was merge with Midway," he adds. "It used to be a sister company, but now it's been merged with Westrac, so it's just another branch. Now, we can move Midway's products much more easily; we can use Westrac's network of sales reps and trucks to distribute products that were just Midway's. That's going to have a really big effect on those items, and serve Midway's customers, better."
Lastly, Julian reports that the company centralized its customer service center. "Prior to that, it was branch by branch," he explains. "We felt that a centralized center could have better access to imports and marketing, and give better service. So, we renovated the headquarters and, now, we have about a half a dozen to a dozen people working in our customer service center here at the main branch. It will have a really positive effect on our customer service."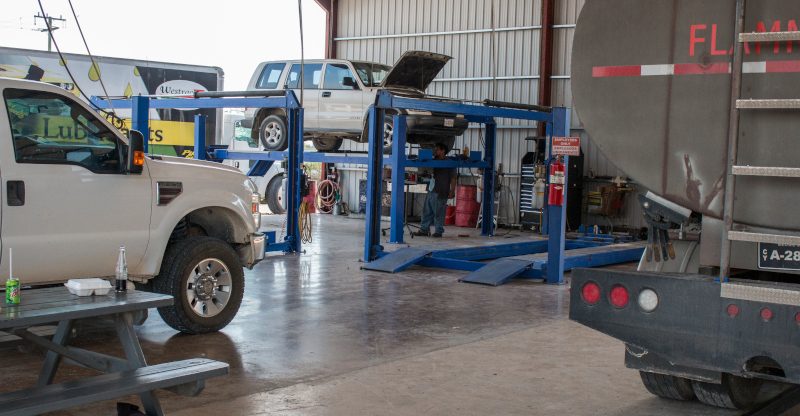 Recently, approximately 600 people – employees and their families – attended a company party, at which time Peter Thiessen gave a short address. In it, he informed the guests of some important company initiatives, thanked them for their work and support, and laid out a roadmap for Westrac's future. One such initiative concerned the company's insurance benefits, which go up to 80 percent for employees with over five years' tenure. Another addressed his excitement over the solar panels installed at the main branch, which, at a cost of just over $200,000, should amortize within five years, while, at the same time, minimize the company's negative impact on the environment. And, while lauding the upgrades at service centers and branches, Peter added that construction will continue where needed, and potential new locations are always being considered, perhaps, in the southern part of country or in its cayes.
But perhaps, most importantly, were the following sentiments that Peter offered about the company's culture and current condition: "I have heard that Westrac isn't the same. Some people wish it was just simpler. But the truth is we are not the same. Westrac is structured now. Westrac is structured for success. We are bigger and better and that is the direction we want to move in. The world keeps changing and so does Westrac. If you stay the same, you will be left behind.
"Through everything, we need to stand up for the company and be ready for the challenges. But we are going to learn, we are going to grow and Westrac is going to keep moving forward. As a Westrac family, we must work together and look forward with a positive mind. So, speak positively about the company and our coworkers. Help each other move forward and don't allow hard times to bring us down. The biggest accomplishments are hard. Westrac was built on hard work. We need to fight and push forward.
We all learn and grow, and we just push together."
AT A GLANCE
WHO: Westrac Limited
WHAT: An automotive and agricultural supply company
WHERE: Spanish Lookout, Belize
WEBSITE: www.westracbelize.com

East Penn Export Dept. –  www.eastpennmanufacturing.com
Westrac carries a full line of Deka Batteries and Accessories. Built with over 300 quality control checks, Deka batteries have a world-renowned reputation for prestigious quality and premium performance. For over 70 years, the Deka brand has been faithfully servicing critical applications with dependable starting, innovative designs, and sustainable solutions.