Encompass Cayman
Uncompromising quality
Business View Caribbean interviews Eric Kline, Senior Project Manager at Encompass Cayman, as part of our series on Caribbean construction companies.
Eric Kline, Senior Project Manager at Encompass Cayman, a six-year-old design/build firm, admits that starting a construction business on Grand Cayman Island in 2012, might not have been the best decision in terms of timing, but it certainly has turned out to have been the right one, in terms of success. In six short years, the company has carved out a niche for itself in a diversity of real estate fields – condo renovation, office and commercial construction, single family homes, and community development – where it is well-known for the quality of its work and its commitment to its clients' needs and desires.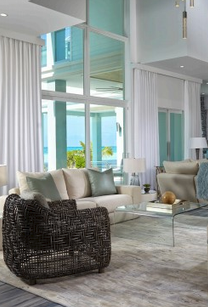 Kline, who was a Certified General Contractor and project manager in Florida before relocating to Grand Cayman, says that his company's entry into the local condo renovation market was facilitated by a good relationship with the Ritz-Carlton, the island's Five Star resort, where both he and his wife, Tracey, had worked since 2007 – he as a Senior Project Manager for several properties, and she, as Director of the Resale and Rental Division at The Residences at The Ritz-Carlton, Grand Cayman, which was interested in renovating some of its older condominium units.
"Our niche, at the time, was geared to that particular property," he relates. "We were positioned to come in and take that opportunity, based on our reputation for high-end condo work. It's very difficult to do renovations in an existing resort, but because we offer design/build services, and we knew the property very well, we were able to work around some of the existing infrastructure. We came up with some very creative designs as well as great execution in this resort project."
What Encompass actually accomplished was a masterpiece of reinvention, completely re-imagining a 6,000-sq.-ft space, which, eventually, turned out to be "at the other end of the design spectrum from the original Ritz-Carlton design," according to Kline. "Although it was never built, there was plumbing, electrical, and mechanical stub-outs that would typically limit the design. We basically ignored those restrictions and found creative ways to move everything around to where we wanted it. We literally sculpted the ceilings and the walls around pipes and other obstructions while at the same time incorporating the curves into our design."
From that stunning success, the firm moved on to other high-end, condo renovations. "We've done one or two renovations on just about every condo on the famous Seven Mile Beach," Kline notes. "Then we got into some commercial work, where we started doing renovations and fit-outs for offices, and we also did some high-end, custom homes. Last year, we won the best single-family unit at the International Property Awards." (The International Property Awards, first presented in 1995, are open to residential and commercial property professionals from around the globe. They celebrate the highest levels of achievement by companies operating in all sectors of the property and real estate industry.)
In fact, Encompass won two IPA best single-family home awards, last year, for its Sun Serenity, a 7,800-sq.-ft., luxury, oceanfront villa, complete with a rooftop, sunset terrace, a 70-ft. pool, and six bedrooms (that include four second-floor master suites), situated in the beach community of Cayman Kai at Rum Point Beach. It won, first, for being the best Caribbean property, and, then, for being the Best Single Residential Property in the World.
Most recently, Encompass has moved into developing its own properties. Its opening gambit is SeaHaven, a six-building development comprised of 13, two or three bedroom villas with roof terraces, private docks, and garages, on a pristine, navigable waterway on the island's North Sound, which Kline says is now selling.
In response to this broad spectrum of successful ventures, the company has been invited to work in other Caribbean locales, but so far, it has declined the offers. "We found that we have so much opportunity here in Cayman, that it didn't make sense for us to pursue anything off island, at the moment," Kline says. So for now – at least – Kline, his wife Tracey, Encompass's Marketing Manager, and the company's staff of 50, will stay at home.
Kline believes that Encompass's main strength, as a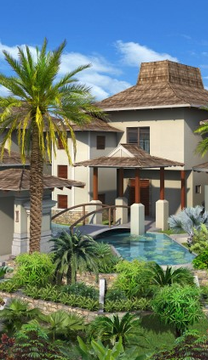 true design/build firm, is being able to take a project from conception to completion. "We feel like we're very strong on design and because we have a great construction background, there's some very good synergy where we can bring good construction principles into the design process to make sure things are designed properly, efficiently, on budget, and with the intention of where we're ultimately trying to go. That's a pretty important part of us being successful. In Cayman, I don't know of another company that's exactly like us, where we can handle everything from the architecture to the development work to the construction and interior design. And because we're designing it and building it, we understand what the client's vision is, and we're able to find opportunities, even during construction. So our projects have a tendency to evolve and be better than what they were as originally conceived and after the drawings have been completed."
Adding yet another competitive advantage, Kline relates that while other project managers might pick up different crews at different times with different skill sets for a particular job, Encompass keeps its hands around the quality of its work by handpicking its crews, training them, and then, hiring from within. "Most of our guys come from our own guys knowing somebody who they think would be good to bring into our organization," he explains. "And we make sure that whoever comes into the company adopts the culture that we have – the way they talk to people, the way they dress and present themselves, the way they approach a problem. We've got our team to buy into that; the culture is that strong. Then, we preach and teach that quality is the paramount part of what we do. We're uncompromising when it comes to that. So, if there's a mistake, or if something doesn't go as planned, we absolutely own it and we make sure that it is right at whatever cost, because we feel that the greatest value that we have is the quality that we bring to the project."
While the company has many Caymanian employees, including one Project Manager and all of its Superintendents, when Kline confronted a dearth of skilled trades on his own small Caribbean Island, he took the problem as a challenge and an opportunity, and looked to Jamaica. "I found a couple of guys who were pretty skilled and very willing to learn," he relates. "They wanted to provide for their families and work hard. And I think they've really embraced: 'bring your great attitude, bring your tools, bring the experience that you do have, and we're going to build on that.' We're not always able to hire top-notch, five-star carpenters, but we've done some fantastic work and difficult types of construction with a group of guys that didn't have the experience, but what they had was the heart to embrace the fact that they were part of something bigger than themselves, they wanted to be better, and they worked hard to learn the skills and get it done. And they understood that quality was uncompromising, so they had to 'measure twice and cut once,' stand back and make sure it looked right, and if it didn't, they took it out. There were some growing pains with that, but overall, it paid dividends for us."
Going forward, Kline believes that with the population on Cayman continuing to grow, as well, Encompass may be able to double in size over the next 15 to 20 years and even expand its offerings. "We're seeing the government doing some infrastructure projects, and there are some very large developers who are building resorts and amenities," he states. "So, our opportunity to work on the fringes of that is pretty strong. We see some big opportunities on the development side – things like warehousing and affordable housing. Most of our housing here is very expensive and we definitely have a need for affordable housing. And on the storage side, as we keep attracting more and more businesses, with office space being extremely expensive, they'll need storage offsite. So there are some good opportunities there on the development side."
Encompass has also been able to draw some outside investment. "We're attracting venture capitalists and other investors who feel very confident about putting their money into our hands to deploy and manage," Kline declares. "So, we see opportunities to do some joint ventures with a lot of private financing for small beach resorts and boutique hotels, as well as affordable housing. We feel that there's a huge opportunity for us for growth in the future, especially since the Cayman Islands are growing. And we're in a great position to take advantage of that. Our company has grown exponentially over the six years that we've been in business, and I feel like we're just getting started."
Check out this handpicked feature on Cayman Islands welcoming a record 1.3 million visitors in the first half of 2018.
AT A GLANCE
WHO: Encompass Cayman
WHAT: A design/build, construction, renovation, and development firm
WHERE: Grand Cayman, Cayman Islands
WEBSITE: www.encompasscayman.com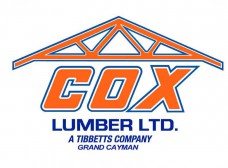 Cox Lumber Ltd. – Cox Lumber Ltd. was founded in 1949 by Linton N. Tibbetts, who purchased a half interest in the six-year old Cox Supply Company in the United States, which later became the Cox Lumber Co. Twelve years later, Tibbetts purchased the remaining half of the company and set his sights on becoming the largest independently-owned lumber and building materials supplier in the state of Florida, and the largest roof and floor truss company in the Southeast United States. In 2006, the Tibbetts Family sold Cox Lumber Co. to The Home Depot after posting record sales of $396 million in 2005, with 28 locations including 11 truss plants and 15 door plants in Florida and the Cayman Islands.
In 2009 the Tibbetts Family decided to re-enter the lumber business in Florida by establishing Tibbetts Lumber Co. with one small location in St. Petersburg. Today, the company has five locations in Florida and three Cox Lumber Ltd. locations in Grand Cayman. 2015 marked a new era for Cox Lumber Ltd., with their newest flagship store opening in Bodden Town to support the future growth in a facility large enough to handle the construction needs across Grand Cayman for years to come.  An additional facility in the industrial area of George Town, handles the building of trusses and the manufacturing of rebar. –www.coxlumberltd.com