FosRich Company Ltd.
First in class, best in class
Business View Caribbean interviews Cecil Foster, Founder of FosRich Company Ltd., as part of our focus on best business practices of Caribbean companies.
FosRich Company Ltd. of Kingston, Jamaica is a distributor of lighting, electrical, and solar energy products. It was founded in 1993 by Cecil Foster, who up until that time was a sales representative for a company that sold electrical items all over Jamaica. When the local economy crashed in the early 1990s, he decided that he would go into business for himself. "I hired two persons to help me," he recounts. "I used my studio apartment to make telephone calls and invoices and got a small warehouse. I would stock the goods there and sell them to customers in Jamaica. I did that for a couple of years. Then the company grew a little bigger. We moved to a commercial spot for business. Today, we have four locations across Jamaica – Kingston, two in Montego Bay, one in Mandeville – and a hundred people on staff. We are a publicly listed company with assets and share value of a billion Jamaican dollars."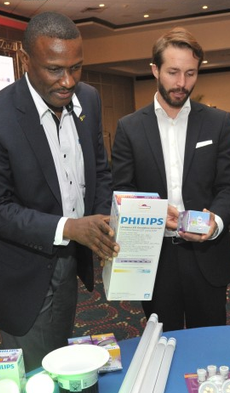 Foster says that FosRich differentiates itself from the competition in several ways. "One way is our ability to get to the customers in the shortest amount of time, wherever they are in Jamaica," he states. "No other company in our field is about to do that. We are a wholesaler and we are a retailer. We're always delivering to projects and persons who are reselling, and our stores are open to persons who want to buy our products, in store. So, we are the only company that 'wraps itself' around Jamaica."
"Two: we differentiate ourselves by the partnerships that we have developed with some Fortune 500 companies" Foster continues. "For instance, we are the local partners for Philips Lighting; we are the local partners for Current, powered by GE; we are the local partners for Siemens Products; and we are also the local partners for Nexans Cables. We represent them, here, and their knowledge base is transferred to our staff. We don't just have customer service personnel – we have on staff, at least nine electrical and energy engineers."
FosRich has three main divisions: FosRich Electrical provides boxes, panels, SWA cables, wires, wiring devices, bulbs, contactors, breakers, switches, and similar apparatus, to both retail and commercial customers. "And we are presently expanding into the industrial electrical field with transformers, distribution boards, and switch gears," says Foster. "We are recruiting engineers and technical persons."
FosRich Lighting World was launched in 2010 to provide
local consumers with the option of buying quality and cost-efficient ceiling and standing lighting, outdoor lighting, fans and electrical products locally, rather than from abroad. Recently, this division partnered with the Urban Development Corporation to re-light Sabina Park stadium, Jamaica's main cricket venue, as part of a US$2.7 million lighting renovation project sponsored by the Government of India and Jamaica's Tourism Enhancement Fund.
The Energy Division, which was launched in 2011, deals in energy-saving lighting options and supplies and installs solar water heaters, solar photovoltaic systems, lighting, LED lighting and induction lighting products. It has a technical staff with expertise in electrical and alternative energy, along with certified, professional engineers. The division is able to service residential projects as well as more complex corporate and industrial projects, and also provides services to government entities. It recently partnered with the Jamaica Public Service Company and Philips Lighting on the country's Smart LED Street Lighting Replacement project. "They are doing a retrofit of 140,000 street lights, changing them over to LEDs and making them more modern," says Foster. "We are part of the first phase that has been completed, and the second phase is now to be rolled out."
Most recently, the Energy Division is looking to expand its footprint in the renewable energy space and has embarked on a hire purchase program as oil prices trend upwards. The company has seen an increase in requests for the financing of LED retrofits and solar water heaters, and has partnered with a financial services firm to finance the purchase of renewable energy products by commercial entities and individuals. The agreement allows businesses to access up to $20 million for the purchase of a solar system, repayable over a five-year period.
This past December, FosRich offered 20 percent of its shares on Jamaica's junior stock exchange, making it a publicly-traded company. "The offer was taken up within one minute," Foster states, "so the IPO was very successful. We now have a strong board and governance policy that is making us a world-class operating company."
Going forward, Foster says that his objective for FosRich is to be "first in class and best in class. And we're going to achieve that through being empathetic," he declares. "We're going to understand our internal customers, our external customers, and we are going to listen to them and drive the business through the brand's offerings: decorative lighting; energy, including solar and LEDs; electrical distribution; and industrial electrical. We are looking for the business to double its capacity and sales numbers in the next three years, and, in doing so, bring great value to our shareholders, our customers, and our staff."
Check out this handpicked feature on Tijule Company of Jamaica.
AT A GLANCE
WHO: FosRich Company Ltd.
WHAT: A distributor of lighting, electrical, and solar energy products
WHERE: Kingston, Jamaica
WEBSITE: www.fosrich.com