Arch and Godfrey
Building relationships
Business View Caribbean interviews representatives from Arch and Godfrey , as part of our series on best practices of Caribbean construction companies.
Based in George Town, Grand Cayman, Arch and Godfrey is one of the oldest, largest, most successful, and well-respected general contractors in the Cayman Islands. The company was originally founded in 1972 by Henry J. Arch Sr., Arthur H. Arch, Heber G. Arch, and Townend & Godfrey Brothers Ltd. "Our company is 46 years old," says Company Founder and present Chairman, Heber Arch. "The Arch family was in the shipbuilding business for generations, and my father started a small construction business in the early 1950s. Townend & Godfrey Brothers Limited was a company that I went to work for after graduation from college to gain experience, overseas; they were the most reputable construction company in Jamaica at that time. I came home to work with my father and, seeing the demand for construction services, I spoke to Townend & Godfrey Brothers and we formed a company here in Cayman – Arch and Godfrey."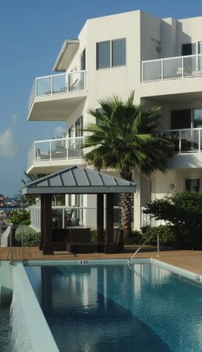 "The construction industry, in those days, was controlled by two major British contractors: Sir Robert McAlpine and Hadsphaltic International," Heber continues. "Tourism had started, and with it came the beginning of condominium and hotel construction. After Mike Godfrey and I got together and decided to form a local company that would meet the demands of the size and complexity of buildings that were now ready to be built, we established ourselves very quickly. It was evident we could compete, and it wasn't long before we became a leader in the construction industry here. We built our reputation on client satisfaction and meeting our commitments to quality workmanship, completion on time, and within budget."
Arch and Godfrey's earliest projects were private residences designed by Heber Arch. They include some of the largest, best-equipped, and finely finished homes in the Cayman Islands of that time. The company also built the Owen Roberts International Airport Terminal in 1984 – its first contract with the government of the Cayman Islands. The company's excellent performance, completing the project months ahead of the contract period, achieved substantial savings for the government, further solidifying Arch and Godfrey's position as one of the major contractors in the country's construction industry.
Today, the firm's services include all aspects of construction, including construction management, design/build, and lump sum and unit rate contracting. The company's portfolio includes numerous condominium projects along world-famous Seven Mile Beach, such as The WaterColours, The Water's Edge, The Pinnacle, Laguna del Mar, Lacovia, Regal Beach Club, and the Commonwealth, as well as several hotels including Comfort Suites, Sunshine Suites, and a recent, new multi-million dollar renovation to the Westin. The company has also constructed retail centers, schools, office buildings, and custom homes. Among its recent projects are some of the most innovative, high-end developments on Grand Cayman, including The WaterColours, Casa Luna, SeaView, and Appleby Tower in central George Town.
Garth Arch, Heber's son and the company's Managing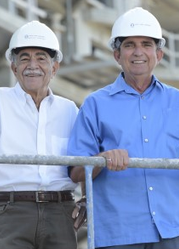 Director, reports that the firm's core staff consists of about 30 people. "However, as projects develop, we escalate that number as required, especially for major projects that are under construction," he explains. "Our head office is located in George Town, Grand Cayman; however, we have conducted projects as far as the British Virgin Islands, the Turks and Caicos Islands, and in Jamaica, as well. But our niche product is luxury condominiums along Seven Mile Beach, here in Cayman. We have built many of those projects over the years."
Garth believes that one of the main things that differentiates Arch and Godfrey from other construction companies is that, in addition to building structures, the firm carefully builds and nurtures its client relationships. "We have clients that we have worked for, for over 40 years," he notes. "We have built trust with our clients by delivering the high quality they expect, on time and within budget. And, over the 46 years of our company's history, we have never been to court or in arbitration, a testament to the commitment to building long-term relationships with our clients."
Heber agrees. "One of the main things that we do very well is to make sure that our client, at the end of every project, is fully satisfied," he avers. "Our main core value that we stress throughout the company is that we do what we say we are going to do. Integrity has been the backbone of our company and we expect that everybody who works for us performs with the absolute highest level of ethics and integrity."
Co-Founder, Mike Godfrey, who has retired from the company, but retains the title of Director, adds that the firm's internal unity has also been a factor in its success. "We have worked together as a team," he states. "We respect each other; we have never had any disagreements over the 46 years that have affected our friendship or our business relationship."
Garth reports that the company has never relied solely on its reputation – it continues to innovate and invest. "We are continually strengthening our operations and advancing our technologies," he says. "Within the past few years, we have invested in an expansion of our office building; it is the first LEED Platinum building in the Cayman Islands and one of only a few across the Caribbean. It's highly efficient. We have also, as a company, promoted sustainable development and are now building Cayman's first LEED residential community, Periwinkle Grand Harbour. We have invested in building information modeling (BIM) and we are currently using BIM technology on various projects. In addition, we are presently looking at expanding our operations due to the projected increase in demand in the short-term future."
With a positive economic outlook in the Cayman Islands over the next several years, Garth says that Arch and Godfrey will remain focused on its core business – construction services. "We plan to continue what we are doing, do it well, and serve our clients to the best of our ability. We love what we do and as we reflect on the work that we have accomplished over nearly half a century, we are grateful for the opportunity to have played a part in the development of the Cayman Islands. We look forward to continuing our tradition of excellence for many years to come."
Check out this handpicked feature on the Best of Barbados Gift Shop in Barbados.
AT A GLANCE
WHO: Arch and Godfrey
WHAT: A general contractor and construction company
WHERE: Grand Cayman, Cayman Islands
WEBSITE: www.arch-godfrey.com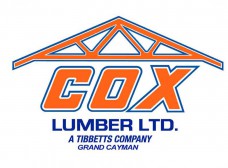 Cox Lumber Ltd. – Cox Lumber Ltd. was founded in 1949 by Linton N. Tibbetts, who purchased a half interest in the six-year old Cox Supply Company in the United States, which later became the Cox Lumber Co. Twelve years later, Tibbetts purchased the remaining half of the company and set his sights on becoming the largest independently-owned lumber and building materials supplier in the state of Florida, and the largest roof and floor truss company in the Southeast United States. In 2006, the Tibbetts Family sold Cox Lumber Co. to The Home Depot after posting record sales of $396 million in 2005, with 28 locations including 11 truss plants and 15 door plants in Florida and the Cayman Islands.
In 2009 the Tibbetts Family decided to re-enter the lumber business in Florida by establishing Tibbetts Lumber Co. with one small location in St. Petersburg. Today, the company has five locations in Florida and three Cox Lumber Ltd. locations in Grand Cayman. 2015 marked a new era for Cox Lumber Ltd., with their newest flagship store opening in Bodden Town to support the future growth in a facility large enough to handle the construction needs across Grand Cayman for years to come.  An additional facility in the industrial area of George Town, handles the building of trusses and the manufacturing of rebar. –www.coxlumberltd.com