Supreme Ventures Limited
Jamaica's premier gaming company
Business View Magazine interviews Ann-dawn Young Sang, CEO of Supreme Ventures Ltd. as part of our focus on gaming enterprises in the Caribbean.
Supreme Ventures Limited (SVL) is the premier gaming and entertainment provider in Jamaica. The company was formed in 1995, by its three founding directors, former Chairman, Paul Hoo; current Deputy Chairman, Ian Levy; and the late Peter Stewart. "They started the lottery operations back in 2001 with around 28 employees," recounts SVL's current President & CEO, Ann-dawn Young Sang. "At that time, the company started with two main games: the very popular Cash Pot and Lucky 5 games. The third game, Dollaz!, came on stream in January 2003. They weren't allowed by the regulators to introduce any games already being offered by the competition, so they had to be innovative. Straight out the starting gate, Supreme Ventures earned the enviable reputation of being one of the more dynamic companies in Jamaica."
"In 2003, SVL acquired its competitor, the Jamaica Lottery Company, and that move served to cement the company as a dominant force in the gaming industry in Jamaica, setting the pace with innovative products and streamlined operations," Young Sang continues. "By the time SVL listed on the Jamaica Stock Exchange as part of the conditions of our license on February 28, 2006, our portfolio had grown to include Sports Betting through the JustBet brand and Video Lottery Terminals (VLTs) through the Acropolis Gaming Lounge which opened in Kingston in July 2005. In August 2009, Supreme Ventures became the first provider of a mega-millions multijurisdictional lottery game, Super Lotto, for gamers in eight countries in the Caribbean."
More innovation and acquisitions followed. In 2017, SVL acquired a lease for the iconic horse-racing track, Caymanas Park, and became the key promoter of racing in Jamaica through its subsidiary, Supreme Ventures Racing and Entertainment Ltd. At the end of 2018, the company launched its first regional brand, iBet Supreme, in Georgetown, Guyana, officially opening its doors in January of 2019.  The new facility offers sports-themed gaming machines, as well as simulcasts of Jamaican horseracing from Caymanas Park, and from legendary tracks in the United States, such as Belmont Park, Saratoga, and others.
In 2019, the company acquired a majority share of Post to Post Betting Limited (P2P), a Jamaican company that offers gaming products, including sports betting and horse racing to the Jamaican market under the Post to Post and ANYBET brands. Then in 2020, SVL acquired the majority stake in Champion Gaming Company Limited, a Jamaican company with more than 1,200 slot machines across the island, representing around 15 per cent of the slot machines market in Jamaica
"We've always been in the mode of innovation, expansion, and growth. That's a part of our DNA," says Young Sang. Today, SVL directly employs over 500 people including part time employees and has seven retail centers that are owned and operated by the company. Its retail network, island-wide, includes over 1,700 retailer/operators who offer its full suite of lottery games, horseracing, sports betting across both brands, and mobile betting options across all segments. The company's ecosystem, however, indirectly employs over 30,000 persons, largely through small, ancillary businesses linked to the horseracing operation at Caymanas Park, as well as over 5,000 persons across its third-party retail network.
"As a gaming and entertainment company, the Supreme Ventures Group serves a mass market across all socio-economic segments in the country," Young Sang reports. "Our clients purchase across our suite of numbers gaming products depending on what attracts them, i.e. Super Lotto, Cash Pot, Money Time, Pick 2, Pick 3, Pick 4, Lucky Five, Top Draw, Dollaz, and Lotto. In addition to this group of products, the Group also offers Sports Betting products and mobile channels such as MBet for horseracing. Other products include VLT gaming, Horseracing, and mobile Pin Codes. The diverse products in the various segments are what drives the revenue for the Group. The company is also exploring options for transaction processing withing the retail network."
The gaming industry in Jamaica, and the region at large, comprises both large and small players, but Young Sang believes that SVL has several advantages that has made it the market leader. "Jamaica has a very dynamic market and we face competition in all aspects of the gaming segment," she notes. "What makes us unique, I think, is our product differentiation; we have 10 games in the lottery segment. I don't know of any other operator in the world that has as large a lottery offering as we do. So, our customer base is diverse and wide because each gaming segment has a different type of target customer; our players are different, spanning various demographic categories. We have a retailer in every single parish, so we probably have the widest retail network that is dedicated to selling our product. That helps us to roll out our various strategies and gives us the opportunity to leverage across the different segments. Also, we listen to our customers; we have the flexibility to respond and we believe in continuous innovation to make sure that we're consistently delivering an excellent product, bar none."
As one of the largest taxpayers in the country, SVL's partnership with the Jamaican government enables the development of infrastructure and the economic growth of the country. In addition, with over 1,700 retail locations across its network, the company is one of the largest enablers of small and micro- enterprises in the island.  Because of its ecosystem of regulators, third-party retailers, indirect employees, and multiple beneficiary suppliers, Supreme Ventures is an economic tour-de-force. "So, we're able to facilitate growth of the economy," Young Sang states. "And because we run, largely, a 24/7 operation, we have an engine that almost never stops."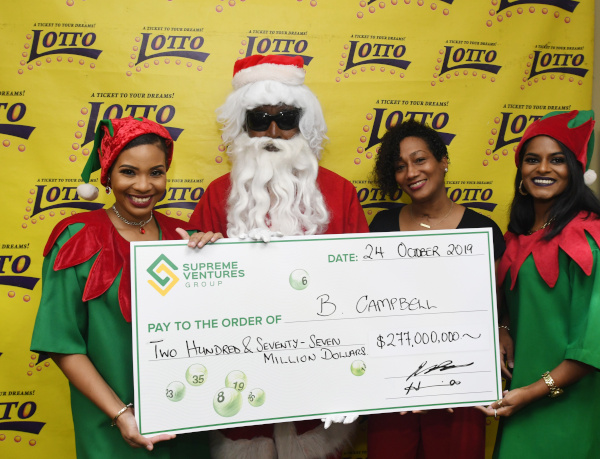 SVL is also very involved in charitable giving. "We give back significantly," says Young Sang. "We fundamentally believe in our corporate social responsibilities and duties. We have become ingrained in the community, not only as a provider of gaming and entertainment, but also through our good causes that have gained significant momentum over the past three years. We have the Supreme Ventures Foundation, which is currently working to improve fire safety for children in state care, nationwide. We do this project in tandem with the Ministry of Education, Youth and Information, the Child Protection and Family Services Agency, and the Jamaica Fire Brigade. We also launched another program we're calling Our Supreme Heroes – the unsung person or business in a community who does a lot to boost their community by getting involved in helping others. The program will assist in training and providing funds that can help these unsung heroes to give back more to their communities. And that's only a part of what we do. We also support R.I.S.E. Life Management Services, the country's social disorder and addiction treatment service agency as well as financing over 90 percent of the CHASE Fund, which plays a very valuable role in implementing programs that improve culture, health, the arts, sports, and education sectors in the country.
Going forward, Young Sang's agenda for the company includes growing its operations in Jamaica and expansion into other markets, while implementing an upgraded technology platform that will allow the company to be more responsive to its customers' needs. "More and more, our customers are asking for convenience and so, one of the things we started, last year, was to enter the world of mobile," she relates. "We are very focused on bringing our games into the digital space with a focus on consumer accessibility and convenience. We're investing in our technological infrastructure; we're going to revolutionize how we operate by trying to have our products at the very fingertips of our customers; the digital landscape is key for how we look at digitizing our future."
Another agenda item is continuing to invest in the company's human capital – both its employees and its retailer network. "We believe we have the best and brightest there is," she states. "And, we would not have been successful if we did not have our staff, and if we did not have such a highly-committed retail base. So, we will be ensuring that we invest in initiatives that allow for staff training and up-skilling, as well as ensuring our retailers' businesses grow right alongside our own."
In the end, Young Sang says that: "SVL is about maximizing value to all our stakeholders, who we consider key strategic partners. They range from our shareholders, to our employees, to our retailers, to our regulators, and to the government for which we create a reliable, steady tax revenue that helps to fuel growth within the economy. Our mandate is that wherever we operate, we're going to give it the best with everything we have; we're going to leverage all aspects of opportunity to the best of our ability; we're going to fuel growth that is sustainable. So, the evolution you're going to see in our products and service quality will be by leveraging our capabilities wider and looking for more opportunities that may exist in the landscape based on our access points that we already have and the numerous lives that we touch every day."
AT A GLANCE
WHO: Supreme Ventures Limited
WHAT: Jamaica's premier gaming and entertainment provider
WHERE: Kingston, Jamaica
WEBSITE: www.supremeventures.com