Peake Technologies Limited Trinidad
All about the chill factor
Business View Caribbean interviews Daniel Peake, Director & Project Manager at Peake Technologies Ltd, for our focus on Best Practices in Construction
When it comes to keeping cool, the caring team at Peake Technologies Limited is working hard behind the scenes, so you can chill out with no worries. An independent subsidiary of Thomas Peake and Company Limited, Peake Technologies is a well-respected family business that has grown to become the trusted provider of high performance air conditioning equipment, cooling technologies, and all the necessary parts and services from top brand names in the industry.
Peake Technologies delivers a full-suite of solutions to the residential and commercial air conditioning services markets, coupled with outstanding after-sales support. The company's continued success over more than 60 years is a testament to their dedication to consistent performance, competence, and excellence in customer service.
Since 2003, Peake Technologies Limited has expanded across Trinidad with six retail outlets, including a head office which houses their service and engineering departments. They service all brands and ranges of air conditioning products from small residential units to heavily engineered systems, inclusive of design, build, and commissioning. The Peake Technologies crew is proud of their work on a multitude of projects in Trinidad & Tobago, Guyana, St. Lucia, and other islands.
Daniel Peake, Director & Project Manager for Peake Technologies Limited, reports, "Our biggest issue right now is the global supply chain slowdown that has created major problems for projects. Lead times are stretched out to 12 months and some places we can't get another order in for a year and a half. Our customers understand what's happening, although some are more frustrated with what goes on because they have their own timelines for projects that they want to get up and running."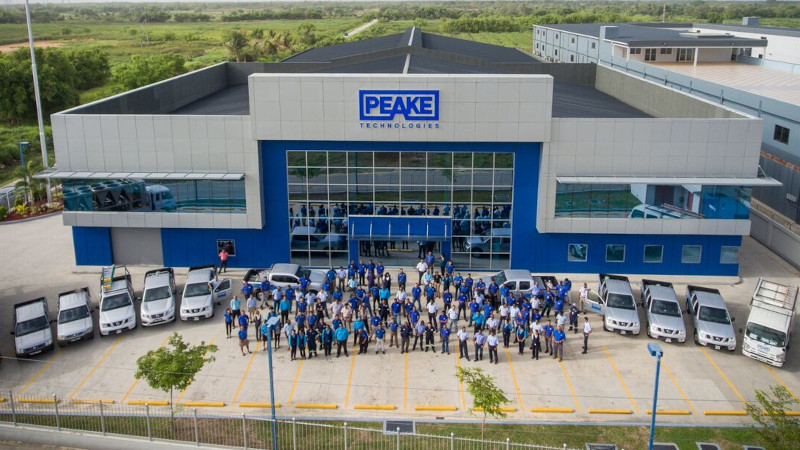 For example, Peake Technologies started a construction job at Piarco Plaza Food Hall in July of 2021 and they're hoping to open July of this year but still haven't received units that were ordered last August. With manufacturers experiencing delays of raw materials from China, and the increase in shipping costs, there is much for Peake Technologies to contend with. Daniel confirms, "We've seen a 35 to 40 % increase in pricing over the past year. Some of the increase we are able to pass on to customers, when we show them what the costs really are, and they accept that. Normally, we have a valid date of four weeks on our quotations and, pre-COVID, we've been somewhat lenient with that. But now when the date is up, we have to re-quote because prices are changing so rapidly. Sheet metal and equipment prices are going up… every other month, we see a price increase from a different supplier."
He notes that in Trinidad, most people are accustomed to the maintenance side of things, trying to make their equipment last as long as possible before they need to change it. So the service industry has remained been busy throughout the pandemic. Many customers are changing out parts, changing compressors, so they don't have to deal with the lead times of getting new equipment.
All employees are treated like family at Peake Technologies, because, of course, it is a long-time family business. The team includes anywhere from 60 to 80 inhouse staff and another 40 contractors. According to Daniel, "They all feel very respected and they do like working for us. Quite often, we have people leave the company to work for someone else and then tell us, "I have to come back because they aren't as lenient as you." So we're quite fortunate to have kept all our staff and we keep motivating them. We have little get-togethers and activities for them to keep their spirits up."
Along with their six retail outlets, Peake Technologies does work in Guyana and they have really been looking to expand and open a branch over there. However, the high cost of land at the present time has posed a hindrance. The company also continues to work in Saint Lucia and other islands. In fact, they recently installed a modular chiller at the hospital in St. Lucia and that was commissioned in April of this year.
"Twin City Village Center is probably one of our largest projects that we've been working on," says Daniel. "This project came on stream before COVID happened – in 2018/19 – and with the whole slowdown of work throughout the past couple of years it has been really dragging on. But we're getting to a point where tenants are now starting to occupy the mall, and the mall owners are commissioning the equipment. That project, which was 1800 tons of packaged units and fridge units, is now coming onstream. So slowly but surely things are picking back up to the way they were before COVID."
The T&T Ministry of Health is now building a new headquarters on the east side of the Savannah in Trinidad, and Peake Technologies has the contract to hookup a chill water system at that location. They've almost completed that job, also. Daniel explains, "For the past six months or so, we've been really trying to get the smaller jobs up and running. We installed a Lennox CRS unit at a Credit Union in Port of Spain, as well as a residential system we installed for the Managing Director of Price Waterhouse Cooper in Trinidad. We're going ahead with as many jobs as possible."
Work in the residential sector has been going well for the company, although when shipping problems come up, they have to deal with that. Sometimes, there is a 2-3 week period where they don't have any equipment to sell – and that's a big challenge. Also, because Peake Technologies are the largest stocker of mini-split equipment in the country, when they sell out of their stock, a lot of the competition tends to mark up their price and try to gain back the market share. Daniel admits, "It's really competitive in the residential sales market in Trinidad, and supply issues cause a lot of problems."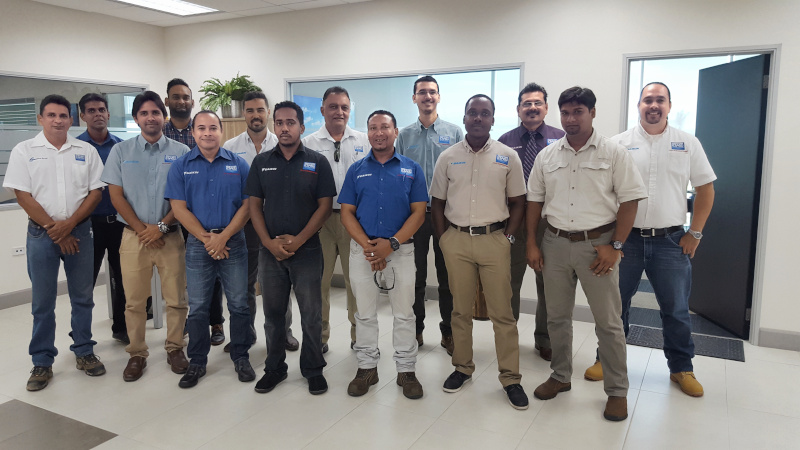 Technology-wise, the company has been working with AutoCAD and are now switching over to Bim (building in model) Rabbit. "It's a progressive transition into that workspace," Daniel says. "We're now going through all the basics, trying to fine tune our analytics – creating dashboards for certain things that we want to look at. So our IT department has been busy this year. As with every company, minding your inventory is always the bread and butter, so we've been doing some exercises in terms of modernizing how we look at our inventory and analyzing how best our inventory can work for us. We currently have 10 – 15 % more assets in stock than we carried prior to 2020, just because of the supply chain issues. So we're trying to increase inventory of all the main items, so we don't run out."
Training and professional development is a critical component for the Peake Technologies team. The Air Conditioning & Refrigeration Industry Association represents workers in the industry and a few of the Peake managers are involved in their training programs. Recently, some of the Peake technicians were away for AAON training, which they just completed. AAON Inc. designs, manufactures, and sells semi-custom heating, ventilation, and air conditioning equipment for commercial and residential use.
Daniel attests, "They are a highly specialized supplier, and they can basically give you a unit with all the bells and whistles you need. There are some very specialized installations of that equipment down here, so we sent four people to the U.S. for that training. In addition, we have a very good relationship with Daikin Industries and we represent them in their DRF, as well as commercial, light commercial, and heavy industry products. We've done a lot of training with them and installations of their equipment, including a chiller at Mount Hope, one of our big hospitals in Trinidad. It's a 9.5 ton centrifugal chilled-water chiller that will be commissioned soon."
Looking ahead to the future, Daniel shares, "I can only wish for more work. We are looking for projects all across the Caribbean and we definitely have some of the best teams working alongside with us. So hopefully we can move forward into Guyana and continue servicing Trinidad, as well as the greater Caribbean area."
Carrying on with what they do best at Peake Technologies Limited… Keeping everybody cool!
AT A GLANCE
Peake Technologies Limited
What: Leaders in cooling technologies in the Caribbean
Where: Aranguez, Trinidad
Website: www.peaketec.com

Daikin Applied Latin America – Daikinlatam.com
Daikin, the mission of a leader
The pandemic left us great lessons, and even transformed our habits. We learned about viruses, bacteria, our immune system and placed important issues in the right place –  such as the quality of the air we breathe in our home, office, and buildings.
Consumer needs have evolved and become more sophisticated. Daikin, a Japanese manufacturer, a world leader in heating, ventilation, air conditioning and refrigerant systems, with more than 90 years in the market and a global presence in 145 countries, accelerated its pace and grew in the most complex moments to bring comfort and ensure a healthy environment for the new homes of the pandemic, which converted into offices and schools.
With a portfolio that covers the needs of homes, businesses and industries, Daikin stands out for technologies such as Inverter, which reduces consumption by 30% compared to traditional on/off systems and Variable Refrigerant (VRV) technology, which automatically adapts the temperature and achieves optimal user comfort while increasing seasonal efficiency by 25%.
Committed to providing high-quality climate solutions and products to create comfortable and sustainable indoor environments, Daikin is also leading the development of energy-saving technologies for the future.