Danosa Caribbean Inc.
Proudly Puerto Rican
Business View Caribbean interviews Waleska Rivera, President of Danosa Caribbean Inc., for our focus on the Construction Industry in Puerto Rico
Established in 1978, Danosa Caribbean, Inc. is a world-class manufacturer of SBS and APP roll waterproofing membranes, and distributor of innovative roofing solutions such as green roofs, cool roofs, and solar roof systems. For over 40 years, the company has been delivering best quality solutions to architects, roofers and contractors, building owners and developers for their roofing and waterproofing needs. No project is too big or too small.
Danosa Caribbean's award-winning products can be used as top finishes, under tiles, shingles, metal roofs, and solar panels in diverse applications: roofing, below grade, and beyond. Recipients of UL, FM, Energy Star, and Miami Dade County approvals, this dynamic firm is proud to be a certified minority and women-owned business. Well established as a manufacturer employing the highest standards, Danosa Caribbean is uniquely positioned to offer contract manufacturing solutions. Distributors serve as key partners in taking the company's products to international markets and private label agreements are also available.
The Danosa team of skilled professionals provide expert advice to roofing contractors, government agencies, architects, and other building maintenance professionals, employing Danosa roofing solutions in key projects of all sizes, including some of the most important buildings and residential developments in Puerto Rico.
Speaking to the background of the firm, Danosa Caribbean President, Waleska Rivera, shares, "We organized the company in 1978; the original owners were an investor from Spain. We started manufacturing material in Puerto Rico in 1980, though we were still selling product imported from the Spanish facility. Then in 1994, the company suffered a setback due to a fire in the plant and the owners decided not to continue the business on the island and to sell the company. So we came up with a Manager's buyout proposal which was accepted, and in 1994 we bought the company. At the time, it was just a matter of you do it or you don't do it. But when I analyze it now, I think, wow – it was the right moment. We're a manufacturing plant of roofing membranes – the only such plant in the Caribbean and the only woman-owned in North and South America that we know of. That makes us a little proud."
Rivera believes Puerto Rico was ready for a change; the suppliers, the clients, the employees, everyone was on board and happy for Danosa Caribbean to become a wholly-owned Puerto Rican company. And they put their words into action. Since then, the business has grown every single year, except for 2020 after the pandemic hit, which remained the same as 2019 though they were closed for 3 months. "During those three months we had a backlog, but we were closed down; we couldn't continue manufacturing, nobody could go out to do work – thus sales were totally detained. Ending up the same as far as sales and effectiveness of operations is an extraordinarily good sign in dire times," says Rivera.
Her rise in status within the company was a natural evolution, even in an industry sector that is typically male-dominated. Rivera started as Controller, then became General Manager, and while in that role did the Manager's buyout. She recounts, "We worked in the company, we knew the business, and we believe it was a great move. We learned a lot in the process. We always performed as an owner anyway, previous to our purchase. To be honest, it's the same as far as time dedication. But the responsibility is no longer shared and it is all on your shoulders; you have to make the decision and take the leap of faith. We have to have a connection between the mind and the heart, if those are not aligned, it's very difficult to reach your goals. With the mind and heart working together, you can put in the passion that is needed. Being an entrepreneur is not easy, and you have to really want it to pursue."
Danosa Caribbean is based in Bayamón, Puerto Rico with over 120,000 square feet of total operating and warehouse space in three locations. One houses the main plant and warehouse, nearby is another warehouse, and a third warehouse is on the western part of the island. The machinery is fully automated and runs with few people. In 1999/2000, the company changed all the production lines, and every year they bring in more automation and innovation with a goal of increasing efficiency. Rivera notes, "Operational costs in general are getting higher, so to keep competitive you have to innovate. We're very selective, we're enthused with it, and we're always looking at how to bring more innovation within our operation."
Since they manufacture, and have installers that only install exclusively Danosa products, the company has about 1800 direct and indirect employees – a key provider of jobs in the region. Along with a line of 32 products, they private label products for third parties. The main territory is Puerto Rico, followed by the Dominican Republic, as well as most of the Caribbean islands.
According to Rivera, "In Puerto Rico, we hold around 60 percent of the market share in SBS roofing membranes. We have products for commercial, for residential, for industrial, for institutional work – all types of buildings. Depending on the market tendency we do make changes in our products, but right now our products have proven to be resilient under the natural weather circumstances that affect Puerto Rico. In hurricanes, we've had industrial areas, for instance, where not one roof installed with Danosa products have had a leakage problem and has guaranteed continuous operations for these satisfied customers. We can assure customers that our products will make them resilient, and that has definitely been paying back. Today, we even hear people say "I want a Danosa roof" – of course, you don't actually get that, you get Danosa systems with products that can be different depending on the situation of the property. But nonetheless it's become a generic name."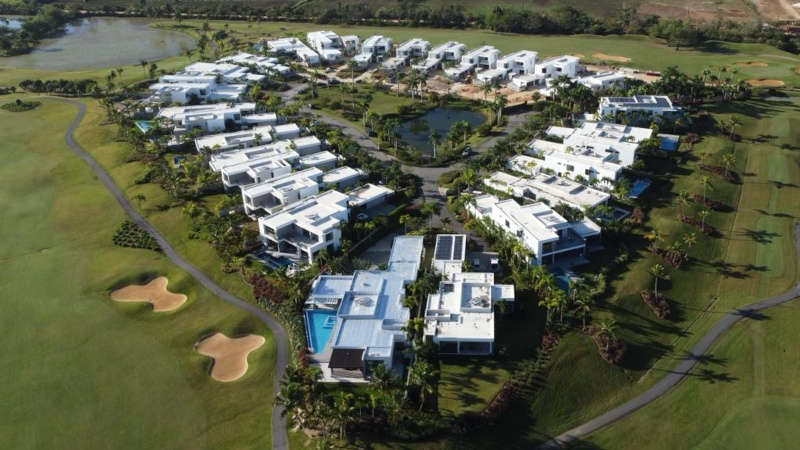 Throughout the pandemic, in the manufacturing area, Danosa employees have been very loyal to the company. Even when they were home, everybody received their wages. "We're a very family-oriented company and that ended up paying off," recounts Rivera, "because when government allowed people to come back to work, everybody was here. So that was great. Our clients, however, started having employee shortages and that affects the volume you can manufacture. Nonetheless, we're way above numbers with a very good projection. Puerto Rico is on its feet and willing to make this a different and a better place to work and to invest."
In addition to waterproofing walls and foundations, Danosa Caribbean is now entering the roads and bridges market. The specialized membrane products protect the structural elements of the road, so it will last longer and requiring less maintenance, which creates a lot of savings in the long run. One specialty product prevents the penetration of roots on a green roof. So you still have a watertight roof but you can put up your garden. Some buildings even have rooftop walking tracks using Danosa products underneath. It's a way of maximizing space.
"We also put membranes under solar roofing systems," says Rivera. "In fact, we're making people aware that before they put in a solar panels system, they have to get a durable watertight roofing system that will last as long as those panels. That has become a great issue in Puerto Rico because after Hurricane Maria, being months without electricity, it has made everybody aware of the need to have alternative energy systems. So every day, we're seeing more solar put in place, and with that the need for better waterproofing system to be installed below the solar panels."
The outstanding Danosa sales team is out of the office 99 percent of the time identifying projects and often finding new clients within those projects. Rivera explains, "If not, every time there's a bid you'll always see new customers. We talk to them, invite them to our plant, and then they can see that we're well established and trustworthy. We participate in all the industry events, whether it's virtual or in-person. Out of sight is out of mind, so we have to have a presence when there are projects out there." Serving customers and keeping good relationships with suppliers are Danosa's top priorities. Thus ensuring a timely, quality product is received – to serve clients is our best presentation.
Looking ahead, Rivera proclaims, "Reconstruction in Puerto Rico is on its way. There's a lot of federal money finally being received after Hurricane Maria and it will feel so good when we don't have one roof with a blue tarp on it. For the future of Danosa Caribbean, we would like to acquire another company with related products, increase our export market, and keep on growing internally and externally. In spite of everything being said about Puerto Rico, people should know that the private sector community is up and running and profitable, and we are all open for business!"
AT A GLANCE
Danosa Caribbean Inc.
What: Waterproof Roofing Product Distributor
Where: Headquarters in Bayamón, Puerto Rico
Website: www.danosapr.com