J.E. Bergasse & Company Ltd.
A proud legacy in St. Lucia
Business View Caribbean interviews Anthony Bergasse, Managing Director of J.E. Bergasse & Company Ltd., for our focus on Business Excellence in St. Lucia.
J.E. Bergasse & Company Ltd. is a proud, family-owned-and-operated business with more than a century of service in beautiful St. Lucia. The company that Joseph Edgar Bergasse began in 1906, as a purveyor of dry goods, food, alcohol, and tobacco, has evolved into a recognized source for insurance, office supplies, and high technology. Today, the core business centers around providing clients with technologies and products that facilitate greater efficiencies in the public and private sectors.
The company represents technology leaders including: Xerox, IBM, Lenovo, Lexmark, and RISO, and its B2B ecommerce service enables customers to conveniently order products online, 24-7. On the insurance front, United Insurance Agents (Saint Lucia) Ltd., a subsidiary of J.E. Bergasse, offers a comprehensive range of all classes of general insurance through their principal, Massy United Insurance Company Ltd.
Anthony Bergasse, Managing Director of J.E. Bergasse & Company Ltd., recounts the rich legacy of his family's business in St. Lucia. "The company was started in the early 1900s by my grandfather, Joseph Edgar Bergasse. It was really just a shop front in Castries, where he sold fabric, foodstuffs, and various other things, and did what he needed to keep his family fed. As the company grew, and took on more agencies, my father (Peter Anthony Bergasse) joined him. At that time, my grandfather recognized that insurance was an area they should probably get involved in. So, he sent my father to the UK to study about insurance, and when he came back, that side of our business was launched."
In 1959, current Chairman, Hollis Bristol, joined the Company and for the next 15 years, J.E Bergasse enjoyed tremendous growth and prosperity with the insurance business and other agencies, most notably, Heineken. "Our company used to import Heineken beer from Holland," Bergasse relates. "Then, in the mid-'70s, Heineken built a brewery in St. Lucia and for 10 years, we were their local distributor. But in 1984, when Heineken took on both local and international distribution themselves, it very nearly sounded the death knell for J.E. Bergasse, because the brewery accounted for well over 50 percent of our gross revenues."
By the 1990s, the company was in a downward spiral, and the death of Peter Bergasse in 1995 worsened the situation. Difficult decisions had to be made. As a result, food, alcohol, and tobacco distribution were discontinued, and insurance and technology services became the main focus. The core business was redefined and operations were streamlined to become more competitive in providing world-class customer service and support. This strategic move helped earn J.E. Bergasse status as a top "single source" service provider in St. Lucia.
According to Bergasse, "The only thing that survived from the first 60 years of the company is insurance. That is still an integral part of the J.E. Bergasse Group. We've since divested the insurance business off as a subsidiary into its own separate company – United Insurance Agents (Saint Lucia) Ltd. – where we're agents for Massy United Insurance Ltd. In all, 90 employees work for the Group at four locations: our head office just north of Castries, a branch office in downtown Castries, and operations in Soufrière on the west coast, and Villefort on the very south of the island."
J.E. Bergasse moved from its historical location on Brazil Street in Castries to new premises at Vide Bouteille in February 2002. The site integrates all the business units – Insurance, Technology, and Document Centre services – into a more spacious, productive, and customer-friendly facility. At the same time, the company opened a satellite Document Centre in the old FedEx offices on Bourbon Street to service customers in the downtown core of Castries. That location also provides Internet Café services and is an authorized FedEx shipment center.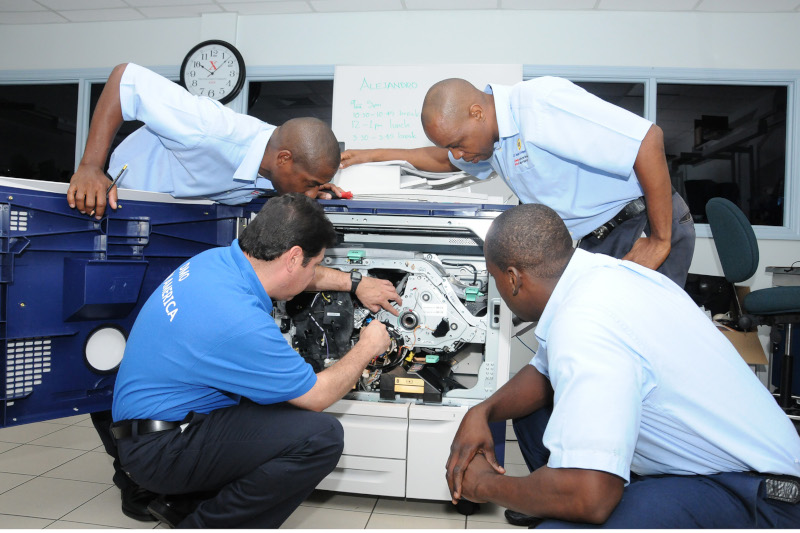 In its technology division, J.E. Bergasse represents hardware products from Xerox (the flagship brand), along with Lenovo, HP Enterprise, Lexmark, and RISO, and all the service and services that entails. The company has a cadre of people out in the field selling hardware and solutions, and office supplies (ink, toner, paper, etc.), while its popular B2B online shopping site consistently raises the sales figures. In addition, a technical area provides warranty and service work to the hardware platform, as well as analysts who provide advice to customers on how, why, and what to set up.
Bergasse notes, "In the last five years, we also launched a bill payment platform called SurePay. In a nutshell, we enter into agreement with various billers (utility companies – telecommunications, electric, water) to provide collection service. We then enter into agreements with other companies to serve as collection points, where the public can walk into the grocery store, for example, and pay their light bill. It helps the utility company and the consumer with bill payment. That's another service we provide. Then there's our whole document centre arena, which uses our own equipment and technology to provide the public the ability to do copies, printing, wide format, colour, black and white, engineering drawings – whatever."
Certainly, there is competition out there – other firms representing competitive brands and all fighting for the same piece of the pie. But its fine, long-term reputation stands the Bergasse name in good stead. For a long time, to the man in the street, it was known as simply 'Xerox.' They would say, "Ya, just go to Xerox," when they were pointing at the building that clearly said J.E. Bergasse on the door. And people knew what they meant. The government of St. Lucia continues to be a major customer. And Bergasse works very hard to maintain that relationship, both from a hardware supply standpoint and a services supply standpoint. In terms of other people they subcontract with to bring products to market, there's a memorandum of understanding of how they'll work together to benefit each other's businesses.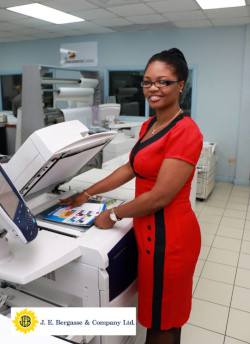 J.E. Bergasse is definitely a family-owned company – two families, in fact. As Bergasse explains, "There is my family, the Bergasse family, but Hollis Bristol is an important partner in the business, so his family is also involved. Back in the mid-'90s, we recognized that if we continued trying to operate as family businesses are run, we would end up in even more trouble. So, we started looking for professional people to come in as managers to help us raise the profile and professionalism in the way we go to market. If you look at our website and our corporate profile, you'll find there's a sales manager for equipment and solutions, for B2B ecommerce, for service and support, and for the document centre. We also upped our game in terms of the tools we use to manage the company. In a little company like this, we're using very first world tools – our CRM and our back office software is all tightly integrated. We're practicing what we preach about technology."
As for the near-term future, the company will probably "take its first steps off the rock" in the next six to eight months to provide services in St. Vincent and Grenada – an expansion that's been in the works for some time. Looking farther ahead, the objectives are to keep abreast of development in the whole industry, while looking for that next new opportunity. Bergasse admits, "SurePay was one of those things that just happened along, five years ago. I wasn't looking for a bill payment solution, but it came up and it sounded like it would work. So, we did our research and jumped in. It took a while to see it come to fruition and be profitable, but it is now. It forms a noticeable part of our revenue.
"The fact that we're an old, established company doesn't mean we think that way," Bergasse adds. "If you stand still, you die. So we are constantly looking for new, better ways; different services; relevant solutions to bring to market. Just because we do something one way, today, doesn't mean it's going to be forever. J.E. Bergasse & Company Ltd. has consistently sought to innovate and complement its range of products and services to suit the needs of our customers and we will continue to do so in the future."
Check out this handpicked feature on The Ministry of Industry, Commerce, Agriculture and Fisheries – Jamaica.
AT A GLANCE
WHO: J.E. Bergasse & Company Ltd.
WHAT: Third-generation, family-owned Insurance, Office Supplies, Technology company
WHERE: Castries, St. Lucia
WEBSITE: www.jebergasse.com
Travelling Salesmen… old school.
In the late '50s and early '60s, Peter Bergasse and Hollis Bristol travelled the Caribbean selling their wares. Appreciate, though, that travelling the islands back then was not like today, where you jump on a plane and go. As Anthony Bergasse shares, "My mother tells the story that when my father was going to places like Dominica, the only way was by schooner. So, if there was no wind, the boat just sat. A two-day trip could be two weeks. When I first came back here in 1983, I went to Dominica with Hollis and was amazed at how many people knew him. But this was because of the way business used to be transacted. They would actually stay at a customer's home. Much like today's Airbnb – sort of forward to the past."

Massy United Insurance Ltd. – www.massyunitedinsurance.com
Massy United Insurance Ltd. is one of the leading general insurance companies in the Caribbean.   We are a regional company, with a network of branches and agencies throughout 18 territories, with a financial strength rating of A- (Excellent) by A. M. Best for more than 10 consecutive years.  Our financial strength and stability enables us to continue to deliver an excellent range of general insurance products and services to our customers, including prompt, reliable claims responses.
At Massy United, we offer solid, reliable commercial insurance solutions that can give your business the competitive advantage it requires.  The main areas of your business to be protected are the physical assets against loss or damage by an insured peril and exposure to liability arising out of the operations of your business.
From industry-specific coverage, such as Contractor's All Risk (Builder's Insurance) to coverage for general business needs such as Fire & Perils insurance for your buildings, stock and equipment; Loss of Profits cover in the event of a major catastrophe affecting your business; as well as Public Liability, we offer a wide range of special insurance packages crafted to meet the needs of any progressive business owner.
Massy United is a member of the Massy Group, one of the largest and most successful conglomerates in the Caribbean with over 60 subsidiary companies.  Contact any of our offices across the Caribbean today!  Email mail@massyunitedinsurance.com or online at www.massyunitedinsurance.com