Sofos Jamaica
The energy at your service
Business View Caribbean interviews David Pijuan, Managing Director of Sofos Jamaica, as part of our focus on renewable energy solutions in the Caribbean.
David Pijuan, Managing Director of Sofos Jamaica, a branch of the Spanish solar company, Sofos Energía, believes that an energy revolution is on its way – especially in the Caribbean. "The way countries use energy, today, is going to change," he maintains. "In order to compete with the other islands that have cheaper energy, they will need to have reliable ways to produce electricity. And renewable energy is a cheaper way to produce it."
That credo is the reason the parent company, based in Llieda, Spain since 2004, has reached beyond its European marketplace over the last several years and began establishing outposts in Latin America and the Caribbean region. With a hemispheric headquarters in Miami, Florida, the solar installation company now has branches in Mexico, El Salvador, Columbia, Puerto Rico, Dominican Republic, and Jamaica.
Sofos Energía was started by three young, entrepreneurial engineers. "They had a passion for renewable energy and solar energy and they started their own business," Pijuan recounts. "The purpose of the company was to develop and install solar systems in different buildings. They were lucky, in that the Spanish government, at the time, had incentives to promote the use of renewable energies, especially solar."
Those incentives, called feed-in tariffs (FITs), were developed in Europe in the early 2000s in order to accelerate investment in renewable energy technologies. Under a feed-in tariff, eligible renewable electricity generators, including homeowners, business owners, farmers, and private investors, are paid a cost-based price for the excess electricity they create and then supply back to the grid.
"Sofos' clients were able to invest in installing systems on their roofs, on their properties, on their lands – and all the energy that they were raising from those systems, could be sold back to the grid at a higher rate than the retail price," Pijuan explains. "For example, if a company was paying for energy at $.14, the government was paying, to the clients, $.45. So, it was a really good business. That model started in Germany, and then Spain adopted that model, then later, Italy, France, and some other countries implemented this way to incentivize the use of renewable energy."
However, feed-in tariffs often include "tariff degression," a mechanism according to which the price paid ratchets down over time. This is done in order to track and encourage technological cost reductions – weaning developers and users from subsidized payments as the market matures and prices come down. And they may also be subject to political machinations; they can be lowered, withdrawn, or abolished by legislation, which is what happened in Spain in 2013, when after four reductions in FIT payments, the government scrapped the program entirely in a bid to save money.
"From 2004 until 2008, the incentives were in place and the people were crazy about them," says Pijuan. "The company was doing a lot of projects in Spain. That helped us to grow quickly. Three employees grew to more than 100 doing multiple projects. After they cut the subsidies, we said we have to maintain the installations that we've done, but we need to open new markets. Other European companies were going to South America, South Asia, South Africa, and we had professional contacts in countries like the Dominican Republic. So, we said that was a perfect market; they had high energy costs and they have incentives. Maybe we could do self-consumption systems there. Self-consumption means that during sunny hours, we could generate power within the building, and if we had excess power, we could sell it back to the grid at a reasonable price. So, we established our first branch outside of Spain, in Santo Domingo. The branch was a success; we did multiple projects and then some of our clients who had hotels in different areas – Mexico, the Dominican Republic, and Jamaica – asked us to study the viability of doing solar systems in these three markets and which market did we think we should implement, first."
So, we checked the hotel in Mexico," Pijuan continues. "We checked their consumption, and we checked the market. We checked the other hotel in Punta Gorda in the Dominican Republic. We checked the Hotel Grand Palladium in Lucea, close to Montego Bay, and we realized that the best place to go and implement a solar project, at the time, to get the best return, was Jamaica. It's a perfect location with sunny hours; the energy is expensive; and there are regulations that help to move renewable energy. We encouraged them to invest in the Jamaican project."
The success of the Palladium project in the fall of 2014 – 6336 solar panels that help lower the hotel's energy consumption by 15 percent, annually – made Sofos appreciate that Jamaica was a good location to set up permanent shop for another important reason. "In Jamaica, there are good universities and people who are properly trained," Pijuan says. "With their expertise, plus our expertise in solar, we decided to make and train a team. That team, now, has between 10 and 15 people, and then we have a team that does different jobs on the technical side that we contract for different projects. We've got a good local staff and the crew is Jamaican. They work well with our training and engineering teams in Spain, so they can do all the designing necessary. And then we have project managers who develop and build the projects. Since we have come here, we managed to do between 15 and 20 projects, and we've got more than 250 people working at the same time."
In 2015, Sofos Jamaica began work on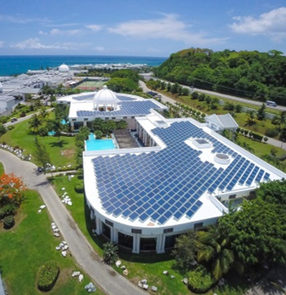 the biggest solar plant project in the country, and the Caribbean, as well – a $62 million, 20-megawatt, grid-connected solar photovoltaic facility in Clarendon, Jamaica, financed by the government and built by WRB Enterprises, an engineering and energy company, based in Tampa, Florida. "We were hired to do the detailed engineering of the site, to do the foundations of the racking, and to do the installation of the racking and the modules," Pijuan reports. "So, that's a huge area – the size of 27 football pitches, and we needed a lot of people to meet the deadlines that we had. When you have a big construction job, you need to hire more builders."
Pijuan admits that even with its notable successes, the company still has to compete for business with multiple actors in the area. "You have bigger companies, you have smaller," he notes. "When we got here, we were quite unique because we were doing installations that, for the size of the country, they weren't used to doing – especially working in self-consumption, which is not something easy to do, because you need smart systems to interact with the grid. We managed to get a place in the market and we were able to connect with the different clients who needed these systems."
In addition to its self-consumption systems, where surplus power can be sold back to the distribution grid, Sofos Jamaica also installs photovoltaic self-consumption facilities, called zero injection that, although still connected to the grid, return no electricity back to it. It also builds off-grid photovoltaic facilities supported by the hybridization of batteries and diesel for companies that have no access to the electricity network, but want to save on energy costs.
Sofos Jamaica has become the hub for the Caribbean region. "From this branch, we don't just target Jamaica, alone," says Pijuan. "We try to target other markets in the area, because we have the know-how and we have the experienced team. So, the idea of the Jamaican branch is to have a permanent office in the Caribbean to target the islands across the region, and to give support to the other branches that we have in other Latin American countries. For example if we do an installation in Grenada, we have a support team, here in Jamaica; if we do an installation in St. Lucia, if we get a project in the Cayman Islands, we have a team here to give support; we have a branch in Puerto Rico. If they reach out, we can give them support."
Pijuan understands that Sofos is only a part of the energy revolution. "As a company, we are the big installer of solar energy in Jamaica. We are highly specialized in solar energy; we don't do anything else. But solar will not solve all the problems; you need to integrate different ways to produce energy at a low price. You will need solar energy, wind energy, geothermal energy, hydro energy, sea wave energy, and biomass. You will need a mix of everything in order to run your country. Now, we are very focused on solar because that's what we know how to do, but I think this is something that is coming and if we can, we will try to take advantage of the opportunities."
Meanwhile Sofos Jamaica is always on the lookout for new clients – targeting the industrial, commercial and utility-scale sector. Pijuan adds that in addition to construction, Sofos Jamaica is also constantly focused on the maintenance of installations already completed. "In order to keep an installation up and running and producing electricity, you need to do proper maintenance," he states. "So, when we go to a place, we like to stay so that we can do maintenance – we don't just want to do installation and leave. So, for all the systems that we build, we offer maintenance for life and the best possible service to our clients. That's what we want to keep doing."
Check out this handpicked feature on Sanmerna Paper Products Ltd. – Staying On Top.
AT A GLANCE
WHO: Sofos Jamaica
WHAT: A solar energy company for commercial, industrial, and utility clients
WHERE: Kingston, Jamaica
WEBSITE: www.sofosenergy.com/jamaica