Incorporated Masterbuilders Association of Jamaica
"Together, we are stronger"
Business View Caribbean interviews Humphrey Taylor, President of the Incorporated Masterbuilders Association of Jamaica – best business practices.
The Incorporated Masterbuilders Association of Jamaica (IMAJ), the voice of the construction industry in Jamaica, was originally incorporated in 1952 – the brain child of Mr. T.A.D. Smith, who felt that the country's builders and construction contractors should have a unified association to address their mutual concerns, negotiate the salaries of union workers industry-wide, and provide builders with education, professional recognition, and advocacy.
"The industry was fragmented," says current Association President, Humphrey Taylor. "They wanted a single representative; and to formalize the industry. That's where it started. Today, we are continuing trying to make our industry relevant and be recognized as a driving force in the economy; that we are part of it; and that we contribute, I think, more than four percent of the GDP. So, we keep lobbying the government to get this kind of idea as an accepted norm."
IMAJ had 13 founding members; today, the Association has 79 in tiered categories, based on a company's capacity to undertake work, and recently re-aligned to conform to the government's National Contracts Commission that rates contractors. "We also have associate members," Taylor adds. "We have electric contractors joining with us and people who supply us with materials."
Regarding membership, Taylor says that a new program, Member Benefits, is aimed at trying to lure those builders who, "for one reason or another are not joining." He is alternately bemused and annoyed with people who have not become a part of the Association, but will come to it for help when they get in trouble. "So, we are trying to educate our contractors on what the benefits are," he adds.
"The first thing membership will do is you will have your networking capability increased dramatically," he begins. "You will have the benefit of constant education; we put on a seminar, every year, for our members. You have the benefit of getting the published union rates, because every two years, we go to negotiations with the union and sign the contract which covers everything from safety to grievance procedures."
"You have the benefit of when we lobby the government; you also have the benefit of the in-house training that we do – we have technical staff in the office that help people get things that they are not able to do on their own. You also have the benefit of, every year, when we have our awards function, the money goes to the children of construction workers for scholarships at technical schools and universities. And you don't have to be a member for that to happen to you; we choose these people on their grades. Their parents only have to be working in construction."
Since the IMAJ staff consists of only five paid employees: a secretary/manager, three office workers, and one technical person, most of the work to meet the needs of the industry and the membership is carried out by a range of volunteer committees that deal with the day to day administration of the Association, plan and manage functions, produce publications and manuals, negotiate contracts, and represent IMAJ on the Construction Industry Council, which includes the Jamaican Institute of Architects, the Jamaica Institution of Engineers, the Jamaica Institute of Quantity Surveyors, and the Land Surveyors Association of Jamaica.
"And the advocacy never seems to stop," Taylor avers. "For quite a few years, we've been lobbying the government for a lien law. We haven't gotten anywhere with it, but we haven't given up trying. We're also trying to get a construction industry policy; if this is promulgated by the government, then everybody will work within that framework. We're working with engineers and architects for a building code – and that just passed in the Parliament, this past January. We're hoping to put in the regulations for it to be operational, shortly."
Another important issue on IMAJ's agenda concerns how construction projects get bonded. "What we're finding is – and this happens to anybody who has had a devaluation of the dollar like we had – that the contracts now are so large, not many people can put up a performance bond," Taylor opines. Two possible solutions to the problem include having IMAJ form its own company to help finance performance bonds for its members, or changing the way established insurance companies can be contracted to perform a similar service. "We are trying to flesh out a concept where we can find a way to make it much more affordable to do a performance bond."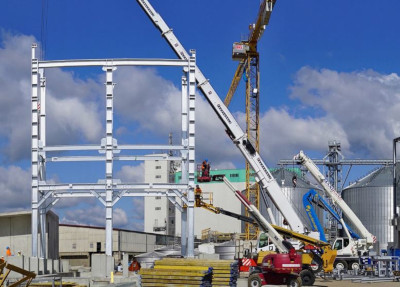 Regarding the insurance option, Taylor believes that one way is to have bonds that can be purchased in the same way people pay for their insurance coverage – by premiums, over time. "Well, if the life of the contract is fifteen months, you give a 12-month premium, so that by the end of the 12 months, you would have paid for the performance bond."
While there are still many issues that need to be addressed, overall, Taylor believes that the landscape for construction in Jamaica, and thus for IMAJ members, is "looking reasonably well, because the country has embarked on a lot of infrastructure. And our housing stock is too short, so there's work to be done," he states. "The challenges we have is that, for major infrastructure, people like the Chinese and the French can offer the government much better financial terms and are getting those jobs. The WTO (World Trade Organization) says that everybody has the right to bid and there's not much we can do about it. All we are asking for is if they do win, they can subcontract to some of us."
For 66 years, IMAJ has succeeded in improving the construction industry in Jamaica by educating and training its members, advocating for them with government agencies, helping to establish and maintain industry standards, and informing the public at large of the industry's benefits to the country's economy – sufficiently proving President Taylor's declaration that: "Together, we are stronger."
Check out this handpicked feature on The Bahamian Contractors' Association.
AT A GLANCE
WHO: The Masterbuilders Association of Jamaica
WHAT: An association of builders and contractors
WHERE: Kingston, Jamaica
WEBSITE: imaj.org.jm