Trinrico Steel and Wire Products Limited
A son takes over his father's dream
Business View Caribbean interviews Daniel Ramoutarsingh, Managing Director of Trinrico Steel and Wire Products Limited – best practices Caribbean business.
Trinrico Steel and Wire Products Limited was established in 1974, by the late Jack Paul Ramoutarsingh. The company is located in Reform Village, Gasparillo, Trinidad. Daniel Ramoutarsingh, Jack's son, is the company's Managing Director. He relates the history of the company his father founded, noting that it has been a long and arduous struggle, but one that has been met with courage, conviction, and a fierce sense of patriotic pride.
"My father started working at an early age with his parents Daniel and Vilna in the operation of the family bicycle store which would later grow into the hardware store D. Ramoutarsingh & Company Limited," Ramoutarsingh begins. "They were selling hardware and construction materials, basically in Marabella, which is a town in south Trinidad. My father was a very unique individual; he made very bold decisions in his day. He was always business driven and, in fact, at the age of 16, he left school to work with my grandfather, full-time.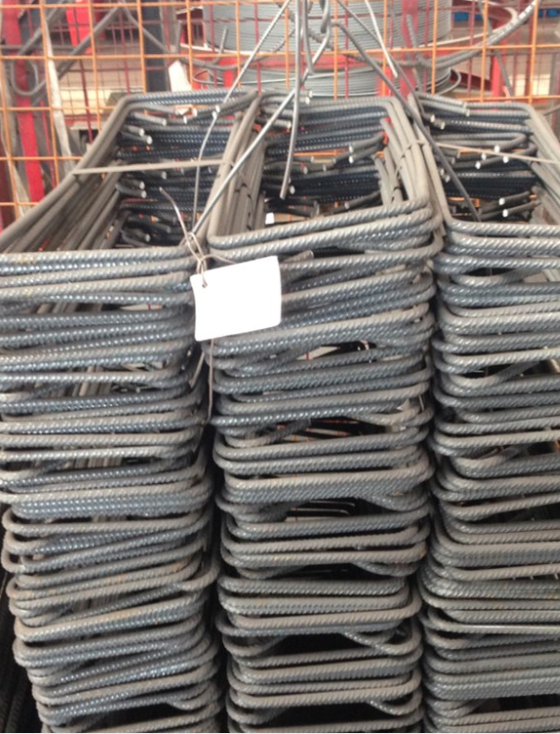 "At one time, the hardware store was approached for an order of structural steel which the family did not carry. Jack didn't refuse the order but instead, after due research, sourced the necessary material. Once, because of a mistake he made in the quantities he ordered, he incurred a surplus. So he decided to market the surplus material in the local newspaper, which he then sold for a very good profit. Inadvertently, he had started the D. Ramoutarsingh's Steel Department. Jack would soon venture on his own by establishing Dansteel, a hardware store he named after his father and new born son. The company motto was in line with the family's values: 'People who care about people who build.'
"One day, they were receiving steel products that they bought internationally – in this case, it was re-bar – and one of the bundles they were offloading fell off the truck and the bar broke when it hit the floor. And my father knew something was wrong. He had a feeling that the traders and mills were supplying the country with sub-standard materials on the international market. And he was a very proud man. He was always of the opinion that we should make the very best products.
"Around that time, many of his customers were working for the sugar industry in a state-owned company called Caroni. When Caroni closed the refinery, the entire village of Reform, Gasparillo became unemployed on a large scale. The first Prime Minister of the Republic of Trinidad and Tobago had given a speech calling out to citizens to embrace manufacturing with the country's resources, remarking that 'Where there is sugar cane there will be steel.' Reform is only a stone's throw from where my grandfather's store was and most of these people were family customers. So, my father decided to start a manufacturing operation in Reform and give employment to the community. He had already made contacts through his trading and buying and selling; he had good ties with Puerto Rico and good friends there in the steel market. So, he began his first significant manufacturing investment by entering into a partnership with Caribbean Steel, based in Puerto Rico. Dansteel and Caribbean Steel would combine to establish Trinrico Steel and Wire Products Limited. And that's why Trinrico ended up in Reform Village."
According to Ramoutarsingh, Trinrico Steel was soon manufacturing welded wire mesh, nails, chain link fencing, and rebar processed from coils. Daniel's father also entered into an exclusive business relationship with Bekaert International, a world market and technology leader in steel wire transformation and coatings, processing the company's galvanized, coated wires into chain link fabric, galvanized welded wire mesh, and barbed wire. He formed the Dansteel Group of Companies that would eventually grow to include a chain of Hardware Stores, Gulf City Shopping Mall, and Trinrico Steel and Wire Products Limited.
With the advent of ISCOTT, the state owned iron and steel company that used iron ore to produce billet, wire rod, and rebar in coil, Jack established CENTRIN (Central Trinidad Steel), an integrated rolling mill specializing in re-bar and merchant bars such as angles, flats and squares. The year was 1983, and the Dansteel Group of Companies was now regional and extra -regional manufacturers and exporters of steel and wire products to the Caribbean, North American, and Central American Markets.
Unfortunately, the elder Ramoutarsingh soon ran into difficulties because of a global downturn, a recession, and the foreclosure of the state-owned, sole, raw material producer, ISCOTT. Raw material procurement became a challenge and protectionist policies that favored ISPATT, the new supplier, caused a 50 percent spike in the price of locally supplied steel, thereby making his manufactured products uncompetitive in the world marketplace. He spent ten years in court battles, but finally won a decision mandating that the local material supplier had to sell to him at the average world-market price. But, according to Ramoutarsingh, Trinrico was stagnant for many years because his father was busy fighting these legal skirmishes. In addition, he had to liquidate the Dansteel Group and sell his hardware stores in an effort to save CENTRIN and Trinrico. In the end, only Trinrico remained.
Trinrico continued to produce, but the establishment of several new local and regional manufacturers, plus the separation from the former Group, challenged the company. The former sister companies had now inadvertently become potential competitors, as well. Trinrico struggled with a sole raw material supplier that marketed its products through encouraging other manufacturers to be formed, and what was perceived as an unfair local and regional pricing policy. The technology remained stagnant, and the market changed. Local, regional, and international manufacturers all sought to fill the void Jack Ramoutarsingh left behind and their partnerships with global entities plus the implementation of modern technology left his company uncompetitive.
But like his father before him, Daniel was driven to succeed. He went to work for his father at an early age. He began at CENTRIN and then was reassigned to Trinrico. Toward the end of their days at CENTRIN, father and son had begun to experiment with alloy steel through a tolling agreement. Though it was successful, the scale was very small and the elder Ramoutarsingh predicted that one day the hot rolled production of re-bar would become common and uncompetitive in a market saturated with competing manufacturers on an international scale. Daniel travelled to Europe, and re-introduced the family to the leading machine manufacturers and suppliers. He eventually arrived in Italy, to the very same region where his father had procured and built his own machines. He remembers calling his father from an office in Udine, to let him know that he had just purchased a machine and now he had no money, to which his father simply answered "Welcome to manufacturing."
While Ramoutarsingh was Marketing Director, but not yet the Chairman of Trinrico, he took a slight detour from the family business, finding success first as an amateur and then as a professional racing driver. At times he would be in the car about to start a Pro Race, while on the phone doing Trinrico business. He believes that since Trinrico was the title sponsor of all his cars, it gave the company more exposure. "Certainly, we got our first supply cut and bend rebar contract because of motorsport participation and today that's what we are known for most," he says. Eventually, his ability to understand technology and work with machines, combined with a competitive mentality, steered him back home to apply what he had learned during his years of racing – and to fulfill his family's destiny by taking over his father's dream.
He became Chairman of the Board of Trinrico Steel and Wire Products Limited and strengthened relationships with old suppliers, while seeking new ones. He revisited the manufacturers of machines for all the products in Trinrico's portfolio and embarked upon a course to uplift the moribund company. His focus, now that he was his own primary end user of steel and wire products, was to gather the best suppliers in the world and produce to a global standard. Using chemical, mechanical, and structural properties, in combination with the state of the art equipment, Trinrico was poised to bring capabilities and products that would take the region into the next evolution of the construction industry. To do so consistently, he brought the best production and software managers and technicians he could convince in Europe to join the company.
Trinrico's first large supply cut and bend project was for a new store in Trinidad. The company supplied all the rebar processed into shapes as well as the fence system, both of which were new products for the rejuvenated company. Today, Trinrico has approximately 300 full and part-time employees. The company has multiple building on its property in Reform, with an administration building in San Fernando. Its products cover the Caribbean region with some activity in South and Central America; although because of a global downturn in the construction industry and fierce global competition, most of its present-day customers are local, including over 350 hardware stores across the country and many small to medium-sized contractors. Its products include galvanized wire, barbed wire, galvanized welded mesh, high and maximum security fence systems, geo-textiles, Gabion baskets, and a new reinforcement product called Dramex which consists of steel fibers placed in concrete.
"We're in the original line of products that my father had started," explains Ramoutarsingh, "but we have gone a lot further downstream with them. For example, in the beginning, my father was manufacturing chain link fencing, chain link fence fabric, nails, welding wire mesh, and re-bar from coil. Those are still our core products, today. But in each and every one of those products, we've added value and more range. For example, we used to purchase re-bar in coils and only straightened them to standard length to sell them as re-bar in bundles; but now, we are processing re-bar from both coil and bar and we are distributing both coil and bar, nationwide and regionally. Clients are submitting their bar-bending schedules based on their construction drawings and we are delivering all of the material cut and bent into stirrups and shaped bars. And in addition, we've also started assembly; clients submit engineer drawings of what they are going to do with the pieces they would be assembling into columns, or piles, or complicated mats, and we do the assembly in our facility and deliver them ready to install."
Ramoutarsingh stresses that Trinrico is known for the quality of its materials. "Not only are we very proud of our products, but we are not sure when we manufacture a roll of welded mesh, for example, or a ton of steel, if it's going into a simple home project or if it's going to end up in a government project. So, all of our products are backed up by a mill test certificate which is traceable to the raw material and complies with the specification. Unfortunately, a lot of our competitors don't follow this code and use rejected raw material that's very old, or very rusted, or undersized. So, our largest challenge is that we are expected to sell at a competitive price against anyone, but we are also expected to adhere to the international standards for that product. So we need to be very innovative if we are going to survive these times."
As proud as Ramoutarsingh is of his company's products and services, he is equally proud of its dedication to its workforce. "Now that we're 40 years old, we have second generation employees," he says. "I, myself, am a second generation employee and some of our supervisors are the children of the founding supervisors. So, we have a very family-oriented environment. The attitude that we started with in Reform Village – that we were developing a company to help the community – has stayed with us, even in difficult times. We always try to avoid retrenchment and layoffs or making jobs redundant. We always try to uplift our workers. If a certain product or certain way that we are manufacturing is no longer viable, we will go the extra mile to retrain an employee or to find a new way of doing things utilizing the same employees."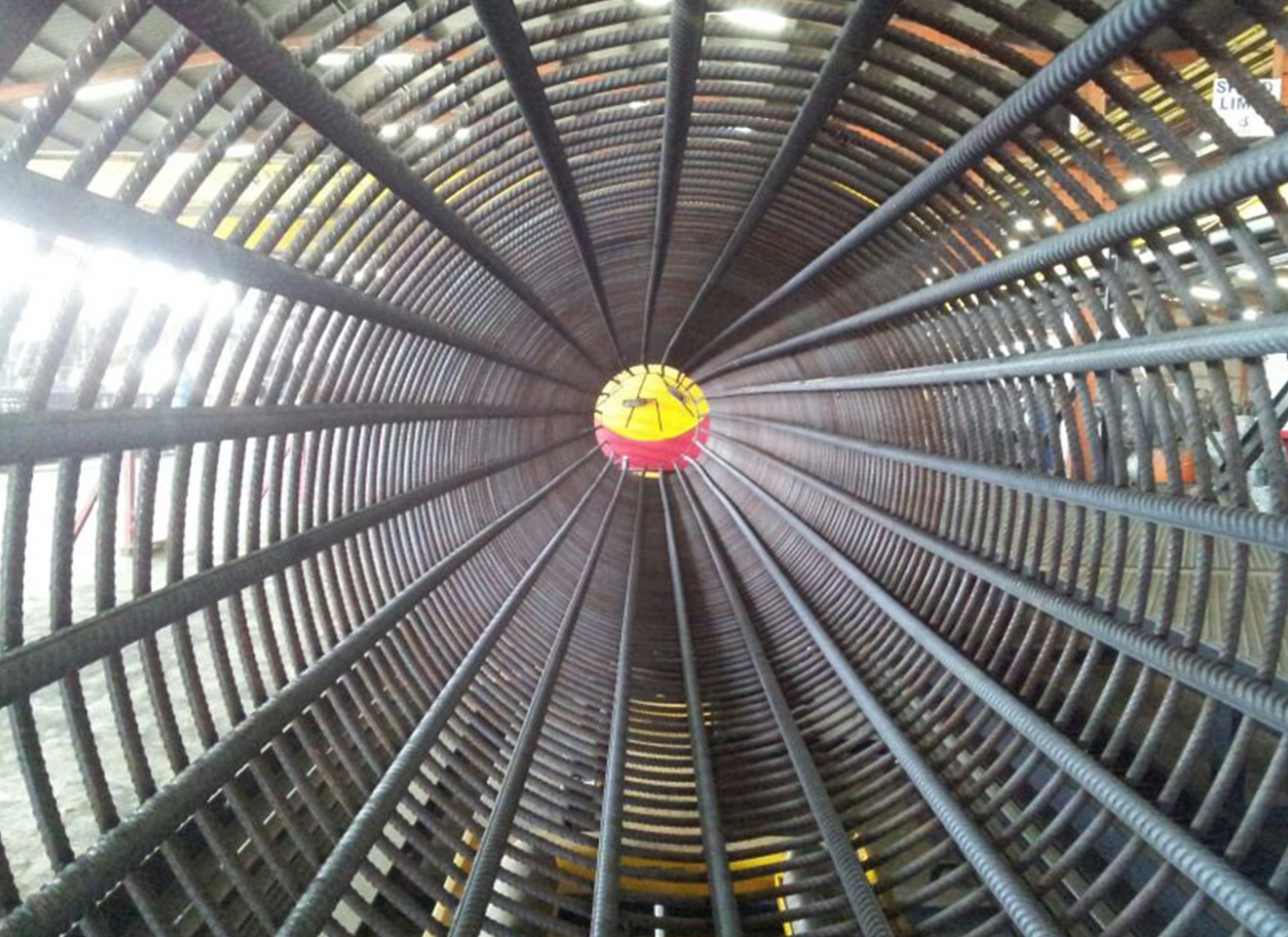 Ramoutarsingh has only the highest praise for those employees. "Our workers are the backbone of the company," he says. "They always amaze me, how they grow with the company and its needs. They make the best products with what they are given and have, in two generations, accomplished great innovations. They are producing for the most prestigious contractors in the region in the most upscale projects, or the tough hardware trade, and can hold their own and defend their products and standards when called upon. Our representatives in production, marketing, accounting, dispatch, and quality control have all shown the flexibility it requires to grow as a company and move with the times."
And Trinrico certainly has grown, going from solely being a supplier of rebar processed from coil, to tremendous innovations in the rebar product range. Before Trinrico, contractors would procure rebar and sub-contract cut and bend on site, incurring tremendous inefficiencies and losses associated with site challenges. While Trinrico always had a reputation for premium products in the welded mesh, nails, and fencing range, the rebar operation has become one of the most important contributions to the construction industry. The company has gone from a standard manufacturing operation to a very complicated processing and assembly company that creates efficiency and quality control previously unrealized on this scale. It always seeks out the best materials to serve the broadest range of production and design requirements. And it offers those same materials to small-scale builders as it does to the largest scaled, internationally-designed, government projects.
Some recent projects where Trinrico has supplied either rebar processing or fencing include: government housing, hotels, hospitals and medical facilities, airports and runways, corporate facilities, shopping malls and retail centers, the Point Fortin power plant, the Galeota Port extension, the new Ministry of National Security police stations, the Sir Solomon Hochoy Highway extension, Water and Sewerage Authority water treatment plants, the Twin Towers of the Central Bank of Trinidad and Tobago, the Porsche Service Centre, the Children's Science Park, and the Chaguaramas Boardwalk.
Taking over his father's dream is of the utmost importance to Daniel Ramoutarsingh. "Because of our past, and because of our ambitions for our future, and because of the principal foundations that our founder has left with us, after all this time, we really do care about our customers and our products, and we stand behind our products one hundred percent. We make every product not only to the best we can, but the best anybody can. We never stop trying to improve the way we do things. And we never stop trying to find value for our clients and to give them the very best we can, because this is our country and our region, and we are laying the foundation for it, so we want it to have the best foundation. We do things that other people don't do. When we do assemblies or installations, without the client telling us, if we know it's not perfect, we do it over."
No doubt, Jack Ramoutarsingh would be proud of how his son has continued the family business and taken over his dream.
Check out this handpicked feature on Autobusbedrijf Curaçao.
AT A GLANCE
WHO: Trinrico Steel and Wire Products Limited
WHAT: Manufacturer and distributor of steel and wire products for the construction industry
WHERE: Reform Village, Gasparillo, Trinidad
WEBSITE: www.trinricosteel.com