Business View Caribbean interviews Paul Chaplin Director of the Norstar Group, as part of our focus on best practices of Caribbean businesses.
Norstar Group Ltd. – Quality high-end homes
Twenty years ago, the 40-some, low-lying coral islands and cays that make up the Turks and Caicos, or TCI, for short, had few paved roads and services. But since then, this British Overseas Territory in the northern West Indies, just a two-hour flight from Miami, has been experiencing some boom times. In fact, in 2016, TCI was the fastest-growing tourist destination in the Caribbean – just under a half million people visited a country of about 35,000.
And many of the visitors who have streamed to TCI over the last two decades have been of the rich and famous variety, which created the need for high-end resorts – something that the contractors of TCI have been more than happy and eager to build for them. When some of the glitterati decided they wanted to stay in their own homes when they returned peripatetically, it also created the need for custom-made luxury villas.
That second particular niche in TCI's construction industry was going unfulfilled, according to Paul Chaplin, Director of the Norstar Group, a Providenciales-based builder and general contracting company with commercial, residential, and industrial clients. "There was a void in a certain sector of the construction market in the Turks and Caicos," he explains. "There were a lot of people building resorts, but there was a shortfall of capable contractors building luxury, residential villas. So, we moved straight into the custom homes and villa markets, and that is really our core business."
Norstar Group was originally formed in 2004, by Steve Owen and Arthur Jones. Chaplin joined them a year later, and today the company is run by five partners and has a complement of 20 direct employees, with project teams added as necessary. "We have grown the business to a point where we can pretty much handle projects of any size," Chaplin says. "The majority of our work is through architects as a contractor, but in the last two or three years, we've focused more on design and build solutions for people, so, it's a real turnkey operation."
Chaplin relates that some of Norstar's clients approach them because of their reputation for quality work. "Sometimes a client will like us from the start," he says. "We'll introduce them to an architect here, or we'll offer them a design and build service, depending on what they're looking for. Or they may already have an architect and come looking to us and say, 'We're comfortable with you; we've seen what you can do and we want to work with you on a project.' We will negotiate these contracts directly with the client. We also competitively bid projects, where we may never have met the client, and the architect may put a package together for us to price. And at that point, we might be competing against two or three or four other people for the same work – all local contractors."
Of course, price is not the only consideration when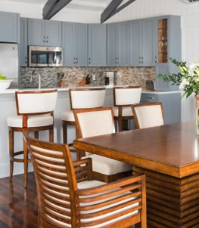 and if Norstar is chosen as the builder of choice – there are always those intangibles that separate a superior firm from the merely acceptable ones. "Quality is always something that we're trying to achieve and pushing boundaries with construction," Chaplin states. "For example, we are seeing more high profile international architects who have projects down here, and they will approach us to build. One of which was a complete 'cast-in-place' home – poured solid concrete. Everything was poured in place – finished walls on the inside and the outside and the floors were all poured in place concrete. It's called 'architectural concrete' – as soon as you strip the form-work from the concrete, that is the finish. So, you have absolutely zero tolerance for error.
"We're now looking at a very unique design in the leeward area; there's nothing like it on the island and it really will stand out. And that's what we're going to see a lot more of: people pushing the architectural envelope, which, obviously, pushes the structural and construction envelope. And we've got to step up. Technologies are always developing. It's about keeping current."
A future Norstar market which will also be on the cutting edge in TCI, is the construction of 'Volumetrically Engineered' homes, these will be particularly beneficial for developments on the outer islands. "The people who have bought on the outer islands have bought because it's a cheaper way of buying oceanfront land," Chaplin states. "But, the outer islands, as beautiful as they are, don't have concrete batching facilities. All aggregate must be imported, concrete is hand mixed, construction gets extremely expensive. We've got a couple of options that we're looking at, which are pre-engineered homes, precast building systems, that ship in a kit, in a container, and we would erect it very quickly. The only need for concrete would be in the foundation; everything else would be part of the kit. They are extremely energy efficient, sustainable and are structurally rated at 180mph by the State of Florida. We can do very standardized units, from anywhere from a few hundred square feet to a few thousand square feet, but we can also do a more custom build, it's modular structure allows for organic growth. There are some restrictions on structural parameters, but we can build large family homes with the system."
Chaplin reports that a typical year for Norstar could include anything from ten to fifteen projects. "We could have build outs; we could have remodels," he says. "But, typically on the custom home side, we'll have five to ten going at the same time. That's a good average for us." Another good thing for the company has been an increase in home sizes and the level of specification, particularly on the oceanfront. "In 2005, a large oceanfront, custom home in the Turks and Caicos would have been around 4000-5000 square feet. Now we are building homes of up to 15,000 square feet. So, I guess the island is being discovered more and more as a luxury development location. People have realized that there is a good return on investment for developing on the island."
AT A GLANCE
WHO: Norstar Group Ltd.
WHAT: A builder of luxury custom homes
WHERE: Providenciales, Turks and Caicos Islands
WEBSITE: www.norstargroup.tc

NW Hamilton – NW Hamilton Insurance Services Ltd. provides insurance coverage for prime commercial and private real estate developments in the Turks & Caicos Islands, in addition to Life, Health & Personal Accident Benefits. The company was founded in 2001, and is led by its Managing Director and Principal Owner, Norman, W. Hamilton, who has over 25 years experience in the insurance industry in the Turks and Caicos, and the United States. – www.nwhamilton.tc

Carib Glass & Supplies Ltd. – Carib Glass & Supplies Ltd. was created in 2002 with the object of establishing a full specialized glazing service to the residential and commercial markets throughout the Turks and Caicos. The company sells a complete line of Windows, Doors, Hurricane Protection, Bermuda/ Bahama Style Shutters, Awnings, Shower and Tub Enclosures, Mirrored Closet Doors, and Commercial Entrance Ways, as well as a wide selection of stock items to meet the ever changing needs of developers, residents, and architects. – www.caribglasstci.com

TCI Marble and Granite – TCI Marble and Granite supplies and installs custom, cut-to-size, architectural stone for floors, walls, and countertops in granite, marble, limestone, and engineered stone. The company also supplies ceramic and stone tiles for complete interior and exterior use in natural travertine, granite, marble, and limestone, as well as porcelain tile. – info@tcimarbleandgranite.com