Alescon Readymix Limited
Setting the standard for quality & service
Business View Caribbean interviews Kamal Ali, General Manager of Alescon Readymix Limited, for our focus on the Caribbean Construction sector
Alescon Readymix Limited (ARL) was founded in 1982 and began operations as a manufacturer of Readymix concrete in March 1983 at its head office in Charlieville, Chaguanas in Trinidad. The firm's main focuses have always been customer satisfaction, quality assurance, staff safety, training and development. These priorities have propelled Alescon to its current position as one of the top Readymix concrete suppliers in the region and a true leader in terms of quality and service.
The Alescon team has a wealth of technical knowledge and years of experience, giving them the ability to design specialized concrete mixes required for larger projects. Technical competencies of employees are constantly being upgraded through attending World of Concrete (the largest international trade show on concrete) and programs offered by the ECA (Employers Consultative Association) and Arthur Lok Jack Graduate School of Business.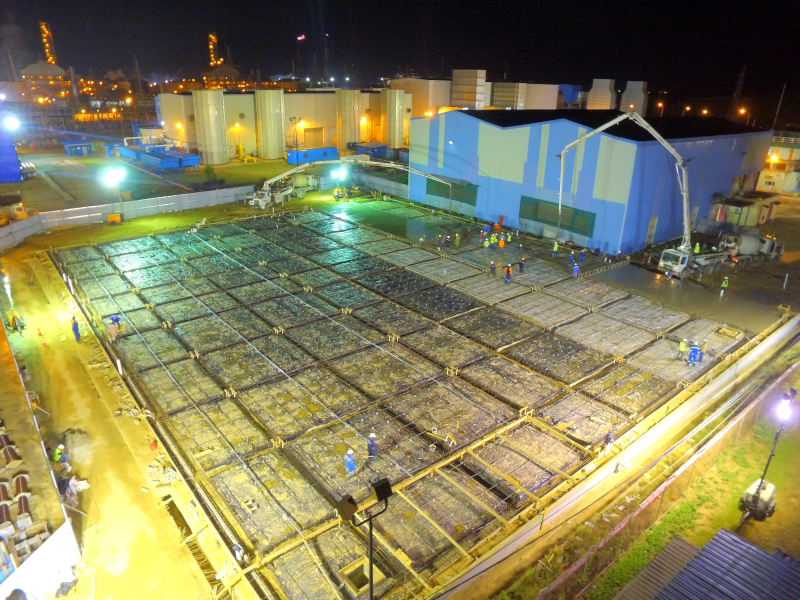 In Trinidad, the company has two batching facilities in Charlieville and two in Arima, along with one batching plant in Tobago, and a 28-year-old batching operation in Guyana. Alescon follows all testing methods approved under the ASTM and ACI standards for testing of inputs (aggregates etc.), as well as fresh concrete. The firm's fully equipped lab facility provides in-house testing, as well as independent testing at certified institutions. And the introduction of four mobile plants which allows them to undertake distant and remote jobs. Through its fully-integrated subsidiary company, Swan Quarries Limited, Alescon also mines and processes a substantial quantity of its own aggregates – blended and  processed – to ensure the highest quality inputs for Readymix concrete, at a competitive price.
Kamal Ali, Executive Chairman of Alescon Readymix, is proud of his highly successful family business. He shares, "My descendants came to Trinidad in 1900s from India, starting with an agricultural base and we continued that in the early stages. During and after World War II, my family was into farming, animal rearing, provision, rice and sugar cane production and butchering. In the late 1950s, we got into the construction sector with a sawmill operation that ran parallel with the agricultural sector. But Trinidad is a small country with limited resources in the sawmilling business because of the supply of logs and the forestry industry was focused on replanting. So, when the oil industry took over in Trinidad, we decided to expand into the Readymix concrete business. In 1983, the sawmill was pretty much closed down and the readymix business started with a very humble beginning."
Being in a very strategic location, Alescon was able to take on major projects with its quality service offering and key relationships developed with foreign contractors working on infrastructure projects for the oil and gas sector. And by 1985, they had already developed a good reputation. At that time, there were five major projects planned in Trinidad but because of the downturn only one materialized, the other four were cancelled. Ali recalls, "There was a failure in quality standards in this project and we were invited to produce a workable mix that would meet the design strength in three days. We designed a mix that met all of the specifications and they were very satisfied and we ended up doing all their work for the project in the industrial estate at Point Lisas. We never had a single failure even though supplies were tight; we established our reputation and we've grown from there."
After the invasion in Grenada, Alescon mobilized quickly and supplied concrete for the construction of one of the largest hotels there. Later, in 1988, when the American Embassy was being built in Guyana, ARL supplied all the concrete for that, and still continues to operate the Readymix operation in Guyana – a country that Ali says is full of promise. He notes, "Meanwhile, we have enhanced our position in all aspects of the services we need – from material production, mining, transportation, concrete pumping and a host of others. We work as a partnership with our customers, whatever project they are working on, we can provide the services. We are now at a crossroads because technology is taking over and new building systems are reducing the concrete requirements. However, we do not see this as a negative but an opportunity to use technology to provide value engineering services to our customers offering savings to both ourselves and our customers."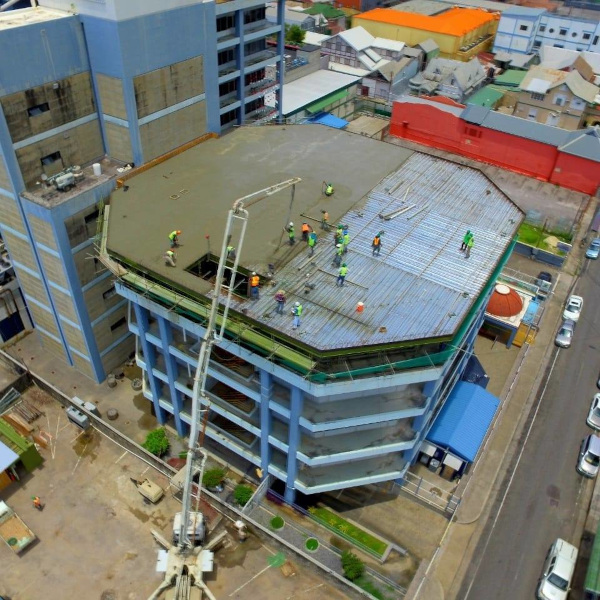 For over 30 years, Alescon has partnered with U.S.-based Euclid Chemicals, a provider of superior quality admixtures and masonry products. Alescon is their regional distributor; working closely with them in terms of architectural design concrete and assisting with designs for the replacement of steel with fiber in concrete for slab on grade and elevated slabs, etc. Logistically, it creates a lot of ease because steel is very costly and a difficult material to move, especially in remote areas. "Euclid is a great partner," says Ali, "and we have tremendous support from them."
Great growth is anticipated in Guyana, especially with roads in the interior and the oil companies requiring significant infrastructure, and Alescon is involved with those projects. In Trinidad, they continue to partner with engineering firms, where they are open to new technologies, such as anchor walls and post tensioning technology where quantities of concrete are used to stabilize basements, for swimming pools, retaining walls. Ali explains, "It can be used for precast as well, where there are applications to the fibers. So we are pushing into the fiber usage and shotcrete, also." Shotcrete, gunite, or sprayed concrete is concrete or mortar conveyed through a hose and pneumatically projected at high velocity onto a surface. It is typically reinforced by conventional steel rods, steel mesh or fibers.
"It's all very exciting," says Ali. "We are trying to partner closely with our suppliers and customers, efficiently and continually, and that is working very well. It's creating loyalty and a different kind of marketing, where we do less advertising and get more referrals. We work alongside Trinidad Cement Limited as they are the major suppliers of cement in our region and quality cement is a critical component of our offering. Our quality control / quality assurance controls ensure that all concrete mixes are tested on a continuous basis and provide constant feedback to ensure that the standard for concrete is in accordance with the ASTM / ACI. Furthermore, we process our own aggregates (sand and gravel), which has given us an edge over our competitors . The aggregates, the chemicals, the fibers all help to give us the highest quality."
There are other fibers on the market but Alescon through Euclid Chemicals offers the only engineered fiber solutions. Right from a design phase, where the tensile strength required for your slab is engineered by Euclid to replace the steel with the fiber, it is a value-engineered solution from start to finish, resulting in cost and time savings for the customer.
Trinidad, being an oil-based economy, is experiencing a severe slow down. But Ali believes construction is one area that Alescon can help to pull it up. He reports, "Because a lot of the materials required are indigenous and there is a lot of equipment already available, I think we can play a great part to assist in realizing projects. In Guyana, they have a tremendous amount of infrastructure. Besides the oil companies and service companies, every aspect of their infrastructure needs to be refurbished. Water treatment plants, electrical plants, drainage systems, roadways, bridges, all over the country. We have already been going there on a regular basis to do projects – in an area near the airport, we go into the interior and work on the roadways for the government. Right now it is just a patchwork situation, but the prospects are so good because the income they're going to be generating is tremendous. We feel there will be great opportunities for us there to play a very important role."
Looking to the future, Alescon has its sights on areas like precasting, which allows them to do drainage segments much faster and cheaper. According to Ali, "We can do septic tanks, bridges, pilings for foundations, etc. but we also intend to dabble into the construction sector. Because we are seeing a lot of the inefficiencies there and we know there are certain areas where we can get involved. However, we are very mindful of competing with our customers for the same job and that is a situation we have to deal with and rationalize. A lot of buildings now have underground basements and new anchoring systems using high technology, which we'd also like to get into. As well as lightweight concrete applications and decorative architectural concrete for residential – fences, driveways, walls, swimming pool decks, that is an area we see having tremendous growth. Also, housing development."
Alescon continues to diversify – albeit, cautiously. As Ali shares, "Whatever we get into, we make sure we get proper advice. We also want to get involved with whatever community we are operating in and make a serious contribution. That is our culture in Trinidad and we hope to bring this to the indigenous communities in Guyana, as well, because there is a great need for support in those areas."
AT A GLANCE
Alescon Readymix Limited
What: Leading manufacturer of Readymix concrete
Where: Changuanas, Trinidad
Website: www.alesconreadymix.com