Lydford Mining Co.
Lucrative Limestone
Business View Caribbean profiles Lydford Mining., a company that mines and processes high purity limestone products, in Kingston, Jamaica
Lydford Mining, a company that mines and processes high purity limestone products, was established in 1991 in St. Ann Parish, Jamaica. "It was founded by Dr. Vincent Hill and Leo Cousins," says Edgar Cousins, Leo's son and the company's present Director. "Vincent was a chemist and geologist by profession, who was in the bauxite business from the 1950s, on. Leo was a mechanical engineer with many years of mining experience."
Cousins recounts that for many years in Jamaica, there was little commercial interest in high purity calcium carbonate, the chemical substructure of limestone, because bauxite, the ore that contains aluminum, was "the name of the game in minerals, back then. Vincent went abroad and worked in Africa and all over the world for a number of years," he continues. "Leo was in the mining and aggregate business, until his retirement. And it wasn't until both men were back in Jamaica and retired that they got together and figured that there was a market for high purity calcium carbonate and that they should have a look at it."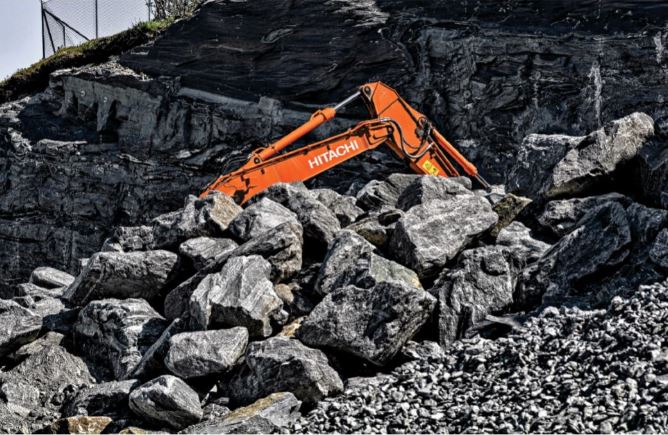 Over the last 25 years, that initial look turned into a profitable and thriving business. Today, Lydford Mining exports 120,000 tons of high purity limestone, 100,000 tons of industrial grade, and 2,000 tons of ground material each year. "The main line of our business is in the very high purity calcium carbonate market, which goes into food and pharmaceutical-grade material, in particular, in the U.S.," says Cousins. "It's also used in animal feed, fertilizers, chewing gum, and toothpaste. On the industrial side, it's used in plastics as filler, and as a fire retardant."
"We started off with strictly high purity and we evolved, over the years, where the high purity is about 75 percent of our income stream," adds Jackie Millington, a partner in the firm and Dr. Hill's daughter. "And we've gone into things like calcium supplements; we've gone into a milled product line to supply a filler for paint companies. And we've also gone into the low end of the market where we just do construction-grade aggregate."
Cousins says that for the last five years, the company has also supplied industrial grade limestone for the FGD market. FGD stands for Flue Gas Desulphurization, which is a set of technologies used to remove sulfur dioxide from exhaust flue gases of fossil-fuel power plants, and from the emissions of other sulfur oxide emitting processes. "They take our high purity limestone and they grind it and they use it in coal-fired power plants to clean it of flue gases," he explains. "And our material in Jamaica is very effective for that because of its very, very high calcium carbonate content."
According to Millington, even though calcium carbonate is an abundant material, comprising more than four percent of the earth's crust, and found throughout the world, the quality of Lydford's deposits give the company a distinct advantage in the marketplace. "The particular geology of our material makes it unique in a number of ways," says Cousins. "In addition to the very high purity of our material – a high calcium carbonate content coupled with a low trace element presence, low levels of mercury, lead, iron, and cadmium – the other thing that makes it unique is the actual shape of the particles in the mineral deposit as they occur, naturally."
In 2009, Lydford Mining formed a joint venture with Jamaica Producers Group, a publicly traded agricultural and food production company. The venture, Four Rivers Mining Co. Ltd., was created to mine and process igneous-based rock used widely in construction, concrete manufacturing, and asphalt paving. The Four Rivers Mining Company invested a total of $3 million to build a new plant on the north coast of Jamaica, and currently sells sand, gravel, and asphalt paving aggregates with an igneous-based river rock to Jamaica's construction industry,
This past year, the company completed another multi-million dollar expansion and acquired new mining equipment. "The purpose was to increase capacity and improve efficiency," says Millington. "As part of that capital expenditure, in addition to improving the efficiencies for our export production business, we will also be diversifying our local offering to include new products. One will be a manufactured construction sand from limestone. And another will be a manufactured beach sand for beach nourishment and replenishment both in Jamaica and the region."
Currently, Lydford's markets are distributed 70 per cent in North America, 15 per cent in South America, and 15 per cent in the Caribbean region, including Jamaica. Over the next several years, Cousins says that the company intends to expand its milling capacity to take advantage of new markets in Central and Latin America, with Cuba a particularly rich target. "In the region, Cuba probably has the most advanced pharmaceutical manufacturing capability of any country in the Caribbean and Latin America," he states. He also believes that the opening of the new Panama Canal will help the company reach new markets, worldwide. In other words, the future of Lydford Mining's lucrative limestone business looks bright, indeed.
"We are a fully-owned, Jamaican company that is committed to Jamaica and one that has grown every year since we were founded," says Cousins. "And we've been able to do so because of a complete commitment to the development of the business – all profits have been reinvested. We are considered to be a pioneer company and we have accepted the leadership role that has been thrust upon us. And we will continue to grow."
Check out this handpicked feature on the Best of Barbados Gift Shop.
AT A GLANCE
WHO: Lydford Mining Co.
WHAT: A company that mines and processes high purity limestone products
WHERE: Kingston, Jamaica
WEBSITE: lydmin@cwjamaica.com

Setanta Machinery – Setanta Machinery specializes in sourcing and supplying crushing and screening equipment for the quarrying and recycling industry. The company, located in Maitland and Sarasota, Florida has a full inventory of jaws, cones, impactors, scalpers, grinders, trammels, conveyors, loaders, excavators, and screens. Setanta is an authorized dealer of equipment for Sandvik, a high-tech engineering group, and Edge, a manufacturer of quality machinery to handle aggregates and ores. – www.setantamachinery.com