Kerick Farquharson Customs Broker
"Knowing to Serve"
Business View Caribbean interviews Kerick Farquharson, Owner of Kerick Farquharson Customs Broker, for our focus on Best Practices in Jamaican Businesses
Now in it's 16th year of serving the Jamaican business community, Kerick Farquharson Customs Broker has earned great respect, island-wide, for their integrity, experience, and dedication to every client. Whether it's personal or commercial imports and exports, cargo clearance and delivery, duty estimates, returning residents clearance, or a variety of other Customs-related services, the company's friendly, knowledgeable licensed customs brokers aim to please. Building a long-term relationship with clients is the order of the day, always under the mantra: Knowing to Serve
Business View Caribbean recently spoke with the company founder and owner, Kerick Farquharson, about the challenges and rewards of being one of Jamaica's finest Customs Brokers and his insights into the future of the industry. The following is an edited version of that candid conversation.
BVC: Can you share the background history on the business?
Farquharson: "I started working at Jamaica Customs in the Collector General's Department in 1982 at the age of 17 and served that department for the next 20 years. In 2002, the department was going through some restructuring and I was retired. I thought: what do I do now? At the age of 37, I was still pretty young. So it was a natural transition to using all that volume of knowledge and experience I'd obtained over the years in the systems, the laws, the regulations, and the processes to offer this service externally. To represent these standards and processes to clients who desire that type of service and guidance.
"At the time I retired, I had just ended a program where I was being taught to train the trainers on a new valuation system. It was based on transaction value instead of a fair market value, which was the previous system. This was a total upheaval in terms of different ways of thinking, as it relates to documentation and what is accepted and what isn't accepted. One benefit for me having received that training was that it was offered to staff but not fully available to brokers at the same level. So once I retired, I was asked by many brokerage organizations to train their staff in this new value system. In 2005, based on an exception clause embedded in the Customs regulations, I was awarded a broker's license without having to do any further training. By virtue of the position I held prior to retirement, I was qualified to have my own license to operate as a Customs broker. Today, my business is based in Montego Bay and I have employed eight persons. So I'm pretty small."
BVC: What are the main services you offer?
Farquharson: "Classification of goods is one of the key areas I am really honored and respected for. That came because for the past 10 to 12 years I have served as a member of the Tariff Committee; a body representing various entities within Customs and outside of Customs. That committee sits bi-monthly in Kingston, where we argue and discuss every matter put before us and, based on the general rules of interpretation, we decide where an item should be classified. In circumstances when we are still undecided, especially when there are serious revenue issues to be brought into the conversation, those items would be referred to the World Customs Organization (WCO) for their ruling.
"I really pay attention to the Customs brokerage aspect of entering goods, clearing goods, that type of thing. But the industries that are most important to me, based on where my clients are from, would be the airline industry and the hotel industry. Therein lies the predicament right now, given that those two industries have been decimated by the COVID-19 pandemic. But I continue to serve as the broker for American Airlines; FedEx; Jet Blue; United Airlines; Delta; Copa; Spirit Airlines – most of the airlines coming into Jamaica. And also for the hotels – Sandals, Tryall, Hedonism II in Negril, Secrets Resorts & Spa, just to name a few.
"Also very important we are both Internationally certified by TRACE Anti- Bribery Solutions and also FCPA (Foreign Corrupt Practices Act). Since 2007 we have partnered with Mobay Freight Services to offer a "One Stop Shop" experience. That partnership allows us to source, consolidate, ship, clear and deliver imports.
"It has been a really tough year for everyone, that's the global reality. Had it not been for that wide span of brokerage clientele base, I would have gone under. But a little from here and a little from there keeps you going. The economy will get back on track but right now it's more about holding tight and riding out the storm."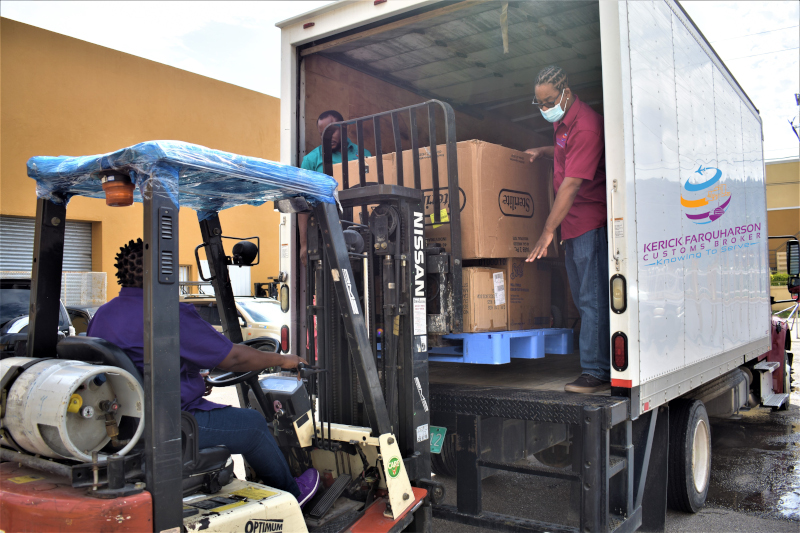 BVC: Does technology play an important role in your business?
Farquharson: "Yes, and the truth is I've had to adjust, adjust, adjust because, as you can appreciate, I came into this system in 1982 when the only technology at your fingertips was a calculator. And then I had to learn typewriters, and computers came on the scene, and then the system in Customs was computerized and semi-automated. In 2015/16, we moved across to a different platform known as ASYCUDA and that software system makes the whole Customs service automated. It's a huge difference in terms of turnaround time, the ease of usage, the applications available. So everything we do online is really technology-driven right now. They are constantly updating and training and we are really reaping the benefits with time saving and efficiency. It was a massive investment by government but certainly a very smart one."
BVC: How do you anticipate the Customs industry evolving over the next three to five years?
Farquharson: "One of my deeper concerns is, as the system becomes so automated, the focus is a bit more on getting the work done quickly and I really believe we are losing sight of the fundamentals of the integrity of licensed users of the system. Because a lot is at risk when the persons using the system are not driven by a sense of integrity and decency. And that may very well come back to haunt us five years down the line. We might look back and say, "Why were so many persons there that should not have been there?"
"I believe the answer is more stringent regulations or certifications on licensees. And not just initial certification but recertification to prove you are still capable. That is missing from the way the system is set up now. Once you get the license, there is no deep need or requirement for you to prove again after three or five years that you're still on top of the game. That's one of the challenges we're going to be facing moving forward. The Customs Brokers and Freight Forwarders Association of Jamaica do internal training but it's participatory – you're not tested for performance, you receive a certificate for attendance. Once they get their license, persons can get complacent. I think you should be graded after the training and possibly be retrained if needed. And that is not currently taking place."
BVC: What are the most important points you'd like to share about Kerick Farquharson Customs Broker?
Farquharson: "My passion comes from my continued close relationship with Customs and I have to represent them the best I can. Which means discussing the lack of knowledge of the system and of the responsibilities and the duties of a licensed Customs broker. I think many persons with brokerage licenses don't understand that they are there to represent the standards of Customs. My motto for my company since its conception is "Knowing to serve" because that is what drives the system and the acceptable – and not acceptable – behavior.
"I'd also like to say it has been a privilege to serve the Jamaica Tourist Board  and work with them as one of their recommended brokers. I know them personally and they are very passionate about the product they represent. And I am very passionate about making sure that any client that comes through me by Jamaica Tourist Board is fully satisfied. We go the extra mile for them, no matter the timeline, we are going to get it done.
"I would not want to end without saying that all of this is really based on my commitment to my Christian beliefs. I live by that daily… I am weathering the storm and I am at peace."
*pictured at top: Kerick Farquharson Founder/Head Customs Broker and CEO of Kerick Farquharson Customs Broker
AT A GLANCE
Kerick Farquharson Customs Broker
What: A highly regarded provider of Customs-related services
Where: Montego Bay, Jamaica
Website: www.kfcustomsbroker.com
Jamaica Tourist Board – www.visitjamaica.com
The Jamaica Tourist Board (JTB), founded in 1955, is Jamaica's national tourism agency based in the capital city of Kingston. The JTB is responsible for the worldwide tourism marketing and promotion for Jamaica. Its mandate has been to promote Jamaica as a preferred travel destination; identify new and emerging consumer groups; cultivate new relationships with travel partners and disseminate timely and useful marketing information to its offices and travel partners worldwide.