The Harbour Village Beach Club
Discover paradise in Bonaire
Business View Caribbean interviews Jessica Gonzalez, Marketing Director of the Harbour Village Beach Club, for our focus on Best Caribbean Resorts
For more than three decades, the award-winning Harbour Village Beach Club has been known as a luxury oasis on the Dutch Caribbean island of Bonaire. With much to offer, Harbour Village is a go-to destination for those seeking private beach front space, onsite diving and watersports, seaside dining, and much more.
Family designed, built and owned since its inception in 1990, the beauty of the island was discovered on a sailing excursion, where a Spanish borne engineer and his wife, a Venezuelan architect were captivated by friendliness of the Bonaire people and the unspoiled and untouched feeling of the island at that time.  As Jessica Gonzalez, Marketing Director, and daughter-in-law of the founders describes, "They would sail to Bonaire and stop in at the marina. Inspired by its numerous Mediterranean sailing trips, the vision was to build a villa around the Harbour. Construction by the owner's company began in late 1987, and the resort opened in 1990 under the Sonesta brand for approximately one year, when the family took over the management of the resort."
Idyllic Bonaire offers a gorgeous climate year-round, with very few major weather events. The island itself remains much the same as it did when Gonzalez first visited in 1992. She recounts, "Amazingly, Bonaire really hasn't changed that much. There are still no stoplights on the island. It's one of those unspoiled little Caribbean islands, no McDonald's, no major chains. You don't feel that development like you do on other islands. It's a pretty special place. It is the kind of place that people will return to time and again – we have guests that have visited over 30 times."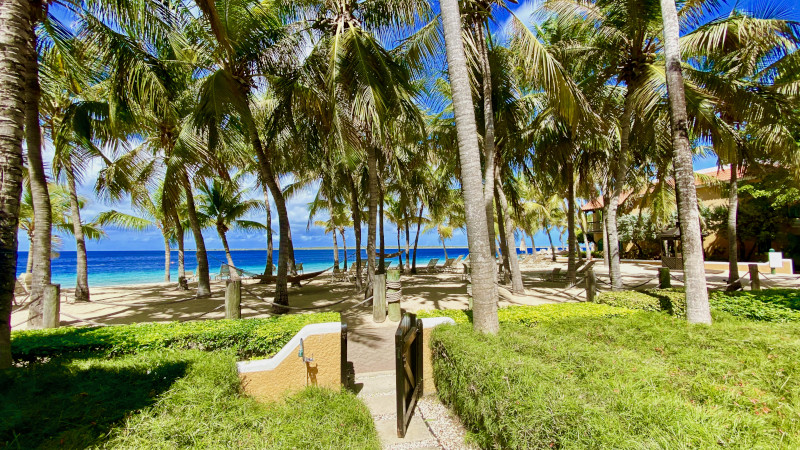 Harbour Village spans four acres of lavish gardens and sparkling ocean views, offering a variety of accommodation options for a perfect family vacation or a private getaway, as well as privately owned residences. Bonaire is known as a safe island, and the gated resort offers additional security, not because there's a crime problem, but because Harbour Village is a private beach club with controlled access. "We are the only private beach on the island," Gonzalez proudly notes, "that's the heart of the property."
At one end of the gorgeous white sand beach guests can enjoy La Balandra Bar and Restaurant, and at the other, Great Adventures Bonaire, the dive shop and water sports center, provides the perfect view of the magnificent world below the water. As a protected area, the underwater marine park has been monitored by the Bonaire Marine Park since the 1970s. "That means that the reef has been so well preserved all these years," says Gonzalez. "It's one of the best places to dive in the world right now, because it's been so protected. It's so easy, there's a dive site you can swim to from our beach, you can dive right off of our beach, or snorkel. It's ideal."
With 86 dive sites around the island, Harbour Village attracts diving and snorkeling enthusiasts from near and far. The resort's five-star services including a complimentary diving and snorkeling concierge service, that makes diving a breeze. Guests' dive equipment is ready and waiting for them on the boat, then carried back, rinsed and stored for the next dive. Other activites include scheduled boat dives and snorkel trips, personalized diving instruction, private guides, and boat charters. The resort also provides kayaks and paddle boards for those who would prefer to explore the water from above.
Reef restoration is an ongoing priority at Harbour Village, and was continued throughout the pandemic, when the resort was closed for business. Gonzalez reports that during this time new fish life appeared, and turtles began nesting on the beach. Coral restoration efforts, which have been happening for 10 years were also continued. She explains, "We have 10 underwater coral restoration trees. The "trees" are constructed of PVC piping that are used to hang at-risk coral. The coral is grown there and maintained by our dive shop staff and guests, and then transplanted back to the house reef."
A new ocean temperature monitoring system was recently added and the resort also updated an underwater reef camera. "We have an electrified reef project and installed a reef cam in 2015 whose live feed is visible on the web," says Gonzalez. Guests are able to work towards a specialty dive certification in reef restoration if they are already dive certified. "One of our dive masters holds a weekly reef chat at the hotel," Gonzalez adds. "We try to educate the guests, and many of them, if they don't get the specialties, they'll just come and help us, because they want to help to maintain the beauty of the reef."
Sustainability and preservation are important goals for the resort, which has been Blue Destination Certified. A Bonaire initiative, this certification requires an effort to meet certain sustainability requirements, which Harbour Village does through various means including coffee pod recycling – sending the pods to Holland, because there is no recycling option on the island. Purchasing paper straws and compostable plastic bags, and searching out ways to avoid single use plastics in the guest suites are other ongoing efforts. Adding a boat pump out station at the Marina is another endeavor the resort is taking on. Gonzalez admits that very soon it will be against the law to discharge sewage in the sea, and the Harbour Village Marina, which manages the 50 town moorings for STINAPA, the government's environmental protection agency, is ready to provide the pump-out service when the law goes into effect.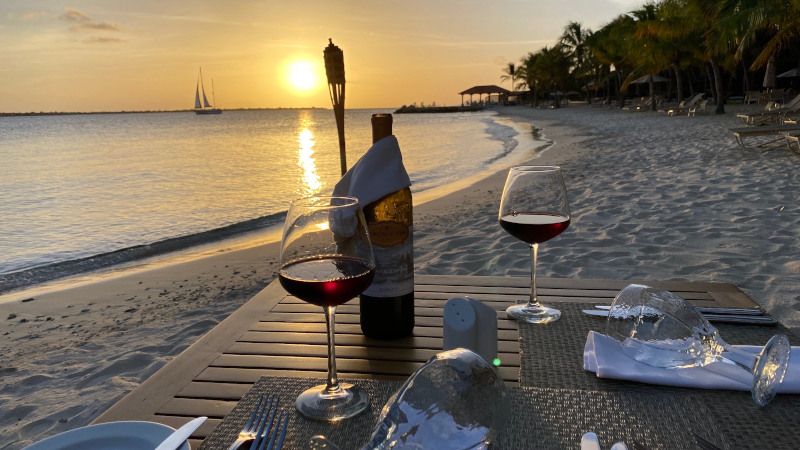 COVID brought its challenges for the resort, with sporadic cancellations, and uncertainty starting in March of 2020 and continuing into 2021. "We would go weeks with no one in the hotel, but then things started to open up a bit with Holland. We started getting quite a few reservations for the holiday period, and then two weeks before the holidays, Holland returned to lock down," Gonzalez recalls. "So, half of the guests canceled. Just like everybody else around the world it was like a stop, start, stop. The uncertainty was really the hardest part because planning for staffing and supplies was just a huge challenge." She reports that the return of direct flights from the US, brought record months staring in June of 2021. Supply chain issues have been another ongoing challenge, making it necessary to source out new vendors to meet the needs of the resort. However, Harbour Village has maintained their steady relationship with freight company Amcar-Lamprecht through this changing vendor situation.
During the slow time, Harbour Village worked to equip the hotel with PPE and organize changing health and safety procedures. The resort also became the first property on Bonaire to become Virus Aware certified, meeting very stringent criteria to earn this designation. Updating rooms, painting, and other renovations were also completed during down time. "We're very lucky in the sense that we were already naturally set up for social distancing and everything is outdoors," says Gonzalez. "There are no enclosed hallways, or elevators. All the buildings are two storey buildings on the beach with open staircases. The restaurant is also open air, obviously the diving is open air. We did a complete renovation of the bar, and we installed new AC units in all the accommodations with high-quality air filtration."
Moving forward, Harbour Village intends to keep improving, while continuing to offer a top-quality guest experience. "We need to keep our training strong, our staff strong, and preserve the high quality and the standard of the resort and the marina," says Gonzalez. "We are not a five-star hotel, but we are the five-star hotel of Bonaire. So, we want to maintain that standard and keep improving on our services." For those seeking a perfect island getaway, Harbour Village is there to provide an exceptional experience for divers and land lovers alike.
AT A GLANCE
The Harbour Village Beach Club
WHAT: A secluded, private beach resort with a five-star dive center
WHERE: Kralendijk, Bonaire, Dutch Caribbean
WEBSITE: www.harbourvillage.com