M.S. Osborne Ltd. (Montserrat)
Your first & best choice
Business View Caribbean interviews Derek Osborne, Chairman of the Board of M.S. Osborne, Ltd., for our focus on the Resilience, Strength & Growth of Montserrat.
Montserrat: captivating in both natural beauty and intrepid endurance; a land where "business as usual" is not the same "usual" as anywhere else. When you're in the north, you don't even know there is a volcano. The grass is green, the air is fresh. Only on very rare occasions, when a cloud of ash sails across the sky, do you catch a glimpse of what's simmering to the south. The longest operating family business on Montserrat, M.S. Osborne Ltd., has been serving island residents for more than 80 years, and has experienced nature's wrath, firsthand, during Hurricane Hugo and the eruption of the Soufriere Hills Volcano. When others may have given up, the Osborne clan dug in, recalculated, and soldiered on as a beacon of stability in Montserrat, under the branded mantra: "Your First & Best Choice!"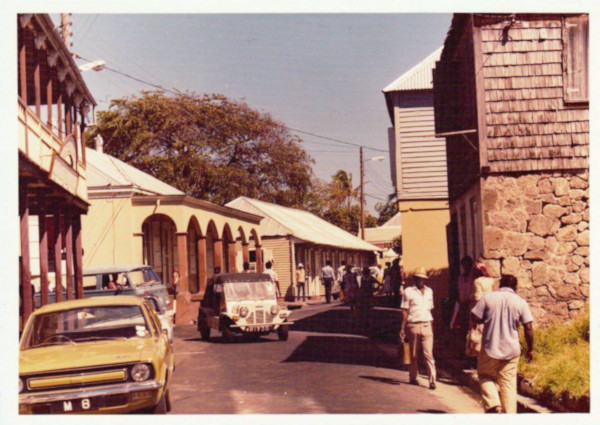 Founded in 1938 by Michael Symons Osborne, a passionate entrepreneur and business leader, the company originally specialized in the importation of grocery items, dried goods, building materials, and cement In the early 1960s he finalized one of his dream projects the 40-room Vue Pointe Hotel.  This together with his Colonial styled Coconut Hill Hotel in Plymouth would become two of the flagship properties of Montserrat's tourism industry. Today, M. S. Osborne, Ltd. (MSO) continues the legacy with an even more diverse product and services offering – building materials and hardware, wholesale food distribution, furniture and appliances, agents for Nissan and Suzuki vehicles, agents for Guardian General Insurance, and shipping and commission agents.
Derek Osborne, Chairman of the MSO Board of Directors, speaks proudly of the company history: "The shocks we've had, and our ability to keep going, really highlights the theme of resilience. My grandfather started the company in 1938, when he took over his father's business. Grandfather, in turn, had four children, two of which remained working in the business – my father, Bertrand, who just passed away in September, along with his brother Cedric. Their sisters, Veda and Kathleen, were also Directors and intimately involved for 50 years."
Two years ago, the company became fully operated by Board members in the third generation. The second generation are still shareholders but not actively involved in operations. MSO is now the longest-running family business in Montserrat. Osborne recalls, "When I was growing up more than 40 years ago, there were many family-owned businesses, most of which are no longer operating. But we are now in the third generation, we have evolved. We withstood a major hurricane – Hugo – which ravaged the island in 1989 and, at the time, everyone thought would be the catastrophe of our lifetime.  In 1995 however, the Soufriere volcano, which was previously a well-visited tourist attraction, quickly erupted to life. The pyroclastic flows that belched from this giant quickly destroyed centuries of development in Plymouth and surrounding areas in just a few short years. MSO's stores, office buildings, car dealerships and even the majestic Coconut Hill Hotel now lay below layers of ash and lava, possibly lost forever.  Decades of building a successful business were wiped away in a relative blink of an eye. Looking back at it, the easy decision would have been to gather what was left and call it a day. It's now over 20 years since the volcano roared to life and we are still here; 'easy' was not the way we chose.
"Rebuilding meant having to start from scratch.  We had no land, no building, and poor infrastructure in the new North safe zone.  We soon acquired a piece for land in Brades, the new capital of Montserrat and started out in makeshift buildings and container offices. With the support and endurance of our family and staff we were able to continuously build until we were settled in our new commercial building and headquarters.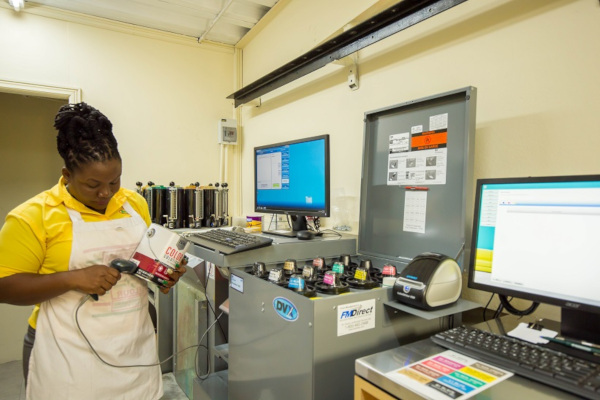 "The Vue Pointe hotel, while spared from the devastating pyroclastic flows, came with its unique set of challenges. The hotel is situated on the safe side of the scientific 'best guess' boundary between the safe and unsafe zones. It once overlooked a pristine golf course with the beach practically kissing the foot of the hotel property. Over several years of volcanic activity, the golf course became buried by large lava and mudflow and the shoreline of the beautiful beach was driven at least a half mile out by the mighty hands of nature. During the early days of the eruption, the hotel would remain open but was plagued by frequent ash falls. When the volcanic activity increased, the government and scientist would sometimes push the boundary of the unsafe zone well beyond the hotel, thus, forcing it to close. Guests at the hotel would have to be evacuated, staff were left without a job from one day to the next, and the property locked up and left to the mercy of the elements.
"The family managed to reopen the hotel on several occasions when the boundary receded past the hotel but the expense of cleaning, rehiring staff, and marketing the hotel soon became too much. The hotel was closed in 2005 and its future remained uncertain. In 2016, the new Board decided that several years of inactivity meant that it was time again to breathe life back into the property. With the assistance of the government, and the backing of the family, the hotel reopened its pool side bar and restaurant facilities and a few newly renovated rooms to overwhelming support from the locals and long-time visitors to the island. The family plans to monitor the activity with the possibility of opening more rooms in the near future."
Today, MSO operates from its main location in Brades, and early last year it bought a property in Salem where it opened a retail store in December. This second outlet sells a combination of hardware, wholesale foodstuff, furniture and appliances, and general merchandise. Building materials and hardware account for about 65 percent of the overall business. All goods sold by MSO are imported, mostly by ship. Osborne reports, "The seaport in the north of the island is limited in scale, but able to handle vessels big enough to bring in all the cargo that we need, once the water is not too rough. Nothing comes by air unless it is an urgent item. Most of the building materials and hardware are from the U.S., some from Puerto Rico, while 220 volt electrical supplies are sourced from England. A significant amount of foodstuff comes from the Caribbean and some from North America."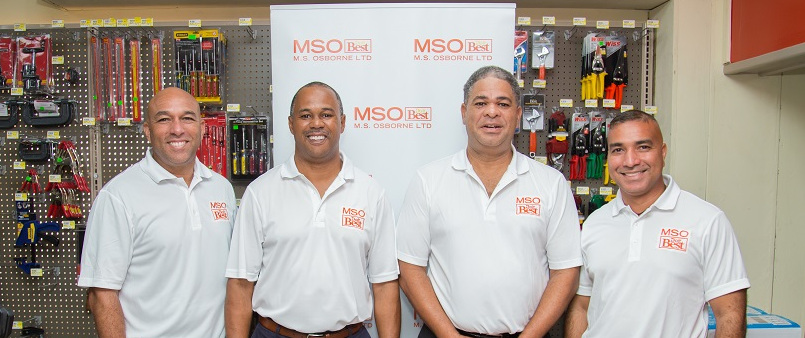 Fifty years ago, the population of Montserrat was 11,000; today less than 5,000 people live on the island. Since the volcano forced residents to move, the government has been the mainstay of the economy in terms of redevelopment, housing, rebuilding the air and sea port facilities. There is active commerce and a growing level of tourism, but the government is certainly the main employer. Residential villa tourism has contributed to the economy since the late 1970's. Montserrat's peace, quiet and serenity have attracted North Americans, Europeans and even Caribbean neighbours who all appreciate it's beauty, welcoming hospitality and incredibly low crime. There is hope that the investment in geothermal energy and a fibre optic cable will attract light manufacturing and other industries that are looking for low energy costs and connectivity to the ultrafast international networks.
Osborne acknowledges, "One reason we've been able to sustain is because of our good family name. We've built a lot of goodwill in terms of reputation over 80-plus years. We always aim to be the best in everything we do and we certainly are number one in building materials, in hardware, in wholesale foods. Hopefully, the volcano will go back to sleep soon and there will be reinvestment in property and infrastructure. Our current focus, therefore, is readying ourselves for that resurgence."
Embracing technology is another key factor for the company's continued success. Offerings such as electronic paint color matching technology are attracting and inspiring shoppers. "We want to provide pretty much what you can buy in Canada and the U.S., albeit on a smaller scale," says Osborne, "to give customers a first-world experience, whether it be the products, the service, the environment, thus, our recent upgrades to the retail stores in both locations. 'Do It Best' (a worldwide cooperative) is our international partner, and with their assistance we have rebranded and enhanced our retail operation to achieve a new standard, in terms of appearance, product offering, and customer service. Even though we're on a small island, we want our people to experience a great shopping environment."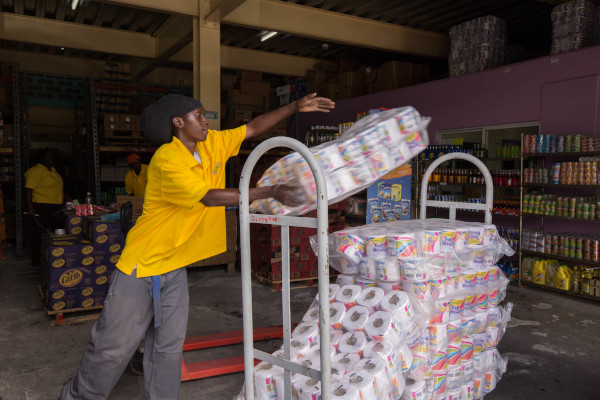 Of MSO's 34 employees, 10 have more than 20 years tenure, 7 have worked at the company for over 35 years, and they've all become part of the family. Osborne credits the loyalty of customers and employees for the ongoing success of the business. And while there are some competitors in the building materials and hardware sector, he claims, "We're still Number One and we plan to stay there. Most of the construction on the island is residential. We deal with contractors and also homeowners. The customer range is wide. For the wholesale food division, our main customers are the supermarkets. We are also agents for Guardian General Insurance, the number-one general insurance company in the Caribbean."
M.S. Osborne Ltd. has a long history of philanthropy. A part of the budget every year, is committed to helping out the community, and the phone often rings with groups requesting additional support. Generosity and giving will always be a big part of the Osborne family mission going forward. MSO also works with schools on the island by supporting initiatives such as sports programs and science fairs. In addition, each summer the company hires students for a six week employment stint through the Government's Youth Department.
As for future goals, Osborne notes, "First, is to make best use of the space we currently own so that we can gradually expand existing lines of business and enter into new lines of business. We have confidence in Montserrat's future and will strategically position ourselves to grow and diversify."
When it comes to succession, Osborne says, "The plan is to remain family-owned. There is no discussion about going public. We have one third-generation cousin involved in the business at management level, and the four Directors of the Board, who live abroad,  are also third generation. When it comes to resilience, even though we've had to manage from a distance, we are confident that we will succeed. By getting our children involved, which will be necessary as we get older, we'll try to maintain that family ownership, family operation, and leadership."
M.S. Osborne Ltd. is renowned for being an honest, high-integrity, family business and a strong supporter of the Montserrat community at large. Carol Osborne, wife of second-generation business stakeholder, Cedric Osborne, shares how island residents feel about companies like MSO and their importance to Montserrat: "One thing we hear a lot since we opened the branch in Salem, especially by the Montserratians that come and visit at Christmas time, is that they are inspired to come back. They are pleased to see that companies in Montserrat are planning to be here a long time. It gives them a feeling of confidence. And we see younger Montserratians, who left here 20 years ago when the volcano started, are now looking for a piece of property. Some of them have even started to build a home that they plan to retire to."
Bravo to M.S. Osborne Ltd, the beloved Osborne family,  and the island of Montserrat – positivity and resilience at its very best!
AT A GLANCE
Who: M.S. Osborne Ltd.
What: 80-year-old family-owned retail, wholesale, and insurance business
Where: Headquarters in Brades, Montserrat

Carib Brewery – caribbrewery.com
Carib Lager Beer is deeply rooted in the way of life of the Caribbean people and with its uniquely refreshing thirst-quenching brew, it is the embodiment of the true Caribbean experience.  Launched in 1950, this full-bodied, clear and refreshing larger is the flagship of Carib Brewery.  It is the most widely distributed Caribbean brew and in just seven decades, has grown into a regional and international powerhouse.  Carib Lager Beer, Mackeson Stout, Shandy Carib and Smalta are some of the many Carib Brewery brands distributed in Montserrat by our distribution partner, M.S. Osborne Limited.