The Queen Elizabeth Hospital
The heart of Barbados healthcare
Business View Caribbean interviews Dr.Clyde Cave, Director Medical Services at The Queen Elizabeth Hospital for our focus on Healthcare in Barbados
The Queen Elizabeth Hospital (QEH) is Barbados' primary acute care medical facility, and an accredited teaching hospital affiliated with the University of the West Indies, Cave Hill Campus. The institution was opened in November 1964 to address the medical, surgical, clinical and treatment needs of the Caribbean and to serve as a teaching hospital for those seeking a career in the medical profession.
Business View reached out to Dr. Clyde Cave, Director of Medical Services at QEH, for updates on how the hospital has been adapting in the wake of COVID-19 and his insights into the resilience in Healthcare, Medicine and Economic Development in Barbados. His remarks are both enlightening and inspiring.
BVC: Can you describe how QEH pivoted when the pandemic first began in Barbados?
Cave: "I took over as Director of Medical Services right at the beginning of the COVID 19 challenges, when the national decision had already been made to try and keep the Queen Elizabeth Hospital COVID-free and to build a facility at Harrison Point that would largely deal with the COVID burden of disease. Dr. Corey Forde, our Director of Isolation Centres and Head of Infection Prevention and Control department, was responsible for that facility and my job was the Queen Elizabeth Hospital. It was all very well to say we would try to keep it COVID-free, but in retrospect, even though that was an ambitious ask, I think it turned out to be the right decision. A lot of our fellow Caribbean countries that have only one general hospital tried to divide it into COVID and non-COVID parts of the same institution and weren't very successful.
"People came to realize that having separate institutions was easier to manage. But as the only national hospital, we obviously had to deal with COVID in our Accident and Emergency (A&E) department because that's where sick people presented. And we also had to find a way of identifying those in the wards who slipped through and transfer them to the Harrison Point Isolation Centre."
BVC: How did you innovate to accommodate the patient load?
Cave: "The first big change was that the Accident and Emergency department had to be split into two, and now, three components. The first one dealing with COVID positive patients; the second with people who had a very low risk of COVID; and the third was a short-stay unit. As the pandemic evolved, our AED started to see an increase in the number of patients with chronic diseases who had been managed through our hospital specialty outpatient clinics and primary public clinic health care. They were deteriorating because they were either staying at home or not accessing appropriate care in a timely manner.
"Our inpatient numbers increased – particularly the elderly with non-communicable diseases – and the severity of their illness also increased, so their hospital stay was longer. Consequently, admission to the hospital was a problem, so we had to develop a short-stay unit attached to Accident and Emergency, when inpatient beds weren't available for transfer. In order to split into respiratory (possible COVID) and non-respiratory streams (low risk of COVID), we had to take over our hematology, oncology, psychiatry and obstetrics and gynecology outpatient clinics, and other services that we could move out of the hospital to free up space.
"We found an offsite annex in Belleville for those clinics and in very short order converted a building that was not purpose designed for that into something that was workable, if not ideal. But we remained really challenged with our inpatient services, which now had a greater demand. Especially in internal medicine, with our specialty staff now being shared with the isolation center at Harrison Point. We had to suspend a lot of elective surgeries and only do the more urgent surgeries.
"On a positive note, we developed a program for home delivery from the pharmacy, which has been quite popular. We also created a Help Desk staffed with high level doctors, nurses, and emergency ambulance attendants. So instead of someone just redirecting your call, these were people who could actually solve problems. Give some basic medical advice and, quite honestly, perform the roles of priest, friend, and psychotherapist by just answering the calls from elderly people who felt confined to their homes.
"Under the direction of the Prime Minister, we were funded to start a transitional Community Care program where many of our highest risk outpatients could now be cohorted and seen in the community by special community healthcare workers who would go to them, instead of requiring them to come to us. That's worked out really well. We're approaching 500 of our most vulnerable patients now being enrolled in this program and we're hoping in the long-term that it will impact the number of times they present to Accident and Emergency or require admission."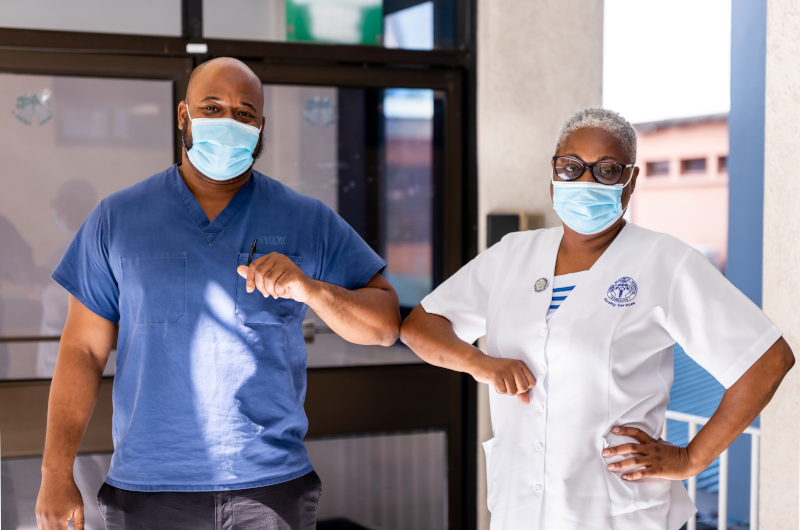 BVC: Was there ever a shortage of PPE supplies?
Cave: "We were spared, but we came very close. There were some shortages but nowhere near what you hear on CNN about other Caribbean territories. For example, we were out of XXL body suits but we had enough of the other sizes. It took a little while to refine that kind of thing. Some of the gifts we were given, when we put them into use turned out to be not an appropriate match for our needs. So we had counted 200,000 of whatever and when it came time to use them we found out "oops, that's not working" and we had to look for others. But by and large we have gotten through this with intermittently coming quite close to the cliff but never dropping over it.
"The COVID situation is challenging, it's progressive, it's incremental, it changes daily as to what seems to be the best solution and maybe being flexible is what has allowed us to be successful. During all this, Barbados has also endured a hurricane and storms and the fallout from a volcano. But when you look around and see civil wars and droughts and starvation in other parts of the world, you have to give thanks. It's been quite interesting, in that a lot of people preferred the COVID restrictions to having to deal with the dust from the St. Vincent volcano. It was really unpleasant, in your face, tangible. Whereas COVID is not so tangible until somebody close to you becomes very ill."
BVC: What goals would you like to see QEH achieve in the next two to three years?
CAVE: "That is a relatively short time for the ultimate dream of a new physical facility. This one is over 60 years old; there's been so much that has changed technologically and in the use and need for services in the hospital. I think a new build has to be somewhere in our future. It is how we achieve this dream that is challenging. But more importantly, from my perspective, a dysfunctional family in a new house will still be a dysfunctional family. If we take the time now and the opportunity of these challenges to get more efficient, more streamlined, we'll be better able to set appropriate priorities and find innovative ways of achieving them – so that we can use the resources we have that have been traditionally employed in a very conventional way.
"We need to keep doing everything we have been but do it differently, so we can accommodate additional things to move from the largely impersonal "doctor down" model to a more patient and family centered upward model. While still keeping a quality of care and doing it on a budget. If we can find a way of that not being too big of an ask, I think that would allow us to use the stressors that have been thrown at us, as engines for growth.
"As far as philanthropy goes, we do have a lot of friends across the world and throughout the diaspora and we've already seen that with the gift that has established the Shaw Center for Pediatric Excellence focused on the Queen Elizabeth Hospital. It's a 10 million Canadian dollar project over six years that will upgrade bedside care and include training for a post-graduate diploma in pediatrics for our nurses, research fellowships, and specialty fellowships for pediatricians who have been trained here to sub-specialize at the Hospital for Sick Children in Toronto. If we could duplicate this kind of program in the other specialties, that would be a wonderful way out.
"We will never have unlimited resources but we can certainly use the God-given brain power and other things we do have in abundance to produce a quality product. And I think that not just accepting handouts but finding ways to convert them to usable and sustainable influences on our system, that would be a very nice outcome from the years ahead."
AT A GLANCE
The Queen Elizabeth Hospital
WHAT: Barbados' primary, acute care medical facility
WHERE: St. Michael, Barbados
WEBSITE: www.qehconnect.com
International Med-X, LLC – (239) 561-9333 or email: sales@intmed-x.com   
International Med-X, LLC has been committed to imaging excellence since 1972 and has served the Caribbean since 1980. Our service reputation being "second to none" has allowed us to develop long-term, partnership-like relationships with our clients, including public and government institutions, as well as all aspects of the private sector of health care.
Our commitment to exemplary service, overall pursuit of excellence and customer satisfaction has resulted in a majority of our business occurring from repeat or referrals from existing clients. Our clients purchase from us for one primary reason – service. It is our mission to maintain a service and support organization so competent and well-trained that we rarely have to rely on any outside resource for assistance.
WE SPECIALIZE IN AND FOCUS ON:
Multi-slice Computed Tomography Systems (CT)
Magnetic Resonance Imaging (MRI)
Flat Panel Detector (FPD) Interventional Systems
Flat Panel Detector (FPD) Cardiac Systems
Digital Radiographic (DR) & Fluoroscopic Systems
Digital (DR) Mobile X-Ray Systems
FPD Mobile Surgical C-Arm Systems
Digital Mammography Systems
Analog to Digital (DR) System Conversions
High Definition (HD) Ultrasound Systems
Automatic Contrast Injectors
Radiology PACS RIS Systems
Patient Monitoring Systems
All other imaging related products, supplies and accessories
Two Sons Funeral Home – twosonsfh@hotmail.com
Two Sons Funeral Home has served Barbadian families of all faiths and cultures with professionalism and compassion. We understand a person's needs during such times of emotional stress and we help take care of all the details and arrangements required. Contact us at 1-246-426-1205, and let us take care of your loved ones.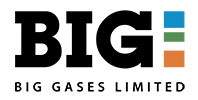 Big Gases Ltd – biggases.com
Big Gases Limited, a member of the Williams Industries Group of Companies, is located at Cane Garden, St. Thomas and is a leading supplier of industrial and medical gases. It is also a supplier of oils, industrial lubricants, welding supplies and associated products, as well as lead acid batteries for motor vehicles under the TRACK brand.
The company, since 2006, has been a supplier of a range of gases to the Queen Elizabeth Hospital with the emphasis being on the supply of oxygen. As the need arises, we also supply them with medical equipment used in the transfer of oxygen to their oxygen bank.
Over the period in question, we have developed a very good working relationship with the management of the hospital and we will continue to support them in their efforts to achieve their goals. We wish them every success in their future endeavors to provide the highest quality of medical services on the island.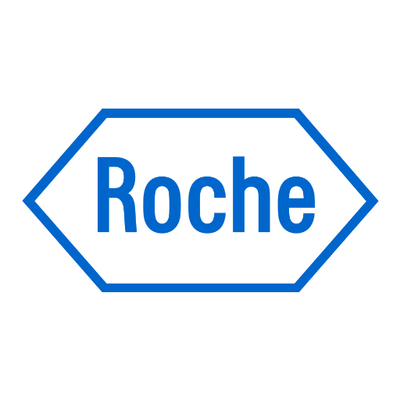 Roche Diagnostics Division Central America & The Caribbean – roche.com
A pioneer in healthcare
We have been committed to improving lives since the company was founded in 1896 in Basel, Switzerland. Today, Roche creates innovative medicines and diagnostic tests that help millions of patients globally.
The leading provider of in vitro diagnostics
We offer doctors profound information to guide treatments and to answer more patients' questions than any other company. And our tests enable hospitals and labs to deliver that information quickly and reliably.