Blue Bay Curacao Golf & Beach Resort
Life in paradise beckons
Business View Caribbean interviews Sepp Koster, CEO of Blue Bay Curaçao Golf & Beach Resort, for our focus on Economic Development and Tourism in Curaçao.
The magical ambience of a 17th century plantation lives on today in a spectacular 220-acre gated resort community embracing one of the Caribbean's most dazzling beaches. Blue Bay Curaçao Golf & Beach Resort marries top-notch hospitality, breathtaking seaside views, world-class golf, extensive recreational facilities, and 24-hour security for the perfect blend of residential and resort-style living.
In local language Blue is "Blau" and, although Blue Bay Curacao Golf & Beach Resort overlooks amazing azure waters, the resort is actually named after landholder Arnold Blau who built the first plantation house. Numerous families managed the property over the years – the last family for 80 years, until the end of the 1980s, when they found the agricultural approach was no longer viable. So, they sold to a group of local developers, who began the master planning of what is now Blue Bay Golf & Beach Resort. They put in some infrastructure, sold a bit of land, but the golf course and beach were never developed.
Sepp Koster, CEO of Blue Bay Golf & Beach Resort, continues the story, "The property changed hands at the end of the '90s, when two Dutch men took over the resort and built the golf course. One of them was my grandfather (who was retired and wanted to invest a little bit on the island). His partner, the real developer, eventually ran into financial difficulty with other developments in Europe – so my grandfather, at the wonderful age of 79, ended up with a resort that had no functioning business model at the time."
When Koster came on in 2003 to help kickstart the real estate sales, there were only 20 permanent homes and 10 little studios for rent. He recalls, "Our first project was to renovate the beach and build 52 vacation homes. Those started selling well, while still under construction. Sadly, my grandfather never saw the completion, as he passed away in 2007. At that time, I took on the mantle of General Director/ CEO to further develop the resort under the guidance of a family trust that was managing the estate. Between 2007 and 2011, we brought Blue Bay Curacao Golf & Beach Resort to the next stage, but I felt I needed more financial freedom and leeway to speed up development. In 2015, I bought out the family members and the trust and took over the resort, together with a partner."
The main objective was to accelerate development. A two-year plan that started in 2016 has seen sales going well, and growth of the organization moving in the right direction. Construction is still underway in several areas, and there are now about 500 homes on the resort. Real estate is a big component. Blue Bay Curacao Golf & Beach Resort offers luxury villas and apartments for vacation rental with full hotel service (300 to 400 beds available for rent). Amenities include pools, four restaurants, two main bars, two private beaches (one undeveloped, the other has been welcoming sun lovers for 15 years).
Koster notes, "We have a wide-ranging setup: for residential, we either sell a piece of land and the buyer has their own house built, or we can assist them with the build, and, sometimes, we build and sell model homes. So, there are many different options – vacation homes, for example. We design/build villas and apartments for sale and then buyers decide if they want to rent it out themselves, or live in it or, as often happens, bring it into our rental program where we rent it out with full service in an income-sharing model."
Blue Bay Curacao Golf & Beach Resort has its own property management company, plus a services company that takes care of cleaning, maintenance, food and beverage, and hospitality. The resort is fully secured 24/7 with about 25 people working in security. Koster hired a co-director two years ago who previously worked for a large construction company, and now all development is managed in-house, with sub-contractors doing the construction and finishing.
Limited conference and meeting room capacity is being addressed with the building of new corporate offices and a welcome center. The plantation house is being renovated to be the heart of the resort. The 18-hole golf course has already seen upgrades, and 32 beachfront apartments are in progress, along with the development of nine exclusive ocean-facing lots next to the beach. One of the most crucial long-term relationships for Blue Bay is with Janssen de Jong Caribbean – a large construction and development company specializing in infrastructure works and concrete materials. Koster credits them as being instrumental in the ongoing development of the resort.
"Being an old plantation, we have some very picturesque inland lagoons as well," says Koster, "with flamingos and lush vegetation that is quite special on an island that is very dry. We are outside the hurricane belt and that brings an element of lower rainfall and more wind. Therefore, only in the rainy season the area is green. In the summer, it takes on a more desert-like look and feel." Curaçao, being a Dutch island, the majority of visitor traffic is from Europe, representing about 60 percent of the market. The rest is a toss-up between North and South America. At this point, because of all the turmoil in Venezuela, both the U.S. and Canadian markets are stronger.
According to Koster, "An impressive number of Canadian owners and vacationers come to the island, considering our land is so little known in North America. At least 20 houses in our resort – very nice properties – are owned by Canadians. That's surprisingly high. We have two mega-piers on the island and, because we are the only resort and golf course and natural beach within 10 minutes of the cruise ship terminal, we get a lot of cruise traffic. To ensure we have room for our Blue Bay hotel guests and our residents, we make limited packages with the cruise liners to bring people to our golf facilities or our beach."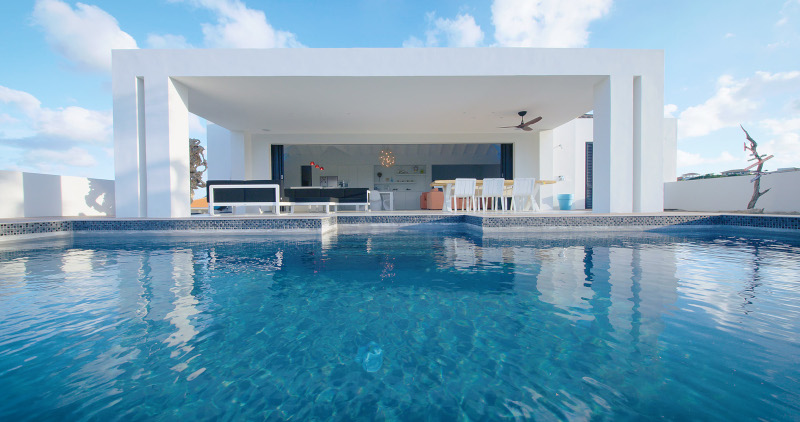 Environmental influences, like solar, are key on sunbathed Curaçao, and Blue Bay Curacao Golf & Beach Resort incorporates green initiatives as much as possible in new projects. Landscaping is more of a challenge, so they built their own water cleaning facility and they recycle a lot of water, as well. Purification of ocean water and sewage water is very much in the forefront to maintain good levels and balance with the natural resources.
Tech-wise, Blue Bay Curacao Golf & Beach Resort has recently created a more active online presence with social media channels and two websites – a separate one for real estate. Koster acknowledges, "Because of ties with the Dutch government, we used one of the more advanced internet companies in the Netherlands (ISAAC – Internet Solutions And Automation Company) to create the platform for the website. Now we're expanding that, and we have a marketing department making more effective use of social media and all the tools that come with our website. ISAAC is also at the forefront of 3D and VR development in Europe, so for our real estate we have VR 360 apps in the App Store for our new developments, which really helps with sales."
As for the future, Koster says, "This is a large resort and we haven't even finished building; it will take another 20 years before it's finished. We have lots of land available and a second beach to develop. Beach area is scarce on Curacao, especially with our accessibility to urban areas. We're only five minutes to the airport, five minutes to the city; most of the natural beaches are 30 to 45 minutes away. We want to really give people a sense of our island and our Blue Bay experience, and not try to copy what has been done everywhere else. Repeat business is growing; the interesting part is that we thrive in real estate sales because people want to come back – not necessarily to the hotel, usually it's a step up to people buying their own property and using it to return, regularly. That's an even bigger compliment to our organization, that people buy an apartment or vacation home on the resort, instead of coming back to the hotel every year, because they enjoyed the experience so much here at Blue Bay.
"With a staff of about 240, we're one of the larger employers on the island. Our resort is in full development and keeps amazing and surprising returning customers. Every year, they encounter a resort that has improved and renewed itself. We want to continue to do that in the future. We aren't your typical resort for this size, but Blue Bay is a really attractive and very recognizable Curaçao treasure."
Check out this handpicked feature on Valentines Residences Resort & Marina Harbour – Bahamas.
AT A GLANCE
WHO: Blue Bay Curacao Golf & Beach Resort
WHAT: A 220-acre resort community
WHERE: Near Willemstad, Curaçao
WEBSITE: www.bluebay-curacao.com