Jetcon Corporation Ltd.
Quality pre-owned cars
Business View Caribbean Magazine interviews Andrew Jackson, Managing Director of Jetcon Corp. Ltd., for our focus on Resilience, Strength and Growth in Jamaica.
For almost 30 years, Jetcon has been Jamaica's go-to provider of high-quality, affordable, pre-owned cars. Customers are welcomed in a friendly atmosphere by knowledgeable team members, who are willing and able to anticipate and exceed clients' needs and expectations, while ensuring a fair return for company stakeholders. The business that started operations in Kingston in 1991, as a seller of QMI PTFE engine treatments, four years later, became one of the first certified auto dealers registered by the Jamaican government. Today, Jetcon is a leading used car dealer on the island, replete with highly trained mechanics and technicians, and facilities among the best in the industry. In a notable testament to its consistent growth and success, Jetcon Corporation Ltd. was listed on the Jamaica Stock Exchange on March 24, 2016.
Jetcon Corp. Managing Director, Andrew Jackson, actually got into the business for two very significant personal reasons: twins. As he explains, "Jetcon started in 1991. The year before, my wife and I had twins and my expenses went up dramatically, so I quit my job and got into the better paying car product business. That evolved into selling cars in 1994/95 and has grown ever since. We've had our ups and downs – I almost quit twice – but we persisted."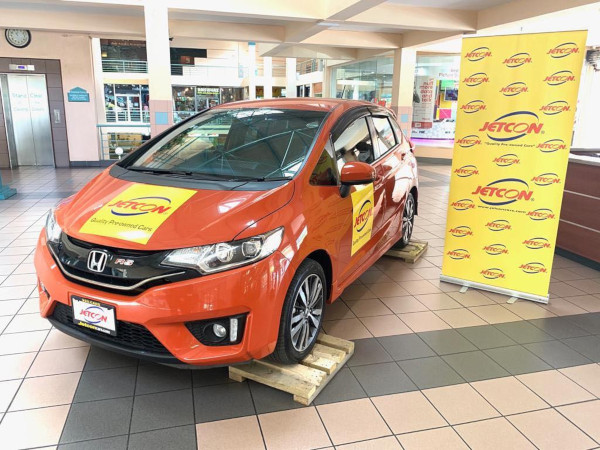 While Jetcon is a corporation now, essentially, it's still a family-owned business with three Kingston locations serving different purposes: one retail outlet (for sales and service), and two warehousing facilities. There are just over 30 employees; the majority working in a service capacity. Car sales make up about 95 percent of the revenue stream. Exceptional revenue growth, credited largely to going public in 2016, has fuelled the company's recent success. Jackson acknowledges, "The growth last year was primarily due to money we got from the IPO. That gave us some financial room to grow and we implemented strategies in 2017, which have worked well for us."
Jetcon imports all its cars from Japan, partly because in both Jamaica and Japan people drive on the left-hand side of the road, so the vehicles Jetcon brings in have the steering wheel on the right-hand side. According to Jackson, "It's an interesting supply market, in that we get cars that are three or four or five years old and extremely good quality because they don't drive that much in Japan and their road conditions are excellent. The vehicles don't get a lot of battering over there. And we get them at pretty good prices because they are refurbished." Customers are mostly local, young, entry-level buyers. Often, they are fresh out of college, just starting a career and, Jamaica being a low-income country, the price of a new vehicle is out of reach. So, they turn to well-known and trusted Jetcon, where they'll find quality, pre-owned cars (all the major Japanese brands), and have an honest, affordable purchase experience. (Bit of trivia: Jetcon's most popular selling color of car, currently, is silver gray.)
As for how much competition they have, Jackson expresses it in one word, "Lots! There are about 200 used car dealers on the island. We differentiate ourselves by working on our own merit," he states. "Jetcon has the experience, the financial support, and a long-standing reputation in the marketplace. And, of course, we offer very good prices." Advertising is done through social media, newspaper, radio, and promotional events such as mini-car shows, from time to time. The main focus is on understanding their customers; offering excellent customer service from sales agents, and after-sale service, which clients appreciate.
Jetcon is a member of the Jamaica Used Car Dealers Association, the Jamaica Karting Association (Jackson was President of both), the Jamaica Classic Car Club, and the Jamaica Millennium Motoring Club. With an obvious love of the sport, Jackson reports, "We have a Jetcon Racing Team. We got involved with motor racing the moment we got involved with car care products. There's a link between motor racing and selling car-related stuff. It's a passion for me. At the recent rally, we didn't win – we had some problems with the car – but people like it and it gets us involved with the community. We also have a number of charities we support, including the Jamaica Red Cross."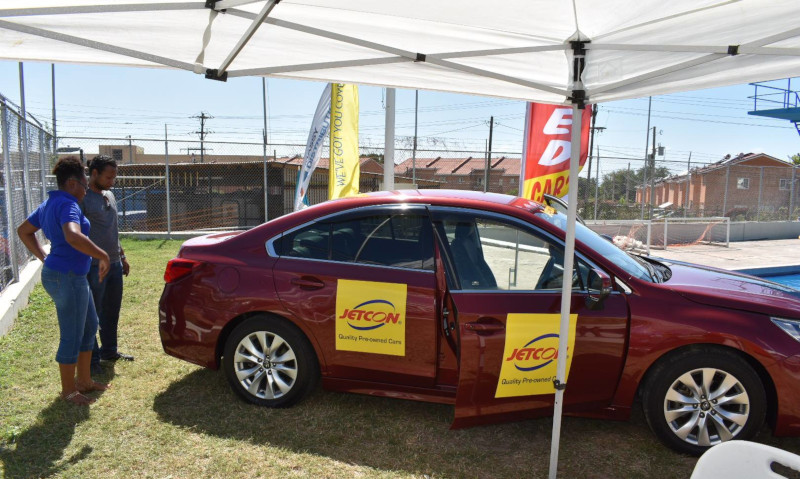 Looking to the future, the company is planning to shift focus into wholesaling of cars. One of their three locations is a recently-acquired facility on the wharf at the port, which will enable expansion in that area. As a car dealer with available finances, they are in an enviable position for growth opportunities, which others couldn't do as easily. "As wholesalers, we'll be importing in quantity and selling to other dealers, in addition to retailing " says Jackson. "That will open up a whole new world for us. With 200 or so dealers around, they become a pretty good market. And they all purchase from the same source in Japan. We are looking to make their purchases easier, since we have the capital to deal with large numbers. Jetcon Corporation has a lot of investors; 1000 local Jamaica shareholders, right now." Growing in the Jamaican wholesale space is a significant objective, going forward. But Jetcon is also planning to go a step further, by taking the initiative to the rest of the Caribbean.
Will electric vehicles be prevalent in Jamaica anytime soon? Jackson reports, "It's inevitable. The whole motor industry is going electric, there's no turning back. Jamaica doesn't currently have any public charging facilities or infrastructure on the island but it's going to come. There are a few local people with electric cars, but they have their own chargers. We have two electric cars we're experimenting with. It's fun to be on the leading edge and experiment with the technology."
Summing up the quintessential Jetcon Corporation, Jackson notes, "We've been around a long time – in business almost thirty years. We're well known on the island and listed on the Jamaica Stock Exchange, so we're pretty open about what we do. The used car industry doesn't necessarily have the highest reputation, but all our information on our books is public. And we also sell really good quality vehicles, have great customer service, and we're just really good people to deal with."
Check out this handpicked feature on Jamaica Stock Exchange Limited.
AT A GLANCE
Who: Jetcon Corporation Ltd.
What: Long established, pre-owned vehicle dealership
Where: Kingston, Jamaica
Website: www.jetconcars.com