Clarence Thomas Limited Home Center
Dependable, consistent, service
Business View Caribbean interviews Michael and David Thomas of the CTL Home Center as part of our focus on best practices of BVI businesses.
CTL Home Center is the British Virgin Islands (BVI) own retail giant that is continuously evolving with the desire to expand into the wider Caribbean. A common household name and fixture in the BVI, the company exemplifies love for the community and has grown to become a Virgin Islands success story in the truest historic pioneering and entrepreneurial spirit of Virgin Islanders.
Formerly known as Clarence Thomas Ltd., the company was founded by the family patriarch, Clarence Thomas, in 1967. "My dad was one of the few licensed plumbers in the late '50s and early '60s," explains Michael Thomas, the company's Managing Director. "It came out of a need for him to procure the materials that he needed for jobs. So, he started importing products for some of the projects he was working on and other plumbers came to him, wanting to buy materials that they needed for their jobs. Back in the '60s, it was a pure plumbing supply house, but, eventually, it morphed into a retail establishment and it's been growing ever since."

Today, the company, which is still a family-owned enterprise operated by Michael and his brother, David, has two locations. The main store, in Fish Bay on the island of Tortola, is the 70,000-sq.-ft. SuperStore and Lumberyard, built in 2015 on several acres of land that was reclaimed from the nearby seabed. It has 86 employees and offers a vast array of home improvement and maintenance supplies, including: plumbing, electrical, marine, lawn and garden supplies; hand and power tools; small and large appliances; an extensive stock of home products; a wide variety of quality paints and surface protectors; office supplies and much, much more.
A smaller store, on the island of Virgin Gorda, has four employees and focuses on plumbing, electrical, hardware, tools, and housewares. "One of the things that functions well for us with our second store on Virgin Gorda is a liaison officer," Michael notes. "Our customers on that island interact directly with the liaison officer at our main store with their inquiries, since our Virgin Gorda Store is only 4,000 square feet and there's only so much you can cram into it.  Additionally,  we are in the process of acquiring property in Virgin Gorda to build a new and much bigger store, which would encompass a lumberyard, also," he adds. "We're hoping to have that completed within the next four to five years, if not sooner."
Regarding CTL's competitors, Michael says, "Competition is everywhere on the island; we compete with everybody because everybody sells what we sell. We pride ourselves on pricing; we're very competitive where prices are concerned and right now, are upwards of 80,000 products. Further, we created a destination store concept, when you get here; this store has pretty much everything that you're looking for. With the addition of Bell's Café; our clients stop to shop and stay for lunch. We also have plans in place for other services on the property; inclusive of a pharmacy, doctors' offices; a boutique supermarket; to name a few. There will also be a small marina within the next two years; there will also be a condo building – just to make sure that when you get here, you're locked in."
In addition, Michael says that CTL thinks of itself as the "trend setters in the Territory. As an example, the first Black Friday sale ever held in the British Virgin Islands was done by us and we did it years before the rest of the community caught on," he avers. "Plus a lot of promotional sales that we run, like a pajama sale that starts at five in the morning. It gets a bit chaotic, but it's a major revenue driver. We're in the process of finalizing our online setup to provide additional shopping options to our customers. So, we're constantly trying to stay ahead of the curve and our competition."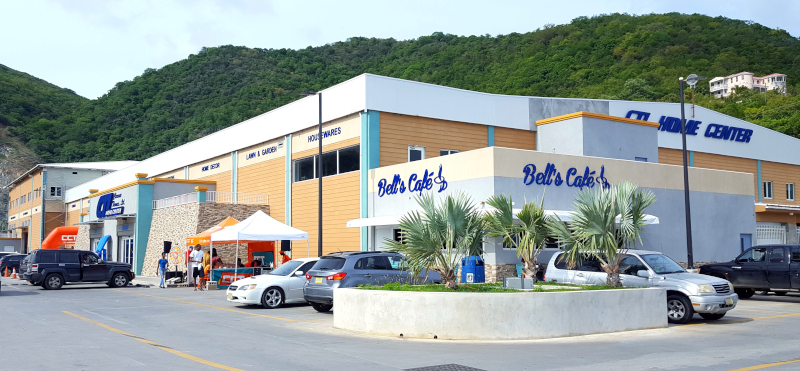 "I do all of our marketing and getting the online sales and working through the website is a major focus for me," says brother David, CTL's Chief Operating Officer. "One of the things that we have done here at the new store is create a loyalty customer base, and I'm happy to say that even with a small population, we have, right now, over 6,000 loyalty customers, which is really great. I'm proud of that."
Another reason for pride in the company becomes apparent as Michael recounts the story of the Fish Bay location not only surviving 2017's Hurricane Irma, which devastated the BVI, but then becoming an important community asset in its aftermath. "This store survived a 225-mile-an-hour hurricane, sitting right on the water's edge," he remembers. "It survived the storm surges, the winds, but, more importantly, the day after the hurricane, we were able to come in, get rid of all the water and get the generators started, and this store functioned as the main store on the island. Everyone gravitated to it – the army, the electricity corporation, the water department used us, exclusively, to try and get power restored and water running in those early days right after the hurricane. CTL became a fixture of the community to help everybody get back up and running and on their feet."
"We had about 15 dedicated employees that stayed with us throughout the entire episode, even forsaking their own homes that got damaged," Michael continues. "They got the building back up and functioning so we could serve the community. In return, we created a facility where they could take showers here and where they could do laundry. We provided lunch for them, daily, during the first two weeks of all the craziness."
David adds that CTL has always taken its responsibility to its community, seriously. "We've given back so much to our community," he asserts. "We've helped churches, various non-profit organizations, the elderly, the youth, teachers, schools; we've given to people who were needy." In fact, over the years, CTL Home Center has been the proud recipient of numerous awards, including the 2016 Business of the Year Award from the BVI Chamber of Commerce and Hotel Association.
Well into its second half century of operation, Michael says that a third generation of Thomases is waiting in the wings. "David's daughter works with us and she has a definite interest in carrying the family business forward," he avers, "so I think CTL will survive past the second generation. The way the company is set up, the family sits on the Board and can make decisions about what they want to see happen. And since we're a small family – my sister and my two brothers – making decisions is relatively easy."
"CTL is a fixture of the community," Michael states, in conclusion. "It cares about its employees in every way it can. It's a tight-knit organization and the management team is extremely approachable. You'll always find David or myself on the floor during the course of the day. We're always here to help and serve."
AT A GLANCE
WHO: Clarence Thomas Limited Home Center
WHAT: A family-owned retail company
WHERE: British Virgin Islands
WEBSITE: www.ctlbvi.com

BOSCH – www.boschtools.com 
The Robert Bosch Tool Corporation, is a world leading manufacturer of portable electric, measuring tools and accessories for a wide variety for the construction and consumer industries. CTL is a Bosch distributor that is committed to supplying the best quality products to their customers. Bosch maintains a strong relationship with CTL and their independent sales organization BT Global Sales & Marketing Corporation, as they all share the same values, (Quality, Responsibility, Determination, Credibility, Diversity and TRUST). Contact: sbecker@btglobalcorp.com or jtorres@btglobalcorp.com