Princess Juliana International Airport
Still flying high
Business View Caribbean interviews Audrey St. Luce-Jack, Dir. Communications at SXM Airport, for our focus on resiliency of St. Maarten.
Princess Juliana International Airport (SXM) officially turned 75 on December 3, 2018 – still flying high, as it continues its proud legacy of service and contribution to St. Maarten. After sustaining severe damage during hurricanes Irma and Maria in September 2017, the airport is now deep into restoration mode, all the while welcoming back tourists and fulfilling its role as a hub airport for neighboring islands like St. Barths, Nevis, Dominica, St. Eustatius, Anguilla, BVI/Tortola and Saba.
The government-owned airport is operated by Princess Juliana International Airport Operating Company N.V. (PJIAE), with a Supervisory Board of Directors and Managing Board Members: CEO, Brian Mingo, COO, Michel Hyman, and a CFO to be named. The Airport's Fixed Based Operations (FBO), in the hands of ExecuJet and Arrindell Aviation by Signature has a dedicated, upscale building for private jet operations that caters to passengers and explains why Princess Juliana International Airport remains in the lead of the aviation industry. Meanwhile, the Menzies Aviation Services are the leading ground handling service at the airport. There are plans to upgrade the existing Fixed Based Operations (FBO) with an upper level structure, adding more convenience to the corporate traveler. The latest good news – SXM AIRWAYS can now boast of its very own "St. Maarten" callsign, having received the designation and credentials from ICAO on January 17, 2019.
Business View Caribbean recently spoke with Audrey St. Luce-Jack, Corporate Communications Specialist for Princess Juliana International Airport, about the amazing rebound of its operations, and the airport's ongoing role in the post-hurricane recovery of St. Maarten and the neighboring region. The following is an edited transcript of that conversation.
BVC: Congratulations on SXM Airport's 75th Anniversary! Can you share some background on the Airport's evolution?
St. Luce-Jack: "Thank you, we're very proud of that milestone. We've grown from a small military base in the 1940s, to a major International air facility that welcomes hundreds of thousands of passengers every year. And we've faced a lot of challenges along the way. To clarify, SXM Airport is stationed on St. Maarten, a Dutch colony, while the other half of the island, St. Martin, is French – which makes us a unique destination for tourists. The Airport terminal building you see today was a state-of-the-art, $100 million project completed in 2006 to replace its outdated predecessor. In Sept. 2017, with the arrival of Hurricanes Irma and Maria, the terminal was severely damaged, but not enough to keep us down very long. Luckily the infrastructure of the terminal building was still in tact and today, we're happy to say, we're getting back on track."
BVC: How did you manage to get operational again so quickly?
St. Luce-Jack: "Immediately after the storms, our COO, Michel Hyman, and the resilient SXM Airport team, including the Directors, got really creative. Basically, we operated our arrivals from the FBO, a separate area next to the terminal building, which wasn't damaged at all. And we operated our departures, on the airside, from makeshift tents. The airlines, the handlers, gave us a hand, and SITA (multi-national IT specialists) actually put the check-in counters under those tents, so customers could board for travel. We were one of the first countries in the area to be operating. It was quite important to get things back up and running. A lot of residents, who evacuated the island right after the hurricane, left to make sure their kids were in school and safe. But they came back with gusto as soon as we opened in Oct. 2017.
"We also wanted to be operational in St. Maarten, because we were the regional leader, the hub airport. A lot of neighboring islands – Saba, St. Eustatius, Nevis, Dominica, Anguilla, BVI and St. Barth's – are very dependent on SXM Airport to have the major commercial and corporate jets come in here and transfer tourists over to their islands on smaller aircrafts like WINAIR, ST. Barth's Commuter, Anguilla Airways and Anguilla Air Services. We were lucky to not have much runway damage. We are next to two beautiful beaches and a lagoon, so a lot of sand came onto the runways, but that was cleared up, shortly. Meanwhile, the salt of the sea wreaked havoc on some of the equipment inside the terminal building.
"Getting technology back online was steadily ongoing to the latter part of 2017. The SITA group assisted all departments, including our in-house IT team, so we were back up fast. A lot of people were shocked that we could have everybody checked in. Technology played a large role in getting us where we wanted to be in every situation we faced – from the makeshift tents, to the pavilions (which were air-conditioned, carpeted, and had concessions available), and then moving back to the terminal building in the Package One –Temporary Operations that we are at today."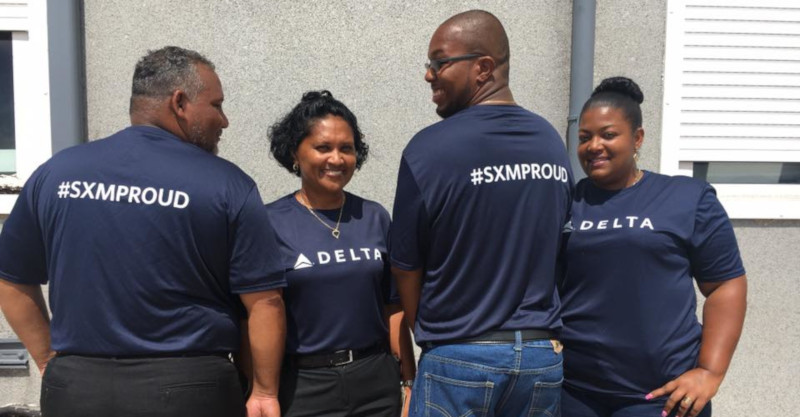 BVC: What is meant by the term "Package Operations"?
St. Luce-Jack: "Every part of what we call 'the return back to Princess Juliana International Airport' has its different phases. Package One – Temporary Operations is a temporary operation and we don't want to get complacent. Where we are today is pretty good and it is manageable, more comfortable, better air-conditioned than the pavilions. But right now, we're in Package One, only at the ground level.
"Then we'll move upstairs for Package Two, but you can't do the construction of the upper departure level without the remediation process. We also had remediation downstairs; the BMS CAT group out of Texas were flown in to remove mold and cleanse the place to make sure it was secured against any possible health risks. It was then tested by the Farmer Environmental Group, to ensure it was safe for our passengers and, of course, our employees who are working there all day. So, that must happen upstairs, as well (original Departure Hall area).
"The food and beverage concessions have come back online. We're very proud of the local and international partners. We've also expanded to having Food Trucks on the Terminal grounds. Domino's Pizza and Johney Burgers are found indoors and outdoors in our departure hall area. So, as soon as you arrive to the island, you can get something to eat, or while your family and friends wait on you to board your flight. On the inside, a lot of other concessions are taking shape, including: Subway, AMA, Dutch Delight, Market by Villa, Relay, ESCA, Shipwreck Shop, the Gouda Liquor Store, Le Bistro by Bacchus, Princess Promenade, Aunt Clara's, and KAFFE. Taloula's Flights, a popular bar, has created a cool concept with their construction; using driftwood that washed ashore during the hurricanes. It's done up really nicely and the tourists like it. Even though it's temporary, that building area is pretty classy and has a 'permanent' look."
BVC: Are you teaming up with tourism partners in a marketing strategy?
St. Luce-Jack: "Definitely. In Oct. 2017, we partnered with the Port of St. Maarten, the St. Maarten Tourist Office on the Dutch side, and the French St. Martin Tourist Office. Collectively, we partnered with their campaign called 'Yes, We Are Open' and that was featured in all our social media, media campaigns and during conferences. We attended the Routes Americas in February 2018 in Quito, Ecuador, which focuses on air service development. During the conference most of the airlines were reassured that we were open for business.  We used every opportunity to showcase the island and meet with the airlines to let them know we wanted them to return – especially, the major commercial flights. Today, we still host tourism-based stakeholder meetings at least once a month as lead by our New Business Development department; that includes the French and Dutch Chambers of Commerce, Tourist Offices from both sides of the island, St. Maarten Hospitality and Trade Association and the St. Maarten Port Harbor. Our Minister of Tourism, Stuart Johnson also holds the assembly of high esteem and attends from time to time to chair the meeting.
Every time both tourism offices travel post hurricane, we have a representative traveling with them. And we have one message. It's helped the country tremendously to market ourselves. There are a lot of press trips and tours of the Airport, because the most frequent questions from European and American fields are: 'What does the Airport look like? Is it safe to travel? Are there concessions?' By working together, we can share common information with them."
BVC: What other important points would you like to share about SXM Airport and St. Maarten?
St. Luce-Jack: "It's very noteworthy, that the main infrastructure of the SXM Airport is not damaged. The roof and the doors were heavily impacted by hurricane Irma's high winds and Maria's heavy rains. It was a double hit and the reconstruction is being done for a Category 5 hurricane standard to make sure we're safe and can withstand the impact. It should take another 18 months to complete the reconstruction process and have us fully operational.
"We have a valued relationship with Ballast Nedam, who are conducting the ongoing roof works at the terminal building – sixteen kilometers of roofing sheets! And our project management team as lead by the Project Manager, Rob Noorman are quite crucial – working tirelessly to manage all the construction. Basically, the entire staff of the Airport deserves credit. A lot of them were out of their job function for quite some time, assisting in different areas to ensure they had a job and lend a hand in areas that were really needed at the time. Most departments were working in the customer service realm, in whichever way possible, based on the setup we had at the time. The Operations Team, Air Traffic Services, Technical Division and Rescue and Fire Fighting (R&FF) were the only employees that practiced their regular job tasks. We had several transitions. It's not over yet, but we're back in the building and that's what's important.
"Both sides of the island had a lot of hurricane damage, and were to visit like so many others, you'd never know any disaster occurred. But the people will never forget. It's not an understatement when you hear others describe us as 'resilient' because it goes farther than St. Maarten. Our island is a melting pot of all nationalities and it was tear-jerking to hear the stories as they came back. I still get goosebumps. People were saying, 'I'm from Japan, or Greece, or France, but I'm not leaving. My family's over there but they're coming back in January to rebuild.' And after departing on the military emergency humanitarian flights after the hurricane, most of them quickly returned when the airport opened in October 2017 with their families and there's a lot of history that comes with them."
Check out this handpicked feature on the Argyle International Airport.
AT A GLANCE
Who: SXM Airport
What: Major international airport and regional Caribbean hub
Where: Sint Maarten
Website: www.sxmairport.com

Dollar Rent-A-Car and Thrifty Car Rental are two of the largest car rental companies in the world.  
Dollar/Thrifty Car Rental (DT) in St. Maarten/St. Martin is located at the Princess Juliana Airport, the French side, and several major hotels on the island, including the Oyster Bay, Simpson Bay, Divi, and Sapphire Beach Resorts. 
 In 2000, its current management team took over a Thrifty Car Rental franchise under the guidance of its Chief Executive Officer, Farina Amjad. Within a matter of a few years, she managed to turn around the company, completely, and increase the fleet from approximately 100 rental cars to nearly 400. In 2007, the firm purchased a local Dollar Rent-A-Car franchise and merged the two operations. 
Today, DTCR operates the largest car rental inventory on St. Maarten and features a fleet of new vehicles, including: economy, compact, mid-size, full size, and premium cars, as well as jeeps, convertibles, SUV's, and vans – all at affordable prices. The company has been known for years as the best franchise on the island; its staff of 39 full-time and well trained employees providing very personalized and super efficient service.  

Ballast Nedam your airport contractor; with the present € 240 million contract for engineering and construction of Schiphol's new A-pier, the executed repairs to the damaged roof of Sint Maarten's airport terminal caused by the destructive power of Hurricane Irma and our involvement in the Aruba Airport Gateway 2030 Project.