Montserrat Port Authority
Building for the future
Business View Caribbean interviews Joseph O'Garro, Manager of the Montserrat Port Authority, for our focus on the Growth and Resiliency of Montserrat.
In 1997, the Government of Montserrat created the Port Authority Act to "establish a port authority to provide and administer a co-ordinated and integrated system of port facilities and services connected therewith, to transfer to and vest in the authority certain of the functions and powers of the harbor master and the comptroller of customs, and for other matters incidental thereto or connected therewith." No one envisioned those "other matters" as devastating forces of nature that would befall the tiny island in the years to come and forever change the lives of Montserratians.
On September 17th, 1989, Hurricane Hugo tore past Montserrat as a Category 4 storm – damaging more than 90 percent of the structures on the island and effectively wiping out the tourist economy. Then, in July 1995, the previously dormant Soufrière Hills volcano erupted in the southern part of the island, destroying Montserrat's capital city of Plymouth. Over the next five years, two-thirds of the island's population of 12,000 were forced to flee, primarily to the United Kingdom. Volcanic activity continues in the Plymouth area, including its docking facilities, and the eastern side of the island. Meanwhile, a new capital town and port are being developed at Little Bay, on the northwest coast of the island, and the new government centre is at Brades, a short distance away.
Joseph O'Garro was employed as the Montserrat Port Authority's Computer Technician and Technical Advisor for 19 years before becoming Port Manager in 2013. As such, he is fully versed in the island's physical and economic challenges. Priority number one: getting back to business. O'Garro reports on current operations, "We are a multi-purpose facility. As the only jetty that exists on the island, right now, as an international port of call, we handle cargo, primarily roll-on, roll-off containerized cargo, about a thousand TEUs (twenty foot equivalent units) per year. We also handle passengers. Our ferry service runs between Port Little Bay and Antigua during peak seasons – for Christmas, St. Patrick's, the Festival – on a daily basis. The rest of the year, the service runs five to six days a week, with one day set aside for maintenance purposes. We handle cruise passengers, as well. The primary line coming into Montserrat is Windstar Cruises, averaging 14 to 16 calls per year. And there are a number of smaller vessels that call on an ad hoc basis."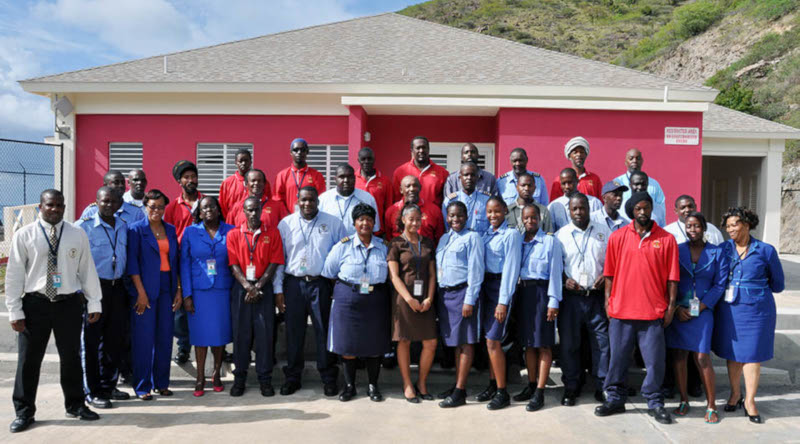 A second, smaller facility in Port Plymouth handles project cargo and aggregate exports. On average, about 270 tons of aggregate are exported on an annual basis. Presently, there is much export activity going on there, involving a geothermal drill rig from the Iceland Drilling Corporation that is being dismantled and exported for relocation. Montserrat Port Authority has 46 employees; the largest department – Security – numbers 16. As an ISBS-compliant facility, security officers are on duty 24 hours a day, assisted by compound-wide surveillance camera coverage. The Authority also employs 12 longshoremen for cargo-handling operations. Other employees work in Fleet and Facilities Resources (infrastructure) and Administration.
O'Garro recalls, "When the volcano erupted, we had to abandon Plymouth. It is now considered an exclusion zone where access is closely regulated and managed by the Disaster Management Coordination Agency in collaboration with the Royal Montserrat Police Force. All our warehouse facilities, etc. in Plymouth were destroyed and we had to relocate to the north, where we are now at Port Little Bay. Our current jetty is still classified as an emergency facility and we are now bringing a major project up to speed to upgrade our facilities with a breakwater and an extended berth. Technical consultants have been engaged and are looking at the preferred layouts and concepts, and we expect that the new facility will be open and ready for service in 18 to 24 months. The funding is in place so we don't expect any hurdles. Our existing berth will remain in place and the new development will take place just a little north. The government is engaging in a compulsory acquisition process for procuring about four acres of private property to facilitate the development."
Has tourism come back to where it should be? Simone Laborde, Montserrat Port Authority Finance and Administration Officer responds, "It's a challenging question, but to comment on what we've seen, the department has recently recruited a Director of Tourism. And with the St. Patrick's activities bringing in most of the Diaspora, we had 4,300 visitors coming to Montserrat in the last two weeks of March for our 10-day celebration. Worry about the volcano turned to eagerness to feed the modern-day Pompeii and celebrate with us. The Tourism department certainly did a lot more marketing, internationally, and we're getting numbers coming back to Montserrat."
The Port Authority doesn't do direct marketing; being the only cargo port and passenger port people have to use it. But the government continues to grapple with the issue of access, because the airport still only has 19-seater planes and just in peak periods when there is a need. According to Laborde, "The ferry continues to be the best mode of transport but some people don't have sea legs and you can't rely on the currents, so there is downtime. As well, since we are living on one third of the island, finding a place for people who want to return here to live and build houses is difficult. Because the north has been notable for family land and there is always some issue with selling land."
Lack of employment opportunities is another struggle. Many students leave the island right after secondary school to further their education, and it's rare that they go without the rest of the family. Most Montserratians left when the volcano first erupted. But the population continues to decline; people born on the island can acquire British citizenship after a certain time, and when they gain that, they set off for the mainland. So, more are actually leaving than coming back. The last census recorded 4,400 residents; of that number only about 55 percent are born-Montserratians.
Laborde notes, "Financially, the government is still getting support from the U.K. so there's only so much they can do. We don't get any of our Port revenue from them, we have to make it ourselves. But the likelihood of us raising rates, as we probably should, is slim because of our declining population. So, we can't invest in capital expenditures as we'd like – it's like putting more taxes on the few people who are here and can't afford it. The demographics we have are more elderly and school age, not the middle sector."
A recent highlight for the island: the first week of April, Montserrat hosted the annual conference of the Red Ensign Group (the U.K. ship registry). About 80 delegates attended from the overseas territories and Crown dependencies that have ship registries. Representatives came from as far as Gibraltar, Santa Lina, Anguilla, Jersey, Cayman, BVI, Guernsey, Isle of Man, Turks & Caicos, and Bermuda for workshops that were held in Montserrat for the first time. The event was a huge success, hosted by the Maritime Administration of which the Port Authority is an integral part. The value of relationships is essential to the Port Authority's revival and growth. In that regard, O'Garro wishes to recognize "the ongoing support of our counterparts in PMAC (Port Management Association of the Caribbean). And Spark International has been a great partner for supplying hard-to-source mechanical parts for our equipment that is 15 to 20 years old."
Environmentally conscious, the Port Authority has changed to LED lighting and tinted their glass windows to reduce heat from the sun. They are now in the process of switching to air-conditioning units with variable rate flow systems and exploring the use of solar panels for power. To address concerns with maritime pollution, oil spill response equipment, funded by the U.K. Conflict Stability and Security Fund, has been procured and is in transit. Authority employees will also receive training to respond to oil spill situations that may occur in the Port.
Many other positive projects are also in the works. O'Garro relates, "At this point, aggregate exports is a significant revenue stream and we are making further investments in that infrastructure to ensure we can conduct simultaneous loading of two barges. And we're improving safety and introducing more aids to navigation; new lighted marker buoys at our jetty and multi-beam sonar survey equipment, so the profile around the port is well defined for safe navigation. We are just about to replace our mission critical software, as well; going with a package that integrates closely with the customs systems, so that when the manifests are logged from importers, information goes right into our port management system. We are about 70 percent through the introduction of that new software.
"In addition, we are upgrading the administration and customer facilities at the Port; ensuring access for people with disabilities, and better access to cashiers and customs officers and port clients to improve the whole customer experience. That project is about $800,000 EC dollars. We're investing significant sums to improve the usability of the whole facility. As well, we are paying attention to our maritime responsibilities at the harbor, and we're investing a lot in our human resources, also. We have training programs in place for our security officers, and for management, operational, and supervisory levels. We're making strides and moving ahead. Montserrat is coming out of the emergency mode and building for the future."
AT A GLANCE
Who: The Montserrat Port Authority
What: Provides and administers a system of port facilities and services
Where: Little Bay, Montserrat
Website: www.mpa.ms