Arugas N.V.
Fueling the present & the future
Business View Caribbean interviews Jan Harsveld, Managing Director of Arugas, N.V., for our focus on the Energy Sector in Aruba
The beautiful destination of Aruba, which lies off the northern tip of South America and within several hundred nautical miles off the coast of Venezuela, is one of the many island nations that dot the Caribbean Sea. As a tourist mecca, the island is not significantly industrialized and relies on imports to keep its economy running. One such import is liquified petroleum gas (LPG) or propane.
Arugas N.V. is the largest importer and distributor of LPG in Aruba, supplying residential and commercial customers across the island. Although privately owned, Arugas is considered a utility on the island and frequently collaborates with the government on various energy initiatives, including transitioning the island to future renewable sources as the energy industry transforms.
Arugas has evolved significantly since its founding in 1940. At the time, the two founders saw an opportunity to introduce LPG to an island that primarily cooked with firewood and kerosene. Jan Harsveld, Managing Director at Arugas, picks up the story. "We had a petroleum refinery on the island with a byproduct that in those days was called "bad air", which was not bad air, of course, but LPG. They were flaring it out, and the founders saw an opportunity to put this bad air into cylinders, bring it to households, and change the way of cooking."
When the company started, it had a few hundred customers. Today, Arugas serves 36,000 households and over 800 commercial customers, including large restaurants, hotels, and resorts that dominate the island's coastline. "When the refinery closed, Aruba transitioned from refining oil to a tourist island and the economy grew like crazy," Harsveld recalls. "Whereas we had a few hotels when the refinery was operating, after its closure, there was an explosion of large 500-600 room hotels, each with casinos, along with the numerous resorts."
Over the years, Arugas has changed hands and is currently owned by an investment consortium. Harsveld describes the company, today, as an end-to-end service provider offering a range of LPG-related services. "Besides supplying gas, we also have a department that designs LPG installations for new customers," he says. "They take all the customer's requirements, including tank capacity, gas lines, and safety equipment, and provide installation designs that our installation department then uses to complete the installation."
Another service area that Arugas has recently started pushing into is the conversion of gasoline motor vehicles to LPG fuel. Harsveld explains that this push is occasioned by high fuel prices and the need to reduce pollution. "We are seeing a lot of interest in this service, and as a company specializing in LPG, it's a natural fit for us as we expand our service beyond our traditional residential and commercial cooking gas markets."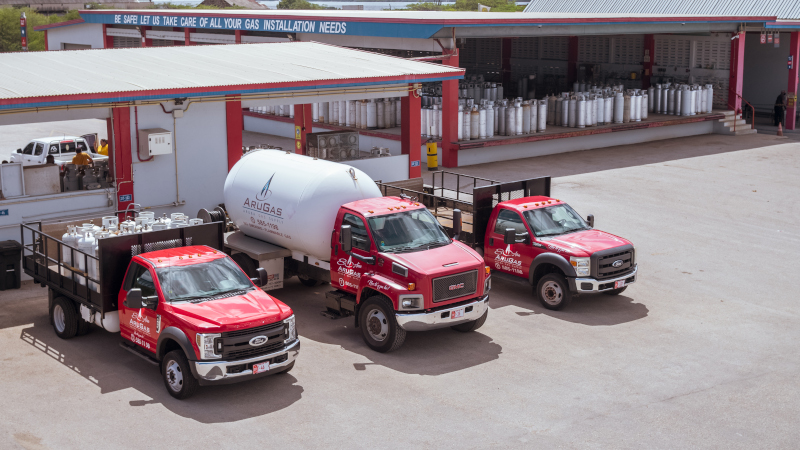 Other services Arugas provides in addition to gas supplies and installations are inspection and certification of gas installations and troubleshooting installations that might have leaks or other issues.
The Arugas team consists of 58 employees, 10 of whom are contractors, who provide services to its almost 40,000 customers. Although some are skilled workers with a college education, Harsveld points out that many of the company's workers are drivers and their aides. These positions do not require extensive qualifications and can often be filled by anyone who undergoes some in-house training.
"Employees in the installation department require a technical background because of the nature of the work," he says. "We must still train them because there is no LPG or gas course in college. So, most new employees learn on the job from more experienced employees who have worked with us for some time and know the job." As one of the most dependable employers in Aruba, many Arugas employees stay with the company their entire career, some with as much as 40 years tenure at the company. "We have a sizeable group that's been here for 30-plus years," says Harsveld. "Myself, I have been here for 32 years."
Arugas operates out of its main facility in Barcadera, Aruba, several miles from the Barcadera Port. It is one of the largest LPG facilities in the Caribbean, with an installed capacity of around one million gallons. Although at inception, Arugas sourced all its stocks from the local refinery, with that refinery's closure, the company started importing supplies – which it still does today. "One of our subsidiaries oversees all gas imports to the island and sources supplies primarily from the Gulf," says Harsveld.
The Arugas facility primarily manages gas refills of smaller residential tanks. It has five tank trucks (bobtails) servicing the larger tanks of between 500 and 5,000 gallons installed at various customer sites around the island. "Previously, we filled tanks manually at the facility and had around eight people doing the work," explains Harsveld. "Now, we've installed a conveyor system requiring only one person to refill the same number of tanks."
All Arugas imports are supplied by one of the largest LPG suppliers in the Caribbean, Carib LPG, which has supplied Aruba since the refinery closed around 20 years ago. The transition from local supplies to imports also necessitated the construction of a terminal, which was the only way Arugas could continue supplying the island nation.  Harsveld acknowledges, "I must commend Carib LPG who brings supplies from the Gulf to the Caribbean. Sometimes it is tough for them, especially during hurricane seasons where it is difficult to get the product out of the Gulf and bring it into the Caribbean. But they have never failed delivery and are always on time."
Arugas is the current LPG market leader in Aruba. However, it is not resting on its laurels and is hard at work transforming itself as it forges into a brave new post-fossil-fuel world. "We have been in the business for so long, we know the world is changing and will continue to change, and we cannot sit back and do nothing about it," Harsveld admits. "Although we know that propane is a cleaner fuel, it is still a fossil fuel and will one day become obsolete."
As a result, the company is investing in discovering new ways of transforming the business to better align with this future, as Mariaine Croes, Business Development and HR Manager at Arugas, explains. "We are in a transition phase where we want to be a company that goes beyond gas. We want to move from being just an LPG company to becoming an energy company that helps Aruba transition its energy infrastructure."
As the world grapples with high petroleum product prices, Arugas imports have also soared in price, exposing the island of Aruba to the adverse effects of high energy prices. Although most propane supplies are now considered non-petroleum products due to the production process, prices remain tied to those of the oil barrel. For Arugas, this inflated cost of LPG coupled with high transportation costs would be passed on to the consumer. The gas for domestic use is government regulated and partially subsidized. This helps cushion the LPG price for the general public. According to Harsveld, "Aruba is a small market, so we cannot negotiate better import rates."
Over the next three to five years, Arugas plans to transform from an LPG company into an energy company that cuts across energy lines – both renewable and non-renewable. One of the fundamental focus areas is helping transition transportation from expensive gasoline to more affordable propane on the island. "All gasoline cars can be relatively easily converted to LPG, so that's a major growth area for us as a company," says Harsveld.
For Croes, the next few years will reinforce what works and transition what does not. "It is important to point out that Arugas would not be where it is today if it were not a very consistent and dependable company. Our domestic and commercial clients expect the best of us, and that is what we continue striving for by providing the best customer experience possible. Our focus over the next years is to ensure that all our clients continue getting the best experience possible. We want all our customers to feel that at Arugas, we take care of their present and future needs."
AT A GLANCE
Arugas N.V.
What: Leading gas supplier and distribution company on the island of Aruba
Where: Based in Barcadera, Aruba
Website: www.arugas.com

Fast Delivery Services – www.fastdeliverydc.com
ARUBA AIR CARGO HUB EXPANDING TO LEEUWARD ISLANDS & SOUTH AMERICA
 Two years after receiving their Air Operator Certificate (AOC), Fast Delivery Services improved air cargo connectivity between Aruba, Bonaire & Curacao by using their own 1000 kilos capacity aircraft.  During this initial phase the company realized that further connectivity in air freight services were needed between the A-B-C Islands and the Leeward Islands including South America.
The Leeward destinations have a growing demand for cargo services however are tied to commercial airlines for their cargo movement. Based on the client demand, Fast Delivery Services made the decision to look for an innovative and practical logistics solution and, can now announce that soon Fast Delivery Services will include the Leeward Islands and South America, as well as Colombia as a part of their air cargo routes. Remarkable is that Fast Delivery Services kept one thing in mind, which is that the daily cargo flights between the A-B-C islands will continue with the dedicated and consistent airfreight service that is known for. This new venture proves that the dynamic team of Fast Delivery Services is always listening to the customer needs and brings logistic solutions to enhance commerce in the Caribbean.