Turks and Caicos Islands Airport Authority
ensuring success over the region's beautiful skies
With top-tier operations, the Turks and Caicos Islands Airport Authority lands squarely on the path to success
Turks and Caicos are a British Overseas Territory consisting of two groups of islands in the Caribbean Sea, southeast of the Bahamas. The territory comprises 40 islands and cays, of which only eight are inhabited. The total land area of Turks and Caicos is 948 square kilometers, and the estimated population is around 38,000.
Known for its beautiful beaches, crystal-clear waters, and diverse marine life, the territory is a popular tourist destination. The tourism industry accounts for approximately 90% of the GDP, making its airports a strategic economic asset for the region.
The Turks and Caicos Islands Airport Authority (TCIAA) is responsible for the management and operation of the country's airports, including its five main airports; Providenciales International Airport (PLS), Grand Turk JAGS McCartney International Airport (GDT), North Caicos International, Salt Clay, and South Caicos International.
Business View Magazine recently spoke to TCIAA's newly appointed Chief Executive Officer, Godfrey Smith, to discuss the agency's mandate in ensuring the islands' airports continue to serve the country's robust and growing tourism industry.
Business View Magazine: Let's start with an overview of the authority, its operating principles, and its history or origins.
Godfrey Smith:
The airport authority was established in 2006 with a mandate to operate, manage and develop airports for the Turks and Caicos Islands government and people.
As an archipelago, the airports serve as a crucial social and economic link for the locals. The agency works to maintain and develop these facilities to make them as convenient and cost-effective as possible for the traveling public.
As a country, we are highly dependent on tourism, so our airports, including our only international one, Providenciales, function as a gateway for visitors to experience the island's beauty.
Over the years the agency has evolved from a civil aviation department to an Airport Authority, building on the work of its three previous CEOs, Floyd Ingram, John Smith, and George Garland, the first CEO.
From their efforts and those of others in the agency, the TCIAA has transformed from a basic management service to a fully-fledged airport authority managing facilities with a yearly throughput of over 1.3 million passengers.
Although this is a remarkable feat, our capacity is already outgrown, so we are embarking on a lot of development, including growing people, infrastructure, resources, and systems to catch up to the rapid growth seen in the Turks and Caicos Islands over the last decade.
Business View Magazine: Let's jump into operations. How many employees does the authority employ, and does it have multiple locations?
Godfrey Smith:
We have multiple airport locations that fall under our mandate. These have minimal staff, with most having less than a hundred staff members.
The brunt of the authority's staff is in Providenciales, which is the center of the authority's operations. Besides administrative staff, all facilities have other support personnel like fire services and maintenance. From a budgetary allowance perspective, we employ 420, although we are still recruiting for white and blue-collar areas.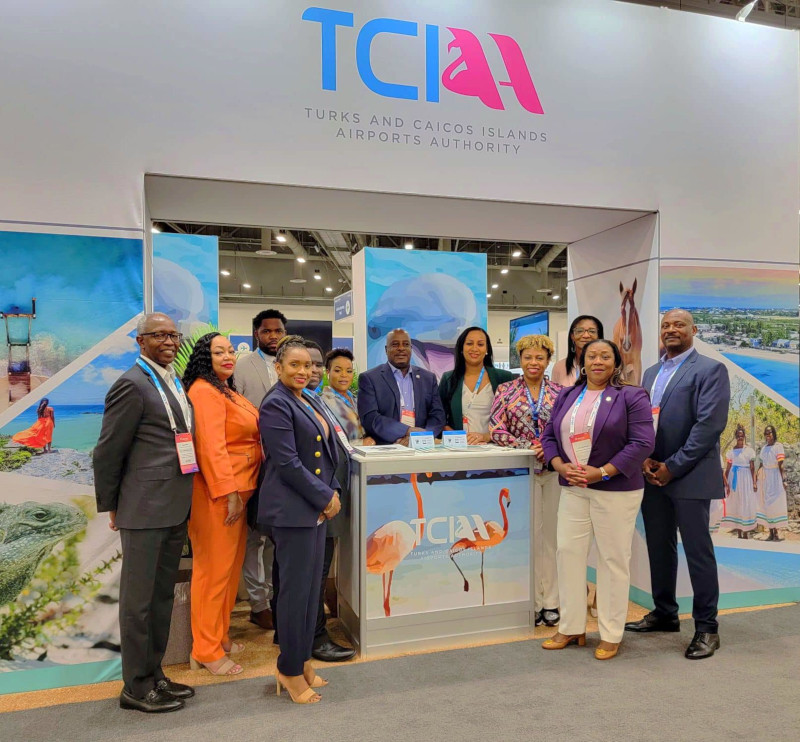 Business View Magazine: Being a very significant part of the aviation infrastructure in the country, who would you say is the authority's typical customer, and what services do you provide them?
Godfrey Smith:
As an authority, every entity we interact with is a customer to some degree. For example, Customs and Immigration and Border Control are governmental agencies, but in many ways, are customers of the Airports Authority. Similarly, they consider the Airports Authority and its passengers their customers.
However, the ultimate customer is the passengers and airlines because they constitute the authority's bread and butter. Our interactions with these two parties generate revenue for the authority through service agreements, passenger fees, maintenance agreements, IT services, etc.
The relationships extend to international service providers like Amadeus and Oracle, all of whom we work with as vendors to provide equipment and other suppliers to keep the facilities running.
Local service providers are also on our customer list, including taxi and hotel operators and other vendors who operate within airport facilities. We consider all these parties our customers to varying degrees.
Business View Magazine: What activities represent the primary revenue drivers for the authority?
Godfrey Smith:
Passengers are the authority's biggest revenue driver. Most basic tariffs link directly to passengers and are defined in the ordinance, four statutes.
Due to this, passenger taxes generate revenues for the authority and government. We also generate significant revenues from stakeholders like restaurants and fixed base operators (FBOs) who pay for land leases.
These kinds of stakeholder arrangements occur up and down the supply chain, including, for example, taxi operators, who pay the authority for security badges and clearances, airlines that pay us for office space, and so on.
Added to these revenue sources are maintenance and service agreements with airlines, all of which translate into significant revenues for the authority.
Business View Magazine: Is the TCIAA the only authority within the aviation space in the country?
Godfrey Smith:
Yes. As a government agency, we are the sole entity that operates the airports in the Turks and Caicos Islands, so we don't have a competitor. Except for authorized private airport operation at Ambergris Cay and Pine Cay.
Business View Magazine: What initiatives does the TCIAA engage in to help it achieve its mandate?
Godfrey Smith:
Our main focus as an authority is our goals, objectives, and ability to ingratiate ourselves into the country's long-term plans.
One of these long-term plans involves marketing the Turks and Caicos islands as an excellent alternative to other beach destinations like the Dominican Republic, Bahamas, and Jamaica.
The authorities in these countries have similar mandates to facilitate passengers for the good of their country. This perspective represents what we consider competition, and all our efforts are directed towards maximizing passenger throughput to our airports, which is a significant economic engine for the country.
Business View Magazine: Regarding business partnerships, can you highlight any long-term partners that support your overall operations?
Godfrey Smith:
Our longest-term relationship is with the Civil Aviation Authority of the Turks and Caicos, which would be considered the authority's parent organization. The Civil Aviation Department is split into two entities – the Civil Aviation Authority and the Airports Authority. That aside, BahamasAir is the longest-serving customer the authority has had due to a continuous, unbroken 50-year relationship.
American Airlines is another long-standing customer, celebrating 30 years of continuous operations in Turks and Caicos last year. Other long-standing partners include power, telephone, utility, and water companies. Hotels represent other long-standing relationships, with most being more partners than customers due to their involvement in the various committees in which the authority also sits.
Other partners include tourism, transport, and aviation government agencies.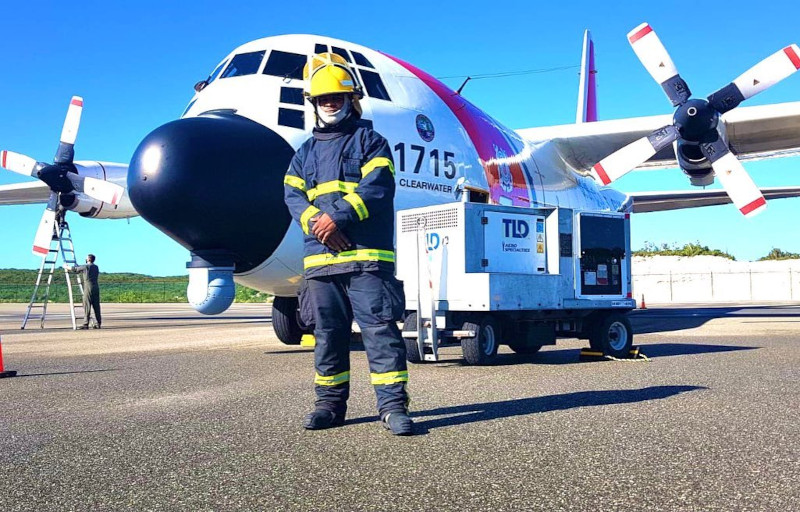 Business View Magazine: Let's talk about infrastructure improvement projects the authority is undertaking in 2023 and beyond.
Godfrey Smith:
The Turks and Caicos Airports Authority are at the cusp of the most extensive development it will do in the next half a century, centering on the redevelopment of the Providenciales airport.
We are currently at the administrative level of these developments but should have shovels in the ground before the end of the year.
Some significant developments planned include constructing a new terminal building, adding parallel taxiways, expanding the apron and gate, and short-term modifications to the existing terminal.
The terminal will handle 1.3 million passengers this year, and we are unquestionably over the capacity limits of the existing facility.
We are also planning to build a new control tower and fire hall here in Providenciales, besides other significant renovations in other airports.
For example, we're spending $4 million to refit an entire fence line at Grand Turk Airport, $3.5 million to redo runway surfacing, and over $50 million for upgrades to allow international general aviation and light commercial and schedule flights to land at various airports.
We've got our hands full, and all these projects are primarily funded through the various revenue drivers I mentioned earlier, like passenger taxes and concessions.
Besides these big infrastructure projects, the authority self-funds its annual operating budget of $17 million to run the various airports in the Turks and Caicos.
Business View Magazine: Let's discuss the future of the authority. You have major infrastructure projects in the pipeline, but beyond that, what would you identify as your top objectives moving into 2023 and beyond?
Godfrey Smith:
Besides infrastructure critical for the island's economic well-being, we also emphasize people development and succession planning.
I've been in this role for around twelve months, and part of my mandate is to replace myself. This approach has been my style in the CEO roles I have served in. It is one of the most important things a CEO must do.
I am also incredibly proud of the team we have built, most of whom are local islanders like the deputy CEOs, legal counsel, the CFO, besides a very competent senior management team.
Building such a team is what will help the authority navigate through what will be a very complex building program. With the groundwork we have put in place regarding talent, I am confident the authority will have sound management for the long term.
Although we will bring in outside help as needed, our institutional knowledge and ideology will remain in-house, providing a base for a long and prosperous future.
AT A GLANCE
Turks and Caicos Islands Airport Authority
What: The operator and management organization overseeing flight operations and logistics for the region
Where: Turks and Caicos Islands in the Caribbean region
Website: https://tciairports.com/