Talcove
Building Excellence in the Bahamas
Business View Caribbean interviews Trevor Wallace, President of Talcove (Bahamas), for our focus on Best Practices in Construction
Creating a built environment that embraces and complements the natural beauty of the Bahamas is not a task to be taken lightly. But Talcove Construction has proven worthy on every level. The firm's reputation for delivering quality services to local and international clients is exemplary. By developing strong relationships with their customers and industry partners, repeat business and frequent referrals have followed.
Talcove Construction operates out of Great Abaco and offers construction services throughout the entire Bahamas. As a preferred general contractor, they provide project estimating and budgeting, value engineering, scheduling, logistics, and overall project management. The Talcove team has the expertise to successfully execute any project – from custom residential and second home properties to multi-million dollar commercial projects.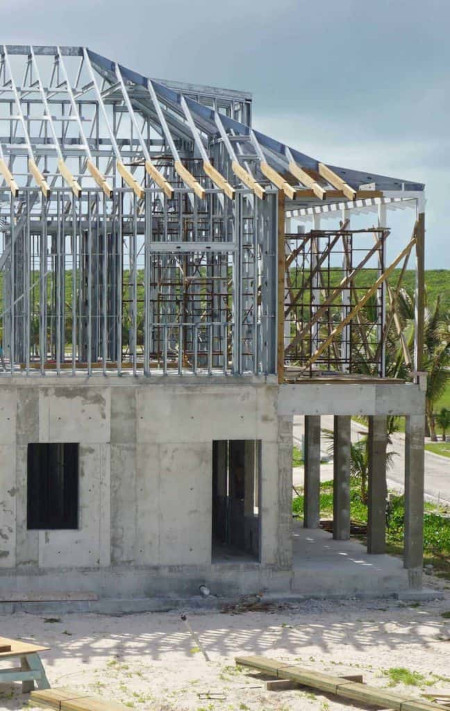 Company President, Trevor Wallace, recalls, "We started Talcove in 2014, after working many years for a developer. I had an opportunity to work along with the developer to finish some projects and then continue on. And that also allowed me to venture out and develop the company outside of the development where we started, which is Schooner Bay Bahamas. So for the past seven years, we've worked mostly on high-end residential custom homes. We've done a variety of design-builds, as well as clients providing their own designs. The whole intent for me was to form a construction company that was unique in the sense of the type of work we do. So we venture into all aspects of residential construction."
Most of the firm's work is done around the Abacos – Great Abaco and some of the Out Islands and the Cays. Ninety-five percent of Talcove's projects have been residential construction, as well as some restoration and remodelling work from hurricane damage. A lot of the current work is remodelling, but there is new construction getting ready to start. Business has picked up on both sides – restoration and new builds.
As a company, Talcove was impacted significantly by COVID-19. With demand very high and the supply very low, delays have been astronomical in terms of just being able to get material. Items which would normally take two weeks are now taking three to four months, which is also making it very difficult to pin down a schedule for projects. Because they just don't know what the availability of products is going to be.
Wallace explains, "For us, there was the issue where the world was at a complete halt where nothing was happening, to a point where things started to move very slowly. Then, in some instances, the cost of construction went up 300%. That also made it very difficult to get things done effectively, especially if you already had a signed contract and you didn't have a clause in it for any catastrophic situation, like we experienced with the pandemic. There was not a lot of flexibility because money was tight for everybody. We all felt the pinch of it. The construction industry hasn't rebounded yet; we've seen some slight improvements but it's still difficult to get any supplies, timely, anymore."
When dealing with clients and workers on the jobsite, virtual technology has been a godsend. Wallace says, "One of the biggest tools for us is WhatsApp. It's amazing how powerful that has been. And it's a more economical way to run the business, whether it's taking a photo and sending it, or a video call chat. But outside of that, a lot of our communication and correspondence is done through email. The majority of our high-end residential clients are foreign-based, from the U.S., Canada, or Europe. For them, we do a project update, where we would take photos of the project's progress and a description of what's going on and milestones in terms of what's coming – or any delays or challenges. We do that on a weekly basis."
Nothing about a Talcove residence is 'cookie cutter'. Their designs and quality of construction are outstanding. The materials are also exceptional, imported from the U.S. and Talcove does the installation. For example, crown molding and baseboard already comes manufactured to the profile the client wants, and then the Talcove team install it and do any detailing such as painting to give it the beautiful finish.
As for design trends, Wallace notes that people are more interested in any product that is going to be low maintenance for them, because a lot of the clients are second-home owners. Since it's not their primary home, they want ways to reduce the maintenance costs on their building. Whereas people used to use a lot of wood flooring, now it's more high-grade vinyl. Instead of wood shingles, they're opting for Enviroshake (a product out of Canada) because it's more sustainable and easy to maintain.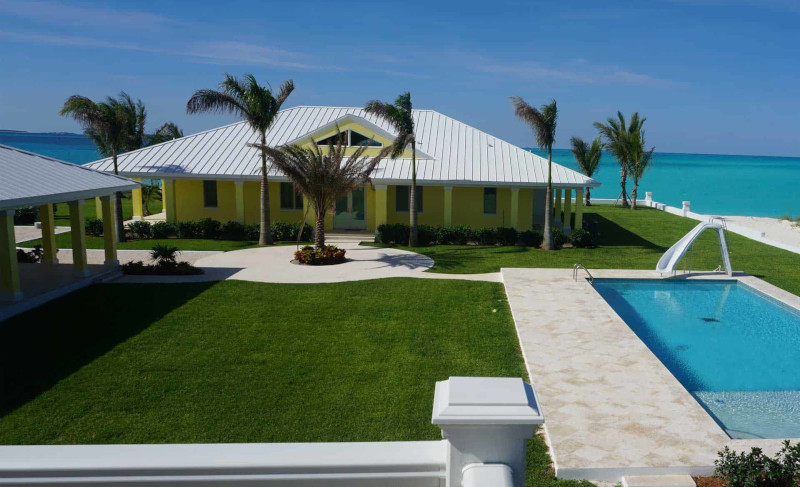 Since Hurricane Dorian, there has been a review of the building code in the Bahamas, which is designed for 180 mph winds (Dorian was abnormal with gusts up to 220 mph). "Over the course of history, 180 is really reasonable," says Wallace, "but is everyone following those guidelines to build in accordance with the building codes? That's the most important thing. In a lot of instances, it's not the code at fault, it's people not following it when they're building." Much of the company's work is reinforced concrete walls – in some cases they do a pour and plate concrete wall and in other instances they use a concrete block with reinforcement and then pour the block cells with a grout.
Oftentimes, clients request 'smart technology' solutions – where they want to be able to see around the exterior of the home, to turn on lights, to adjust the room temperature, to set their sprinklers on timers, etc. All things that they can control from their smart phone. According to Wallace, "There are a lot of systems out there – they are even now eliminating having multiple switches within the building because one switch at a specific location can control pretty much the whole house. A lot of people want that ability to control the electronics of the home while they're away. We hire specialty contractor companies to deal specifically with the different types of technology. They work in conjunction with our electricians."
On the environmental 'green' front, Talcove is formalizing a project right now where they want to be completely off the grid. They also have several other projects which involve incorporating a means to feed back into the grid, if you generate excess power off your solar system. There are incentives from the power company to the consumer, if you're putting energy back onto the grid.
Talcove has a great complement of skilled staff and extra employees are hired if a project requires additional workers. Alternatively, the company would go the format of being the general contractor and project manager, and then sub-contract the work out to a smaller company. Most of the full-time employees are long-term.
Wallace acknowledges, "Talcove is esteemed in the industry for craftsmanship/workmanship at the highest level. While we've only been around seven years, many of us worked together at another company. We try to develop our staff in terms of really preparing them. Now we're having workshops where we're trying to get the employees to develop themselves, in terms of just not coming in for a 7:30 to 4:30 job but also looking at it as a way to improve their skills. So if they decide at any point they want to have their own business, they at least have the basic understanding of what it takes to run a small business. The intent is that if we develop them, and they know the standards and expectations that Talcove has, if they decide to move on then they could certainly work for us as sub-contractors in the future."
Looking to the future, Wallace adds, "Our vision going forward is to be in a position where we can train our staff to be subcontractors, as opposed to Talcove self-performing a lot of the work. We want to be more of a project management group. It then makes it easier and a little more competitive when you can hire the respective sub-trades and you manage the project. So our ultimate goal is to convert ourselves into project management."
AT A GLANCE
Talcove
What: A full-service general contracting firm
Where: Headquarters in Great Abaco, Bahamas
Website: www.talcove.com