Coconut Bay
Casually Caribbean
Coconut Bay Beach Resort & Spa fills a multi-faceted vacation niche.
It's always good to have options. And when it comes to a vacation in a tropical paradise, it's even better.
Toward that end, the facility that bills itself as "Casually Caribbean" – Saint Lucia's all-inclusive Coconut Bay Beach Resort & Spa – has the adults-only and family-friendly bases covered thanks to dual-sided offerings within the same 250-room facility over 85 acres on the island's less-congested south coast.
Occupancy at the resort is split into nearly equal portions on the "Harmony" and "Splash" sides of the property, respectively, and the areas are tethered only by a middle section that houses common lobby and restaurant operations along with entertainment and other amenities.
The idea for the dual-sided approach was the brainchild of the resort's leadership, whom Kevin Hughes, Coconut Bay's general manager for two years, said was interested in delivering a product that would be distinct from other resorts within the tiny nation that sits about 1,500 miles off the U.S. mainland.
The Splash side's amenities include a "Cocoland" water park, a kids club and a paintball court, while the Harmony offering features hammocks and sun decks built for two, a quiet pool and bar, an oceanfront spa and a newly remodeled wing of 125 rooms. The property is also home to the largest "Lazy River" water activity on the island, along with its first petting zoo.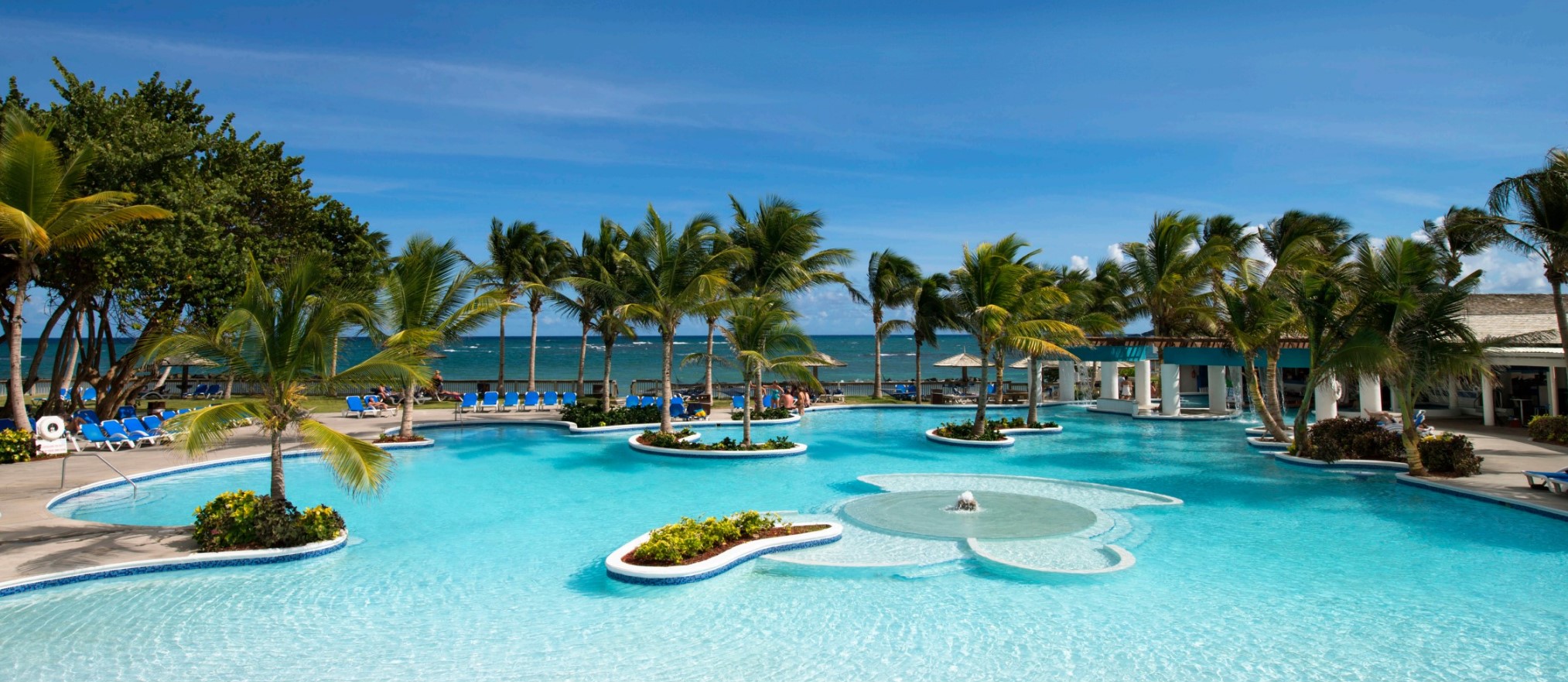 "It's huge," Hughes said. "We have created a resort for everyone. Private getaways, family vacations, weddings and events and any combination of the above. I believe our ability to hold occupancy year-round shows we have the right mix."
The resort was purchased 10 years ago by its current owner – Gary Hendrickson – after it had been part of the Club Med franchise for 30 years.
It's grown incrementally since that transition, with a series of recent improvements that include a new pool, hot tub and shade structures on the Harmony side, and additional washrooms on the Splash side pool deck. The lobby bar was rebuilt with additional fire pits, a gazebo and an exterior deck, and a fire pit was added to the Star Gazers deck as well.
Shower enclosures in all rooms property-wide have been re-tiled, and a duty-free shop and sundries store were added alongside an existing boutique.
Construction on a new luxury project – "The Reserve at Coconut Bay" – is under way, and will lead to a finished product that includes 34 suites, a private restaurant and a pool area by the spring of 2015.
A fourth-floor "Splash Premium" suite on the resort's Splash side is advertised for $228 per person/per night on the resort's website, while a fourth-floor "Junior Suite" with an ocean view on the Harmony side goes for $255 per person/per night.
Hughes said traffic from numerous strong markets – including the United States, Canada, Europe and the Caribbean, particularly Trinidad & Tobago – goes a long way toward offsetting the typically cyclical nature of the region's tourism industry. Interest from one side of the resort to the other is split almost evenly, he said.
"It's almost right down the middle," Hughes said. "We have as many weddings and honeymooners as we have families. We're just about 50/50."
The 390-person staff is the result of an 80-employee boost over the last two years, in large part due to a corporate initiative to employ residents of the southern half of the island, where no other resorts reside. It allows those employees to gain skills and training to begin careers in the hospitality industry, while also helping Hughes cover all the service bases in a resort that boasts 85-percent annual occupancy.
"The hotel understands the importance of training in order to maintain a quality product," he said.
"By facilitating internships and organizing job fairs, there is a deliberate strategy to create a pool of persons who possess basic entry requirements and are enthusiastic about pursuing careers in the hospitality industry. We are proud of our record as the biggest employer in the south of Saint Lucia and will continue to provide opportunities where available to persons who have the professional aptitude and willingness to serve within the industry."
Sustainability endeavors also occupy a primary place on the resort's day-to-day and long-term agenda.
Two full-size greenhouses enable Coconut Bay to grow some of its own produce and maintain consistency in supply as a measure to supplement supplies from local farmers.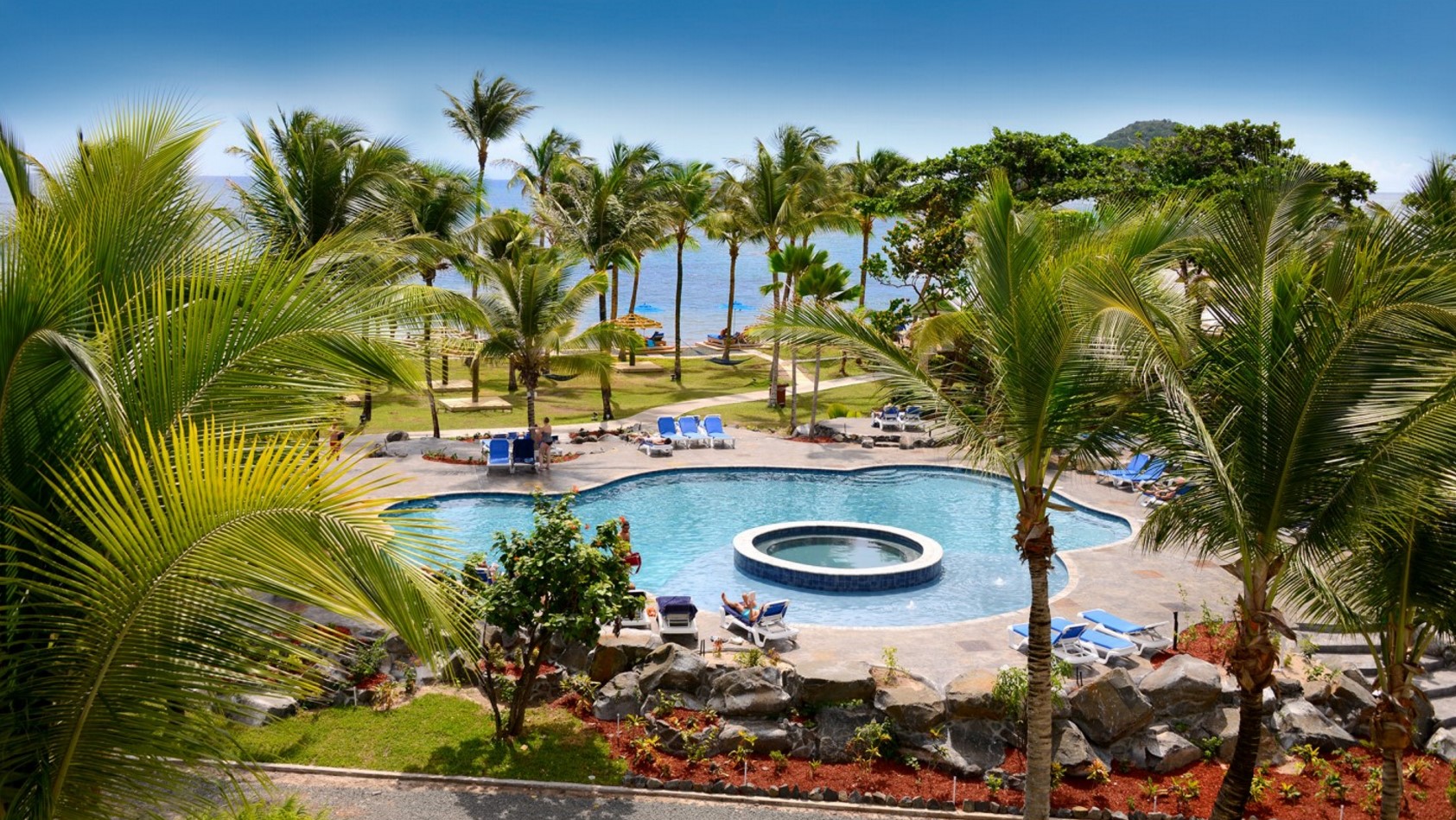 The hotel purchases a range of livestock/fish meat products, vegetable, fruit and root crops from approximately 60 farmers, which results in substantial revenue for these local entrepreneurs. Existing on-site nurseries are the birthplace for all the resort's ornamental plants and herbs.
An aloe garden is the source of all aloe for spa and guest needs, and a partnership with the World Trust Bank five years ago resulted in a rain-water harvesting system with which all rain is collected into 16,000-gallon cisterns, filtered and used to replenish the property's pools. There are a number of other green initiatives practiced by the hotel in its operations as well, including paper recycling, waste separation, tree planting, utilizing waste from four adopted donkeys as manure and use of seaweed and wood shavings for mulching.
The 34 new luxury rooms will be entirely off the grid, with solar air conditioning and water-heating capabilities. The spa is all solar water-heated as well, and initiatives into wind power are being discussed for the future, Hughes said.
"We're making an effort to do our part and try to save costs as well as reducing our footprint," he said. "We haven't used it as a marketing tool, but it will be something, once the new rooms are up, that we will celebrate. We don't feel we are at a position yet that we can jump up and down and say 'Hey, we're doing more than anybody else.' We'll get there, but we're not there yet. I'm not for trumpeting it until I can put my head on my pillow and say that we've done everything we can. We can't say that yet."
Coconut Bay partners with the nearby St. Jude Hospital – which is the island's second-largest medical facility and serves its entire southern region – and has "adopted" the children's ward via a signed memorandum of understanding as a way to help a prolonged recovery for the medical facility that burned down five years ago. The hospital was subsequently housed in alternate quarters and the resort raises and donates money for equipment and supplies, and, additionally, provides training as the hospital transitions to a hospitality based customer-service approach for its on-site patients and families.
"It's far more than a financial arrangement," Hughes said. "It's a skill-set training. It's us making tangible contributions through painting, cleaning, helping and material donations; that type of thing. That's the one I'm most proud of in terms of our relationships with the community."
AT A GLANCE
WHO: Coconut Bay Beach Resort & Spa
WHAT: 85-acre resort with 250 rooms; split into two sections, one for families and one for adults
WHERE: Vieux Fort, St. Lucia
WEBSITE: www.CBayResort.com