Carlisle Bay Resort Antigua
Carlisle Bay Resort Antigua brings a breath of Caribbean air and a host of amenities for the traveler in mind
Nestled at the point where the lush Antiguan rainforest meets the crisp turquoise waters of the Atlantic is Carlisle Bay Resort. The luxury resort occupies an auspicious location where guests have unimpeded views of the rainforest towards the back and the ocean in the front.
Complementing and blending into this serene environment are the resort's eco-friendly facilities, including restaurants, luxury suites, tennis courts, and more. It is the ideal destination for those seeking gentler pursuits like yoga, reading, and writing and those who want a more spirited holiday with adrenaline-pumping activities like tennis and water sports.
Carlisle Bay Resort occupies a prime location in Antigua, part of the island nation of Antigua and Barbuda. It is an independent Commonwealth country comprising its two namesake islands and several smaller ones. Guests arrive on the island from the UK, the United States, and worldwide to experience the island's wonderfully intoxicating natural ecosystem and the resort's unique brand of friendliness, welcomeness, and environmental awareness.
Carlisle Bay is an 87-suite property located at the southwestern point of the island of Antigua, nestled into the rainforest," says Brian Murphy, General Manager at Carlisle Bay Resort Antigua.
"We'll be celebrating our twentieth anniversary in 2023, and we plan to unveil several events and initiatives to commemorate and celebrate this massive milestone with our guests and staff."
Achieving this milestone is a testament to the resort's commitment to providing exceptional experiences to guests, whom Murphy says, return to experience all Carlisle Bay has to offer.
"We welcome all leisure travelers to Carlisle Bay and take pride in catering to multigenerational families, couples, retirees, honeymooners, and more." Amenities include the main pool, a vast array of watersports, nine tennis courts, including green and hard surfaced, and recently built pickleball courts. "We also have an on-property spa with six treatment rooms utilizing the CARA SPA brand. Here, guests can enjoy spa treatments, well-being facilities for Yoga and Pilates, and a wide range of leisure activities both on-premise and around the island," Murphy outlines.
Carlisle Bay also boasts a wide range of thematic restaurants, including Indigo on the Beach, East, serving pan-Asian fusion cuisine, OTTIMO! serving guests an authentic Italian dining experience in a relaxed poolside setting, and The Jetty Grill, a beachfront adults-only grill restaurant.
In addition to the restaurants, the resort offers a full itinerary of resort activities and experiences to fill guests' time with fun, healthy, and memorable moments.
A complete list of activities and experiences available at the resort include watersports, personal health retreats, tennis, pickleball, private Yoga & Pilates sessions, personal training, outdoor gym, boat excursions, guided hikes, kids club, library, private screening room, boutique and Firepit Fridays showcasing talented local musicians.
All these activities are captured in a weekly itinerary that the resort shares with guests, allowing them to pick the ones they wish to participate in. Guests can also schedule private sessions for one-on-one activities like Pilates and Yoga.
The Covid-19 pandemic and its aftershocks were felt worldwide, and Antigua was not spared. Murphy explains that the island imports almost ninety percent of its supplies from the US and other nations, was especially hard hit by the supply chain challenges that emerged during and after the pandemic. One way the resort works around the supply chain issues is to leverage local produce, a trend that has emerged among many island resorts in the Caribbean. "We utilize as much local produce as we can get our hands on, we see it as a partnership with the local producers, to try and remedy a difficult situation as a community." Murphy says. "We also have a vegetable and herb garden on property where we plant rocket, cucumbers, cherry tomatoes, beetroot, plantain, sweet potato etc. in order to ensure that where possible we grow freshly and organically on site." Murphy elaborates.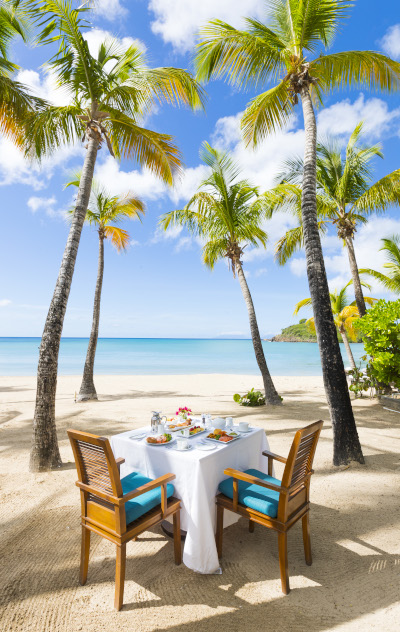 However, Murphy, reports that the resort is currently experiencing tremendous business.
"I have to say that Carlisle Bay is experiencing one of the best years in its history, and that is attributed to several factors. The primary one is that the government quickly put effective protocols and strategies in place to safely welcome tourists back to the island. Another factor is that Antigua has done a fantastic job promoting the country through the Antigua Barbuda Tourism Authority, which continues working tirelessly to bring more guests to our shores. Due to these efforts, we anticipate a strong quarter one for 2023 and similarly strong quarters two, three, and four to follow suit," says Murphy.
As part of preparing for this growth, Carlisle Bay is unrolling initiatives to make the resort more attractive to guests.
"A key initiative we have implemented, is focusing on sustainability, reducing use of single use plastic. We recognize that bottled water significantly contributes to environmental harm, so we have opted for a simpler solution. We installed water coolers around the resort and now hand guests a reusable water bottle on arrival. We hope to eliminate all bottled water from the resort and make it a plastic bottle-free environment."
"Another initiative we are undertaking is going entirely paperless. The various tools used for booking and guest affairs have eliminated a sizable portion of the paper. We hope to achieve complete paperless operations in the near term, covering every aspect of the guest experience from when they book to when they leave. Part of this plan is also further to secure guest data, a major concern when going paperless. We are working with our technology partners to ensure guest data like names, credit card, and passport details are fully secured."
These initiatives and the resort's commitment to offering guests a sustainable, inclusive, modern and luxurious experience are some of the reasons guests keep coming back, and people like Murphy love working at the resort. "I grew up within the hospitality industry, so this is part of my life, and I love what I do. What makes me love what I do even more is our team, who are an integral part of Carlisle Bay's success in providing outstanding service to guests. The friendliness and genuine Antiguan warmth Carlisle Bay has become known for comes down to having an incredible team that works from the heart."
As to what Murphy and his team are looking forward to over the next three to five years, he says there is much to look forward to. "Carlisle Bay is going through a resurgence. Over the next two years, we will revamp and breathe new life into the resort, not only for our repeat guests but also for our new ones. We want to make the Carlisle Bay experience as special as possible while retaining the barefoot elegance of the quintessential Caribbean experience that our resort has become known for."
AT A GLANCE
Carlisle Bay Resort Antigua
What: A luxury resort with a local flair
Where: Antigua, Caribbean
Website: https://www.carlisle-bay.com/

Horeca Depot USA – www.horecadepotusa.com
Leading the Hospitality Industry in the Caribbean and Latin America. We are your One-Stop Shopping Source for Supplies and Replacement Parts!
Horeca Depot USA, LLC a wholesale distributor, is your ONE STOP SHOPPING SOURCE for Hotels, Resorts, Time-Shares, Villas, Restaurants and Cafes in the Caribbean and Latin America. We carry everything except the food, including glassware, flatware, kitchen items, linen ware, guest room supplies, housekeeping items, uniforms, outdoor furniture, restaurant equipment, replacement parts, and more! Need something and don't see it on our website? Don't hesitate to ask us! We have an excellent sourcing department that can locate anything you need!
We put the Extra in our Extraordinary service and offer COMPETITIVE wholesale pricing with shipping out of Miami, Florida. Hablamos Espanol!