Aloft San Juan
A brand that breaks the mold and is different by design
Business View Caribbean interviews Christian Nieves, General Manager of Aloft San Juan, for our focus on Resort Excellence in Puerto Rico
With convenient proximity to Miramar, Old San Juan, and Isla Grande Airport, Aloft San Juan is making waves as an upbeat new boutique hotel featuring loft-inspired design that celebrates style and redefines modern travel. Relax in multifunctional rooms and suites with tall ceilings, plush platform beds, and 55-inch LCD TVs. A 24-hour fitness center and outdoor pool located on the third level of the hotel, along with flexible event space and within walking distance to Puerto Rico Convention Center, are but a few of the special attributes awaiting guests – dubbed "self-expressers" by the Aloft team.
General Manager Christian Nieves, reports, "Aloft is the anchor property at EL DISTRITO T-Mobile, Puerto Rico's premier entertainment destination. Comprised of nine restaurants, a concert venue, and entertainment center – including ziplining – we are at the heart of it all in the convention district in Puerto Rico."
Aloft San Juan has 177 guest rooms distributed over seven floors and offers 3500 square feet of flexible meeting space for boardrooms and a versatile ballroom, which, when completely open, can accommodate up to 200 people. All meeting spaces have access to an outdoor terrace that brings in the fresh air, ample natural light, and views of the city. For event planners, it becomes an attractive option to incorporate the outdoor space into the indoor space.
Located on the lobby level, the hotel's W XYZ® lounge/bar is where business meets fun – the perfect atmosphere to mingle over modern and traditional drinks. According to Nieves, "It becomes a working space during the day, and at night it's where our food and beverage and experiences are carried out. We also have Re:fuel, our grab 'n' go pantry that's open 24-7 and offers a delicious menu of sweet, savory, and healthy snacks. That's another concept that became relevant with the pandemic. Originally, when I came to open the property, I thought the grab 'n' go concept was not going to be received well, and it's proven to be extremely effective. People love the convenience of having the food to go; being able to order from their room, picking it up, and bringing it with them. But it's also a safer approach to everything that we do as part of Marriott's Commitment to Cleanliness protocols."
The Aloft brand is one of the distinctive lifestyle brands for Marriott. There are over 135 in the Americas but Aloft San Juan was the first to open in the Caribbean. The hotel officially opened on Feb. 10, 2020, remained open for two months, then had to close in April, and reopened in July. Nieves declares, "It was a very interesting first year, for sure. And there is a lot of pride among our employees – being able to tag themselves as being the first Aloft in the Caribbean. In Puerto Rico, itself, there is another Aloft that recently opened on the south shore."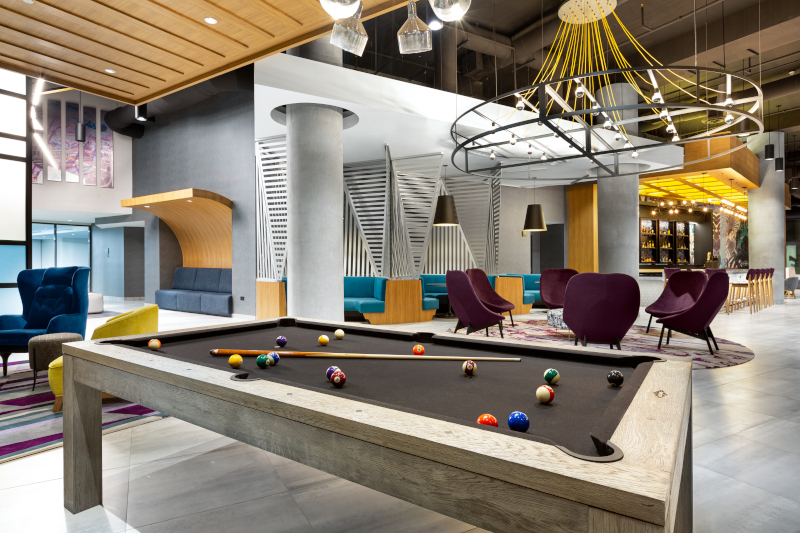 The Aloft brand is focused on the self-expresser traveller, perceived to be geared towards millennials. "However," says Nieves, "it's proven that in Puerto Rico, given our location and that we are a pet-friendly hotel, we have been able to welcome a diverse group that includes families and business guests, and occupancy has been a really good combination since we opened. I always say it's not only for the young in age, it's the young at heart. It makes them feel younger when they're intertwining themselves with the vibe in the lobby and everything it offers. The feedback we get back from guests is that they love the ambience and that's what we're going for."
EL DISTRITO T-Mobile had to open in phases because of COVID but it is now fully operational, including the Coca-Cola Music Hall – a concert venue that accommodates up to 5,000 people. Nieves explains, "I think that's one of the reasons why the ownership group chose the Aloft brand, because the brand passion points are music, design, and technology. So being in this avant garde design of the complex, we were the first ones to showcase what the capabilities are with bringing the Aloft brand into play. The technology piece and the focus on music is going to be an amazing synergy for us."
Technology is another important element at the hotel. Guests access their room with a mobile key, just one of the touchless experiences that are so important now. Self-expressers can request all of their amenities via chat, can have conversations with staff via chat, without having to interact with someone face to face. They can check in 24 hours in advance and use their phone to open their room. In addition, Wi-Fi is provided free throughout the hotel.
"For business guests, we also have audio-visual needs provided as part of the meeting package," says Nieves. "You just have to bring your computer and it's ready to go with integrated sound and images – all set to plug and play. And all our rooms have wireless capability, so when you connect to the screens and the sound you can simply connect to the network and access everything you need to conduct your meeting, seamlessly."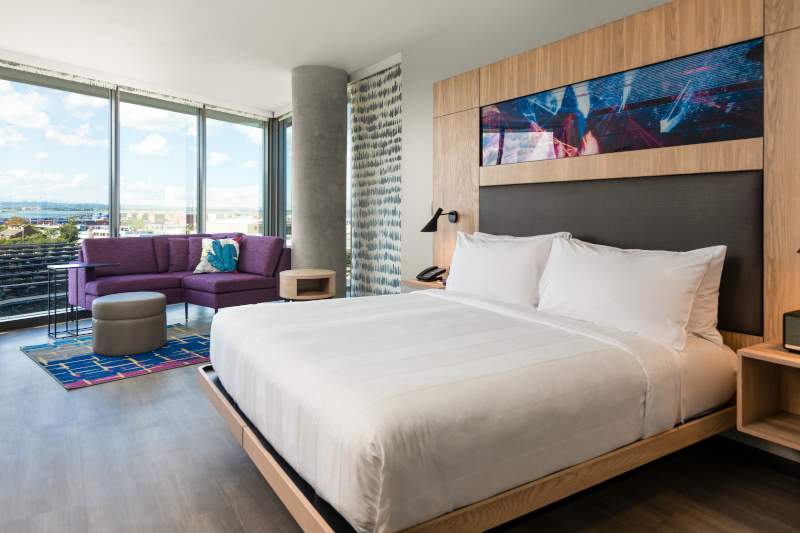 When it comes to marketing, being part of the Marriott International portfolio allows Aloft San Juan to leverage a great network of global markets. Although the primary focus is North America, especially the East Coast, a good influx of interest is coming from the Caribbean and Latin America regions, particularly from South and Central America. Nieves notes, "The great thing about being part of the Marriott brand is that it allows our on-property sales team to connect with our global sales team, so all the marketing efforts are being done in sync with the global brand team. It exposes us to a wide variety of markets that, perhaps if we were focusing locally, we wouldn't be able to reach."
A complement of 60 select employees form the Aloft team in San Juan and company culture is all about being friendly and welcoming. Nieves explains, "Because our target guests are self-expressers – individuals that are not shy, that are bold and confident in the way they express themselves – I was looking for employees who would fit into that mold. The hotel is focused on building great experiences through genuine service. That was my main goal when we were hiring people. We focused on their personality, because we knew that based on their unique interests – whether music, art, technology – by hiring individuals that were passionate about their touchpoints, they'd be able to create better experiences for our guests. The brand allows them to be who they are; we have standards that we want maintained, but they are free to simply connect with the guests on a personal level. When you come to Aloft, you see people smiling because they're happy to be here."
The hotel is also proud to support community culture. Its program 'Live at Aloft' allows local artists to use the lobby venue to showcase their talent. "We have to be very careful in how we do it with the pandemic," Nieves admits, "but we definitely open our doors to many different local artists to come and play in our lobby and use us to promote themselves in their social media. In essence, the Aloft platform can help jumpstart their career. It brings local flavor to the hotel because all those artists have their crowd that follows them, so whenever they come into the property it becomes another synergy. They love the hotel, they love the environment where their favorite artist is playing, and that is good for everyone."
Nieves gives much credit to the Destination Marketing Office (DMO) that has been a congenial partner in ensuring that Puerto Rico is positioned to bring tourism back to the island in a smart and efficient way. He believes that, together, they are making Puerto Rico a great destination.
Looking to the future, Nieves shares, "San Juan is the must-see destination for every visitor to Puerto Rico, and what better way to experience the city than through the brand Aloft, which captures the energy and color of San Juan's most famous district," said Nieves. "We are excited to welcoming guests to our hotel, a new urban hub where great music, captivating art, and social connections take center stage."