Windward Roads Infrastructure
Taking care of the essentials
Business View Caribbean interviews Paul Djasmin, Project Manager at Winward Roads Infrastructure, for our focus on Best Practices in Construction
When it comes to essential services, infrastructure is one sector that ranks high on the list of priority concerns. Whether it's road and bridge repair, or new construction developments, the companies that do the work are critical to a region's survival and growth. On Statia and Saba,  St. Maarten-based Windward Roads Infrastructure is carrying on the maintenance and creation of critical infrastructure projects to ensure the two small islands are ready for the return of tourism – the precious lifeblood of their existence.
Project Manager Paul Djasmin reports, "It's been a crazy year and we are busy at Windward Roads!" Djasmin has the weighty responsibility of coordinating the work done by Saba Roads & Construction and Statia Roads & Construction; a division of Windward Roads Infrastructure and Construction (also a division of Janssen de Jong Caribbean). With companies active on all islands of the former Netherlands Antilles, Janssen de Jong is well embedded in the Dutch Caribbean. The main focus throughout all its companies is quality… in management processes, technical, and human resources.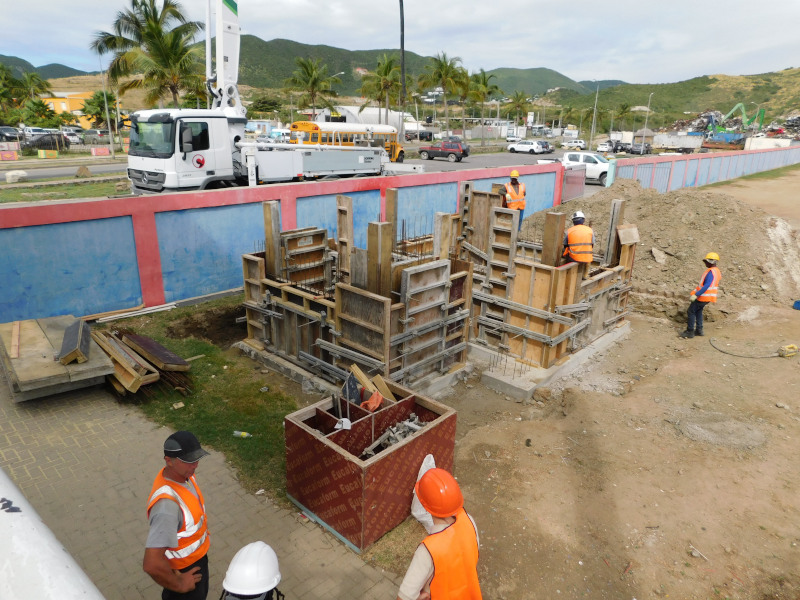 "The group covers a diverse array of sectors," says Djasmin, "through their mining company and a concrete block manufacturing company. And they have a large number of suppliers they have been doing business with for many years, so we always get good prices. That makes us one of the leading companies in the region in terms of quality and value."
The company is ISO 9000 certified and employs about 15 people on Statia and 20 on Anguilla, plus a full complement of sub-contractors when needed. Finding skilled tradespeople and people in the technical field, such as project engineers and supervisors, is a challenge. As Djasmin attests, "Some of the schools are giving educational programs to the youth, but they don't have the experience when they come to work. And they aren't well informed if they choose a trade or a technical skill about what they should expect. For instance, if you're working in the infrastructure business, you will be the whole day in the sun. The tendency is to hide from the sun, but that is the job. Out in the open field, not under a mango tree. The same if you're putting a roof on a house – you're in the full sun until the roof is built, then you can go inside and have some shade. A lot of young people today can't take it."
Each person who comes to work at Windward Roads has a two-month trial period and only about 20 percent of them stay. Truth be told, it's a demanding career that isn't suited for everyone. Safety training is mandatory. Every month, the company has 'toolbox meetings' where they explain the latest safety protocols and procedures, the proper protective clothing, including safety shoes, safety vest, safety helmet. Because if an accident happens and the employee wasn't adhering to the safety rules, not only could they get injured but the company is deemed at fault and the insurance company won't pay.
COVID-19 has definitely hampered operations due to project and material delays and increased costs. Djasmin notes, "The thing is, you signed the contract according to normal conditions (pre-COVID) without factoring in the costs of COVID tests for workers which are mandated by the government and cost the company between $80 and $125 each. We didn't take that into consideration at the time we quoted our price, so we have to deal with those costs. And not only are we losing money, but time as well, if you have 10 guys that go 10 days in quarantine. And we still have to pay them a non-productivity base rate.  A shortage of materials is also delaying work and the prices of lumber from the U.S. are going sky high."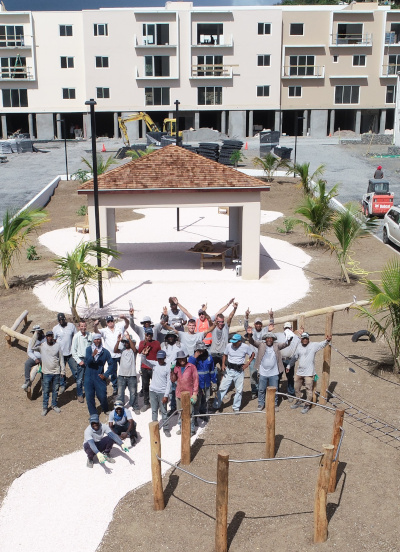 In Saba, the current infrastructure work is all government projects, mainly in the $10,000 to $300,000 range. Some are still ongoing from last year and there are a small number of new jobs. In Statia, however, the Golden Rock Resort development is a godsend for the construction industry. "It's a big project on 100 hectares being created by a private investor," says Djasmin, "and they keep on changing the plans until they are satisfied… so we are happy to stay and keep working." Last year, a well was drilled near the sea to pump salt water from there through an osmosis plant to make fresh drinking water, so the whole resort can be self-supporting from water. It was imperative that no soil from the area where they were working went into the sea because it would be detrimental to the coral reef.
Djasmin reports, "That project has been completed and they are producing about 300 cubic meters of water per day for use at the resort. We're now busy putting up the swimming pool and the infrastructure around the hotels. Also building the condos, and preparing the land. Excavating, putting in electrical cables, data cables, sewage lines – we have the whole project underway. Work will continue for this whole year and maybe next year because they haven't done one tenth of the whole area that is planned for development. Setting up first the two hotels and then building many, many condos and some bungalows means there is a lot of work still in the pipeline over there."
With the pandemic restrictions in place, travel for workers is difficult. People can go back and forth from Saba to Statia without quarantine, but there are only two flights a week from Saba – on Friday and Saturday. So if the company needs a mechanic for one day, he has to stay for a whole week, which wastes time and money. And while there are regular flights going on between Statia and St. Maarten, passengers do have to quarantine. As a result, the Windward Roads team and their clients are now doing constant online communication and meetings between Saba, Statia, and St. Maarten because of the travel restrictions. "So the only way to discuss a project is on a virtual team meeting," says Djasmin, "which is working out all right. If you work on remote islands like Saba and Statia, even St. Maarten, your knowledge resources are very limited. So it's either search for an answer on Google or make a phone call to an expert and ask them how to solve the problem. By doing that, you learn."
Looking ahead, Djasmin believes the prospects for a bright future are very good. He shares, "As people start coming back, work is coming in, there are projects to be done. There will be a lot of road repair jobs because roads have a short life here. Even with asphalt, at least every 10 years you have to do some maintenance on it by putting on a whole new layer. Because Windward Roads is in Saba, Statia, St. Maarten, and now Anguilla, we can always spread our wings to the other islands, just in case. I've been here more than 30 years and still have a couple years to go. If it's in your blood, even in retirement, you still want to go on as an advisor or consultant because that kind of experience you can't get in school. That's why you have a lot of old guys that still keep at it. Personally, I'm looking forward to COVID being gone so we can get back to travel and back to regular work."
AT A GLANCE
Windward Roads Infrastructure
What: Infrastructure construction company; part of Janssen de Jong Caribbean
Where: Saba & St Eustatius
Website: www.windwardroads.com
Trico Supply – Contact Info Coming Soon!