Servus Ltd
Total facilities management
Business View Caribbean interviews Edward Kacal, CEO of Servus Limited, for our focus on Facilities Management in Trinidad & Tobago
Keeping your property shipshape, inside and out, is what Servus Ltd is all about. A homegrown Trinidad & Tobago company with international standards, Servus is constantly evolving to anticipate and fulfill the facilities management needs of their clients. While monitoring and maintaining interior systems is a vital Servus role, the firm's building maintenance services extend to exterior details like building washing, parking lot maintenance, and landscaping. Ensuring the safety of these buildings for the people who work and live there is critical, and Servus is determined to live up to the very best standards – as  reflected in the firm's ISO 9001 quality management system (QMS) accreditation.
From asset management to construction and maintenance of residential properties and office buildings, a proven dedication to excellence has earned Servus a reputation as the leading Integrated Facilities Management company in the country, with more than 2 million square feet of prime commercial and residential space under their purview. Whether managing all aspects of a property, or providing stand-alone services such as air conditioning, janitorial, landscaping, and pest control, Servus customizes their offering to suit the requirements of each individual customer.
Large clients in the Servus roster include Shell Trinidad & Tobago, Guardian Life of the Caribbean, RBC Royal Bank, Scotiabank, but they count a number of smaller clients among their valuable working relationships, as well. Servus has also diversified into residential management, condominiums, large developments and many of the company's existing customers live in those buildings. In a recent conversation with Business View Caribbean, Servus CEO, Edward Kacal, shared his insights into the company's evolution, the recent impact of COVID-19, and strategic plans for future growth.
BVC: How did Servus evolve from when it was founded?
Kacal: "The company was started in 2002, as a partnership between a large insurance company here, who had seen the benefits of outsourcing facilities management, and a construction company out of Britain called Carillion that was doing a lot of work here at the time. They developed a small clientele of energy companies, insurance companies, and one property developer, then in 2012, Carillion pulled out of Trinidad and the company went up for sale. The real estate developer who was a major client at the time purchased the company and in 2013 I came in.
"At the time, we looked at how we could expand the company from having solely oil and gas and the financial sector clients. We started to self-perform a lot of the functions we used to contract out, and we started to build our own teams. One of the first areas we focused on was janitorial services and then we started to self-perform air-conditioning services because we had a cadre of technicians and qualified team members with these competencies. Then we started to do electrical testing, and pest control, and we brought on hygiene products, and we continued to bring more of our subcontracted services inhouse with our own staff. Those initiatives resulted in growth opportunities for us. In addition to just doing facilities management, we were doing specific single-service items in the janitorial line and it opened up our market a lot in terms of what we can do for clients. That diversification allowed the company to grow significantly over the last four to five years and made us a lot stronger."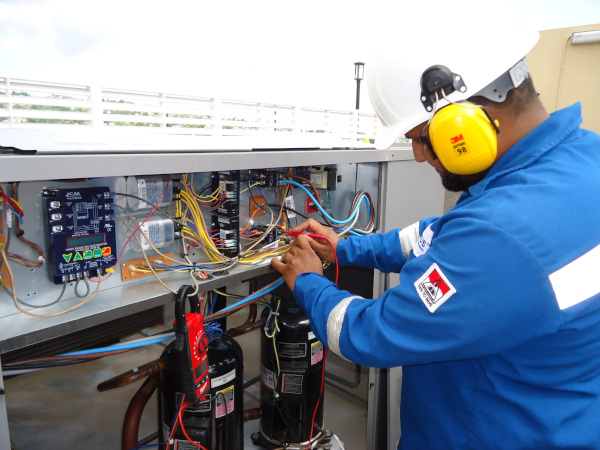 BVC: How has COVID-19 impacted operations?
Kacal: "Right now our staff is numbering about 320. It used to be around 350 but we're seeing some reduction in demand for janitorial staff because of empty buildings from the pandemic. From a technology standpoint, it was not very difficult for our Head Office staff to work from home when COVID came because we had been preparing the organization for virtual working arrangements – thinking about business disruptions in general, like hurricanes and fires and floods. Our IT systems had been working towards doing everything from the cloud and our technicians could do their service reports and schedules on their phones. So, when COVID happened, and we all had to work from home, it was a fairly simple transition. Site employees still had to report to sites, albeit at lower levels for a while, and we made all efforts to keep them safe.
"And we keep leveraging more technology.  Developing a lot of links where we're using BMS (Building Management Systems) to monitor and manage components of buildings from offsite. We can see if the temperature is too high or too low, or the pressure is incorrect, and we can adjust that from mobile device. We are continually training our staff to use technology to try to avoid technical obsolescence.
"Early on, we were very focused in trying to help our clients create safe working environments – in terms of putting physical infrastructure in place, like partitions, and wash basins and thermometer stations. From a sanitation standpoint, we've trained our crews to perform disinfection services. If there is a COVID infection in an office and the client gets nervous, we send out a team with hazmat suits and do a disinfection service, to ensure the area is safe for reoccupation. We've been doing quite a bit of that sort of work in the last few months and I think that will continue until people are more comfortable or until case loads reduce."
BVC: Do you have many long-term vendor relationships?
Kacal: "We try to develop long-term relationships with suppliers which are mutually beneficial.  We may not use the largest companies, but we do well partnering with firms that are motivated to work with us. One area we've spent efforts on is our management systems, for example with ISO 9001 and similar certification systems. So, we are very careful when we bring on a new supplier; they have to be pre-qualified for several criteria and have the right insurances. But once they start doing work for us, and their performance is to the right standard, there is no reason why that relationship doesn't go on for a very long time. We do a lot of work with Shield Security. I almost consider their staff to be our staff and vice versa. Their standards are really high and we have actually trained some of their people in customer service and they have trained ours in terms of safety management; so that's a very good example of a close working relationship."
BVC: How would you describe your company culture?
Kacal: "In the last few years, from a national point of view, there was a lot of competition for skilled workers, but we have never had a problem hiring and retaining skilled people at Servus. And that, we believe, comes down to company culture., We are always able to fill positions that we advertise.  We allow a fair amount of autonomy in the working groups on different sites and we try not to micromanage them. We let them operate within our governance structure and within certain overall guiding principles. But the facilities management manager on a site has his decisions to make and he knows what he has to do within our set processes and framework. And we try not to interfere with that, whilst keeping the quality standards up. The management system is very critical… we spend a lot of time and effort on internal training in customer service orientation. Our attrition rate is very good; people tend to stay with us.
Alana Stanislaus, Business Development Officer: "From an employee's standpoint, I think the company culture is very good. No team member is treated as if they're "less than" than anyone else, no matter what level you are at in the company."
BVC: How do you promote the Servus brand to potential clients?
Stanislaus: "For the past three to four years, prior to COVID, we've spent a considerable amount of time on getting the brand out there. We did a complete rebrand – revamping our logo, upgrading our website, branding our fleet etc. Prior to Mr. Kacal joining the organization, it was a lot smaller. With his addition, they focused a lot more on growth and expansion. That's where I came in, trying to increase awareness and brand visibility in the market. I think we've had good success with that as we've seen a lot more requests coming to us directly rather than us having to pound the pavement. People knew about us and what we brought to the table, so much so that we eventually had to become little more selective in the type of clients we took on. With the advent of COVID and the inability to conduct face-to-face meetings, we've had to leverage technology a lot more, so going forward we'll be going a lot deeper into the digital marketing space.
"As a Servus employee, I am very proud to say I work for the only true integrated facilities management service provider on the island. And I'm also proud to say that we are a home-grown company – we are proudly Trinidad & Tobago – but providing a world-class service."
AT A GLANCE
Servus Limited
What: Integrated facilities management services provider
Where: Port of Spain, Trinidad & Tobago
Website: www.servus.co.tt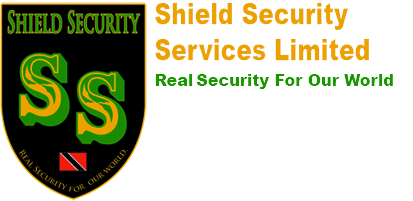 Shield Security Services Ltd – www.shield-securitytt.com
Now more than ever reliable security is key
As the crime continuously continues to escalate in our islands of Trinidad and Tobago, now more than ever reliable security is key to the protection of your loved ones, businesses and assets.
With 15 years' experience in providing security services to our clients, we at Shield Security pride ourselves in delivering personalized service to you.   Your distress calls are answered 24/o by our highly trained Management team and Headquarters who execute rapid response.   With Shield as your security provider be confident that your call will be answered.
Peace of Mind                          
One of the lesser noticed things that happen when you have reliable security is reduced stress levels.  A notable change in unwanted incidents should be observed after hiring a reliable security provider. Peace of mind is what we offer to our clients, be rest assured your loved ones, premises and assets are well protected.
Family is family
We enjoy an eviable track record for providing long standing service to many of our clients, you are our family, going beyond the call of duty is part of the job, we are honored to have maintained many long lasting relationships built over years of providing outstanding service to so many who are highly satisfied with our performance;  To the new comers on board, a hearty welcome!
Mrs. Anjali Sobrian
Marketing Manager