CG Construction & Consultancy
specializing in the construction needs of Antigua and Barbuda
Building first-rate homes keep the uniqueness of the region in mind, CG Construction & Consultancy leads the competition
Antigua and Barbuda is renowned for its luxury property real estate sector, attracting local and international investors seeking top-of-the-line living experiences. One of the most notable recent developments in this sector is the PLH development in Barbuda. This exclusive residential complex features a range of amenities, including private beaches, a world-class golf course, and a state-of-the-art marina.
At the forefront of Barbuda's luxury property development sector is CG Construction & Consultancy, a real estate construction company making waves in the Barbuda luxury property market. With a twenty-one-year reputation for delivering top-quality construction services and expert consulting, the company is committed to helping exclusive and discerning clients realize their dream properties.
Business View Caribbean spoke to Paul Smith, founder, and director, to find out more about the history, philosophy, and operations of CG Construction & Consultancy and what sets them apart from the rest.
Smith, who holds a Bachelor of Engineering with Honors and is a Chartered Engineer and a Member of the Institution of Civil Engineers, has over 30 years of experience in the construction industry, with 16 years spent in Antigua and 14 years in the UK.
"I started my journey in the construction industry as a Site Engineer at Laing O'Rourke," Smith shares, "which is now one of the largest construction companies in the world."
"I gained valuable experience working on major construction projects in cities such as London, Derby, Glasgow, and Edinburgh and quickly rose through the ranks. By the time I was 28, I was a Project Manager on a $30 million project. By 31, I had built high-rise office blocks, balance cantilever bridges, major subterranean subway stations, and a large commercial park enablement project in the UK."
In 2000, Smith decided to leave the UK and settle in Antigua, where he established a new kind of construction company that permanently employed most staff, giving them a sense of pride in their company and their work.
"We've been building in Barbuda since, starting with the first project, a swimming pool for a very wealthy client who had precise requirements for a multi-level swimming pool with rapids and winding rivers."
"I had quite a bit of experience building this kind of swimming pool from building center parks in the UK, so we completed it successfully, opening the door to more projects with high-end clients building bespoke homes."
In many ways, this first project was a defining moment for Smith and what would become CG Construction & Consultancy. He explains some of the idiosyncrasies that set the business apart from other real estate developers on the island.
"Number one is our typical client," he says. "They are almost certainly overseas, which requires a special approach to ensure you gain trust and continuity."
"This type of client also requires that we keep an open dialogue throughout the construction period because we will only see them two or three times during the build process."
Maintaining this level of communication and continuity has led the company to adopt various techniques and technologies that other construction companies with a more local client base rarely use.
"Originally, it was email and photographs, but now, we send a daily WhatsApp log to our customers with photographs and commentary. If they are multiple parties, they can set up a WhatsApp group and see what's happening on any day."
Besides using these communication tools, CG Construction & Consultancy also uses Procore, an industry-standard construction management platform. Site managers can upload all construction-related details like daily on-site labor, progress reports, issues encountered, etc.
"We also provide a blog for each project where we upload site images and some commentary, keeping the client in the loop and providing a timeline of project progress," Smith adds.
As Smith explains, one of the company's current projects is for Discovery Land Company, a premier property developer with luxury property developments worldwide, including Barbuda.
"Discovery's local development is PLH, short for Peace, Love, and Happiness, which has very high-end beach house residences designed by Floridian architects. The company's clientele is unique because it tends to follow the company worldwide, buying into new projects. They invest in the brand because the name Discovery Land Company carries much significance for clients who want nothing but full five-star construction."
"Every detail is ironed out before any handover: no inaccuracies or defects. When handed over to the owners, there is absolutely nothing wrong with these properties. All these factors make us extremely proud to be involved in that development."
Some of the property's features include 35-foot-long pillars, with at least forty under every house. The entire structure is made of fully reinforced concrete with internal cavities that are fully insulated.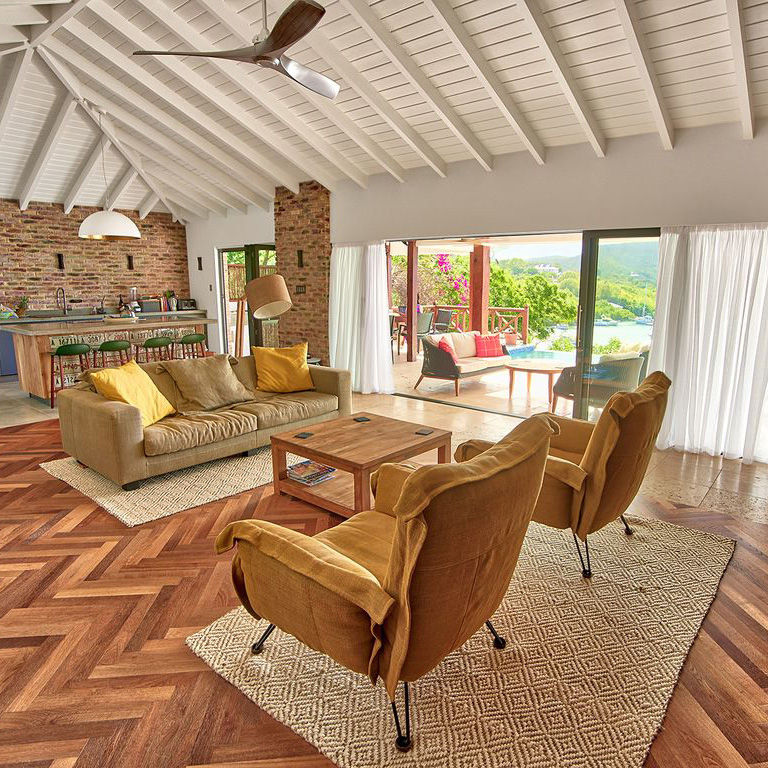 Roofs are solid concrete pitched roofs with a faux internal tray ceiling covered with concrete wood shingle effect tiles over the pitched concrete roof.
Externally, the properties are all clad in cedar – either cedar shingle or cedar clapboard, with first-class swimming pools with all the electronic equipment you would expect in a modern-day swimming pool.
"One of the brands we work with when building state-of-the-art swimming pools is Hayward," Smith says. "They supply high-tech features like controlling pool heat from your phone, adding more bubbles in the jacuzzi via a tablet, and so on."
These high-tech features extend into the typically five thousand square feet double-story house, with everything electronically controlled, including central air conditioning.
Besides technology, CG Construction & Consultancy's properties also feature high-end cabinetry and finishes from Earth Elements in the United States.
Building in the Caribbean comes with unique challenges, especially regarding weather and storm-proofing. For Smith and the CG Construction & Consultancy team, these requirements are handled by the storming proofing standards set by the Miami-Dade County Council.
"Miami Dade County Council standards are the general code we use for hurricane protection," Smith says. "All windows have storm panels or roller shutters, and the roofs are solid concrete with exterior cladding."
Supporting these efforts are vendors the company works with, including All Source in Florida, who handle all shipping requirements from the US to Barbuda, Earth Elements for cabinetry and hard surfaces, Hayward for pools, and Savvy for home automation.
The Covid pandemic that started in late 2019 devastated many businesses, especially in the hospitality industry. Although many holiday destinations were severely impacted, Barbuda's luxury real estate market remained remarkably resilient, buoyed mainly by the deep pockets of investors.
"In terms of the amount of work, we were not affected at all," Smith confesses. "What we saw later were supply chain issues, which affected material supplies and inevitably delayed multiple ongoing projects."
"Prices also rose sharply, with the cost of shipping a 40-foot container from the US rising from $7000 to $21,000. Fortunately, we have always implemented a cost-plus model, where we partner with clients, build trust and share all the construction costs with them, plus our management fee."
"This way, we don't need to price risk into the contract, as happens with fixed-price contracts that are highly inflated to cater for unforeseen eventualities. We provide a transparent view of all costs, passing them on to the customer, which we did during the pandemic.
"We continue to persuade clients that this is the best option as it allows for flexibility in costing and does not have the cost of risk factored in."
—
Smith's priority in 2023 is to improve the company's presence in Antigua, the larger island of Antigua and Barbuda.
"Project managers currently manage our Barbuda staff, so on a personal level, I'm looking to expand the business in Antigua. We're certainly looking at partnering with other businesses on hotel and commercial developments and other residential developments."
Asked what motivates him to keep building CG Construction & Consultancy, Smith has a simple yet profound answer.
"Happy clients."
"Seeing that smile on someone's face as they walk into their house and knowing you've built them their dream is enough motivation for me," Smith concludes.
AT A GLANCE
CG Construction & Consultancy
What: Leading construction and property development company specializing in high-end custom homes
Where: Antigua and Barbuda
Website: https://cg-construction.com/

Earth Elements – www.earthelements.com
At Earth Elements we have perfected Client Satisfaction. By listening to your individual needs we ensure your project is designed with certainty using the highest quality finishes from around the world. Earth Elements will help you through the process of selecting and sourcing the right products for any space and budget.
Imagine. Let's Create.