Edgewater Development Ltd
Uniquely Cayman
Business View Caribbean interviews Kris Bergstrom, President of Edgewater Development Ltd, for our focus on Best Practices in Construction
The Edgewater Group is a boutique property group offering the most comprehensive and cohesive property service in the Cayman Islands. Two distinctly different sides of the business complement each other. Edgewater Development Ltd build anything and everything, big or small, renovate or fit out, residential or commercial… the difference is in their outstanding designs. Edgewater Properties is a full service CIREBA regulated Property Agency catering to people looking to buy, sell, lease or needing property management services.
Kris Bergstrom, President of the Edgewater Group, speaks about the flourishing construction sector in the Cayman Islands and exciting projects on the go for Edgewater Development Ltd.
BVC: With construction deemed an essential service during COVID, how were you impacted?
Bergstrom: "We had a pause for about three months when the country went into lockdown from March through June 2020. However, once we were able to go back to work, the country opened up very quickly because of the policy they had taken to close our borders. We had a substantial backload of projects on the island, not just for my company but for the industry in general.
"With the tourism sector closed, we were an industry that was looking to get the economy back on its feet, so we were one of the earliest industries to reopen – with protocols in place. And that really was a boon to the whole country, not only from a financial aspect but I think coming out of being locked down, and the mental aspect. And then we achieved a status in Cayman where we had no person-to-person transmissions locally because of our closed border policy and anyone coming into the country had to quarantine. So the government of the day and the medical director did a stellar job of getting us to a position where, now, life is as normal as it can be.
"The result has been unfettered work. We have strong demand in the market here and Edgewater Development is busier than ever right now. We recently completed a multi-apartment block complex that has been turned over and is fully occupied. And we've broken ground on our own big development called The Meadows. Presales have been strong for us to pull the trigger and start construction."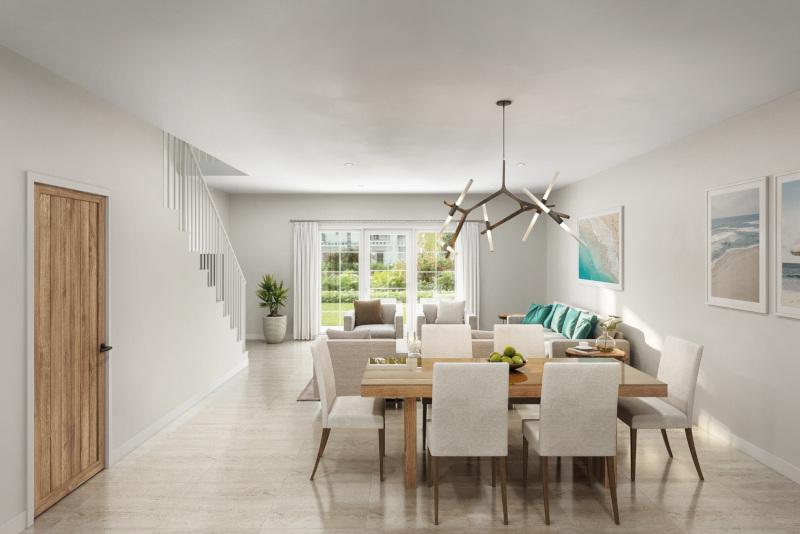 BVC: What makes The Meadows special?
Bergstrom: The Meadows is a Caribbean-style townhome development of 113 townhomes set around two swimming pools, two clubhouses, and a lake. With amenities such as onsite gyms and workout tracks, games rooms, and a communal kitchen area that can be leased by tenants for their events. There is a management office with an onsite property manager and all the units are for sale, not for lease. We've also made the units solar-ready; we're putting together proposals with Green Tech Solar so you can install solar panels if you choose when you buy your townhome.
"We've also put structured media into all the units, so if you want the latest and greatest in electronic technology, we're putting the infrastructure in place to make that option available for wired or wireless. Instead of putting our own smart home technology in and driving the price of the unit up, we're trying to appeal to a wide sector. If people want us to put the technology in, we will but that's an upgrade they can choose to buy. And the same with the solar system.
"One of the strong selling points is the location of the property – right off the new highway extension in the West Bay Peninsula, which means very little traffic. Traffic has been a concern for people living in the eastern districts of the island because there is only one road coming in. Morning traffic can be very heavy; it can end up taking more than an hour to drive 15 miles. Where we are on the other side, it's a five-minute drive. And we're only about 15 minutes from the airport because we're in that corridor with two different roadways and a highway."
BVM: What construction method are you using for the build?
Bergstrom: "We've chosen to go with a panel system from  RSG 3-D – a U.S.-based global company. It is a Styrofoam wall panel system with steel mesh that's highly efficient and extremely durable because you apply the concrete shell around the foam and the steel is then encapsulated in that. You end up with a hardened structure that's resistant to fire, to hurricanes, and to earthquakes. All of those make it very attractive, and we're the first one using this exact building system on the island. The Meadows will be the first large-scale project built out of it. As long as that is successful and we're happy, the intent is that we'll apply it to other projects.
"Before this, we always used the CMU wall assembly using a standard concrete block or ICF, which is an insulated concrete form. The difference is that the ICF is an oversized foam block with cavities in the middle that you would pour the concrete in and the foam would be outside the concrete. This system that I'm using now, the foam will be inside the concrete. So it's a reverse to the previous system.
"It's very exciting to have construction underway; obviously all my team are very happy to have that as a project that they'll be working at for another two years on phase one and two years on phase two. Hopefully, they'll run concurrently, so I'm looking for a three to three-and-a-half year build out."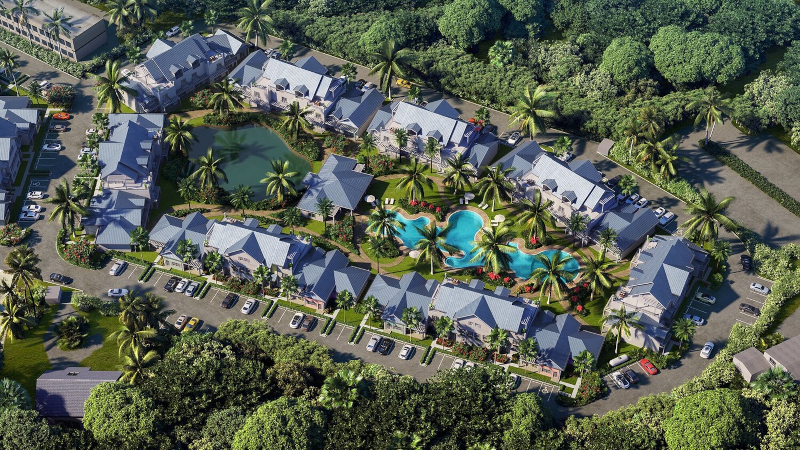 BVC: What are your biggest challenges right now?
Bergstrom: "Our biggest challenges are supply chain disruption and the associated costs. Because of the shutdown during the pandemic, the mills for a lot of commodities we use in construction were closed. That caused an immediate price increase but now we also have a supply chain issue where we may not even be able to get the materials for an extended period of time. So our biggest challenge is managing that aspect of it.
"We do have a fairly good supply of labor here and we have the ability to bring in new residents under a work permit scheme. As long as our sector is strong, that's one thing we get supported on. They do have to go into quarantine for two weeks in an approved facility when they arrive, but once you deal with that you can get people in to work."
BVC: What other projects are on the go?
Bergstrom: "At the same time we have our own development under construction, we're executing a few other projects. We're going to be building a new sports complex for the Catholic School of Cayman, which we've started on now. That new sports wing has an indoor basketball court with a gymnasium flexibility that will have indoor seating with bleachers for the kids, restroom facilities, and offices to house the school sports division.
"We're also working with the government on an existing building which was a large church. It has concrete walls and a concrete roof and the government has stepped in to work with the church owners on a private-public partnership where that facility will be completed by us (we won the contract to finish the facility) and it will double as a community center and hurricane shelter. We're working onsite there now and hopefully we'll get that done this calendar year.
"We're also working on an addition to a fire station for the government. On our residential side, we do a lot of remodels within the company. As a small business, we try to cover a lot of bases but that's what you have to do on an island. We don't have that luxury of being able to do one thing – you have to be flexible to survive as a business here."
BVC: What lies ahead for the Edgewater Group?
Bergstrom: "We are one of the few companies with a unique mix of commercial construction on the bid side for customers, and our own developments. Because we are structured as the Edgewater Group, under that umbrella we offer property development, general contracting, and project management. And under our real estate side, Edgewater Properties, we are a CIREBA (Cayman Islands Real Estate Broker Association) registered realtor. My wife, Debi, is a CIREBA registered broker and she has a real estate division that does property management, as well as real estate listings and sales. The property management sector is growing and we are shifting more focus to that.
"My son (Kody Bergstrom) and daughter-in-law (Ella Bergstrom) are now working with us and actively learning the ropes. Kody is doing project management and Ella handles our sales and marketing and contracts. So she's been extremely busy in the administrative wing, where my son is learning the business in the trenches, so to speak. Our company is in a pretty unique space and we are excited to help the Cayman Islands develop and grow."
AT A GLANCE
Edgewater Development Ltd
What: Complete turnkey design & construction; division of Edgewater Group
Where: George Town, Grand Cayman
Website: www.edgewater.ky      www.themeadows.ky

RSG 3-D – rsg3d.com
RSG 3-D is proud to partner with Edgewater Development in creating the beautiful and sustainable residential community, "The Meadows at Batabano."
Known globally as a leader in sustainable building technology, RSG 3-D Structural Concrete Insulated Panel provides the strongest building system – resilient against hurricane, fire, and earthquake.
No RSG 3-D building has ever suffered damage from natural disaster.
We also create the most healthful and energy-efficient buildings.
The NAHB (USA) named RSG 3-D its 2020 winner of the "Global Innovation Award – Leadership Product" for our success in sustainable homes and buildings.
We work closely with leading architects across North America and the Caribbean. RSG 3-D is often the choice for high-end residences and leading luxury brands, such as The Four Seasons.
Our Panel is very cost-effective and very efficient to build. We therefore also have deep experience in affordable housing as well as commercial and municipal projects.
We all face risk of natural disaster. Partnering with RSG 3-D assures that such inevitable disastrous events do not become human catastrophes. Together, we can build a sustainable future for the people of the Cayman Islands.
Many, many thanks again to The Meadows for selecting RSG 3-D.
Visit us at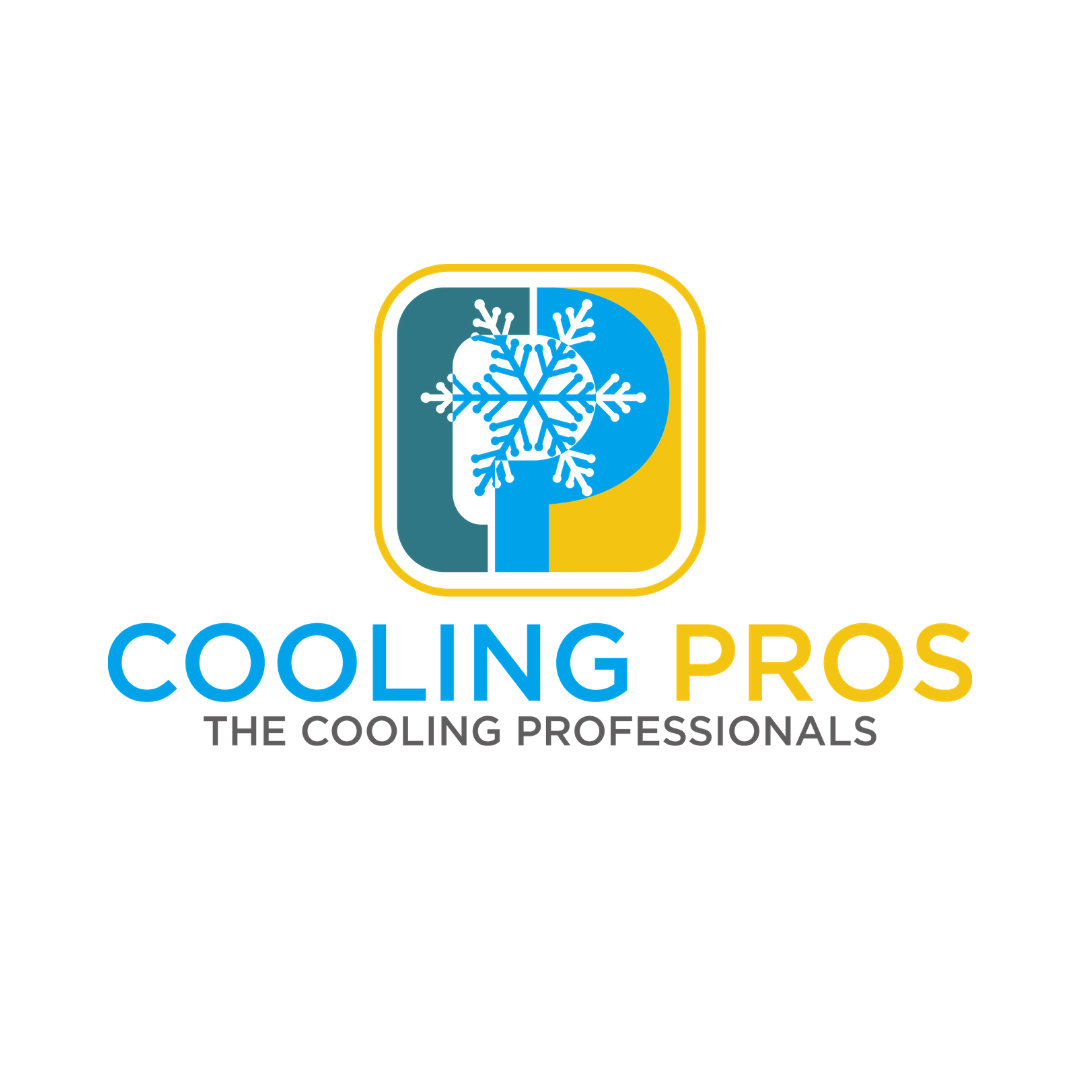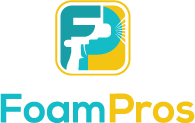 Cooling Pros | coolingpros.ky Foam Pros | foampros.ky
Cooling Pros and Foam Pros – Making life more comfortable in the Cayman Islands.Cooling Pros provides the best HVAC equipment, quick diagnostics, repair, and maintenance for your property.
Foam Pros is the clear choice for spray foam insulation, offering superior customer service, building science expertise and unmatched product quality.