Berger Paints Barbados Limited
Painting a strong financial picture with deep roots in the community
Berger Paints Barbados Limited (BPBL) has a long history of providing innovative paint products and services on the island nation of Barbados. From its incorporation in 1963, the company has grown to become one of the Caribbean's foremost paint suppliers, alongside its sibling companies, Berger Paints Jamaica Limited and Berger Paints Trinidad Limited.
The company's success partly anchors on the history of Berger paints, a story that started in the late 1700s when Lewis Berger, a German chemist, perfected the manufacturing process for Prussian Blue, one of the most important pigments of that period.
Today, BPBL continues to build on those innovation roots, continually exploring new products that can provide better results, enhance environmental sustainability, and generate greater profitability for the company.
Berger Paints Barbados Limited is part of the ANSA MCAL Group of Companies, a massive conglomerate spanning the Caribbean, United States, and other countries with a workforce of over six thousand.
The company has interests in the automotive, beverage, construction, distribution, financial services, manufacturing, services, real estate, retail, and media industries.
One of several ANSA MCAL construction subsidiaries, BPBL will celebrate sixty years of operating in 2023, something Andrea Duguid, Regional Sales Manager at BPBL, says speaks a lot to the company's DNA.
"BPBL is a lot like a family because so many people have been with the company for decades," she says. "During our sixtieth celebrations, we plan to showcase the people who have been with us the longest, from around thirty years up to the longest serving ones at around forty-five years."
Most of these long-standing employees have worked for BPBL all their lives, with others having family members working alongside them, further underscoring the family-like environment.
Berger Paints Barbados Limited manufactures and sells various products, including interior, exterior, wood, metal, and floor primers, finishes, and paints.
The company does all production at its St. Michael manufacturing facility, which also has a retail outlet. Island-wide sales are supported by two other retail outlets in the North and West, with another slated to open soon in the South.
"Our focus is on expanding our retail footprint on the island, informing the current development of our fourth outlet," adds Duguid.
Besides direct sales, BPBL also relies on an extensive network of dealers spread across the island who buy the paints at wholesale prices and sell them to retail buyers nearer to where they are.
BPBL's customers comprise professional and non-professional buyers, as Duguid explains.
"Professional buyers include hardware stores, general contractors, painters, and government agencies while non-professional ones are mostly homeowners and hobbyists."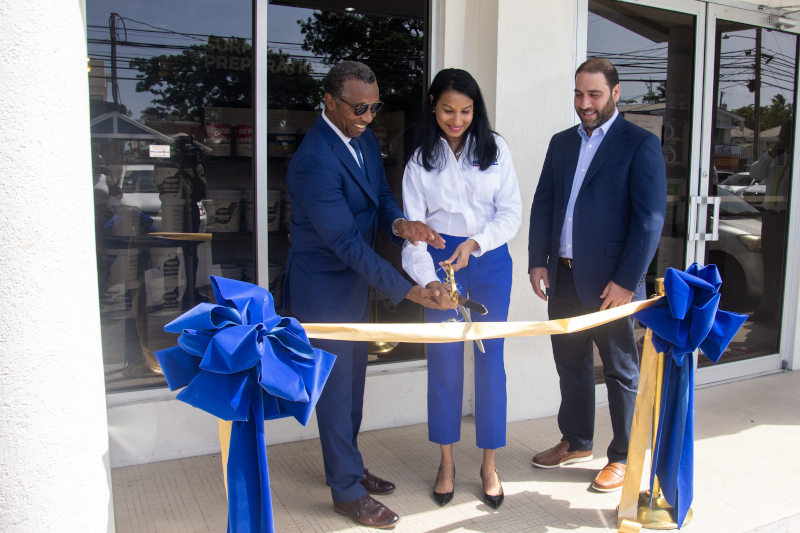 More recently, in 2019, the company expanded into the automotive paints sector, which Duguid says is another market and income stream the company is keen on exploiting.
While these plans were well underway, the recent pandemic severely curtailed these efforts, slowing down the company's expansion plans due to supply chain constraints.
"(The supply chain issue) remains a challenge not only for us but for many other companies," says Duguid.
"The shipping cost has increased exponentially in the last two years, coupled with sporadic supply. We cannot get some items anymore because of global demand and reduced and sporadic supplies. These challenges have meant we must do better planning and collaboration with our sister companies to ensure we can help each other by sharing materials."
BPBL has also had to internally review, revise, and sharpen its logistics to ensure business continuity because it cannot afford to run out of products, especially when approaching one of the busiest seasons of the year – Christmas.
"Christmas is a major sales season for us, followed by Easter, so we must have adequate stocks to service all orders," adds Duguid.
Rhea Singh, General Manager at Berger Paints Barbados Limited, echoes Duguid's sentiments.
"COVID did have a substantial impact on the company and the entire Barbadian society. We went through two waves of lockdown during the pandemic, during which employees stayed home, and the business closed temporarily."
"However, it is noteworthy that the ANSA MCAL group took care of all employees across all its subsidiaries. Everyone was paid fully, and there were no retrenchments during the period."
"In addition to maintaining employee financial well-being, the group also focused on ensuring that we were each other's keeper. We all had daily mental check-ins and phone calls to ensure everyone was doing well."
"The Berger family being around for a long time solidified our togetherness, making the company even stronger during COVID."
Now that the worst of the pandemic is over, the construction industry in Barbados is rebounding, buoying BPBL with it.
"The Barbados economy grew by 11.5% this last financial year, growth reflected in the construction industry," says Duguid. "So, we have been having a good year regarding public and private projects.
As the Barbados economy grows, it has also been evolving and adapting to changing industry standards, including environmental care, a central concern for the paint manufacturing industry.
"We have environmental care standards in Barbados that we constantly maintain as a company," says Debbie-Ann Barrow, Technology Manager at Berger Paints Barbados Limited.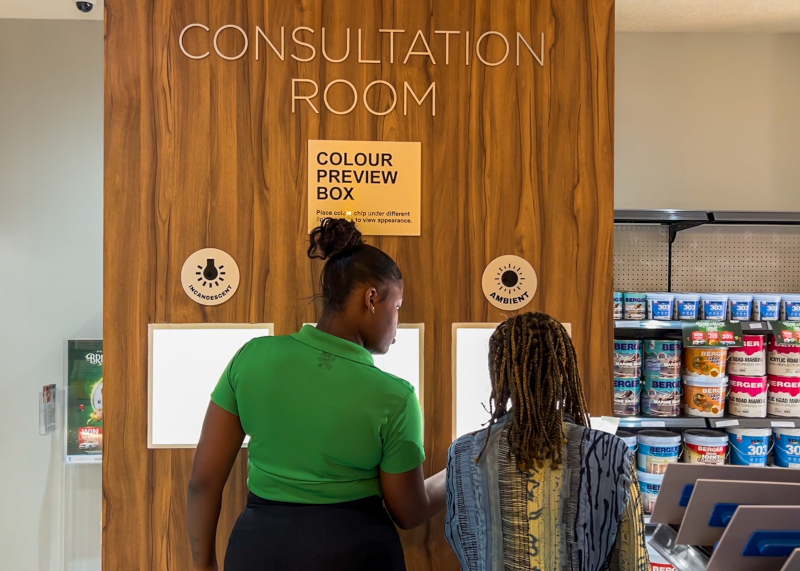 "We continually seek to improve the internal systems that support our obligation to the environment. One area we are currently improving is upgrading all water-based products to have a smaller carbon footprint. To achieve this, we continually evaluate our raw materials to ensure they comply with government and international standards."
As part of these obligations, BPBL is moving towards integrating more automation in its facilities, which are currently semi-automated, improvements it hopes to achieve over the next five years.
BPBL has around fifty employees, most of whom have been with the company for decades. As a goldmine of knowledge and earned wisdom, BPBL utilizes this knowledge to onboard new employees, who often join knowing little to nothing about the paint industry.
"There are no paint schools in Barbados, so all our employees learn on the job," comments Barrow. However, the company has other ways of teaching new employees, as Singh and Duguid explain.
"ANSA University gives employees access to different courses and a myriad of specialty areas they can pursue based on their job or personal interests," Singh says.
"The courses cover soft, business, and technical skills like product knowledge," adds Duguid. "Employees can access and take any course for free, including mandatory and discretionary ones."
"The initiative has made learning easier for employees while encouraging continuous learning."
On the customer-facing front, the company relies on long-standing customer relationships to support its sales and growth. Having operated for so long, some of its customer relationships span decades, something Duguid says the company does not take for granted.
"Relationships are imperative for continuity and business success," she says. "We wouldn't be where we are without fostering strong ties with professional buyers like contractors, painters, applicators, architects, draftsmen, and other technical persons involved in the construction industry."
"We have built strong relationships over the years, and now we maintain them by updating them through product information seminars and participating in and sponsoring some of their events."
Looking ahead, Berger Paints Barbados Limited is putting systems in place to evolve, especially in a post-COVID world.
"The world has changed over the past two years, influencing consumer trends," says Singh. "For example, BPBL has a portfolio of water-based paints, even though it is not yet mandated by the government, indicating our commitment to focusing on being environmentally friendly."
The company is also looking at aqua-based automotive paints, further underpinning its commitment to being environmentally friendly.
"Environmental friendliness is a major trend that we will participate in actively."
The company plans to continue investing heavily in two other areas: customer relationship management and an expansion of its offline and online retail services.
"Reaching out to our customer base, forming relationships, and keeping those relationships using CRM technologies will remain a major aspect of how we engage with our customers moving forward. While we have a sturdy base now, we want to continue growing and build on top of that."
"Our retail efforts also feed into this as it provides us a means of reaching the customers directly, interfacing with them, and providing the solutions they need."
"Those are some of the areas Berger Paints Barbados will focus on within the next five years," Singh concludes.
AT A GLANCE
Berger Paints
What: A leading and innovative company specializing in painting supplies
Where: Bridgetown, Barbados office headquarters