Matalon Roofing
Always one step ahead of the competition
Business View Caribbean interviews Andrew Matalon, Managing Director of Matalon Roofing, for our focus on the Construction Sector in Jamaica
Life in the Caribbean is a dream held by many. With beautiful beaches, a relaxed way of life, and surroundings that are fit for the pages of top travel magazines, many residents choose to call the island life their own.
Despite the slower pace of life, certain realities do exist for Caribbean residents. With the risk of catastrophic weather events always on the horizon, homeowners in this little piece of paradise need to be cognizant of housing construction that is built to survive the elements, including solid roofing that will leave them 'covered' after the next big storm.
For Andrew Matalon, Managing Director of Matalon Roofing, the answer to keeping Caribbean homeowners safe is by providing the very best in roofing materials and possessing the ability to see each roofing job through to completion – offering both consistently high standards and lasting results.
Based in Kingston, Jamaica, Matalon Roofing is a subsidiary of Matalon Homes in partnership with Tank Weld Metals; Matalon Homes acting as the parent company. All Crete Surfacing, a flooring and concrete company, also falls under the Matalon Homes umbrella of construction professionals.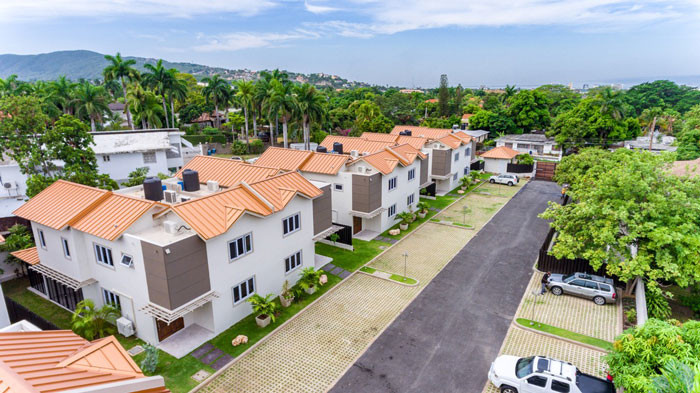 With approximately 28 employees including office staff, production, general labor, and installation crews, Matalon Roofing has the manpower and expertise to see a roofing job through with the highest of standards and pass rigorous inspection. Depending on the seasonal fluctuations of the roofing business, the number of employees increases by about 16 in order to provide a complete first-rate end-to-end roofing experience for Matalon's valued client base.
"The beauty with Matalon Homes being the parent company is that we get a lot of work from them. So, I guess you could call that the gravy because we definitely get that work," Andrew Matalon says. "Separate from that, we do try to work on big projects."
Focusing primarily on the residential side of roofing, Matalon Roofing does take on commercial roofing contracts, as well. "Right now, we're about to begin a large-scale shopping village on the north coast," Andrew states. The brand-new commercial development will provide a high-end shopping experience with well-known retail outlets that have already formed the fabric of the shopping development. "The shopping center includes a whole bunch of different stores and services, including jewelry. And Starbucks is in there, too. It is one of the higher-end shopping complexes in Montego Bay. The square footage for the roof is about 70,000 square feet," Andrew adds.
Working with a developer on behalf of the National Housing Trust, Matalon Roofing also is keeping busy with residential construction to help with current housing shortages in the region, as well as helping to provide affordable housing for local residents. "We do all aspects. So, we are also beginning work on a low-to-medium income housing development of just under 200 houses," Matalon explains.
One of the biggest regional concerns when it comes to both residential and commercial construction is the ever-present threat of hurricanes that pass through residential areas. Matalon Roofing is acutely aware of this risk and has adopted roofing techniques and materials that are considered to be the best on the market. Proving to withstand storms including Hurricane Ivan that hit the Cayman Islands years back, Matalon Roofing has made it a priority to utilize unique roofing materials in the majority of its commercial and residential roofing projects.
"We are a full-range roofing company. We offer all different types of roofing from stone coated metal tile to painted tile and asphalt shingles," Andrew says. "Our main focus now is standing seam roofing, which is huge in the Caribbean and even in Florida and Atlanta. It is the strongest roofing that you can get for hurricanes. So, after Hurricane Ivan went to the Cayman Islands a long time ago, every single roof blew off, but the only ones that were left standing used standing seam."
Matalon Roofing has made a concentrated effort to shift the market for this type of proven roofing material, recognizing standing seam as the future of roofing. According to Andrew, standing seam now represents about 65% to 70% of the company's business.
Inclement weather events are not the only factor that has impacted the direction of Matalon Roofing's business. COVID-19 pandemic economic spinoffs have also provided some unforeseen challenges. Although construction did not slow down during the peak of the pandemic, while other sectors may have ground to a halt, rising inflation, increased cost of materials, and supply chain slowdowns have affected Matalon's business model.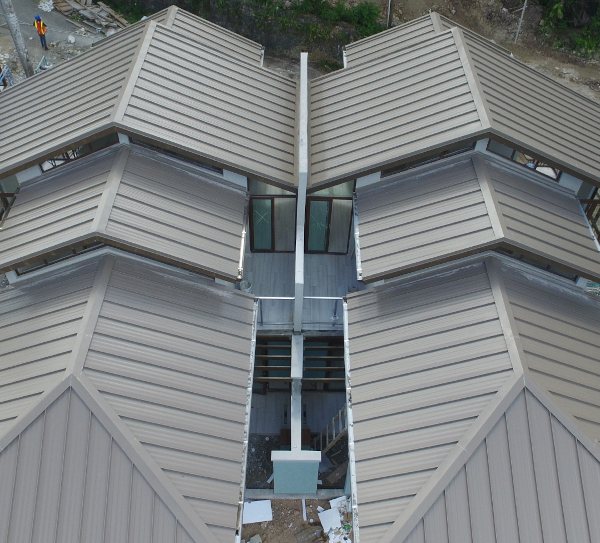 In the early days of the pandemic, the local government chose to include construction as part of the services that were deemed essential. Matalon recalls, "There wasn't really a construction slowdown. Luckily construction down here just kept going. Supply chain issues, yes, we did have those where we've had delays in shipments as long as seven months. Materials such as silicones right now are actually posing an issue because they're not able to supply. Thankfully, we stocked up when we saw this happening so we didn't feel much pressure when it came to supply issues. Even now, we have containers that were supposed to have arrived in June that haven't even shipped yet."
Relying on developers to increase the company's business base, Matalon Roofing has partnered with some of the most well-known builders and developers in the local region. Besides working closely with its parent company, Matalon Roofing has partnered with Real Mac Construction, Island Construction, and has just landed a valued partnership with Geon Homes which they welcome enthusiastically.
Incorporating other commercial projects, Matalon Roofing has also worked with Toyota Montego Bay and is also about to embark on an anticipated mixed residential/commercial roofing project which will represent the first one of its kind in Jamaica.
Looking to the future, Matalon Roofing is concentrating on further developing roofing techniques, as well as expanding products on the distribution side. "We are always looking to expand the roofing side of it. I think the most intriguing one is solar," Andrew highlights. "There are lots of things coming out that are promising as you move to a solar roofing solution instead of solar being installed after the fact."
He adds, "Growth wise, there are product lines that are going to be under the distribution name which is the sister company to Matalon Roofing. We have paint, we have windows and doors, and we have kitchens, we also have tile. It will be just about expanding those product lines."
Above all else, Matalon Roofing is driven by a passion to get the job done right the first time. With the unique advantage compared to its competition of being able to offer roofing supplies as well as the expertise to install the roofing, Matalon remains one step ahead of the competition. "It's all a matter of keeping on top of it and to keep pushing and letting the customers be aware of what is available," Matalon concludes.
AT A GLANCE
Matalon Roofing
What: A leading, full-range residential and commercial roofing company
Where: Kingston, Jamaica
Website: www.matalonroofing.com