Sun Coast Beach Club
luxury and a sunny oasis
Providing all the bells and whistles, Sun Coast Beach Club is a bright spot in the Jamaican housing market
When it comes to the very best beaches, laid-back lifestyle and welcoming spirit, few places can compare with Jamaica. Although many are lucky enough to visit, opportunities are opening up for visitors to buy into a little piece of paradise, as well as locals looking for first-class accommodations.
The luxury home market in Jamaica has seen remarkable growth in recent years, with new developments and gated communities springing up across the island. One such project, set to redefine luxury living, is Sun Coast Beach Club by TCF Holdings Limited in Bull Bay, St Thomas.
As Kevin, the lead project manager, explains, this ambitious development will add a unique component to the local housing market by providing the country's first resort-style residential community.
Sun Coast Beach Club is set on a sprawling 91-acre property and will consist of 396 units built in three phases over four years. Kevin says, "Phase one will comprise 132 units and two-bedroom townhouses and two-bedroom duplexes ranging from 1,500 square feet to about 2,200 square feet."
The later phases will include additional townhouses, duplexes and luxury apartments, with over 15,000 square feet of commercial space to be developed at the front of the complex. The commercial area, to be open to the general public, will cater to the growing need for businesses in the wider community.
Describing the development's strategic location, Kevin highlights its proximity to Kingston, especially via the new highway through St. Thomas, and the appeal of beachfront living.
"Sun Coast Beach Club will create an entirely self-contained community in the area," he says, adding that the project is considered an expansion of Kingston, being the closest developing area to the city with beach access.
As a one-of-its-kind property development in Jamaica, Sun Coast Beach Club promises to be an exciting addition to the luxury home market, and is set to attract local and international buyers.
With its exceptional location, range of housing options, and commitment to creating a vibrant community, this ambitious project will undoubtedly reshape Jamaica's luxury living landscape.
The Sun Coast Beach Club will offer more than just luxury homes, with an extensive array of amenities to cater to the diverse interests of its residents.
Kevin details the recreational offerings, stating that the development "will have three tennis courts with a private trainer, multi-purpose courts, badminton courts, a jogging trail, fitness center, and hiking trails," among other recreational amenities.
Catering to younger residents, the development will also feature a maze and a skate park.
For those with a green thumb, a dedicated gardening section will allow residents to tend to their own small plots.
Kevin explains that the target clientele are "persons who are interested in owning a property in a resort-type residential community."
He continues. "The development is aimed at Jamaicans seeking a comfortable home, and those from North America and Europe searching for properties in the tropics to escape harsh weather conditions. Sun Coast Beach Club will provide an ideal Caribbean haven for those looking for a second home or a vacation getaway."
Considering the ideal weather conditions and resort-style development, Kevin admits that many buyers will want to sublet their units or list them for short-stay rentals.
"We are not against, for example, listing your property on Airbnb. However, we will emphasise to buyers the need for a controlled approach to maintaining the community's value.
"To ensure this, we have set up a Homeowners' Association (HOA) that will oversee short-term rentals to ensure everything is done in a controlled way that is in the homeowners' interest," he explains.
As the development progresses, Sun Coast Beach Club is poised to offer a comprehensive living experience, catering to a diverse clientele seeking luxury and comfort in the heart of the Caribbean. With its exceptional range of amenities, strategic location and attention to maintaining property values, this development promises to set new standards for upscale living in Jamaica.
The COVID-19 pandemic brought significant challenges for many industries, particularly those reliant on global supply chains and skilled labor.
But when asked about the potential impact of such challenges on the Sun Coast Beach Club development, Kevin asserted that they have not experienced any labor shortages. "As of today, we don't [have a labor issue]. We have a team set up and ready to go, and we're about to start construction at the end of this month (March)."
Regarding materials and supply chain issues, Kevin acknowledges the global problem, but remains confident that the project will not face significant challenges. He explains that they have been working on the development for the past two years, spending considerable time identifying the necessary materials and accessories.
This careful preparation has allowed them to mitigate potential supply chain disruptions. "We don't foresee any challenges because the project has been in the making for quite a while, and we've thought through everything carefully," he says.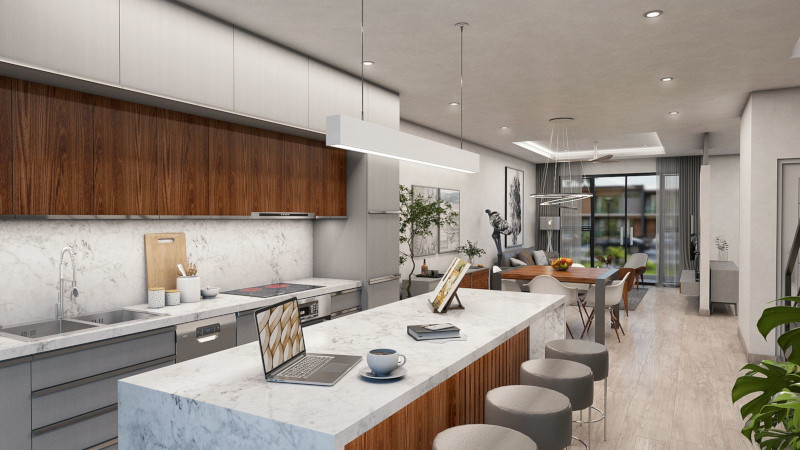 With a dedicated team in place and careful planning to address potential challenges, the Sun Coast Beach Club development is set to progress smoothly amid lingering effects of the pandemic.
Local conditions also helped to ensure the project remained on course. During the pandemic, the government deemed construction an essential service, averting any significant disruptions to the industry.
Weatherproofing against extreme weather events is a critical factor for potential buyers of Sun Coast Beach Club properties, with the development utilizing reinforced concrete and slab roofs to ensure resilience against hurricanes and other severe weather.
Additionally, all windows and doors are hurricane-proof, and the structures are constructed well above sea level. Galvanized and aluminum materials are also employed to combat the corrosive effects of saltwater and salt air from the sea.
As for financing, the developer is working with First Regional Credit Union and a yet-to-be-disclosed commercial bank, which are expected to offer mortgages for the properties.
Through the National Housing Trust (NHT), the Jamaican government has also recently increased the borrowing limit and allowed multiple applicants to join together, making it easier for potential buyers to secure financing.
Insurance is another crucial consideration for homebuyers, and TCF Holdings Limited is working to streamline the process of obtaining coverage. While the company already has its insurance set up, it is also exploring partnerships with insurance companies to facilitate home insurance for mortgage purposes.
Their insurance broker, BCMG, is discussing with potential insurance providers to create a seamless experience for Sun Coast Beach Club's future residents.
The Sun Coast Beach Club development stands out for its exceptional features and location. Situated on what is considered one of Jamaica's best pieces of property, the community is designed to feel like an all-inclusive resort, providing residents with unparalleled amenities.
These include a large swimming pool, possibly the largest residential pool in Jamaica, and homeowners can dock their yachts and enjoy various beach activities. The development also features a barbecue area and other resort-style amenities, making it a unique and attractive prospect for potential buyers.
In terms of marketing, the project has already generated significant interest. For phase one, the development is oversubscribed by about 250 per cent, with 350 applicants for 133 available units.
Allocations began in March, and marketing efforts have so far been focused on social media and occasional interviews with local newspapers. This level of interest speaks to the appeal of the development, as it combines the allure of a resort lifestyle with the benefits of long-term residential living.
The overwhelming interest in the development is undoubtedly a testament to TCF Holdings Limited's vision and dedication to creating an unparalleled residential community in Jamaica. With multiple applications for each available unit, the developer is in a favorable position to build a vibrant and robust community.
Appreciating the strong interest the project has generated, Kevin expresses gratitude and aspirations for the development: "It's a blessing, considering this is my first large project of this type and the kind of overwhelming interest in it. I don't see it as anything less than a blessing."
As the project continues, he remains focused on delivering the best residential community in Jamaica, aiming to ensure that "all buyers are satisfied and feel their money was well invested."
With the first phase about to start, there is a palpable sense of excitement and anticipation for what Sun Coast Beach Club will bring to Jamaica's real estate landscape. Based on TCF Holdings Limited's unwavering commitment to excellence, future residents of the community can expect a truly exceptional living experience in their new seaside paradise.
AT A GLANCE
Sun Coast Beach Club
What: A luxury housing development with first-class amenities and a beautiful setting
Where: Jamaica in the Caribbean Islands
Website: https://suncoastbeachclub.com/