Abaco Beach Resort & Boat Harbour Marina
Classic Bahamian beauty
Business View Caribbean interviews Mo Sallah, General Manager of Abaco Beach Resort & Boat Harbour Marina, for our focus on Top Resort Destinations
These days, when everyone yearns for an escape to paradise, island getaways offer people the perfect setting to slow down and enjoy the serene beauty that the Caribbean has to offer. The Abaco Beach Resort & Boat Harbour Marina in Marsh Harbour is one such special destination that takes your breath – and your worries – away.
Known for its crystal clear waters and secluded beaches, The Abacos seem like heaven on earth for boaters, sailors, snorkelers, divers, fishermen, couples, groups, and families. Whether you're looking to cruise between the islands and cays searching for one of many private beaches to call your own for the day, or to go diving to marvel at the breathtaking tropical fish or explore shipwrecks or underwater caves, the beautiful aquamarine waters around the islands are full of possibilities. A collection of small, offshore barrier islands help to create the protected Sea of Abaco and that makes it ideal for boating with an abundance of deserted white sandy beaches and authentic tiny villages.
The stunning Abaco Beach Resort, with its newly renovated 94-room hotel, is a favorite haven on Great Abaco – the largest island in the Abaco chain. Great Abaco has a rich history and is home to bountiful wildlife, including wild horses, boars, and the Abaco Parrot. General Manager of the resort, Mo Sallah, believes the island and the resort attracts people, many of whom are boaters from the U.S. east coast and Canada, because of its proximity to Florida (only 165 miles), its calm waters, and great fishing. He reports, "The Abacos are a playground! It's about having fun on the water, in the water, around the water, near the water. The island has amazing beaches, all the cays. The ferry is a 15-minute walk away from the property and you can go to Hope Town, you can go to Man-O-War Cay; there is a ton of history and cute little islands that give quintessentially classic Bahamian experiences. Marsh Harbour is the heartbeat of the island."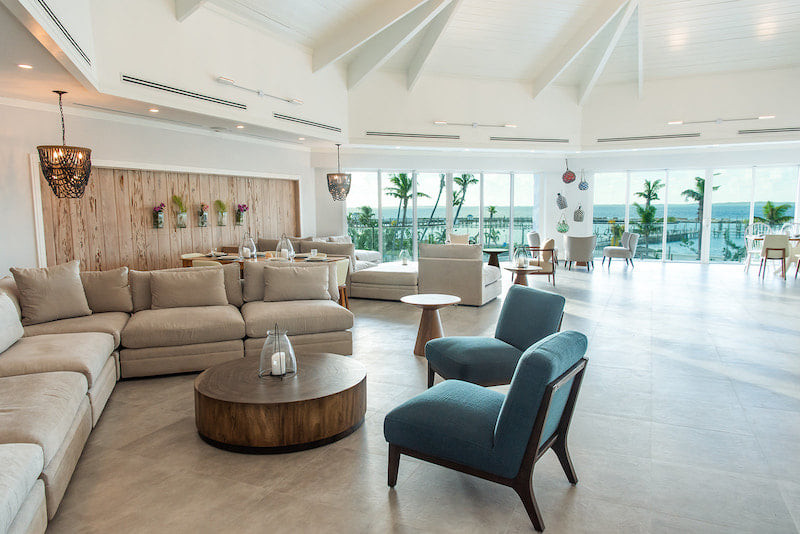 In 2019, after the resort was devastated by Hurricane Dorian, owners Emmanuel Alexiou and Andrew Sweeting started rebuilding the resort right away. According to Sallah, "They didn't skip a beat." The owners had the entire 200-slip marina and resort rebuilt in a year, just in time to host one of the many popular fishing tournaments in April. But then the COVID-19 pandemic hit in mid-March 2020, sending the world into a flurry of border closures and event cancellations. Sallah described the two potentially economically disastrous events as "a double whammy." In spite of the coronavirus, the resort never closed its doors to guests and again pivoted to create their own COVID-19 protocols that were approved by the Ministry of Tourism at the very beginning of the pandemic. And they have adhered to them without issue for the past year.
Sallah admits, "Although it has been challenging to keep staff upbeat, we have done everything we can to bring back as many employees as possible and look after their needs and those of our guests. It has been difficult, but we keep focused on the guests that we have in-house, trying to make sure we're delivering a high level of service and following all the COVID-19 protocols to keep ourselves safe and to keep our guests comfortable, knowing they can come here and be safe."
The Bahamas is open for business during the pandemic and visitors only need to have a negative COVID-19 test within five days of travel and to apply for a health travel visa. "One of the blessings is that the Bahamas has no quarantine," Sallah explains. "The visa gives more piece of mind because that's what everyone wants when they are going to travel right now – peace of mind and safety. We wrote our protocols for the property and we achieved a clean and pristine seal from the Ministry of Tourism."
The Abaco Beach Resort has built an enviable reputation over the years, thanks to its many valued repeat guests. Ensuring that each guest has the best experience in every way is key to the resort's continued success. Part of that is the updated technology at the marina, which features Wi-Fi and a new fuel dock that was one of the first to open after Hurricane Dorian. Sallah acknowledges, "I got here a month after Dorian and it's been fun to see guests come back, several boaters have returned recently and there are a ton of homeowners on the island that have come to work on their home and they're so happy to see the staff back at work."
Among its many exceptional attributes, the resort offers two outdoor swimming pools, a fitness center,  and volleyball courts. All guestrooms are beautifully furnished and have gorgeous views with private terraces or balconies. Guests are invited to satisfy their appetites at two restaurants, and a bistro that plans to launch in the next few weeks. It will be a new fine dining experience for guests, locals, and second home owners on the island. The Chefs are testing the equipment and they are excited to welcome guests. There is also a poolside bar and restaurant that is more casual, called the Terrace at Marinaville Poolside Bar.
Sallah knows it's important to have a wide variety of foods available and notes, "We try to make sure our guests get an opportunity to experience classic Bahamian cuisine, but also all the resort fare that people want for their comfort." Part of what makes those restaurants stand out is the fresh local produce and products they use in their cuisine. The resort relies on Abaco Grocery for many products and their weekly deliveries and wholesale sizes are a big help. "It's a great relationship," says Sallah, "They are always there and they are always well stocked."
Bone fishing is a favorite of Abaco visitors, and there are excellent bone fishing waters within minutes of the Marina. Tournaments are resuming in April and Sallah is curious to see what will be pulled from the waters that haven't seen nearly the amount of boaters on them since 2019. He says, "The fishing should be amazing because there's been no fishing for a year, actually almost two years."
The resort has worked hard to keep themselves as up to date as possible and that includes many environmentally-friendly options – both on the front and back end of the operation. Guests will notice that the resort uses biodegradable cups, there are no plastic bags, and all of their take-out options come with biodegradable silverware and containers. Behind the scenes, the resort is also investing in energy and water saving technologies, including energy and water efficient laundry facilities and advanced technology that uses less energy at the marina.
Sallah has no doubt that Abaco Beach Resort's popularity is coming back after the hurricane and the pandemic and he is looking forward to the next few years with more guests, weddings, and more fun ahead. And that will help improve the economy for the local community and the entire island. He shares, "We want to have people feeling comfortable enough to travel and I think it's the most important part. I know the owners are heavily invested in our staff and want the staff to succeed, over time, as we continue to grow this property in a positive way. It will have a greater effect on the local community around us, on the island, and hopefully on the Bahamas as a whole."
AT A GLANCE
Abaco Beach Resort & Boat Harbour Marina
What: Beautiful hotel resort destination
Where: Marsh Harbour, Bahamas
Website: www.abacobeachresort.com