S.E.L. Maduro and Sons N.V.
Excellence in shipping & logistics
Business View Caribbean interviews Albert Elens, COO/President of S.E.L. Maduro and Sons, for our focus on Economic Development in the ABC Islands
The ABC Islands comprise Aruba, Bonaire, and Curacao – the three westernmost islands of the Leeward Antilles in the Caribbean Sea. Aruba and Curaçao are autonomous, self-governing constituent countries of the Kingdom of the Netherlands. Bonaire is a special municipality of the Netherlands, despite all three islands lying off the coast of Venezuela.
A long-time respected company in the region, S.E.L. Maduro and Sons N.V. provides a broad array of shipping and logistics services on the islands of Curacao, Aruba, and Bonaire, although to a lesser extent in the latter two considering the relatively smaller size of those islands.
"Our long history and cordial relations with the island authorities and customers are founded on sound business principles and the strong relationships we foster with everyone," says Albert Elens, COO, President, and Managing Director of S.E.L. Maduro and Sons for ABC Islands. "We have built a solid reputation over the last 185 years, so we are cautious when conducting business because it only takes five minutes to ruin a reputation built over so many years."
S.E.L. Maduro and Sons offers four core services – cargo, shipping, logistics, and acts as a cruise line agency.
The company's cargo agency, operating as Curacao Port Services, operates the Container Terminal and other cargo facilities in the Port of Willemstad based on a concession agreement with Curaçao Ports Authority N.V.
Its hub and shipping agency provides a wide array of port-to-port services and manages over a thousand vessels annually. Some of the services the shipping agency provides include ship agency, bunker fuels, ship supply, ship-to-ship transfers, and offshore supplies and repairs.
The logistics arm of S.E.L. Maduro and Sons provides services covering the major trade lanes leveraging an integrated network of efficient multi-modal transport and storage facilities. Some services it provides include air and sea freight, in-port and off-port crew changes, equipment rental, slops and sludge removal, ship spares, upstream oil and gas logistics, clearing and forwarding, among a host of other services.
The fourth arm of the company provides cruise line agency services. "We are agents for 95% of all the cruise ships coming to the ABC Islands," explains Elens. "Our services cover the entire cruise cycle, providing local expertise for cruise lines, embarking and disembarking passengers, customs and immigration, which all result in tremendous time and cost efficiency benefits. For example, at the height of COVID in early 2020, cruise ships were not allowed to sail anymore. Initially, all cruise lines were busy bringing all guests home, but at the same time, they still had 92,000 crew members floating around the Caribbean. We sat down with our port authority and other stakeholders and, within a few weeks, drafted a framework that allowed ships to arrive and complete crew changes."
Through this intervention, S.E.L. Maduro and Sons and other ABC Islands agencies oversaw thousands of crew members coming to the islands, allowing them to take daily flights into Amsterdam and onwards to their homes worldwide. Elens acknowledges with pride, "By taking the lead in spearheading this initiative, we were able to send crews home who would have otherwise spent months floating around the Caribbean."
S.E.L. Maduro and Sons has 35 employees spread across the three islands, with two in Bonaire due to the small size of the island. "We have trained most of the people working for us," says Elens, "although some have worked for us for around 40 years, considering our long history." As with any business, the company does face the usual employee churn and uses various methods to retain staff, including teambuilding activities such as hikes and other group events.
On the sustainability front, S.E.L. Maduro and Sons is also working towards reducing its carbon footprint by incorporating renewable energy technology in an upcoming office facility. "We plan on using solar, not just to be green, but because it will save us money," says Elens, "because, let's be honest, electricity on the islands is costly and using solar will save us a lot of money in the long run."
The company is using innovation to modernize and enhance efficiency through integrated shipping technology platform ZIM line, as well as LTL (Less than truckload) shipping techniques, which lower costs and improve efficiency for shipping companies.
Although S.E.L. Maduro and Sons works closely with the island government and local authorities, Elens is quick to distance it from any affiliation to the government or political factions. "We are fully independent and talk with whichever government is in power on issues that benefit the island," he says. "In addition, our code of conduct manifesto prohibits employees from engaging in any partisan or politically motivated business activities in their official capacities within the company."
This neutral position has provided a firm foundation for building lasting relationships with partners and customers. One such relationship is with a variety of cruise lines, which depend on S.E.L. Maduro and Sons providing offshore services like supply of spare parts and equipment, helping the ships avoid demurrage costs. Elens explains, "We deliver almost anything to ships out in the open seas off the island's shores. Sometimes to the tune of several tons of materials and equipment, saving them tens of thousands of dollars in demurrage costs and time because they don't have to come into dock."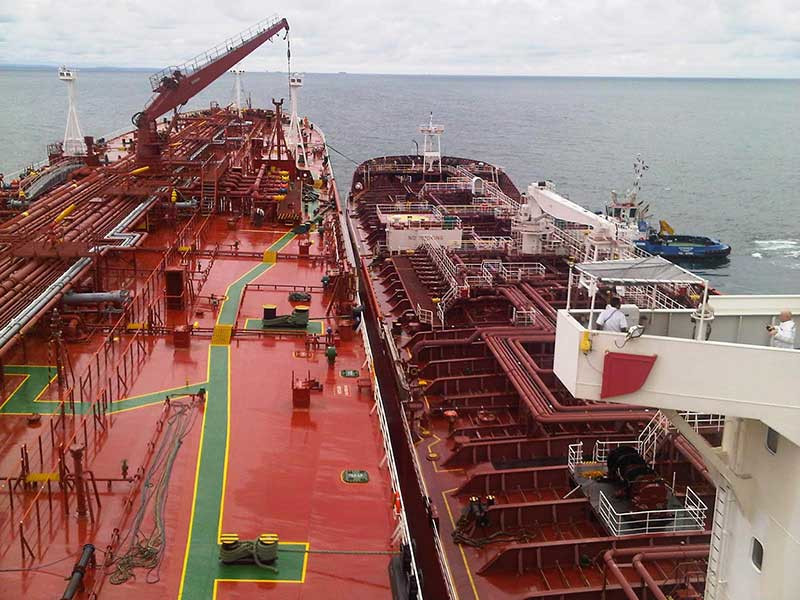 Most cargo coming into the ABC islands is from the United States and Europe, although some comes from China, Asia, and South America. S.E.L. Maduro and Sons play a crucial role in ensuring the smooth supply of goods through these shipments to the islands, which have to import almost everything due to a lack of industries. "The ABC islands are primarily a tourist destination, so minimal production happens on shore," says Elens. "This economic aspect keeps us very busy because a lot of imports are coming in constantly."
The ABC Islands had previously attempted to industrialize, although a dormant oil refinery is all that remains of these efforts. The islands are currently mulling over whether to revive the refinery, which would require significant investments and contribute to the further pollution of the environment of the region or decommission it entirely and focus on maintaining a natural and pollution-free tropical paradise.
As the islands consider shifting to a more tourist-focused economy, S.E.L. Maduro and Sons is also facing its own reckoning. As Elens reports, "Historically, we have represented most of the major shipping lines in the world, and they were quite a number. However, over the recent years, a lot of consolidation has happened, as bigger companies like FedEx and Maersk buy up the smaller shippers. Because these large companies have their own offices and agents, our business is shifting towards more tailored services."
Two examples of this shift are a recent $500 million project on Curacao to build a hospital, and the development of a Sandals resort. In both instances, S.E.L. Maduro and Sons provided transport and logistics services. "Our reputation has been a major asset in such projects because these large companies from overseas want to work with a reputable company on the islands, and we happen to be one of the most reputable ones here," Elens affirms.
The exit of PDVSA, the refinery's operator, and subsequent post-pandemic economic shocks hit the ABC Islands hard but being part of the Dutch Kingdom provided a soft landing. According to Elens, "At the height of COVID, all tourist arrivals ceased, and overnight, 18,000 tourism sector workers were out of a job. Fortunately, the islands got a stimulus package from the Netherlands, which provided social security and healthcare support for most people without work."
The ABC islands are now pulling out of these economic doldrums as cruise lines return and tourists start trickling back. For Elens, a lot is returning to normalcy, and he sees the countries rebounding quickly, especially when the tourism high season kicks in.
Buoyed by this optimism in the islands' economic prospects, S.E.L. Maduro and Sons is also predicting robust growth as shipping schedules and tourism numbers return to pre-pandemic levels. "One area I am particularly focused on is the greening of the islands because this will truly transform how they operate and attract even more tourists," says Elens. "Since it is sunny almost all year round, we have a good opportunity to turn the islands into a model solar-powered economy, an ideal destination for tourists looking for more environmentally responsible destinations."
AT A GLANCE
S.E.L. Maduro and Sons N.V.
What: Provider of integrated shipping, logistics, and marine services in the ABC Islands, Dutch Caribbean
Where: HQ in Willemstad, Curacao
Website: www.madurosons.com