Lefco Equipment Rental and Construction Company Limited
We make construction easier
Business View Caribbean profiles Lefco Equipment Rental, a heavy equipment rental and construction company, in Nevis, West Indies.
Lefco Equipment Rental & Construction Co. Ltd. was incorporated in the island of Nevis in 1994 by Orville Liburd, the company's founder and current owner and chairman. "Liburd had worked for Hess Oil in St. Croix, U.S. Virgin Islands for over 15 years as the Superintendant of the Heavy Equipment Department," says Alice Tyson, Lefco's Business Management Director, as she recounts the genesis of the firm. "Upon leaving that company, he opened his own business in St. Croix, providing heavy equipment rentals and repairs. That company, Monarch Equipment, still exists, today.  He then found out that an opportunity existed to operate a stone crushing plant for the south side of St. Lucia, so he decided to go there, and ended up starting a concrete and heavy equipment operation, which finally became Quarry Products Limited, in Vieux Fort, St. Lucia."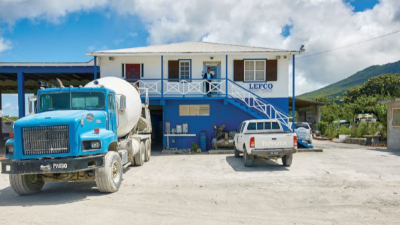 "In 1994, after having been to these other countries, he wanted to do something in his own country, where he was born," Tyson continues. "He ended up on St. Kitts due to an opportunity to provide crane service for a major construction project.  He started using his crane and excavator to dig the foundation for a housing development at Frigate Bay."
Based on his success in St. Kitts, Liburd then entered the Nevis market, renting out heavy equipment which included cranes, excavators, bulldozers, and backhoes. Following that, he procured some Redimix concrete and stone crushing equipment.  Liburd's persistence and business acumen paid off, and today, Lefco has grown substantially.  The company has two Redimix Concrete plants; two Quarry Crushing plants, one on each island; one Concrete Block plant; and many pieces of heavy equipment, i.e. excavators, loaders, cranes, backhoes, concrete trucks, dump trucks, and concrete pump trucks.  Lefco provides civil engineering contracting services, heavy equipment rentals, rigging services, private and commercial construction, as well as roofing and guttering products, washed sand, and all sizes of crushed aggregates.
"Many of our clients are commercial investors and developers of hotels and condominiums," Tyson says. "We also service many private entities and local contractors. We are a 'one stop shop' for all construction needs. Most of the services often requested are redimix concrete, concrete block, quarry materials, like sand, stone, and stone dust, and heavy equipment."
Tyson believes that one of the main reasons that Lefco is so successful is because, except for the cement that it buys from Trinidad, it produces everything else, itself. This allows the company to be extremely price-competitive in the concrete market. "We separate ourselves from the competitors on Nevis through our pricing. We're able to lower our prices to the consumer due to the fact we produce mostly all of the materials required for the concrete production," she states.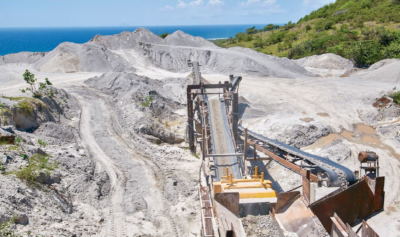 To build on that success, Tyson reveals that, one day, the company would like to have its own property development division. "We've been building for others over the years; we think that we should now concentrate on further establishing the Lefco legacy by having our own property investment and development company." Tyson adds that more construction means more jobs for local workers. At present, Lefco has about 60 employees and has had as many as 120, two years ago, when it was the prime contractor on a major construction project on St. Kitts. "Our goal is to create jobs in the country," she says. "In terms of the foundation and all the materials needed for building, we are able to provide those deliverables.  We also have architects and engineers, but, we don't do everything; we don't provide electrical and/or plumbing services, so those have to be contracted out."
Over the next several years, Tyson says that the company would like to extend its operations to the greater Caribbean region. She believes that Lefco has been a trailblazer in St. Kitts and Nevis in the field of heavy equipment and construction, and is poised to expand and extend its operations. As for its founder and leader, Orville Liburd, her assessment is simple and direct: "He's an innovator. He thinks far outside of the box. He's always a step ahead."
And that makes construction easier.
Check out this handpicked feature on Phoenix Construction – Grand Cayman.
AT A GLANCE
WHO: Lefco Equipment Rental and Construction Company Limited
WHAT: A heavy equipment rental and construction company
WHERE: Nevis, West Indies
WEBSITE: http://www.lefconevis.com/