Ready-Mix Limited, Barbados
Primed for the future
Business View Caribbean profiles Ready-Mix Limited for our focus on Best Practices in the Construction Sector in Barbados.
After celebrating its 5th anniversary in 2019, Ready-Mix Limited, Barbados is primed and ready for the future, looking towards new, more sustainable processing and construction methods to meet growing customer expectations and ever-evolving technologies of the industry. A niche supplier of concrete ready mix, concrete blocks, and Omnidec floors for the residential and commercial market, Ready-Mix provides the most efficient solution for concrete supply – making them the go-to choice for long-term customers and the preferred option for new clients.
Based in St. Michael's, Barbados, Ready-Mix companies have grown to become leaders in the building industry. Graham Proverbs, General Manager of Ready-Mix Limited has been with the company for almost four decades, during lean times and building booms. He recalls, "Ready-Mix started in 1969, followed by Ready Block in 1971. The parent company, Ready-Mix Holdings Limited, owns those two subsidiaries and a few smaller companies in the condominium rental business. That came about when we supplied materials to the companies building the condos – they supported us by giving us the work and we, in turn, supported them by buying condominiums that we rent out as an investment. They aren't big income earners, but they pay for themselves, so it doesn't cost us anything to have them."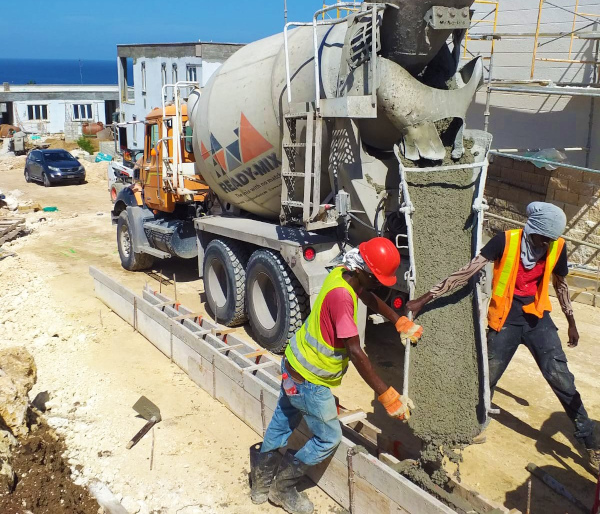 Ready-Mix is focused on customers' needs and, as such, supplies the building industry with high-quality, ready-mixed concrete for even the most rigid specifications. Having developed and adapted their mixes over the past 40 years, they know how to alter any product for customer requirements. Concrete is the firm's major revenue producer, while their Omnidec solution is only used for specialized projects. Omnidec is a pre-cast slab installed on top of walls as a base for pouring concrete. Using innovative technology, Ready Block designs, builds, and installs Omnidec floors and roofs that are both functional and aesthetically appealing. The use of Omnidec speeds up the process by replacing the form work, and requires significantly less propping. Instead of every two-and-a-half feet, the props are placed every eight feet. That cuts down on costs, saving money for private individuals who don't own their own props, because they don't have to rent as many.
When Ready-Mix started in business on the island, there was one other company doing concrete. When they added concrete blocks, the competition did, as well. Since then, a lot of smaller concrete and block manufacturing companies have emerged as the building industry took off in Barbados and existing companies couldn't keep up with the demand. Today, Ready-Mix is one of the largest block and concrete manufacturers on the island, supplying concrete for both commercial and residential projects. According to Proverbs, "We have quite a few contractors who deal with us, and us alone. They know our quality is good; there are other suppliers out there whose quality is not as good as ours and they try to undermine us in price. But the contractors are pretty loyal to us. As they say, 'you scratch my back, I'll scratch yours.' In hard times, when people have difficulty paying their bills, we'll hold their credit for awhile until they can catch up. Thankfully, the people we've done that for have stayed with us all these years."
All production is done in a single location in St. Michael, where experienced employees work at two concrete plants and two block manufacturing plants. For extremely large projects that are a distance away, the Ready-Mix portable plant goes into action on the construction site, effectively reducing the road time for trucks going from the plant to the site. There are 19 trucks in the company fleet and four concrete pumps; three used all the time, plus the oldest pump is kept as a backup. In 2017, Ready-Mix imported a 47-meter pump, the largest on the island, that can pump up to 160 cubic meters an hour.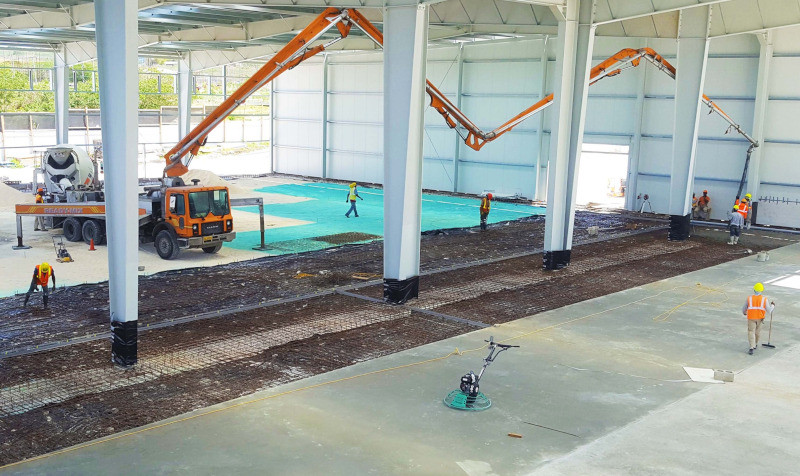 With increased development happening on Barbados, the construction sector is seeing positive growth. Most recently, the Ready-Mix team has been hard at work at the Bridgetown port constructing the new scanner for containers. Only a trusted company would be hired for a job like this. Of course, the weather is always an unpredictable factor. A dry year, with not much rain, makes it easier for the building contractors and certain manufacturers. But it's not good for everybody else, because Barbados depends on rainfall for the water supply. They just don't want it to come in the form of a hurricane. Thankfully, those tend to form at the east of Barbados and 99 percent of the time, they shift and go north.
New technology offers a great boon to efficiency. The original Ready-Mix concrete plant was run manually; basically, pushing a lot of buttons to open and close gates, move materials, etc. Then, 11 years ago, the company purchased a second plant that came totally computerized. Recognizing that the new concept meant less room for human error, they converted their new plant to be fully computerized, as well. Now, if you want a particular strength and quantity of cement, you just tap on a computer screen and say, "Batch five meters of 3750 psi," hit start and it does everything itself.
Ready-Mix places and pumps concrete directly from the trucks. Pumping is an efficient alternative because you can pump into places that are difficult to reach through pouring. This method is also more precise and can reach over obstacles, keeping the project moving and on schedule. The entire truck fleet is computerized. Fuel-wise, it increases efficiency; however, there are other issues that play havoc with transportation. The Barbados climate affects computer wiring in the vehicles. Also, the local road conditions are not the best – you get a lot of vibration, which leads to the wires breaking, eventually. The only way to deal with that is to pull out the wire harness and replace it. Something else with trucks on these roads: the suspension is meant for big highways. It's not as smooth as a car, or a pick-up with a soft suspension that cushions it when you drop in a hole.
The fact that foreign investors are keen to spend money in Barbados, building massive houses worth 20 to 70 million dollars each, and fuelling expansion of the hospitality sector, is a great help to companies like Ready-Mix because they depend on foreign exchange, since they have to import most everything except limestone for manufacturing. In a nod to the future, Proverbs reports, "We're keeping our equipment and systems up to date, so that we'll be able to continue providing the excellent quality of service and product that we're respected for, now. Our competitors might give better pricing, but the quality of their product is not as good as ours, and we give much better service. That carries you a long way. And our name is well known – Ready-Mix is synonymous around the world with concrete."
"We've been in this business longer than anyone on the island; through good times and bad," Proverbs says, in conclusion. "We have watched homes and businesses we helped to build, succeed and thrive, just as we have done – brick by brick and strength by strength. We'd like to take this opportunity to thank our loyal customers who have supported us over the years, and especially our Ready-Mix team that works so hard to make it all possible, every day."
AT A GLANCE
Who: Ready-Mix Limited, Barbados
What: Niche supplier of concrete products for residential and commercial use
Where: St. Michael, Barbados
Website: www.readymixbarbados.com