Jamaica Stock Exchange Limited
Fostering the growth of the domestic financial services sector
Business View Caribbean profiles the Jamaica Stock Exchange (JSE) for our focus on Economic Growth & Development in Jamaica
The Jamaica Stock Exchange (JSE) is well regarded in the industry as an outward-looking entity with a global footprint; a market where real wealth is created. Through 2019 and into 2020, JSE continued its diversification drive to ensure less reliance on a single Company or type of income stream; a strategy incorporating other streams of income in order to allow the Company to become resilient, especially in challenging times. This type of forward-thinking highlights the Exchange's value in the market and goes a long way to spurring confidence in Jamaica as a place to invest.
Mrs. Marlene Street Forrest, JSE Managing Director, relates, "Over the years, we have expanded our services to the market. At the time I came, we started doing electronic trading and settlement. We now have the Jamaica Stock Exchange and its subsidiary, the Jamaica Central Securities Depository Limited, along with its subsidiary called the JCSD Trustee Services. To ensure we offer full services to our investors and member dealers, we expanded the JCSD to offer registrar services and, based on the subsidy, trustee services."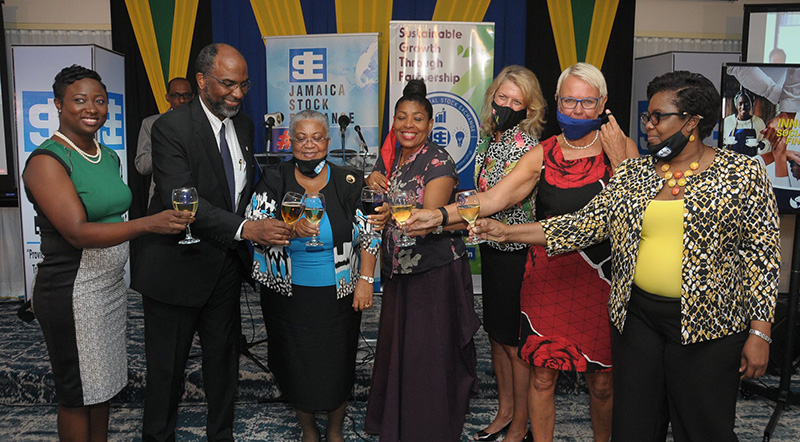 In 2008, JSE moved from a mutual company to a demutualized Exchange – separating the regulatory division from the commercial division, with independent board members forming the Regulatory Market Oversight Committee. Its decisions on regulations are final and binding on the company. That ensures the maturity of the market and, in terms of transparency, to bring more confidence in the market. The Exchange created several different markets to meet the needs of its customers. In addition to the JSE main market, 2009 saw the creation of the JSE junior market, followed by the JSE bond market and the US Dollar equities market. And securities have since been added to those markets.
Technology-wise, the installation of an online trading platform has ensured a global market reach, while the launch of a mobile app for android and iPhones and a very interactive website offers user-friendly and immediate access to information. In 2011, the Exchange implemented its eCampus, designed to educate broker members and anyone who wants to invest in the capital markets. As the name suggests, it is electronic with some amount of blended learning and face-to-face. During COVID-19 restrictions, the platform is ideally suited as a resource for remote learning and data gathering.
The Jamaica Stock Exchange has been a source of data collection and representation for over 40 years. This activity is a key aspect of the company's operations, as shown by the many publications that are produced and circulated each year. A major institution in Jamaica, JSE is proud to be a valuable source of economic data which it compiles every year and presents to the market. Having this information on hand when investment decisions are happening can affect whether the choice is a make it or break it scenario, financially. In that regard, the JSE recognizes the importance of publishing consistently accurate data to allow investors, market analysts, researchers and students to keep abreast of market trends.
The Exchange collects a pool of data ranging from five-year trading activities to stock splits, five-year dividend summaries, and year-end high and low stock prices – information designed to assist the investing public to forecast possible market trends. Due care and diligence is used to compile the data, which is also represented with graphs and charts to allow for quick analysis. The JSE provides access of this information for up to five years, free of cost to the public.
Jamaica Stock Exchange's 43rd Annual General Meeting
The 43rd Annual General Meeting (AGM) of the Jamaica Stock Exchange was held on Thursday, July 30, 2020 as a hybrid meeting at the JSE offices, 40 Harbour St. Kingston. Attending in person were seven shareholders, while the other shareholders were invited to join the meeting online. JSE's Chairman, Mr. Julian Mair, gave his report on the financial performance of the JSE.
Mr. Mair acknowledged, "Congratulations are in order to the Government, for staying the course of divesting state assets through the Stock Market which allowed for increased inclusion and greater transparency. They did this by bringing one of the largest IPOs in history to market, that of Wigton Windfarm. Wigton attracted over 32,000 participants with bids totaling in excess of JA$14 billion in response of the Government need to raise only $J5.5 billion." The Chairman also reported that the JSE was looking forward to the next 50 years, noting, "We're committed to fostering resilience for shareholders and the overall economy through investing in various areas of our business. Investments will provide diversification and support to an ever expanding client base and the needs of local and regional economies."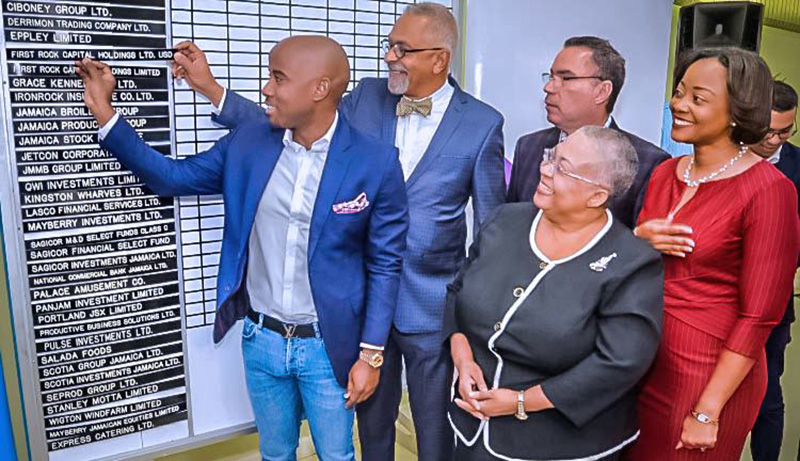 Mrs. Street Forrest, gave an overview of the Company's performance, stating, "The JSE copped several awards during 2019, among these were the Platinum Award from RJRGleaner Communications Group for the significance of its economic and social contribution to Jamaica, The Jackie Robinson Fortitude Award from Canada, and the Private Sector Champion Award – SEBI for the Jamaica Social Stock Exchange." According to Mrs. Street Forrest, cess Income in 2019 only contributed 35% to the overall income stream, while other areas such as the e-Campus were stepping up and making meaningful contribution to the JSE's revenue stream. (A cess is a form of tax levied by the government with specific purposes until the government gets enough money for that purpose. Different from the usual taxes and duties, like excise and personal income tax, a cess is imposed as an additional tax besides the existing tax). Mrs. Street Forrest adds, "The stellar performance of the Exchange reflected in its share price, which increased by 168.8% in 2019, was significant to shareholders."
AT A GLANCE
Jamaica Stock Exchange (JSE)
What: Principal stock exchange of Jamaica
Where: Kingston, Jamaica
Email: www.jamstockex.com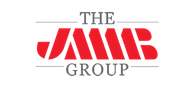 Jamaica Money Market Brokers – jm.jmmb.com
JMMB Capital Markets – We know the capital markets, inside out.
The JMMB Group Capital Markets Unit is in the business of creating tailor-made financial solutions, for clients who are looking to maximise their investment banking and capital markets portfolios. We focus on strengthening their financial base; offering creative financial solutions; and delivering expertise in mergers and acquisition advisory services, equity capital markets, and debt capital markets.

NCB – ncbcapinfo@jncb.com
NCB Capital Markets Limited is the wealth management, investment banking and asset management arm of the National Commercial Bank which offers investment options and advice for institutions and individuals. Considered a pioneer of the local equity market, NCB Capital Markets is one of the largest brokerage firms in Jamaica, and one of the oldest in the Caribbean, with a range of investment products and services designed to help you generate and maintain your wealth.
Whether you are a beginner or a seasoned trader, NCB Capital Markets provides the expertise of an awardwinning team and cutting-edge technology that allows you to conduct transactions conveniently via NCBCM Online. As a complement, our applied digital solutions have also allowed clients to open accounts and subscribe to Initial Public Offers (IPOs) via our Go-IPO online platform. Through our commitment to supporting the growth of the local economy via partnerships that allow business expansion and encourage local investment by Jamaicans in Jamaican businesses, we have acted as lead brokers for several IPOs. These include, but are not limited to, TransJamaica Highway Limited, Wisynco Group Limited, Mailpac Group Limited, The LAB, Eppley Caribbean Property Fund Limited, QWI Investments and Tropical Battery Limited. Along with our investment advisory and portfolio management services, NCB Capital Markets also offers products such as: mutual funds, unit trusts, bonds, and alternative investment options that suit your long, and short, term goals.