Encompass Limited
Relationships are key
Business View Magazine interviews Eric Kline, Senior Project Manager at Encompass Limited, as part of our series on Caribbean construction companies.
Eric Kline, Senior Project Manager at Encompass Limited, an eight-year-old design/build firm on Grand Cayman Island, admits that starting a construction business in 2012 might not have been the best decision in terms of timing. "We were still in the middle of an economic crisis," he recounts. "There were construction companies leaving the island, and we were trying to start a company." Luckily, Kline, who was a certified general contractor and project manager in Florida before relocating to Grand Cayman, says that his company's entry into the local condo renovation market was facilitated by a good relationship with the Ritz-Carlton, the island's Five-Star resort, where both he and his wife, Tracey, had worked since 2007 – he as a Senior Project Manager for several properties, and she, as Director of the Resale and Rental Division at The Residences, the resort's vacation rental division on Seven Mile Beach.
"Through that relationship, we began performing lots of renovations on their multi-million dollar residential units," says Kline. "The owners knew about our work ethic and abilities and as a result, we received numerous contracts to remodel their various vacation residences." Since then, Encompass Limited has carved out a niche for itself in a variety of fields – condo renovation, office and commercial construction, single-family homes, and community development – where it became well-known for the quality of its work and its commitment to its clients' needs and desires.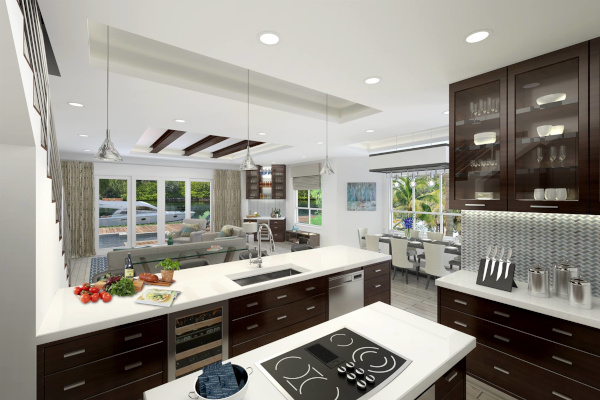 "We evolved," Kline states. "We got into some of our own development projects such as a wraparound waterfront project called SeaHaven, which we designed, built, and developed, ourselves. We also designed a purpose-built luxury vacation rental home called Sun Serenity that won an International Property Development Award in 2017 for the best single-family unit property in the world. That was a benchmark that put us on the cover of several magazines and the Encompass Team consequently began to become known for high-end design and construction development. The market began to recover and some additional projects that we completed also began to receive notoriety. Encompass has continued to expand further, and now we're designing and building multiple Ritz-Carlton branded DeckHouses.  We have also been working closely with overseas owners to build their estate homes; in fact we're building a 13,000-sq.-ft. oceanfront estate home in Rum Point, right now."
Today, Encompass has about 50 employees between its office on West Bay Road and the field, and Kline relates that the company self-performs quite a bit of its own work. "We prefer to control the schedule, as well as the quality," he explains. "We do subcontract certain work, but we also have our own crews that can perform all types of construction work, as well.  Oftentimes, we're incorporating our subcontractors in and around our own onsite teams, so we're maintaining the culture, quality, and timeline of our projects. What we focus on is making sure that we have group leaders in every section. So, if I'm going to bring on ten more framers, for example, I'm going to make certain that our three framing foremen, who are experts at framing, are teaching that group, not only the values of how we work, but also the specific trade. You can't go out and hire ten perfectly trained people, but if you've got one who 'gets it,' he can train ten people. The lucky thing that we have on Cayman is that, with Jamaica being in close proximity and having very little work availability over there, we get a lot of good, hard- working construction-minded people who are willing and grateful to come here and further their skillsets with a team that supports, mentors, and values them."
Based on Encompass' continuing success in many fields, the company has been invited to work in other Caribbean locales, but so far, Kline has declined the offers due to being fully committed, locally. "We just completed the stunning new Flagship Cartier Boutique (jewelry store) here in Grand Cayman," he notes. "And Cartier has expressed an interest in contracting with us to assist in their construction efforts in their other boutique locations throughout the Caribbean region as well."
In fact, Kline says that Encompass rarely goes looking for work, often preferring to let it come to him. "Above and beyond all else, we're a relationship company. So, we actually don't go out and bid on a lot of projects; we don't throw our hats into a project that 20 other builders are looking at," he maintains. "What we've done, successfully, is really honed in on a particular type of client – one who believes in the morals and ethics of our company. It's not an adversarial role when you deal with us; it's not us against them. We're going to partner on their project and, together, we're going to get it done to a very high standard that takes the stress of the construction process off of the client.  We approach it from a relationship side and our customer testimonials support that to a large degree."
Another competitive edge that Encompass has is its design capabilities. "I think that's another key aspect," Kline adds. "Even if we're not part of the design team on a particular project, we understand design; we know the challenges that design work has, so we're able to navigate the process and lead it to where construction becomes a reality – within budget, and using techniques and materials that work. We've been able to demonstrate that quite successfully, throughout the years, so people feel very comfortable with us in charge of a project."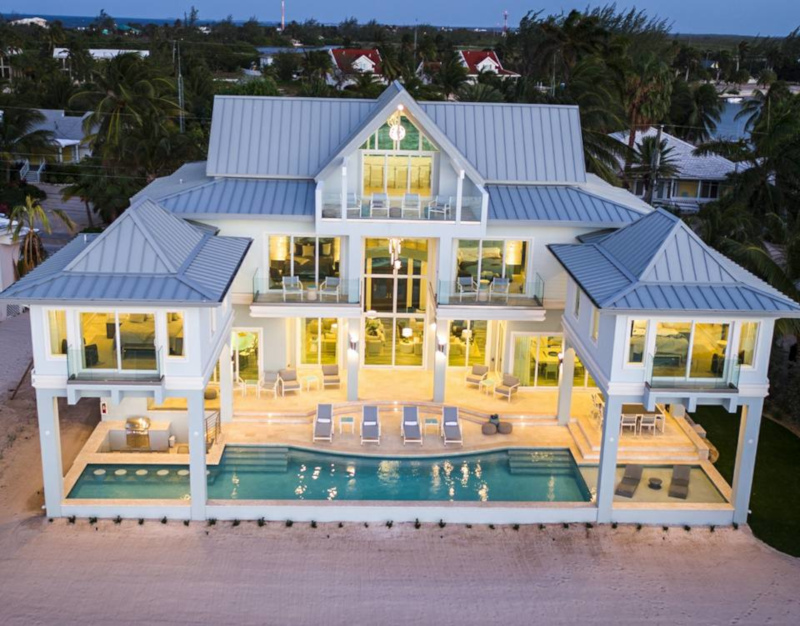 As the company continues to expand, Kline says that maintaining its "dynamic core" of construction professionals is crucial. "We have project managers, superintendents, foremen, estimators, and selection coordinators, so every pillar of the company has someone looking at it with the same viewpoint as an owner.  And now, as we continue to grow and obtain more opportunities, we feel like we've become very scalable because of these core individuals that we have in the company and the processes that surround them. Moving forward, we'll be able to manage larger projects because we're always going to keep a dynamic team of construction workers in the field that can perpetuate our core values."
In the long term, Kline says that Encompass will continue to focus on the company's development aspirations. "We've dabbled in some development, already; we've produced some multi-family product and we've also done some single-family development, as well," he explains. "We're passionate about design, as well as construction, so we're happy to work with other great designers to build beautiful houses for people, but we also love the opportunity to create and not just build. Also, from an operations standpoint, we already do some property and rental management, as well. So, one of our goals is to build a Six-Star boutique hotel in the Cayman Islands – we plan to design it, build, it, and operate it."
What Kline avows will never change is the importance that Encompass Limited puts on the value of its relationships. "We want to make sure that we are a company that doesn't go for a quick win or short-term, one-sided relationship," he says. "When you want somebody to refer you forever, or you want to do their next project, it changes the way you interact with your client. We want a life-time relationship with our clients, so we act accordingly."
AT A GLANCE
WHO: Encompass Limited
WHAT: A design/build, construction, renovation, and development firm
WHERE: Grand Cayman, Cayman Islands
WEBSITE: www.encompasscayman.com