AWM Infrastructure
Paving the way for the future
Business View Caribbean interviews Matthijs Bijen, Managing Director of AWM Infrastructure, for our focus on the Construction Sector in Aruba
Since 1961 AWM Infrastructure, a subsidiary of Janssen de Jong Groep, has been specializing in infrastructure and civil engineering projects throughout Aruba, gaining a reputation as one of the leading road construction companies on the island. Over the years, clients have come to appreciate the excellent hands-on service they receive, building trust that a job with AWM is a job well done.
Staying true to the goal of delivering high quality work, with projects completed on time and within budget, AWM's team of motivated and experienced workers are ready to take on any challenges that come their way. With their own asphalt plant, and a well stocked workshop filled with a diverse array of equipment, the company has evolved over the years to become the successful operation it is today.
Managing Director Matthijs Bijen shares, "We are 61 years now in the business, and we have, I can say, a good and solid name. Quality wise, everything is up to standard; timewise we are within the timeframes as agreed with the client. We invest heavily in reliability, in quality, equipment, people, and knowledge. That's the only way for us to run the business as we want it, and that's why we also have a lot of repeat clients."
Growing a list of satisfied clients and expanding their offerings along the way, Bijen adds, "We started as a road building company, but these days we do basically all infrastructural works, in the broadest sense of the word. Excavations in rock, sand, paver, stormwater drains, sewer drains, artificial grass fields, asphalt roads, big and small landscaping, you name it." Working in the public, semi-public, and private sector, the company takes on a variety of projects. Bijen states, "We do all kinds – residential  industrial, aviation, and hospitality sectors. It ranges from residential to a really big industrial airport. You have to have diversity but also the ability to deliver turnkey, otherwise you don't survive."
Rising costs have posed a challenge for the company in recent months, hitting especially hard due to AWM Infrastructure's location. "Because we are on an island, we are the first ones who are affected,  we are really double hit," says Bijen. "It's not only the rising costs of materials, but the transport costs also went up." Along with increasing costs, AWM has also been affected by availability of materials and slower lead times.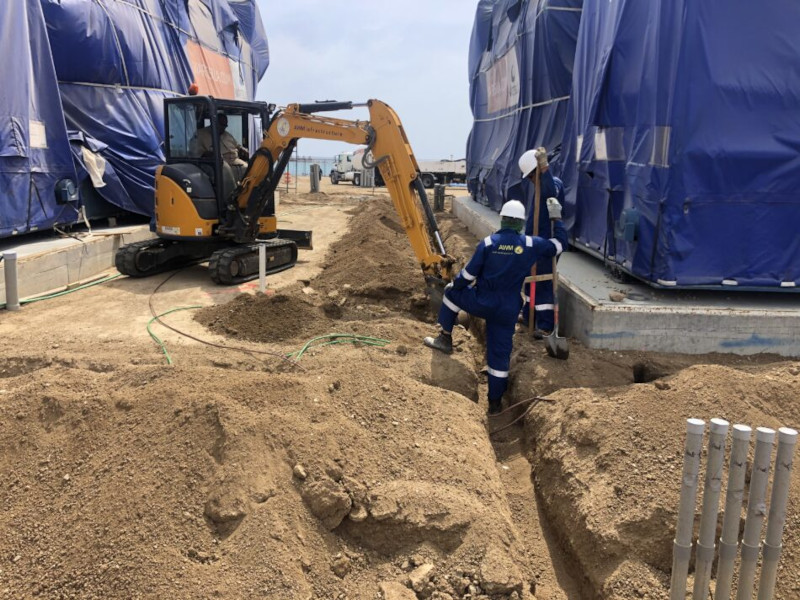 As Bijen recounts, "It is a challenge to get it here in the first place, and then to get it here in time. The lead times have been going up like crazy. As a small island, if we get materials, for instance, from Europe, there are not many lines that sail directly to Aruba. So, when they go via a hub, you're always depending on how busy it is there. Maybe your vessel was lying outside, sometimes they just canceled vessels. It's a big challenge to get materials here." Importing everything from bitumen and aggregates to PVC piping and steel, he conveys, "We basically have nothing we can produce ourselves. All the base materials, we have to import."
AWM Infrastructure employs 106 full-time people, and approximately 25 temporary employees, many who have been with the company for several years. Bijen admits that getting new talent is another challenge facing AWM. "Aruba is obviously a sunny island, and that's the fun part. However it's a challenge to work day in, day out in a hot sunny, dusty and noisy environment. We look for new talent on island but also hire staff from outside our borders. We are training the people ourselves, trying to get the older people to train the youngsters, and refreshing the staff, because there is no education on the island. In terms of infrastructural work or construction work, it's very limited. So, you have to do the training yourself."
Aruban sister company, Albo Aruba, is a valued partner that AWM Infrastructure turns to when a job involves structural components. As for other partnerships, Bijen believes, "You have to build relationships when you're working on a small island. What goes around comes around, you meet each other every day, in the supermarket, or in the bar, or restaurant." With supplier relationships, especially since many are overseas, he suggests that communication is key. "They know what I want, they know that I am far away. If a machine breaks down and I need a part, I work with suppliers who know the essence of getting things here overnight in an airplane. That's what you really need." Working directly with suppliers and avoiding the middleman where possible is another intentional act for Bijen. He stresses, "I'm trying to work directly with the source – no dealers in between that can change the processes."
Investing in new techniques and new equipment is something AWM takes seriously, as a means to protect the well being of their staff and to remain productive and efficient. Bijen explains, "If you have to lay pavers by hand and you are the whole day on your knees, it's not good for your knees, not good for your back, but if you can do it by means of equipment, that helps. So, we are investing heavily in  innovation." Moving the company's asphalt plant and workshops from Santa Martha to Barcadera, where the main offices are located, is another investment in AWM's success. Bijen explains, "We will be very close to the harbor and to my main offices. That will decrease costs of transporting materials that we import for the asphalt, so that's good transport cost wise, but also CO2 wise." Currently in the engineering phase, construction of these new facilities is expected to be complete by the end of 2023.
Green initiatives are another ongoing priority for AWM Infrastructure. "We have our own sustainability standards and that means if we can save a tree, we will save a tree," maintains Bijen. "I mean, if the tree is just a little bit in the way to construct the road and we can divert the road to save the tree, we will do that." The company has also installed solar panels at their offices and workshop, and is looking into electric vehicle options. With few EV chargers in the area, Bijen is not concerned. "That's no problem," he asserts. "I'll buy them myself and I'll put a pole at the office and a pole at the workshop, and then you can charge wherever you want. You have to look at that and be creative."
Community involvement is also important for AWM Infrastructure. The company often receives requests from groups like little league baseball, to clean up an overgrown field or other projects that involve AWM's equipment. "What we do," says Bijen, "is we give them the machine, the fuel that needs to go in, and we give them the operator."
AWM Infrastructure and the Government of Aruba have what Bijen describes as "a gentlemen's agreement" to be available in case of major weather events. He explains, "If we know that a storm is coming, my operators who drive loaders for instance, take the equipment home. In the case of trees or electrical poles and lines that fall down and block the roads, they can at least get the roads open for emergency people. So that's the agreement."
As for the future of AWM Infrastructure, Bijen is feeling optimistic, noting, "I am investing in the movement here from Santa Martha to Barcadera with my asphalt plant and workshop. I wouldn't do that if I didn't have any confidence in how the future would go here on the island. I'm confident in the economy, the way tourism picks up. We need to have the confidence to get this island further growing."
Admitting a passion for the work that he does, Bijen shares a final thought, "I've been around now for 18 years and obviously I still like it, otherwise I wouldn't be. I take care of the people, my staff, and doing the jobs as the client wants, and finishing the projects on time within the budget. It's all the standard stuff on a small island where you continuously have to adapt to the situation but that really gives you the satisfaction that you're looking for."
AT A GLANCE
AWM Infrastructure
What: An infrastructure and civil engineering company, with 106 employees
Where: HQ in Oranjestad, Aruba