Jamaica Manufacturers & Exporters Association
75 years and still growing strong!
Business View Caribbean interviews John Mahfood, President Jamaica Manufacturers & Exporters Association, for our focus on Best Practices in Manufacturing
In a year when businesses near and far are bouncing back with resiliency from the throes of the pandemic, the Jamaica Manufacturers & Exporters Association (JMEA) has another big reason to celebrate – the milestone 75th anniversary of its founding! A rich legacy indeed.
The JMEA was formed in 2018 from the merger of the 71-year-old Jamaica Manufacturers' Association (JMA) and the 52-year-old Jamaica Exporters' Association (JEA). Primarily, the JEA was tasked with the growth and development of non-traditional exports in Jamaica and was the main repository for all export-related information. Whereas, the JMA had key oversight on serving, promoting, and advocating for the interests of the local manufacturing sector.
The well-timed merger that created JMEA has allowed the Association to attain wider national and international influence, resulting in a more effective, holistic representation and application of greater benefits to the entire membership and industry.
Today, the Jamaica Manufacturers & Exporters Association serves as the voice of exporters, manufacturers, service providers, and micro, small and medium enterprises (MSMEs). Vital support is provided to JMEA members and the industry through advocacy, strategic partnerships, export services, research, capacity building, and access to finance. Its goal is unwavering and clear – to contribute to the growth and sustainability of Jamaican businesses and the economy.
Business View Caribbean spoke with John Mahfood, President of the JMEA, about current challenges and the future of the industry. His informative insights bode well for the future of Jamaica's manufacturing and export sector.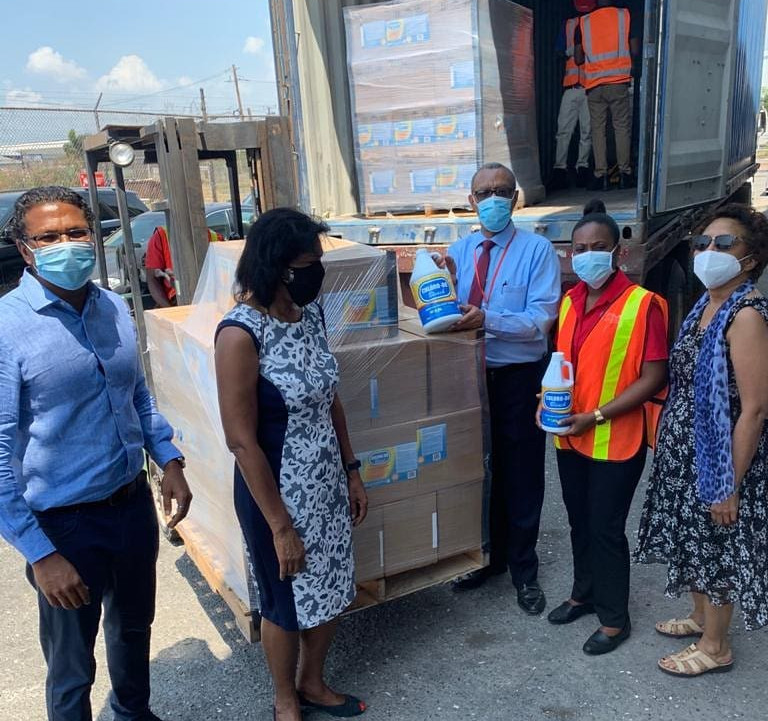 BVC: Congratulations to JMEA on 75 years! Can you share an overview of the Association today?
Mahfood: "We represent about 450 companies, from very small mom-and-pop businesses to quite large companies as far as Jamaican standards. But most are fairly small companies. We advocate with the government ministries on behalf of our members, if we see issues that need to be addressed. We also put on courses and seminars and organize events where members can showcase their products. We had a meeting in early April that was called 'Speed Networking', where about 50 hotels and tourism sector companies met with about 100 of our manufacturers with a view to increasing support for local manufacturers among the hotels.
"Another more recent project was Christmas in July, where some of the smaller members of the JMEA showcased their products to financial institutions and gift shops and so on, with the goal of having those institutions sell the local products. We organize trade shows overseas, and we also organize trade shows in Jamaica, where we have our companies physically present and invite buyers from overseas. The end result of all our efforts is to build up the manufacturing sector in Jamaica. Many years ago, it was one of the leading sectors – accounting for about 20 % of GDP – but over the past 30 years, for various reasons, it has declined to about 8 % of GDP. We want to see that trend reverse. In particular, we think it can be reversed by increasing export."
BVC: How is the supply chain disruption impacting manufacturers?
Mahfood: "In 2020 when the impact of COVID was really significant and there was a massive downturn in the purchasing of manufactured items, companies had to change their method of operation in order to increase productivity and efficiency. In 2021, we started to see the benefits of those efforts. Manufacturers were returning to a higher level of profitability than they had experienced pre-COVID, without any increase in sales. That was a good sign, and the outlook for 2022 with the return of schools and the opening up of the entertainment industry indicated that companies would benefit from their cost reduction exercises and would much better sales and profits. But that has now been tampered by logistical problems.
"In early 2021, we started to see a massive increase in the cost of trade out of the Far East and that was bad enough. But the last quarter of 2021 up to now, we are seeing a shortage of containers to the Caribbean much worse than it has been in the past. It may be that shipping lines are looking at where they can make more money and diverting more of their available shipping space to the North American market, at the expense of some of the smaller Caribbean islands. And in general where they have to go first to the U.S. and then come to Jamaica.
"We're seeing that change starting to affect not only importers but manufacturers, where you're trying to source raw materials and packaging materials and it's not coming through. We had a serious shortage of items such as glass bottles, aluminum cans, tops for bottles, cardboard boxes, and it's showing up in terms of reduced sales because your fulfillment level is in decline. That and the increase in trade has put a serious dampening effect on manufacturers."
BVC: How did the pandemic change the way Jamaican businesses communicate?
Mahfood: "As a small island, if you had export customers it meant that you wouldn't be visiting your customers for a couple years, you wouldn't be attending trade shows, and any internal meetings were done by Zoom and other means. In Jamaica, a lot of the financial institutions and government agencies went to work-at-home models. So it represented a big change in the way we operated.
"Now we're beginning the process of having physical meetings and visiting customers again, but there were some benefits to the changes that were made. You now can see a lot more customers, more regularly, through technology and we hope that will make companies more effective when they continue using that technology for marketing and selling. That, along with an improvement in their ability to physically see their customers.
"As for The JMEA, we have about 20 people on staff and we did a lot of online seminars and courses to help our members innovate and look at how they do business. We're visiting our members again in person now and we're also meeting groups of members online, which has turned out to be good because with technology we're able to reach out and talk to all our members more often."
BVC: Looking to the future, how do you see the industry evolving and how will the Jamaica Manufacturers & Exporters Association continue to be a viable voice for members?
Mahfood: "The challenges with transportation and logistics also creates some opportunities. The big issue is, for instance, a shipping container to Jamaica from Thailand or Malaysia may cost $15,000, however, the shipping cost within the Caribbean is relatively unchanged at about $1,000 to Trinidad, or $1,500 to Barbados. So what that means is that Jamaican exporters and manufacturers have an opportunity because of the high cost of freight outside of Jamaica to the rest of the Caribbean.
"We, at the JMEA, are trying to convince our Jamaican manufacturers and exporters to take advantage of this opportunity that has presented itself to start exporting. Because of the shortages that exist worldwide, we have to look at our small Caribbean community more seriously, in terms of how we protect each other and sourcing our products from entities that are closer – whether it's Canada, the U.S., or another Caribbean country instead of importing from far-off places.
"We are also looking at the opportunity of doing more trading online – it means Jamaica can hook up with good online sellers and sell to anyone, in any country, anywhere in the world. It's just a matter of presenting your product well and pricing it well. In addition, we are focused on strengthening the linkage between our manufacturers and our tourism sector in Jamaica and other markets.
"Finally, one thing that has been a fantastic success in Jamaica has been companies that have listed on our Junior Stock Exchange, where businesses can raise up to $6 million U.S. and where the regulations are less severe than on the main Exchange. About 45 companies have listed on the Junior Stock Exchange and as a result have improved significantly in terms of their sales, their profitability, their business. The JMEA have signed a memorandum of understanding with the Jamaica Stock Exchange to encourage more of our members to list and we are hopeful that the number of companies listed on the Junior Stock Exchange will move up to 100 companies in the next few years. We believe this will be one of the big ways that we lift manufacturing in Jamaica."
AT A GLANCE
Jamaica Manufacturers & Exporters Association (JMEA)
What: Industry voice of exporters, manufacturers, service providers, and MSMEs
Where: Based in Kingston, Jamaica
Website: https://jmea.org/